Paris, the all-time city of love, culture and food. Maybe the French capital is at the top of your bucket list, but you can't decide when to go? If given the possibility to visit Paris, then April and May are for sure the best months to go.
Some prefer to travel during France's summer (June-August) but, truth be told, there are a lot of tourists in Paris during June and July. Spring (April-May) in Europe is the time when the sun is out, flowers bloom and there are simply more things to do in Paris! Swap out South Africa's autumn season for a wonderful spring adventure in Paris. Experiencing this city is not only more pleasant in spring, but also easier and sometimes even cheaper. To inspire you, here is a list of the top 10 attractions in Paris that you'll love in spring!
Museums
Indulging in the extraordinary French art scene is one of the best things to do in Paris. You'll find that many museums and cultural spots are especially nice to visit during April and May.
1. Fondation Louis Vuitton 
If you appreciate modern art and architecture then make a visit to the Fondation Louis Vuitton. This museum may just be one of the best attractions in Paris. The museum is designed by the American architect, Frank Gehry, who also designed the Guggenheim Museum in Bilbao. The building itself is considered a piece of art and has nicknames such as "the Iceberg" and "the Glass Cloud". The Fondation Louis Vuitton is located in the middle of Paris' biggest park – Bois de Boulogne – and when you see it from a distance, it seems to be floating like a glass ship over the grass. During your visit, you can go up to the roof for a great view of the park and the Eiffel Tower.
The entry ticket might be a bit pricey, but this is, without a doubt, one of the best things to do in Paris. The foundation hosts the best world-touring art exhibitions and the very best of modern art. Check which exhibitions are on display before visiting!
2. Musée Rodin
If you're interested in French sculptures and parks, make a visit to the Rodin garden! This picturesque garden is filled with statues by the French sculptor Auguste Rodin. Some of them are famous, like the statue "the thinker". In the garden, there are mostly statues portraying mythological subjects and, of course, naked men. This unique attraction is one of the most peaceful and romantic places to visit in Paris. During the spring you'll find rabbits in the garden, eating the flowers and grass. If you feel like learning more about Auguste Rodin, there is also a great museum in the park with more sculptures and a history of the artist.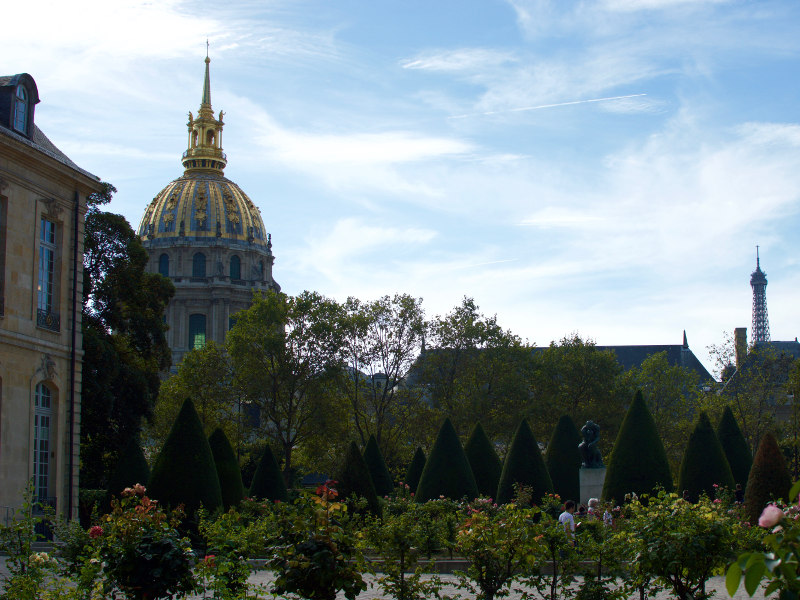 Restaurants
Among all the many things to do in Paris, eating out is probably the greatest experience. There are many good restaurants in Paris but sometimes they may be hard to come by. Try to read some reviews before choosing a spot; focus on which area in town you want to visit. Otherwise, just go with your gut, and don't ever go to a place where they call you in from the street. Try to also avoid restaurants that are close to major Paris attractions, such as eating along the Champs-Elysées. 
During spring in France, many restaurants move tables out onto the street, and Paris' evening ambience changes to become even more vibrant. There is something extra charming about eating out on the sidewalk, and if you feel cold, most places in Paris have heating lamps.
3. Chez Janou
Chez Janou is a favourite bistro in Le Marais. This restaurant was designed with a Provence kitchen in mind and has a charming bistro ambience. With old posters on the walls and around a wooden bar at the entrance, you feel like you've entered another era. Here you'll get to try a range of food from ratatouille to steak and crème brûlée. If you visit, be sure to eat their famous mousse au chocolat, it is amazing!
To get inspired by the best Parisian cafés and sweets, check out this Paris food guide.
Bars
4. Hôtel Amour
If you're looking for a romantic bar in Paris, go to Hôtel Amour. This is an actual hotel, but they are more famous for their trendy restaurant and bar. If you do visit, make sure you're sitting in the inner courtyard. You'll be surrounded by so many plants, it'll almost feel like you're sitting in a greenhouse. It is definitely a top romantic spot and one of the best things to do in Paris. The food has a modern French feel and is very good, but you mostly come here for the atmosphere. It is a popular place among Parisians, so make sure you have a reservation if you're going for dinner. You'll find Hôtel Amour in Pigalle and one in the more upcoming area of Strasbourg St Denis.
5. Le Perchoir
Do you like the idea of sipping drinks on a relaxed terrace in the middle of Paris? Then give Le Perchoir a visit. This rooftop bar is one of the best places in Paris when it comes to the view. Situated with a panoramic vision of the Seine, Eiffel Tower and much more, you're almost guaranteed a great time. Get here early and watch the sun go down over the city with a drink in your hand.
Markets
To all the food lovers out there, France is a dream destination.  If you know which places to visit in Paris, eating out does not have to break the bank either.
6. Marché des Enfants Rouges
To visit the markets and explore new food is one of the best things to do in Paris. The city is filled with lively food markets and you must make sure to visit at least one! Marché des Enfants Rouges in the Marais area is one of the best markets in Paris. This gourmet food market offers you all the classic French products such as cheese, fish and honey. If you don't feel like buying anything, just walking around here is a great experience. The market also has many cheaper food-stands where you can try a great variety of food. You'll find an impressive range, from Italian and Lebanese to Moroccan and much more.
Don't know where to eat in Paris? This area in the north of Marais is filled with fantastic restaurants. A local favourite is Café Charlot which is just on the opposite side of the street to Marché des Enfants Rouges. This bistro is especially known for its tasty burgers!
7. Marché de Bastille
Do you feel like enjoying a classic Sunday market? This food market in Bastille is one of the best and central places to visit in Paris. The vibe here is very mixed and you're offered everything from locally produced greens to more commercial goods. Many merchants and farmers from outside Paris sell their products here. The market is large and you can easily stay for hours. It is also a nice place to grab lunch, in between going through many of Paris' tourist attractions. You'll find crêpes, sandwiches, paellas and if you want to, you can even sit by the small harbour and share some delicious oysters and Champagne with the French fishermen.
Parks
A major benefit of visiting Paris during April is that all the marvellous parks are in full bloom. Having a picnic is one of the best things to do in Paris, and it is a cheap option as well. The French love their parks which are often majestically constructed and always decorated with fountains, flowers and small ponds. You'll find these parks all over Paris, and to visit at least one is a must. Try and enjoy picnics at several sites to feel the atmosphere of different areas. These types of experiences are so much greater and more authentic than rushing through the touristy Paris attractions.
8. Parc des Buttes Chaumont
This large park called Buttes Chaumont is definitely one of the most beautiful places in Paris. Located on a hill northwest of the city centre, the park has a panoramic view over all the spectacular monuments. Buttes Chaumont is a favourite park among locals. On weekends, you'll find people enjoying a French picnic on the green grass, or just strolling around admiring the artsy touches of the park. Butte Chaumont is celebrated for its fine architecture, which dates back to the mid-19th century. Every time you visit the park you'll find new places with spectacular scenery. Among the many places to visit in Paris, this is perfect if you feel like just taking it easy for a couple of hours. To sit at the top of the hill and watch the sunset with some good food and music is magical.
Interesting spots
9. Place Dauphine
Sometimes you stumble upon hidden romantic spots in a city where everything moves. Place Dauphine is definitely one of those places in Paris. A small square of greenery on the islands Ile-de-la cité (in the absolute city centre), this charming square is surrounded by buildings that date back to the 16th century, which create a very picturesque setting. Take a moment to sit in the sun with a coffee and enjoy the beauty of this square. It is such a lovely activity amongst all the things to do in Paris. During France's summertime, people come here to play boules (similar to bowls) under the trees and enjoy a glass of wine. Even though this spot is close to many of Paris' tourist attractions, tourists don't seem to find their way here which makes it more special.
To best escape the Paris tourist traps, check out this post with great tips from a local.
10. Canal Saint-Martin
If you want to explore one of the hipper areas of Paris, visit the area around Republique and Canal Saint Martin. Canal Saint Martin is a canal that flows from the northeast of Paris into the Seine by the Bastille harbour. The streets around the canal are known for their upcoming food spots and older bars like Chez Prune which is almost like an institution. Visit this neighbourhood to have a little break from all the classical things to do in Paris! During spring and summer (April-August), people hang out alongside the canal with something to eat or drink from the places nearby. The vibe is very relaxed. Spend an evening here and you'll soon enjoy the company of Parisian students.
A very popular food choice around here is to buy a pizza and beer at Pink Flamingo. You order at the restaurant near the canal and receive a pink balloon. The staff will come and deliver your food to you – very practical!
What would be your favourite things to do in Paris? Sharing is caring, so if you have any great tips on the French capital, please share in the comments!
This blog post was written by Beatrice Fröjd.