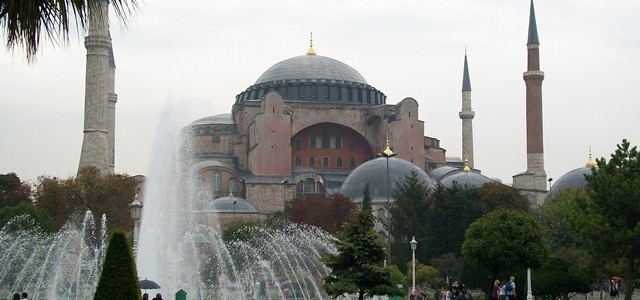 This week we're talking Turkey and more specifically Istanbul. Travelstarters Nick Paul and Annie Van Deventer have been to Istanbul so I turned to them for some good old fashioned Turkey travel advice. Here are some of the sights and sounds you won't want to miss out on, on a visit to the sprawling Turkish metropolis.
Geographically, Istanbul can be quite a confusing city to navigate (just look at the map below), but if you choose your Istanbul accommodation smartly then you can make sure you're in walking distance to many of the city's major attractions.
Eminönü – Hoca Paşa
Nick stayed in Hoca Paşa (Eminönü district) and recommends this area for proximity to sights and the amount of reasonably priced hotels in the areas. From here you're within easy walking distance to the Egyptian Market (also called the Spice Bazaar) and many agree this market is better than Istanbul's well known Grand Bazaar.
Nick on the Spice Bazaar, "You'll find most of the same things at the Spice Bazaar that you would at the Grand. It's smaller so you'll be able to find your way easier compared to the Grand Bazaar and its more local so you'll feel less pestered when you browse the stalls. That said a visit to the Grand Bazaar shouldn't be missed if you have time".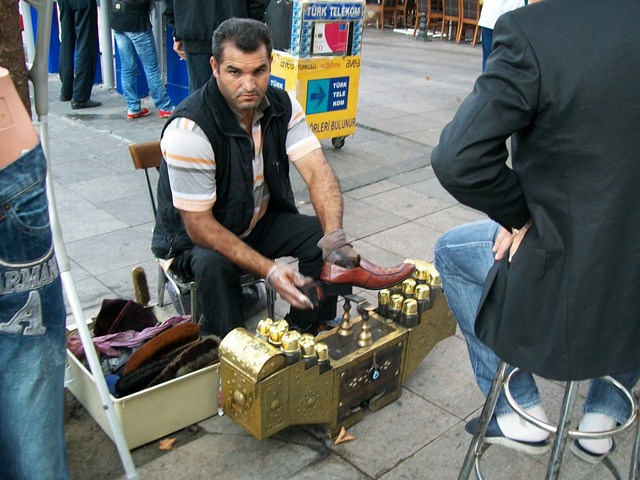 From the Spice Bazaar take a 5 minute walk to the Galata Bridge where you'll find a variety of great seafood restaurants overlooking the water (under the bridge). If you're enthusiastic about eating seafood then don't be surprised when your waiter brings the fish (fresh from the Bosphorus) to your table so you can examine and choose your preference just as wine is served in South Africa.
Once you've fulfilled your seafood craving take a stroll over to Istanbul's Asian side and the Galata Tower (you won't miss it, it's huge). It's an old medieval tower that was built in 1348 by the Genoese colony and you can go up it for great views of the city – there is an admission charge and it's open from 9am.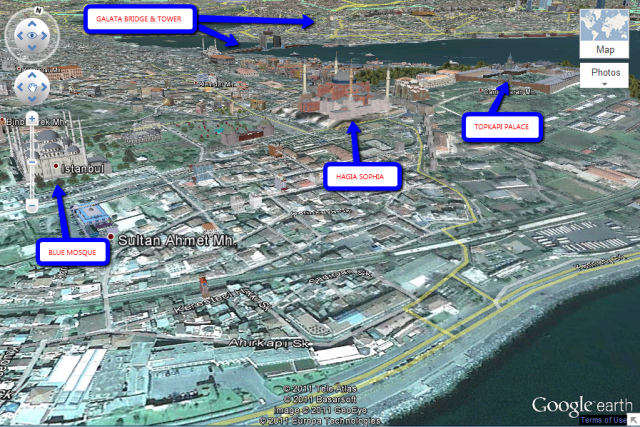 The Eminönü district falls on the tram* network and if your feet are starting to feel a little worse for wear then Nick suggests catching the tram at Karaköy from the Galata Bridge to Kabataş (the last stop on the tramline). Here you'll find Dolmabahce Palace – the last Palace of the Ottoman Empire although the Turks still hold state functions here. Be in awe of the crystal staircase as well as the world's largest crystal chandelier.
*The tram is a super cheap way to move around Istanbul and the old city and is a welcome option if you're tiring of walking. Although the tram system is not signposted in English, it's easy to use and announcements are made in English. Go to the kiosks that say 'bilet' on them. Buy your 'bilet' or 'tickets' – a ticket token is equal to one journey so it's better to buy a few upfront if you're looking to do multiple journeys on the tram.
Catch the tram (T1 line) all the way back to Sultanahmet putting you within easy walking distance from the Topkapi Palace (relics like Moses' walking stick are kept here), Hagia Sophia, and the Basilica Cistern. There are some really nice restaurants in this area so perhaps this would be a good time to stop for some refreshments and snacks. Thereafter walk to the Blue Mosque and the Hippodrome (they run parallel to each other). The Hippodrome is famous for its monuments including the Obelisk which was towed by ship from Egypt.
Tip from a local: Travelstarter Mehmet Altug Uluceviz lives in Istanbul and says "Istanbul is a city of contrasts. A huge mosaic…one can find old and new, traditional and modern, poor and rich. It's also a very good place for shopping. Textiles are particularly cheap when compared to South Africa"
Mehmet's cites Konyalı and Tarihi Sultanahmet Köftecisi as two of the most well-known restaurants in the Eminönü area while there are also many fish restaurants under the bridge that connects the two sides of the Golden Horn near Eminönü. Have a look here to find out more.
Turkish Visa for South Africans
As a South African passport holder you can get a Turkey Visa on arrival in the country. I've heard stories recently of South Africans being granted entry into the country without having to apply for a Visa but I can't make any guarantees on this as there have been no announcements from any official channels just yet.
Find out more about getting the Turkey Visa in South Africa.
Cheap Flights to Istanbul
The truth is there's so much to do in Istanbul you need to stay for at least a couple of days. Search Travelstart for cheap flights to Turkey.
Special thanks to Annie for sharing her Istanbul photos on the Travelstart blog.
Istanbul Vitals
National Airline: Turkish Airlines
Istanbul is on relatively the same time zone as RSA so jetlag isn't a major risk with flights from South Africa.
Contrary to popular belief, Istanbul is not the capital of Turkey, Ankara is.
There are 2 sides to Istanbul. The European side west of the river and the Asian side which is east of the river. The 'Golden Horn' divides the European side in 2 pieces making it difficult to get your bearings in a short space of time
Population: Over 10 million
Airport: Atatürk International Airport
Currency: Turkish Lira (R5=1 Lira)