I recently went to Istanbul for business and thought I would jot down my first impressions. Firstly I took Turkish Airlines on what I thought was a direct flight from Cape Town to Istanbul. Please be aware that there is a "secret" technical stop in Johannesburg and this means that you actually land at OR Tambo and have the pleasure of staying on the plane for an hour while they refuel and more passengers are loaded. This being a business trip, I only got 1 morning to see the city (which I efficiently combined with a morning long meeting with one of my colleagues). A bit of a "let's talk business, while we walk around your beautiful city" type of thing. My hotel was on the Asian side – by "Asian side" I mean the "non-tourist side". Traffic is a nightmare in Istanbul and the use of indicators is practically prohibited. So the best way to get to the European side (the Tourist side) is to take the ferry which is very scenic and comfortable. Since I only had the morning as I mentioned, sight-seeing was very strategic. Luckily my Turkish "tour guide" knew exactly where to go.
Hagia Sophia
First and foremost – The Hagia Sophia.  A church built in 537AD and then converted into a Mosque when the Ottoman Empire took over Istanbul. An incredible mish mash of Christian – Islamic décor and religious artifacts where both religions seem to live in peace and complement each other to create something breathtaking.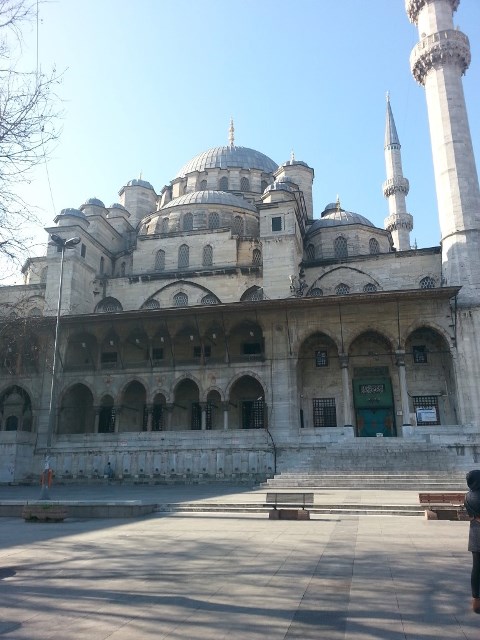 Celebrity Cat Spotting
The resident Hagia Sophia cat that has been photographed with numerous famous people like Obama. This cat lives at the Hagia Sophia (with a crew of less famous cousins I might add). I was lucky enough to see him next to some lights in the Hagia Sophia. Haughty, sophisticated, contemplative and quite chubby (with a dash of kitty litter box smell).
Blue Mosque
Then the Blue Mosque  – conveniently situated across from Hagia Sophia. This building is a functioning mosque so women have to cover their heads and take off their shoes. If you are in tourist garb they hand out scarves and robes at the entrance. It's incredibly beautiful and HUGE. The domelike roof is painted in delicate patterns and shades of blue.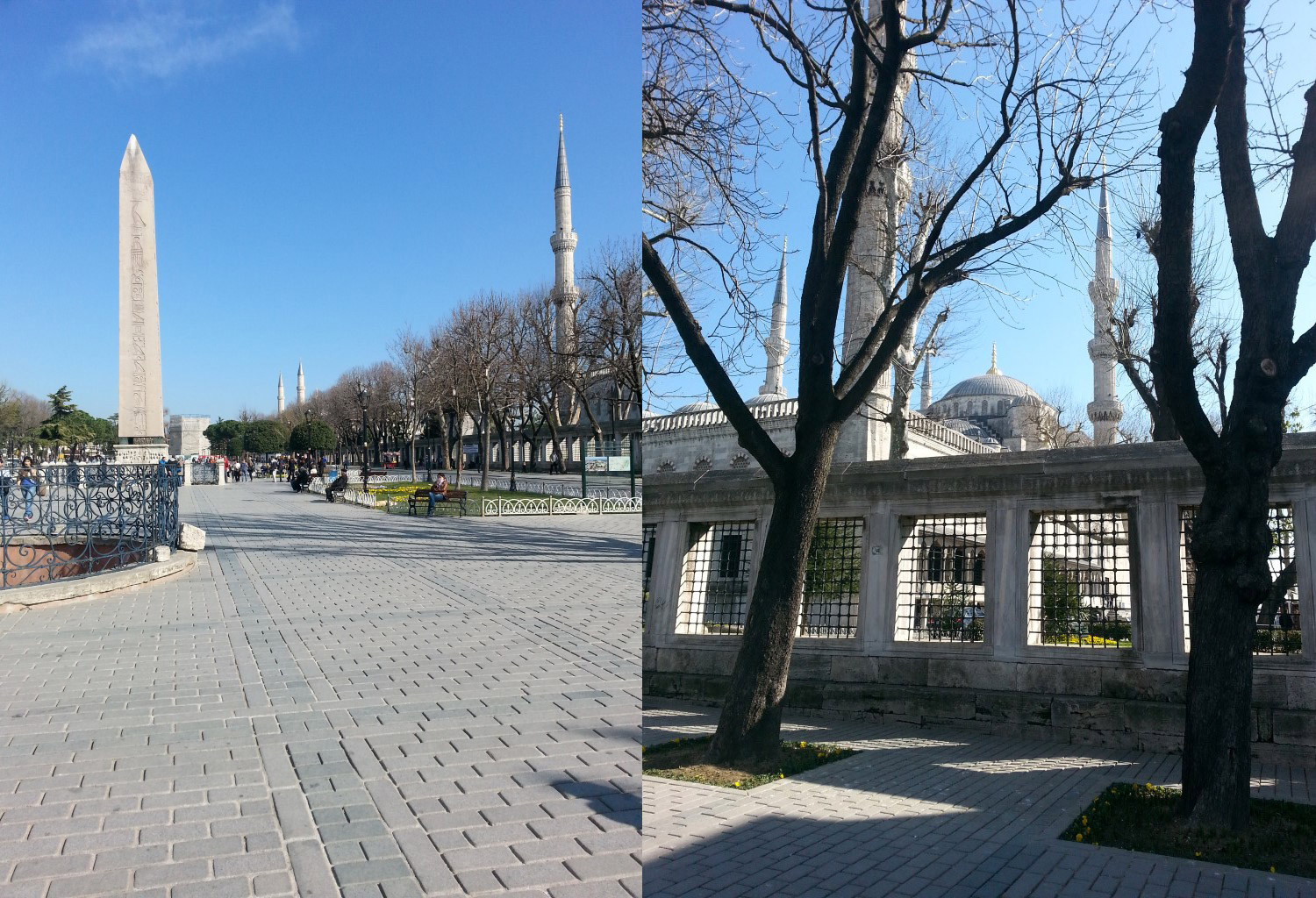 Obelisk of Theodosius
Obelisk of Theodosius – an Egyptian Obelisk right outside the Blue Mosque. Erected 1479BC and transported to Istanbul in 357AD. It looks like it was carved 20 years ago. The detailing is so clear and perfect. Basilica Cistern Basilica Cistern. Also around the corner from Hagia Sophia, these underground caverns and water systems are mysterious and dramatic. Well worth a visit – Hunt down the face of Medusa (one is lying upside down and the other sideways – no idea why).
Spice Market
The Spice Market of Istanbul is close by as well and quite an experience. The local vendors call out in a multitude of languages (apparently the average vendor speaks 5+ languages to help with haggling) – they obviously thought I was Russian as most where yelling at me in that language. Luckily my Turkish Colleague put them off with a word or 2 in Turkish. You can buy and taste many a delicious treat – I would recommend getting some Turkish delight and fruit teas to take home.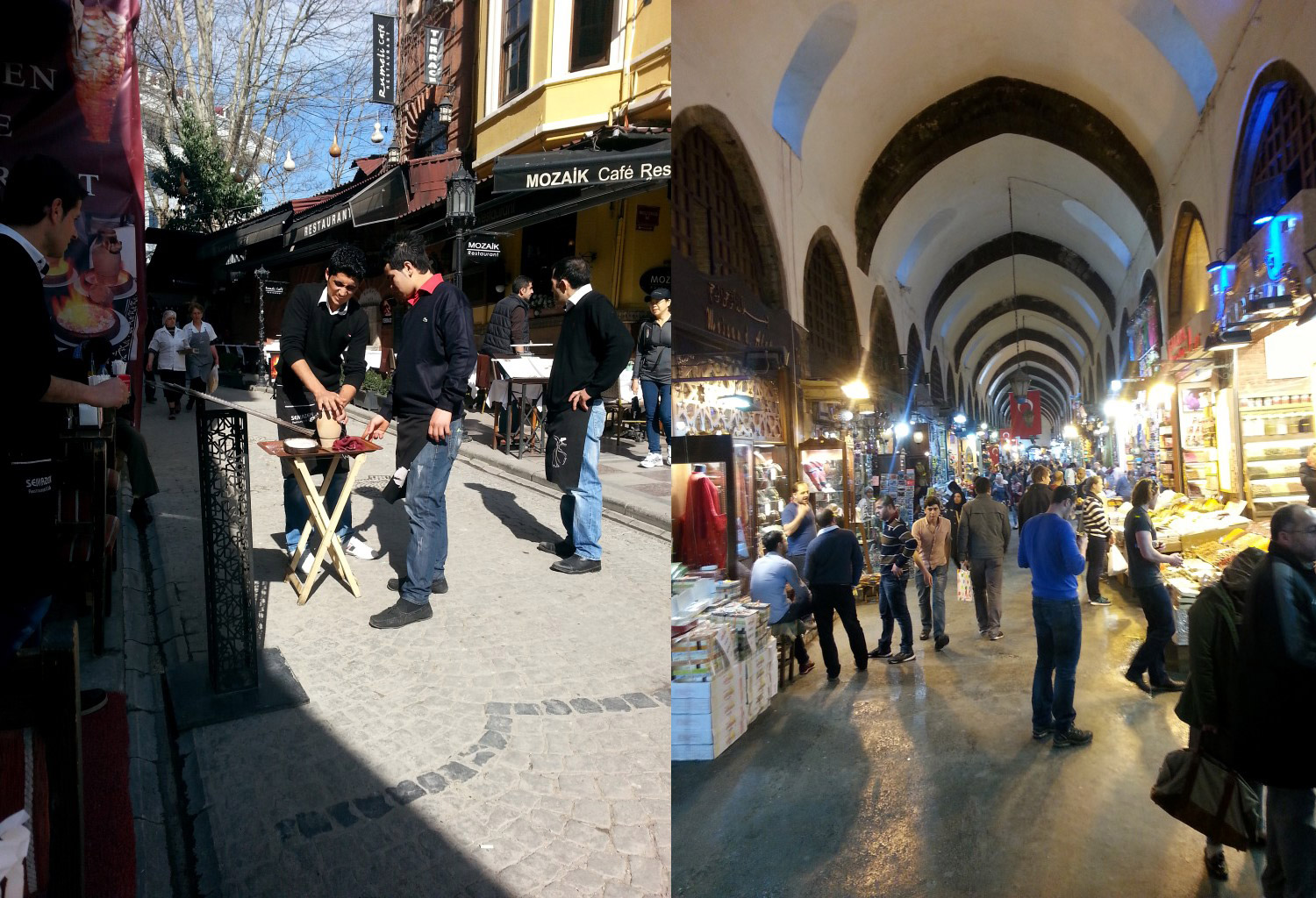 Besides these travel tips which you can get anywhere, my overview of this city is such:
It's a city of balance – Asia/Europe, Islam/Christian, Traditional/Modern, Old and new
The food is great and cheap! One of the few places still good to travel on our currency.
The city is so old! Since it did not partake in the 2nd world war, nothing was destroyed and it is immersed in history
There are MANY cats and dogs on the street. The government takes good care of them and they are all tagged and clean and well fed, but if you are scared of dogs, get over it before you travel to Istanbul.
Turkish men are gentlemen of note. Extremely gallant and chivalrous.
Get ready for a serious night life – the city does not sleep!
To help you with the point above, there is Turkish tea and Turkish coffee. Both delicious and both packed with caffeine. I was jittery my entire trip there.
I loved the city. That's my consensus and will definitely be back with my hubby to experience it properly. You might also enjoy reading a walking tour of Istanbul.