Victoria Falls, which straddles the border between Zimbabwe and Zambia, is a playground for adventurers looking for adrenaline injections and exotic meals.
Wet or dry season
Decide if you'll visit Victoria Falls during summer from November to April (rainy season) or winter from May to August (dry season). The water levels of the Zambezi River (especially on the Zambian side) are very low during the dry season, but the white water rafting is better and you can also swim in Devils Pools. Experiencing the waterfall after the rains will help you to understand why it's the world's largest sheet of falling water. Either way, expect to be humbled.
Flight of Angels helicopter flip

Scottish missionary David Livingstone described Victoria Falls as: "scenes so lovely they must have been gazed upon by angels in their flight." His quote has dubbed the helicopter flight over the waterfall as the Flight of Angels. It'll give you goose bumps and is best photographed and filmed, as words will surely escape you. No matter whether you choose the 12-minute or 25-minute flight with the Zambezi Helicopter Company, the best time is midday when there are fewer shadows. During the 12-minute flip the pilots will do a left- and right-hand circuit in both directions, allowing passengers sitting on both sides to view Mosi-oa-Tunya. During our return trip up the length of the Zambezi River, we see two elephants.

Devils Pools and Livingstone Island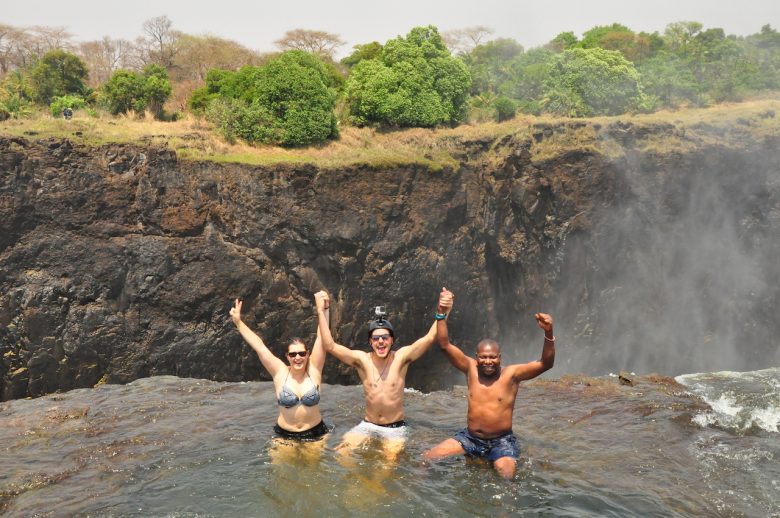 The brave can follow in Livingstone's footsteps as he stood on what is now called Livingstone Island to observe Victoria Falls tumble into Batoka Gorge. During a Devils Pools expedition on the Zambian Side of the waterfall we enjoyed an African Jacuzzi in the bubbling Zambezi and sat on the edge of the basalt rocks where the water crashes over 100 metres into the chasm below. Not only is it a UNESCO World Heritage Site, but it's also one of the Seven Natural Wonders of the World. We wadded in the warm natural pools, where little fish nibbled our toes. A brunch of eggs benedict, scones and drinks followed to the soundtrack of the gushing water. South Africans don't need a visa and can pay with US dollars.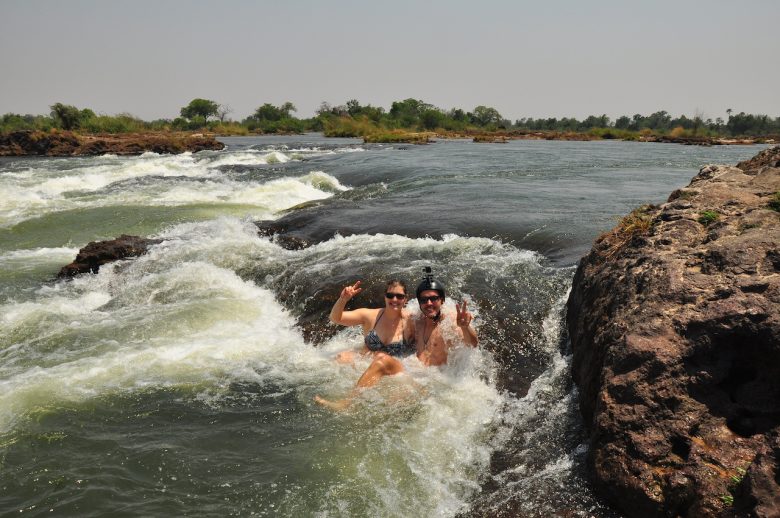 Bungee Jumping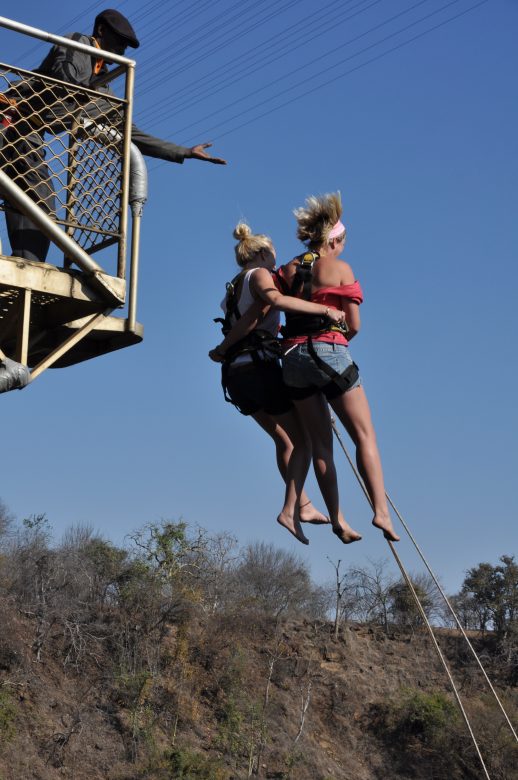 Three… two… one! Bungee into the spray of the falls and the rainbows below from the Victoria Falls Bridge. You'll free fall for four seconds from 111 metres. Adrenaline junkies will need no convincing as the Victoria Falls Bungee has been consistently voted as one of the world's top five adrenaline experiences. Choose how you want to jump, whether it's with your ankles tied, a star elevator jump or into a back flip.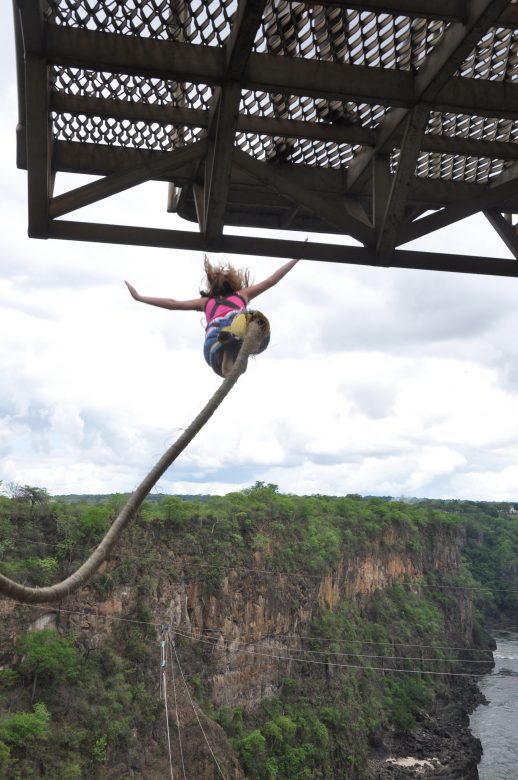 Flying Fox Cable Slide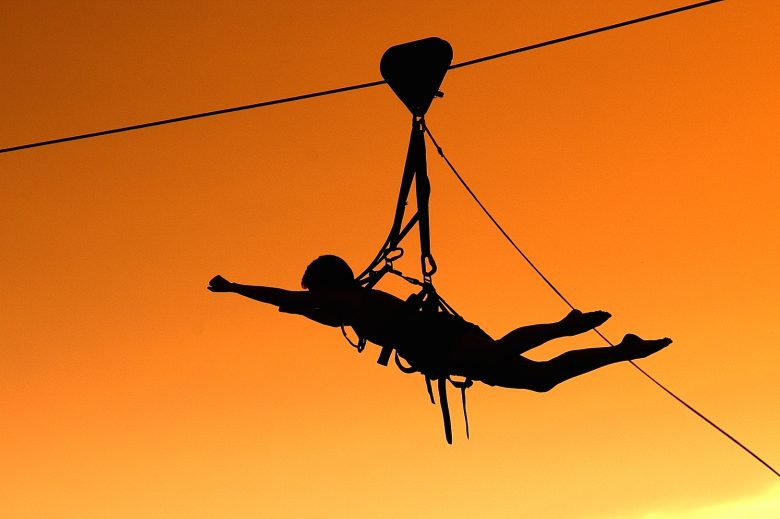 Take a running leap into the air and soar over Batoka Gorge below in the Superman position at speeds of around 10-15km/hour. This Wild Horizons Flying Fox cable slide will take around seven minutes to make the 200-metre-long flight from one end of the canyon to the other and back. You'll float at 120 metres at the lip of the gorge. It's a great introduction for kids and teens, and those gathering the courage for activities with a stronger adrenaline punch.
Zip Line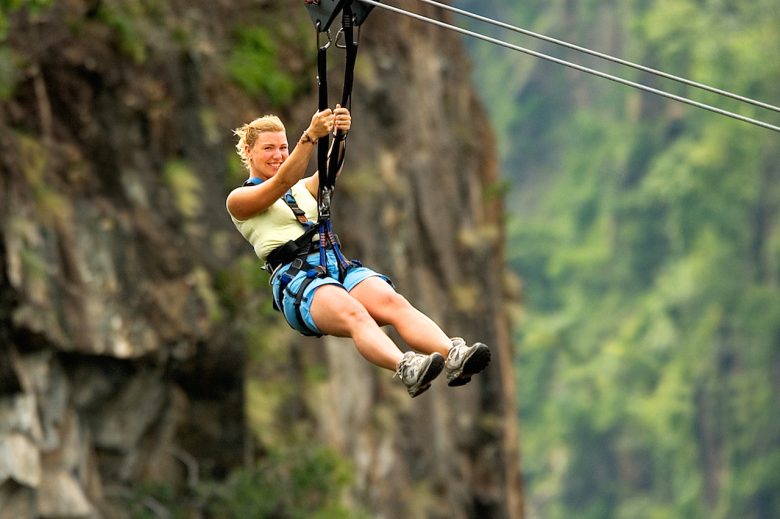 The Wild Horizons Zip line was my favourite of the adrenaline activities. I'd do it again a thousand times over. You'll reach speeds of around 106km/hour as you hurtle 425 metres across the roaring waters as they carve their way through the drop below. Your screams will reverberate through its length. It'll seem as though you can touch the water as you glide between the basalt cliffs, in a harness fitted in a comfortable sitting position. As you swing back and forth you'll see the Victoria Falls Bridge stretching between Zimbabwe and Zambia. Add to the fun by doing it tandem with a parent, partner or friend.
Gorge Swing

Brace yourself for the Wild Horizons Gorge Swing. The three-second free fall down a 70-metre drop turns into a 95-metre-long pendulum swing. The jumping ropes are pivoted in the middle of the 316-metre-long highwire that connects the cliffs, 120 metres above the tumbling river. There are four ways to jump: pin drop (the least scary), star jump, a backwards fall or the handstand position. You may even see the white river rafters.
For the Wild Horizons Gorge Swing, Flying Fox, Zip Line and Tree Top Canopy tour book here.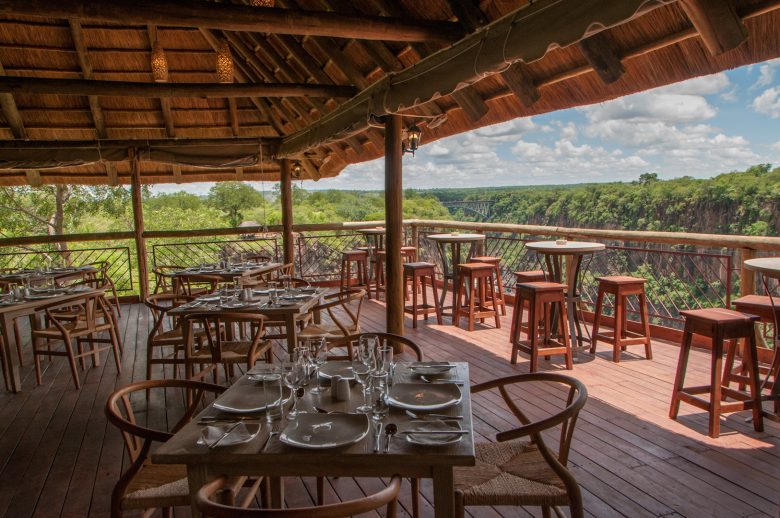 Take photos and videos of your friends from Look Out Cafe or buy a professional video from Wild Horizons. It's ranked the best dining experience in the Vic Falls area, according to TripAdvisor reviews.
Tree Top Canopy Tour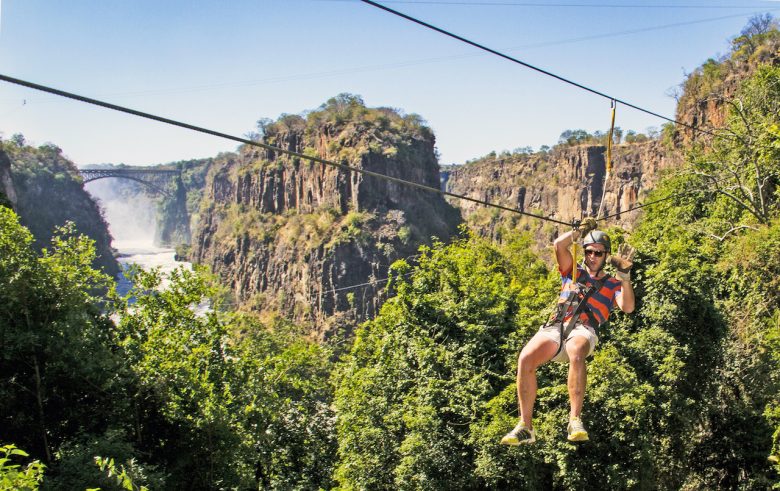 If  you still want an adrenaline rush and spectacular views, but want to keep things tame, the Wild Horizons tree top canopy tour is for you. It's the best option for families with smaller children as you whizz between nine platforms. The shortest is 60-metres-long while the longest is 85 metres. It'll take between 45 minutes and two and a half hours, depending on how many people are in your group (no more than eight at a time).
TIP: Serious adventurers should consider the Wild Horizons Adrenaline highwire-canopy package for great discounts.
White water rafting

Grab a paddle, tighten your helmet and secure your life jacket then take to the water in your eight-man inflatable rafts captained by your river guide. Low water rafting is done from August to December, while high water rafting is done from January to February and June to July.
As the river levels drop in August your white water rafting adventure will take you from rapid 1 to 19, most of which are graded 5. You'll start in the boiling pot and zig-zag your way along the channel. Soon you'll understand why the locals call it the Mighty Zambezi. The rapids' names — The Overland Truck-eater, The Mother, Gnashing Jaws of Death and Oblivion — are enough to strike fear into the most adventurous.
During high waters you'll begin 10km downstream at The Overland Truck-eater (rapid 11) and end at rapid 24. This is the best time of the year to experience The Mother (rapid 13). Celebrate your survival over lunch and beer, unless you decide to camp overnight on a private riverside beach.
Mopani worms and Drumming at The Boma
As you enter The Boma, which adjoins Victoria Falls Safari Lodge you'll be given a chitenge to wrap around your shoulder, a taste of traditional beer and have your face painted. This four-course dining experience, also known as The Eating Place, will give you a taste of soup served in small cast-iron potjie pots followed by a selection of game meat options and barbecued meat, such as warthog steak, buffalo stew, Eland meatballs, guinea fowl and crocodile, which is complemented with a salad bar and topped off with desserts. Try the dried and seasoned Mopani worms, which taste like biltong and are rich in protein. You'll receive a certificate to prove you munched on this Zimbabwean delicacy.
Once your tummy settles grab an African drum and compete in a 'drum off' with the other diners as beats reverberate from your fingertips. Visit the Sangoma (traditional healer) on your way out to have your fortune told.
Zambezi Sunset Cruise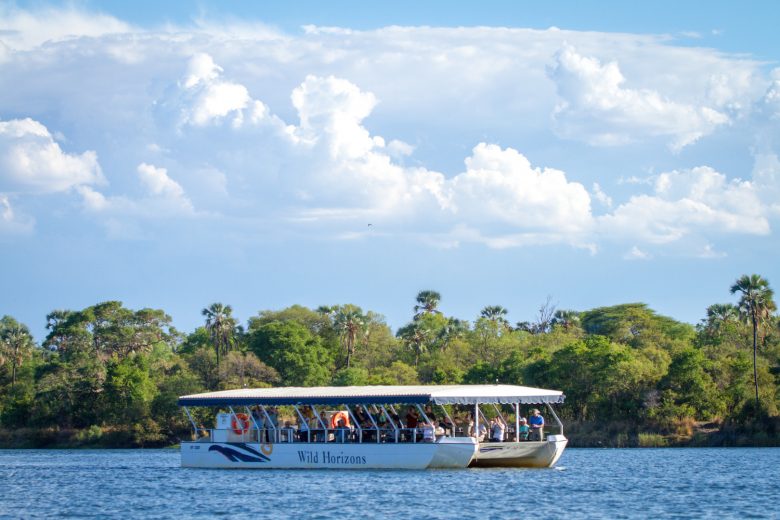 The best way to end your day is with a sundowner cruise along Africa's fourth longest river. The Zambezi garners much respect from the locals because of its beauty, diversity and the wildlife along its banks. Our boat floats past hippo pods and the birders tick off many species from their list. The highlight was seeing an elephant herd cross the river at sunset. We clinked our glasses (which were instantly refilled from the open bar as soon as they ran dry by the attentive staff) to our sightings.
Good to know before you go
Flights
Direct flights from O.R Tambo International Airport to Victoria Falls International Airport take around an hour and forty minutes with fastjet, which has been flying this route since March 2016 with flights twice a week. The Airbus A319 flies on Thursdays and Sundays (although the airline is changing its fleet to Embraer 190s). The flight departs Johannesburg at 14:55 and arrives in Victoria Falls at 16:35, while the return flight leaves Victoria Falls at 12:35 and arrives in Johannesburg at 14:10. Fastjet is a low-cost pan-African airline with very competitive fares that already include government fees and taxes, but exclude check-in baggage (up to 20kg per bag), snacks and drinks on board. Tea, coffee, water, Robertsons wines, beers, biltong, peanuts, chips and chocolates can be paid for in South African rands, US dollars or Zimbabwean bond coins.
SAA, British Airways, Air Zimbabwe, kulula and Air Namibia also fly this route.
Book affordable flights to Vic Falls Airport here.
Visa and currency
South Africans don't require a visa to enter Zimbabwe or Zambia for stays of up to 90 days. Have a valid passport (for six more months) and blank pages to collect all those stamps.
Authorised credit cards, such as Mastercard and Visa, are widely accepted. It's most convenient to pay with US dollars.
Where to Stay
Five-star Luxury: The oldest hotel in town, the Vic Falls Hotel built in 1904 by the British, also has the best view in town as it overlooks Batoka Gorge and The Vic Falls Bridge from its lawns and restaurants.
African ambiance: the Vic Falls Safari Lodge looks out onto a watering hole that's often visited by elephants, buffaloes, warthogs, a variety of birds and other animals. It's the hotel's main attraction and can be seen from nearly all the rooms, the restaurant, viewing deck and swimming pools.
Budget: While the Vic Falls Backpackers may be a little out of town (around 3km), it's been voted The Best Hostel in Zimbabwe for two years running, thanks to its rustic vibe, fish foot spa, swimming pool and daily BBQ evenings.
Climate, Clothing and Malaria
You don't need any vaccinations, however a Yellow Fever certificate is required if you're travelling from a country with a risk of yellow fever.
It's a Malaria area so get Malaria prophylactics, which are best taken a few days before your trip. Pack long-sleeve tops and long trousers to wear after sunset.
More information: