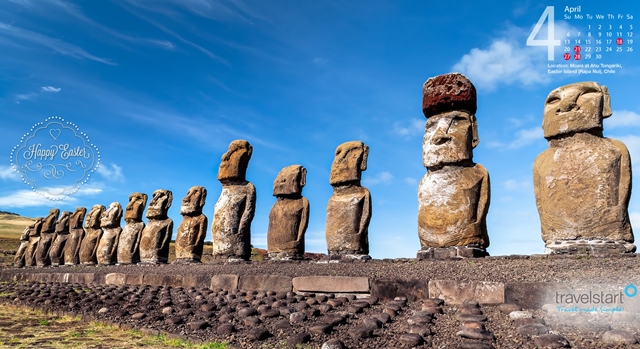 April in South Africa means public holidays! If you're can get your leave approved in time you stand to benefit in terms of days off. Put in leave between Good Friday, Freedom Day and Workers Day and get a consecutive 14 days off and more time to travel. In other words, permission to take 6 annual leave days translates into an effective 2 week holiday!
In recognition of the month of public holidays we've got an awesome Easter Island wallpaper calendar for your desktop and mobile devices.
Free Wallpaper Downloads for April 2014
Desktop Computers
1366 X 768 – DOWNLOAD (with calendar)
1366 X 768 – DOWNLOAD (without calendar)
1980 X 1080 – DOWNLOAD (without calendar)
1980 X 1080 – DOWNLOAD (with calendar)
Laptops
1440 X 900 – DOWNLOAD (with calendar)
1440 X 900 – DOWNLOAD (without calendar)
Tablet Computers
960 X 800 – DOWNLOAD
Phones
320 X 480 (for iPhone 3/Small Android) – DOWNLOAD
640 X 960 (for iPhone 4/Regular Android) – DOWNLOAD
Facebook Cover Photo
851 X 315 – DOWNLOAD
Easter Island travel
Easter Island is a Polynesian island in the southeastern Pacific Ocean, at the southeastern most point of the Polynesian Triangle. Easter Island is famous for its 887 extant monumental statues, called Moai, created by the early Rapa Nui people. In 1995, UNESCO named Easter Island a World Heritage Site, with much of the island protected within Rapa Nui National Park.
Visa
South African passport holders travelling to Easter Island (which forms part of Chile) do not require a Visa for Chile for a stay of up to 90 days.
Getting there
If you're travelling from South Africa it's not cheap! For example, a search on Travelstart.co.za for flights to Easter Island from Johannesburg reveals the cheapest single Economy Class ticket to be R41 251 (incl. taxes) if you depart on 1 July 2014 and return on 18 July 2014. This includes 2 stops before you reach your destination (Sao Paulo and Santiago) and a total journey time of 34 hours one way. No matter which airline you decide to fly with you will most certainly be travelling through Santiago, Chile to get there.
Easter Island is served by Mataveri International Airport, with flights from LAN Airlines and, seasonally, subsidiaries such as LAN Peru. The most remote airport in the world, Mataveri International Airport is 3759 kilometres from Santiago, Chile. The airport is the main point of entry for thousands of tourists who come to Easter Island to see its Moai statues.