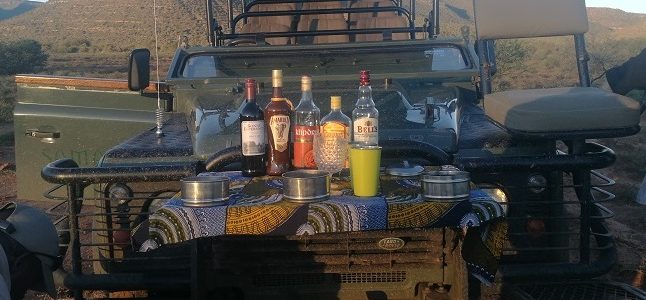 Peaceful silence punctuated by the occasional chirping bird or cheeky monkey, waking up at Samara Private Game Reserve could not feel further from the big city bustle its guests are no doubt wanting to escape. Fresh crisp air that, upon closer approach to the main lodge, is infused with the warming, awakening aroma of fresh coffee and your next meal, beckoning after your most recent, action packed game drive.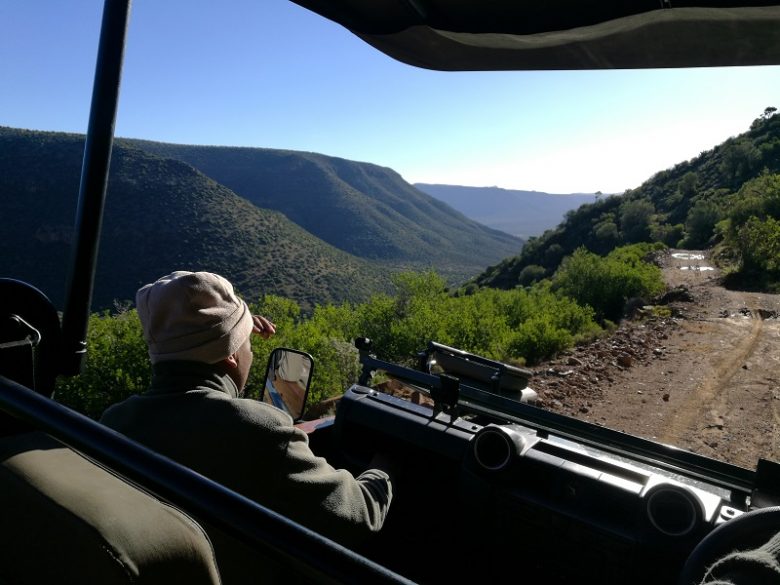 About 3 hours outside of Port Elizabeth near Graaf Reinet in the Great Karoo is where you'll find the five star Samara Private Game Reserve- an intimate, luxurious lodge located on a sprawling 70,000 acres of wilderness encircled by majestic mountains and inhabited by Africa's most exquisite beasts, all waiting to be explored.
A treat for South Africans and tourists alike, Samara Game Reserve offers its guests the perfect balance of quality time outdoors in nature and put-your-feet-up-and-relax indulgence.
The Highlights
Game Drives: Two of which are included daily at Samara. Head out on Landrovers first thing in the morning and again in the late afternoon for 2-3 hours at a time, thankful for Samara's cosy ponchos that protect against the elements. Spy giraffe, zebra, cheetahs, black and white rhino (all dehorned for their safety except this guy below), rare aardvark, exquisite game, warthog, wildebeest, monkeys and more on your game drives. Amble up the mountain to marvel at the sweeping views from above, enjoy sundowners on the drive or request a walking, running or cycling safari instead.
The Small Touches: Sherry in the bedrooms. A bath pre-run for your enjoyment after a particularly chilly game drive. Delicious welcome drinks. Umbrellas for wet days. Torches for dark nights. Yoga mats in the suites. And of course the prerequisite but always lovely and somewhat indulgent white robes and slippers.
The Rooms: Our beautiful Karoo Suite was a standalone cottage that was about 100 metres from the main lodge, where all the activity and dining happens. With a gigantic and dangerously comfortable four poster bed, lounge area, large bathroom complete with bath, huge shower and his and hers basins, outside shower and large private wraparound veranda, it was spacious, private and perfectly cosy for two. Furnished with a visibly African cum colonial flair, imagine beautiful heavy wooden furniture, a reed ceiling, white embroidered linen and zebra skin carpet. Beware TV junkies, there was no television in our rooms, but you won't miss it for a second. No TV in our suite meant more quality time in nature and more quality time together. More revitalising walks in the bush, more lounging by the pool, more sitting by the fireplace in the bar chatting to the guests or staff, and more nights of deep sleep after a long day of game drives, great food and more fresh air than we are used to. If you're an 8 o'clock news kind of girl or a can't miss a rugby match kind of guy, don't despair – there is a TV room in the main lodge so you don't miss out on anything too dear to your heart.
The Dinners: A foodie at heart, let me assure you that dinners at Samara are something to look forward to. Hosted either inside the main dining room next to a roaring fire, outside overlooking the garden, or in the festive boma/ braai area, our dinners included an Indian feast the one night and three course dinners prepared by the chef the other two nights (the pouring rain sadly drowned out our dreams of a convivial communal braai outdoors). Think creamy tomato soup and freshly baked rolls, salmon bruschetta or spinach and feta tart followed by racks of lamb, fillet medallions and fresh fish, with crowd pleasers like cheesecake and apple crumble for dessert. Plus, their bar is well stocked with a great selection of wines –if in doubt, try the house red.
The Special Experiences: Arriving at a secluded spot at sunset for a private rustic dinner and sundowners, gazing at the milky way and pointing out various constellations with the help of some cleverly provided books before falling asleep under the stars in a king sized four poster bed, wrapped up in warm mohair and the one you love. Sound good? That's Samara's latest offering, the romantic Milky Way Star Bed.
The Cheetah Tracking: Drive out at dawn and stop the Landrover after picking up a signal from one of the cheetah's collars. Climb out of the vehicle and close in on Chili and her gorgeous cubs or one of her compatriots on foot, stopping a few meters away to admire them up close. We were fortunate enough to see Chili and her brood playing together and were surprised to see how close we could get to them without her becoming wary of us!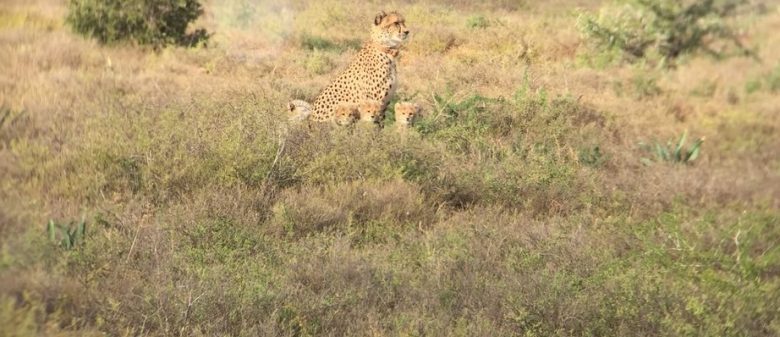 The Atmosphere: Always courteous and thoughtful of the needs of their guests, the hospitality of the Samara team make the lodge a home away from home. The knowledgeable guides are informative, experienced and funny, as well as always willing to tailor their experiences to your interests. The hosts and waitrons will ensure you are satisfied at all times with superior standards of service and a sincere interest in delighting their guests.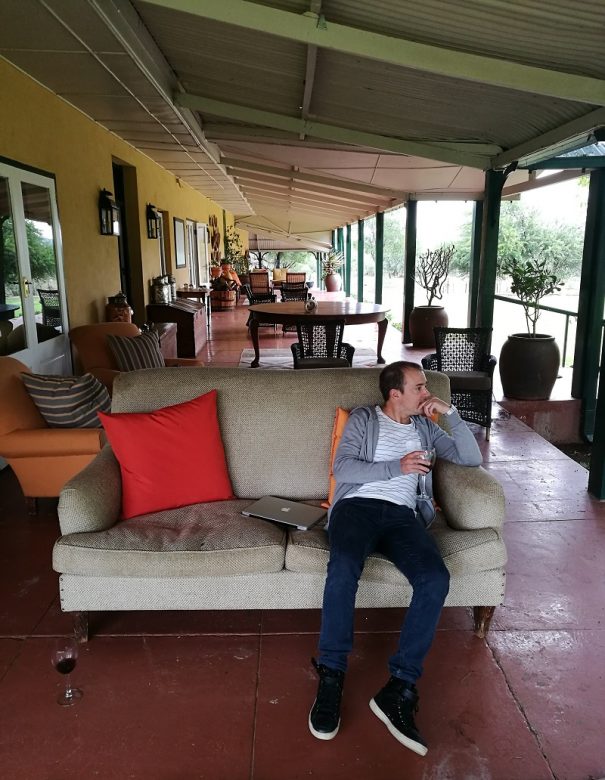 The Chill Factor: In addition to being a foodie, I am also a complete sun lizard. Between meals and game drives, cool down in the sparkling swimming pool and then lather yourself in sun lotion, collapse yourself into the nearest sun lounger, order a gin and tonic and get stuck into a novel or listen to the birds and monkeys playing nearby. Your weary body – and your tan – will thank you later.
The Costs
Depending on the time of year that you visit and the accommodation type you choose, Samara guests can expect to pay between R2880 and R5530 per person sharing per night.
Included in the rates includes not only your en-suite luxurious accommodation, but all meals (breakfast, lunch, afternoon tea and dinner), two game drives per day as well as refreshments on the games drives, kids club and WIFI.
The Feel Goods
Samara Private Game Reserve could not be further from those canned safari experiences that leave you feeling, if anything, a bit sad for the animals.
Completely free to roam the 70,000 acres of land, feed off bushes, hunt for prey and breed, the animals at Samara are truly wild and, if purchased from another property, their relocation is carefully planned so as not to cause any unnecessary distress.
Wary of poachers who targeted the reserve a few years ago, all the rhinos at Samara have been dehorned or are in the process of being dehorned to protect them.
Providing homes for many endangered species and under-conserved vegetation, Samara's conservation efforts have focused on not only the Black and White Rhino, but on bringing Cheetah's back to Karoo soil after 125 years, on the Mountain Zebra previously on the brink of extinction, on the rare and bizarre aardvark and the plant life.