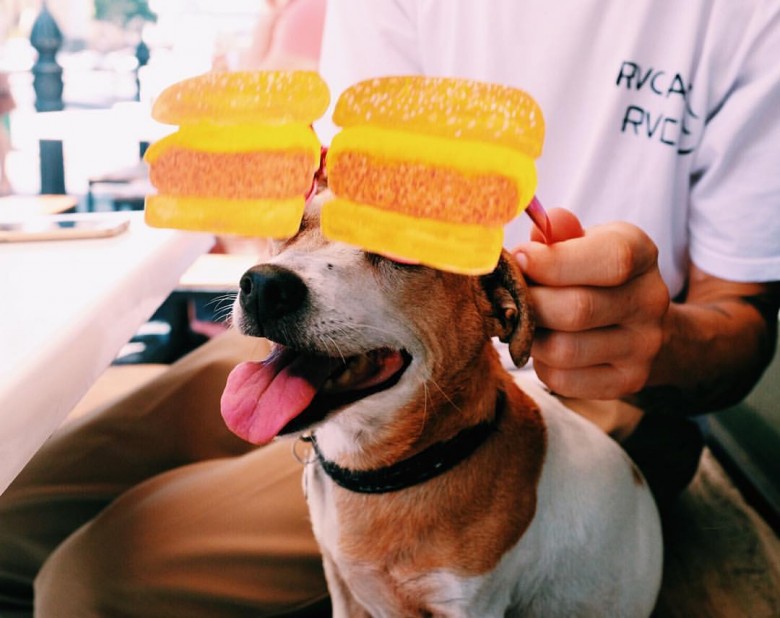 Cape Town's mouth-watering burger craze shows no sign of abating. For umami burger goodness (vegetarian options included) Travelstart's top picks have you covered. Be sure to add your suggestions to our round up of the best burgers in Cape Town in the comments below.
And for the Jozi burger lovers:
1. Woodlands Eatery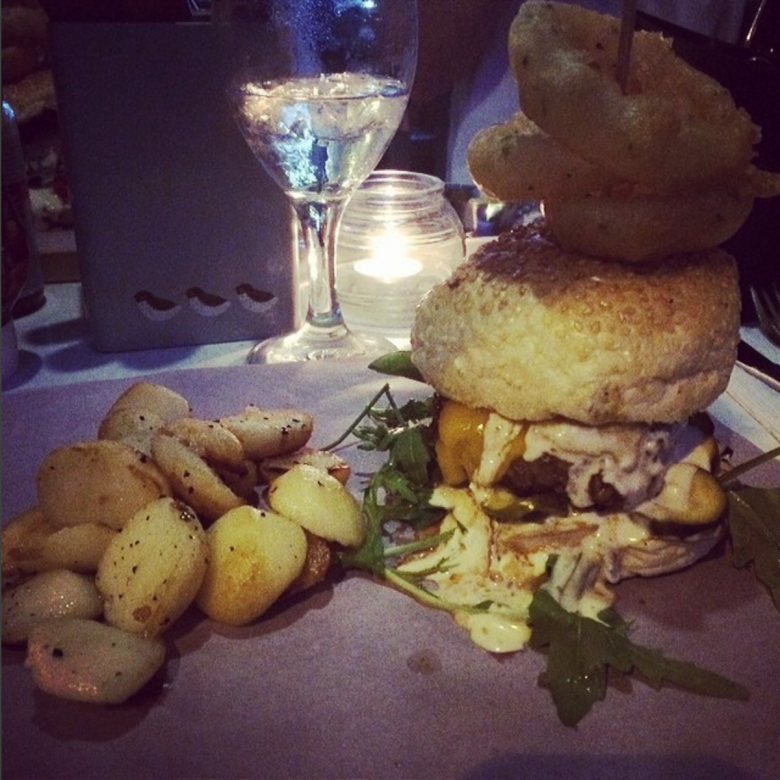 Courtesy of Janine Laubscher via Instagram
This cosy neighbourhood favourite serves up burgers dripping with flavour- Larry's cheeseburger is 180 grams of pasture reared beef with cheese, pickles and a dollop of creme fraiche served with crispy onion rings, and roasted baby potatoes all for R90.
Vegetarians will love the black bean & quinoa bean burger,
a blend of quinoa and black bean, roasted peppers, corn, chickpeas & spices. It's served with beetroot puree, pickled onions & sweet potato fries. R80.
021 801 5799
Vredehoek, 2 Deerpark Drive, Vredehoek, Cape Town
Open Monday to Friday from 5am to 10pm and Midday to 10am on the weekends.
2. Clarke's Bar & Dining Room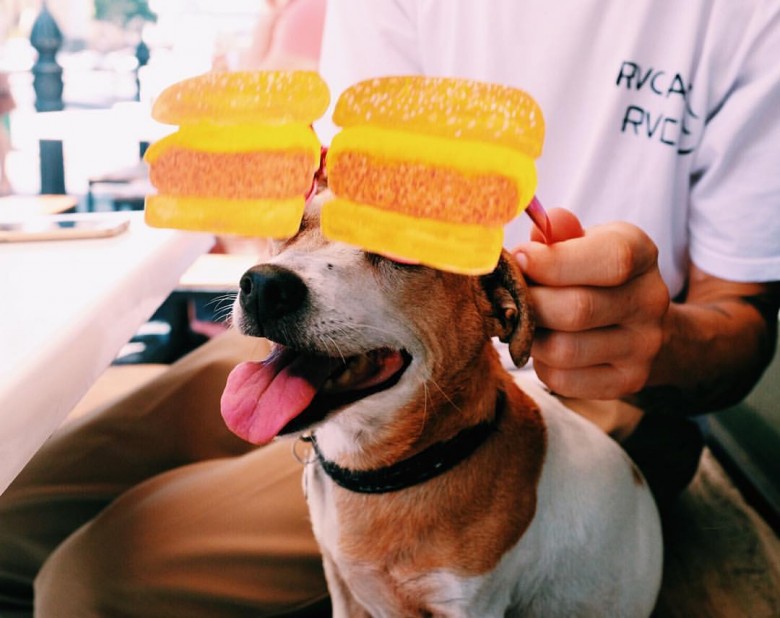 Courtesy of Clarke's Facebook Page
Slick inner city diner Clarke's is buzzing from breakfast til midnight. You won't want to miss out on their incredible cheeseburger. Grass fed beef burger with Underberger cheese & fries for R85.
Vegetarian option: Zucchini and beet burger with aubergine, smoked mozarella & fries or a side salad R85
Good to know
2 for 1 Tuesday. 2 Cheeseburgers or Beet & Aubergine Burgers for the price of 1! 6pm – 7pm, no takeaways.
021 424 7648
133 Bree Street
Open on Monday from 7am to 5pm, Tuesday til Friday from 7am to midnight, 8am til midnight on Saturdays and 8am til 3pm on Sundays.
3. The Tap Room – Devil's Peak Brewery
The best burger and craft beer special to be had in Cape Town is on Tuesdays at the Tap Room from 6pm to 9pm. It's just R55 for their famous cheeseburger and a First Light Golden Ale or DPBC Lager plus there's free wifi.
There's also a veggie burger on the menu for R78.
Devils Peak Brewery, 95 Durham Avenue, Woodstock.
021 200 5818
Open Monday from 9am til 4pm and the rest of the week 9am til 11pm and closed on Sundays.
4. Three Feathers Diner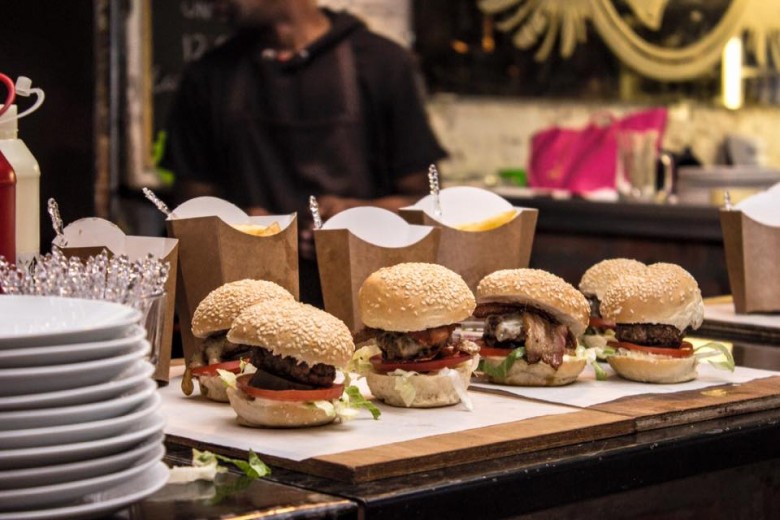 Courtesy of Three Feathers Diner Facebook Page
Self-described as the "ultimate man-cave experience" three feathers has that Travolta in Grease feeling.
Go for the Mustang a "beast of a burger" as it's the Charger and Corvette burgers combined. Say yes to grilled bacon and egg with jalapeno chillies and a slice of mature cheddar all for R85.
The veggie burger has sautéed mushrooms served with a slice of cheese and avocado for R80.
021 448 6606
68 Bromwell St, Woodstock, Cape Town, 7950
Monday to Tuesday from 9am to 5pm, Wednesday to Friday 9am to 10pm, Saturday from 9am to 6pm
5. Dropkick Murphy's
Recently opened, Dropkick Murphy's brings with it killer Durban vibes and a modern riff on a traditional Irish pub. The featured image above is Chef Neil Coventry's feast – a craft beer and slider pairing – sliced roasted pork belly with pickled red cabbage, a beef mini patty with blue cheese and caramelized onion and a Thai chicken, fresh coriander, pickled carrots and cucumber with a spicy peanut satay sauce and rocket.
If you go for a Paddy Burger you get a choice of a 180g beef or chicken burger, served with shredded lettuce, tomato and hand-made BBQ sauce for R55 and there's an extensive range of extra toppings from which to choose. Great cocktails and happy hour specials too.
Vegetarians can munch a falafel burger for an extra R10.
021 422 2251
8 Kloof Street, Buitenkloof Studios, Shop No. 5.
Open from Tuesday to Thursday and Sunday from midday to 1am and closes an hour later on Fridays and Saturdays.
6. Hudsons – the burger joint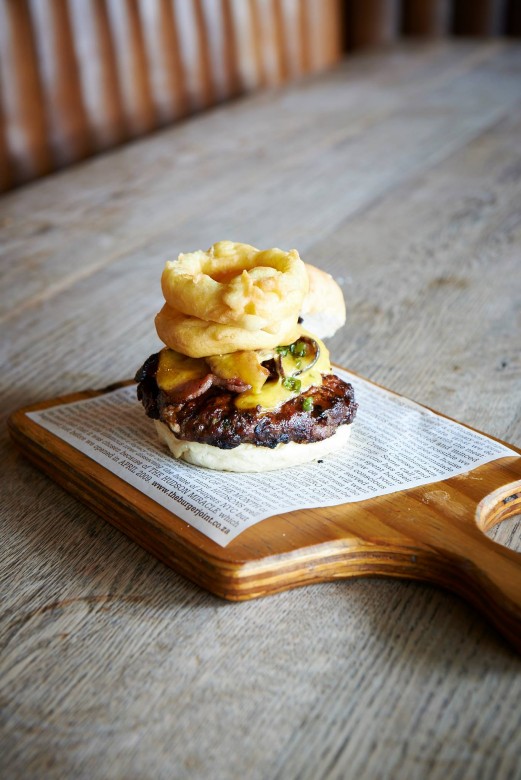 Courtesy of Hudsons the burger joint Facebook Page
Hudsons is a Cape Town classic. LA meets the Mother City for a burger and fries. Try their BOOM BOOM burger, a beef patty topped with tomato relish, biltong dust, chili cream cheese and sliced battered jalapeno rings. R56 for a 180g patty.
For the veggies:
The Meridian features a chickpea and lentil patty topped with mustard mayo, tomato relish, red onions and jalapenos.
Don't forget about their double thick homemade lindt brownie shakes for dessert.
Open every day from 12PM – 11PM.
021 4331496
Branches in Gardens, Parkhurst, Claremont, Stellenbosch and Greenpoint
Also read:
7. RocoMamas, Durbanville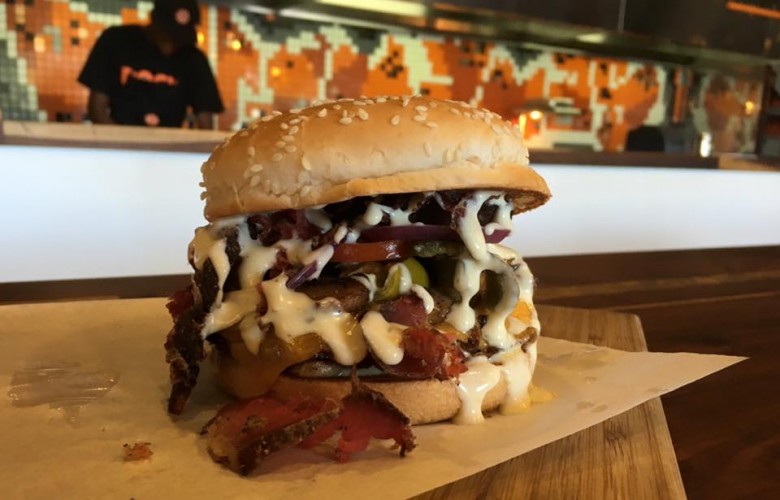 For rocking burgers head to RocaMamas. Their "Smashburgers" are standard. Recommended: the smashed beef patty with bacon, cheese and guac for R54 or create your own.
Shop 16, Palm Grove Centre, Corner of Main Road and Church Street
Durbanville, Okavango Durbanville, Greenpoint and Somerset West
021 975 5457
Open 9am to 10pm everyday.
8. The Royale Eatery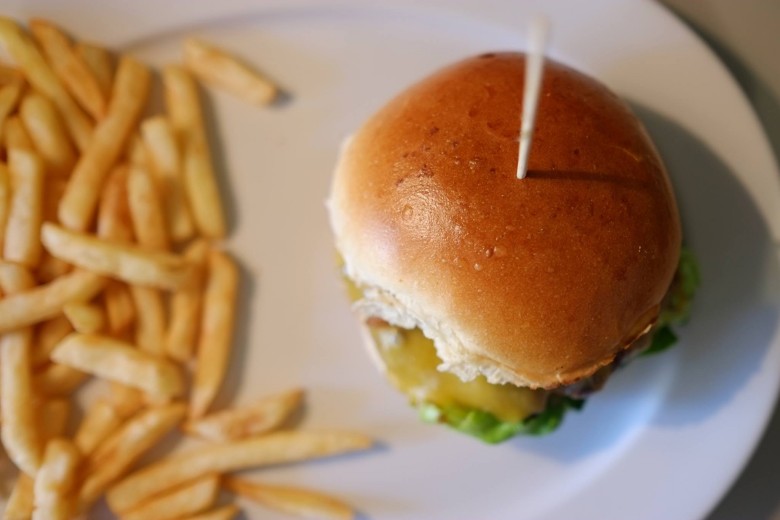 Courtesy of the Royale Eatery Facebook Page
Visiting celebrities (ahem Salma Hayek) and locals in the know frequent the most royal of eateries. This beautifully decorated space with comfy booths and art for sale on the walls is a keeper.
All Royale Classics come with a 160g pure basted beef patty with garlic aioli, lettuce, tomato, caramelized onion and gherkins. Choose between sides of sweet potato fries, normal chips or salad or combos of two of them (sides are included in the price of a burger). All classic burgers are available in single, double, vegetarian or free-range chicken options. A Classic Royale is R73.
The El Burro is a definite favourite- 160g beef patty blended with chorizo, chillies and coriander. Topped with mozzarella cheese, smoked jalapenos, roast tomato salsa and guacomole at R104.
A single patty Veg Royale costs R69.
273 Long Street
021 422 4536
Open Monday to Saturday, 12:00 to 23:30
9. IYO – Inside and you're out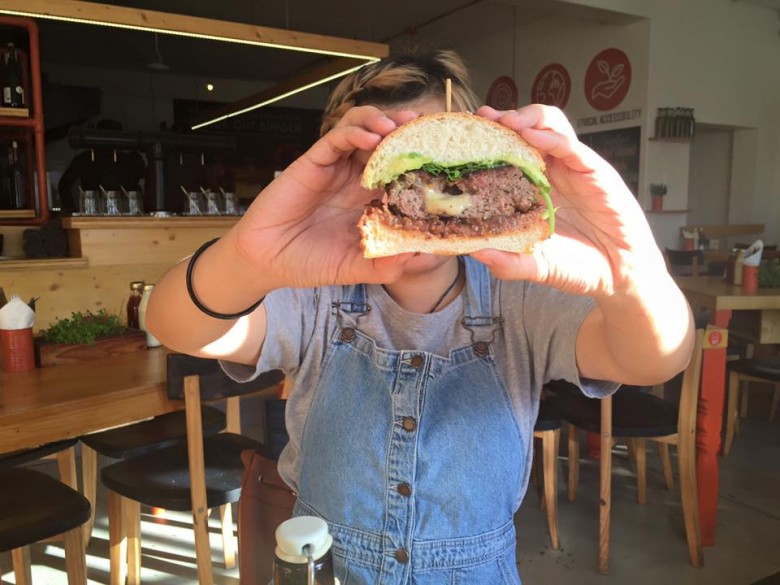 Courtesy of Cape Cooky via the IYO Facebook Page
This enviro-foodie hot spot boasts the Umami BBQ bun or bunless burger. It consists of a Boerenkaas cheese beef patty topped with pickled cabbage, toasted sesame seeds & peanuts, hoisin BBQ sauce and yuzu dressing. Go bunless and get a delicious salad filled with the good stuff. R82.
You'll find cheese inside your patty (hence the name). Great salads and ordering is fun as you fill in a quick form and submit it.
Upstairs, 103 Bree St.
021 422 1313
Open from Tuesdays to Saturdays from 12am to 10 pm, closed on Sundays, open 5pm to 10 pm on Mondays.
10. Jerry's Burger Bar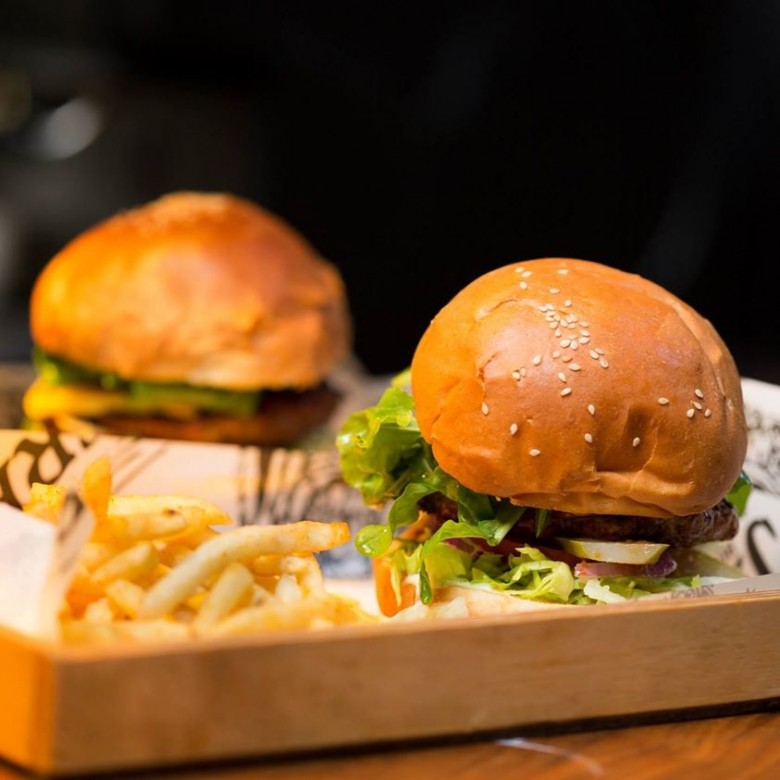 Courtesy of Jerry's Burger Bar Facebook Page
Try one of Jerry's seven deadly sin burgers – the Lucy – a hand made patty divided into two with a hollow in the middle for whatever delicious stuffing you desire. From R74.
R68 gets you a veggie burger with a patty made from chickpeas topped with mushroom/ pepper sauce.
5 Park Rd, Gardens,
021 422 4415
Closed on Mondays, Open Tuesdays to Sundays 8.30 am to Midnight.
Branches in:
Obs, Kloof, Blouberg, Willowbridge Centre
11. Hello Sailor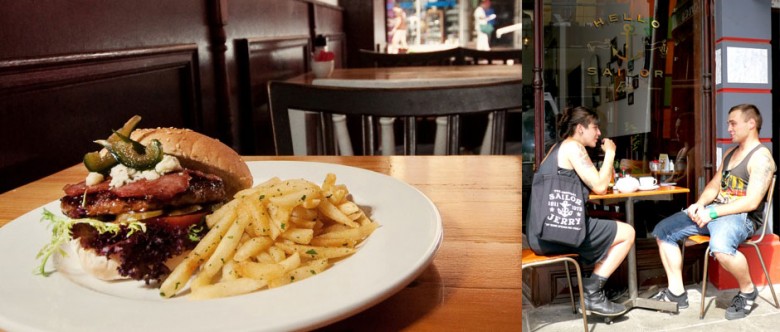 Hello Sailor is my favourite spot thanks to its laid-back atmosphere, quality food, simple but fresh ingredients and the collection of sailing memorabilia on the walls. You could be in the galley of a ship except the food is infinitely better. The classic cheeseburger is only R50.
86 Lower Main Rd, Observatory.
8:30am to 11pm from Monday to Friday. 9am to 11am on Saturdays and Sundays.
12. Odyssey Gastro Pub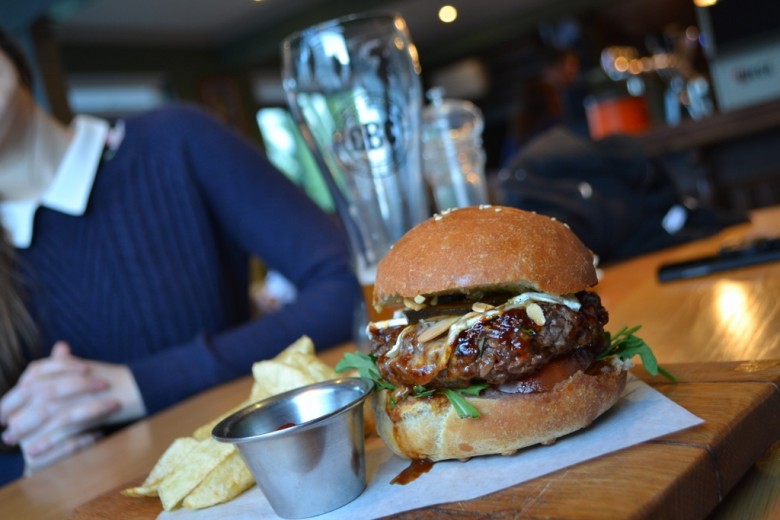 Classy venue great for craft beers at the bar or champagne and burgers with a rad view on the second floor. Live music too. Top choice: the lamb burger which is made up of a lamb patty, creamy feta, red onion and chimmichurri drizzle. R120.
Veg option: Mushroom, butternut and feta veggie burger with all the trimmings – R70.
199 Bree St, Cape Town City Centre
021 422 4084
Open everyday except Sundays. 4pm to 2am.
13. Neighbourhood Nacho Burger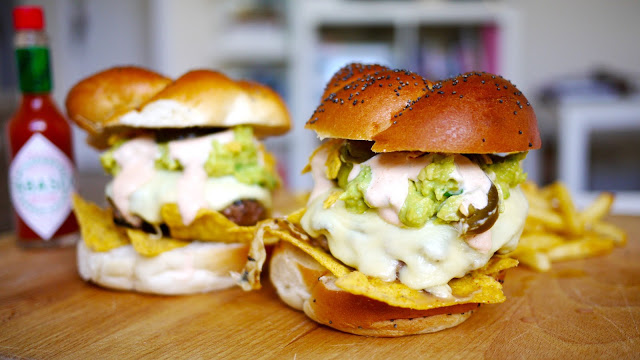 The marketing team at Travelstart rates the Nacho Burger as a winning choice. It's a beautiful mess of nacho chips, melted cheddar, jalapeños, salsa and guacamole. R74.
Veg option: the falafel burger – falafel patty, fresh cucumber, onion, tomato, lettuce, hummus and tzaziki. R60.163 Long St, Cape Town
021 424 7260
Open everyday from 12pm to 2am.
14. The Dog's Bollocks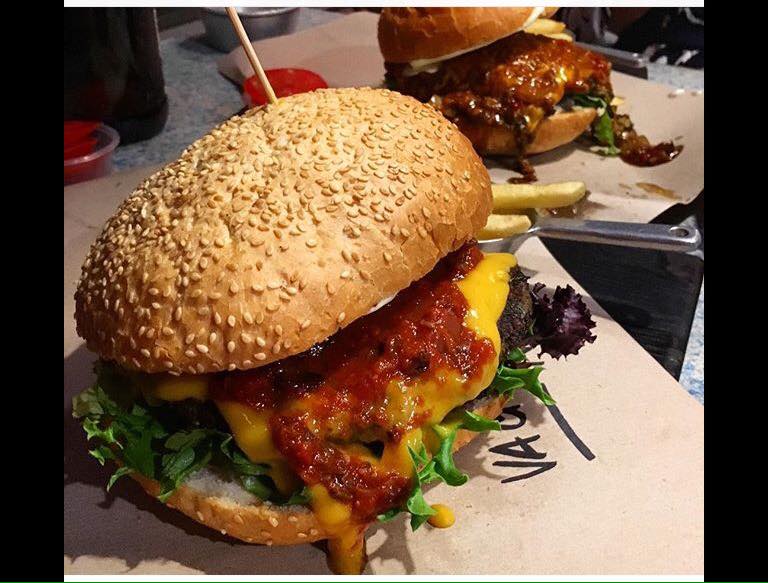 Courtesy of The Dogs Bollocks Facebook Page
Head to the Yard down a narrow alley near Buitenkant street.
Patrons sit chatting happily around garden tables with bottles of wine. You need to place your order at the counter then think quick when they bark your name.
All burgers are priced at R95 – why not try a Pepperberry blue or a New Yorker (pictured).
Vegan patties available.
6 Roodehek St, Gardens.
082 885 5719
Monday to Friday from 5pm to 10:30 pm, every Saturday and Sunday from 5pm to 10:30pm.
15. Yo Meatball – Meatball Burger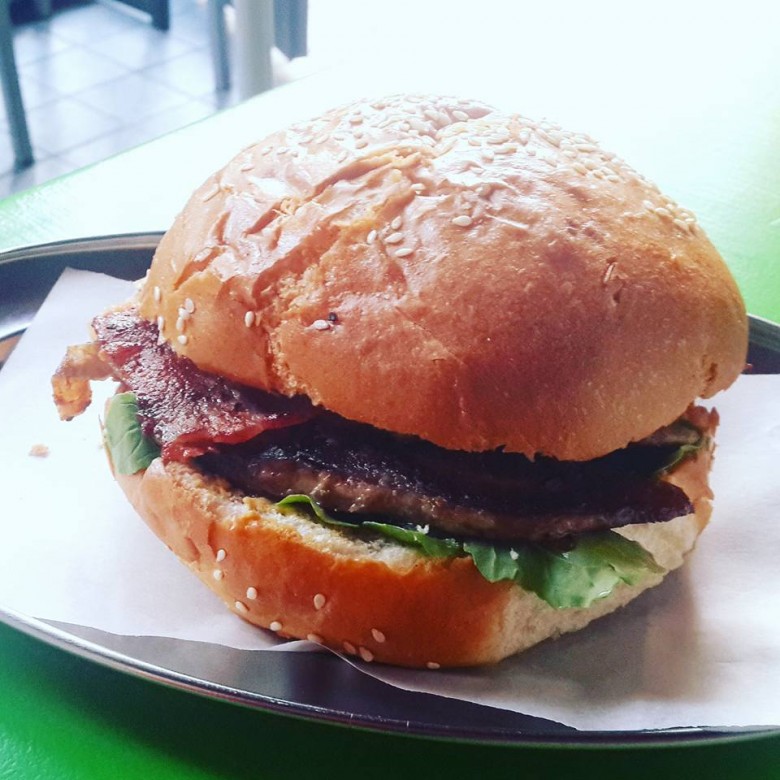 Not just delicious meatballs, Yo Meatball serves up awesome burgers too. Tempt yourself with a meatball sub or go gourmet with a Frenchie – beef patty cooked in café de Paris butter on a bed of rocket. R55. That's a Mr Piggy in the picture. Yum!
77 Roeland Street, CBD
083 268 9430
10 am to 8pm everyday except Sunday
16. Beefcakes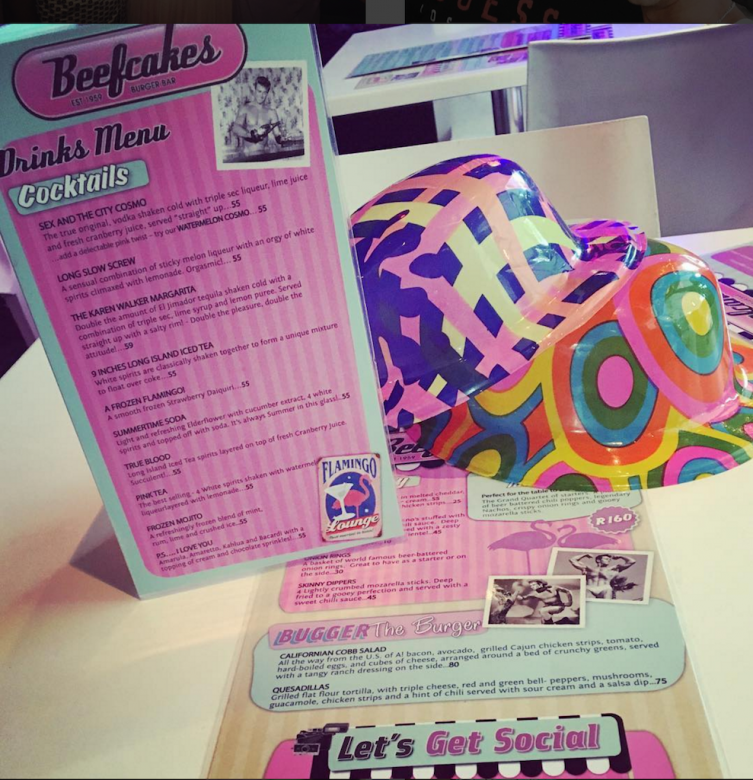 Beefcakes has it all – it's a diner and performance venue self-described as "camp-chic" with chiseled abs from the shirtless waiters and equally delicious Beefcakes burgers. R79 for a beef burger or a veggie burger. This venue is very popular especially on event nights so best to book in advance.
40 Somerset Rd, Green Point.
021 425 9019
Open everyday except Sundays. Hours: 7pm to 11pm.
17. Tamboerswinkel
Courtesy of Tamboerswinkel Facebook Page
Neighbourhood hang-out in Tamboerskloof with emphasis on locally sourced, high-quality ingredients. Don't miss the winkel's Thursday Burger and Beer night from 6pm. You can get your paws on a Gourmet Burger & Old Harbour beer for only R100. Bookings recommended.
3 De Lorentz St, Gardens
021 424 0521
Open Wednesdays to Fridays from 8am to 10pm, and Saturdays to Sunday from 8am to 4pm. Monday to Tuesday from 8am to 6pm.
18. Tiger's Milk
"Dude food made real good" is the motto for this Muizenberg original with a prime view of the waves. Check their website for the Muizenberg surf report or simply scan the ocean from the vantage point of their restaurant. Their equally cool but cosier Long Street branch is just round the corner from Travelstart's offices.
Recommended: the Truffle-infused mushroom sauce burger made with a 200g pure beef or chicken patty. All yours for R90.
The vegetarian option is a mushroom, aubergine and feta burger for R79.
The Long Street branch is open everyday except Sunday. The Muizenberg restaurant is open everyday from 11am – 2am.
19. Emily's Bistro & Bar on Kloof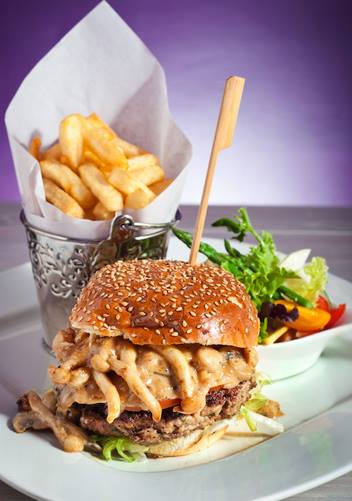 Courtesy of Emily's Kloof Facebook Page
Emily's is an institution for those in the know. The restaurant was based in Woodstock in the 90's then spent 10 years at the Waterfront. You can now find it tucked just off Kloof street, unmistakeable with its bright accents of purple paint. Known for its great South African flavoured cuisine – go for the Boerewors burger; a boerewors patty, piquanté pepper butter, tomato and onion sauce, lettuce and fresh tomato served with deep-fried putu, salad beans and copper-penny salad.
55 Kloof Street, Gardens, Cape Town
021 424 0882
Open everyday from 1 PM to 12 AM
20. Burger Fair in Belleville
Courtesy of Burger Fair Facebook Page
I have a friend who claims that the drive through at Burger Fair is the greatest burger experience in Cape Town. Cheap and fun, you can't go wrong with three steak burgers, three chips and three sodas for R80. The double thick shakes come highly recommended too. Open from Monday to Thursday from 9am to 2am. Kotze St, Thalmen.
Though every effort has been made to ensure the accuracy of the information presented below, information is subject to change at the restaurants' discretion so it is best to always call ahead to confirm opening hours and prices.