Get more for your money when you choose one of these exciting cities as a layover destination. I recently flew from Johannesburg to Bali with an 8-hour layover in Hong Kong. Since there are no direct flights from SA to Bali it is inevitable that you will need to stop somewhere and Hong Kong is a particularly attractive layover destination owing to the fact that it is 30 days visa free for South Africans and the transport system is phenomenally efficient. Plus the food scene is among the best in the world and you'll get a fascinating travel experience add on to your original trip for less than R300 extra (I budgeted R300 for the return Airport Express, a return ferry ticket, a meal at a street vendor and a red taxi ride).
It is a pleasure to layover in Hong Kong International Airport, awarded fifth best airport in 2016 in the Skytrax world airport awards, and fourth best in 2015 (I am a fan of the 2-hours of free Wi-fi available per passenger) however if you do have the time (I would recommend at least 6 hours between flights) then you should definitely take a few hours to explore fascinating Hong Kong.
It takes just 24 minutes to get from the airport to Central Station on Hong Kong Island- and the return ticket is just R174 (100 Hong Kong dollars). The Airport Express left precisely on time and there are trains every 10 minutes from 05:54 to 23:28 and approximately 12-minute intervals from 23:28 to 00:48 daily.
Good to know:
If you pay for anything in Hong Kong with a Mastercard or Visa card always choose the Hong Kong currency option as you will get Mastercard or Visa's already negotiated exchange rate and no extra fees.
Tempted to stay longer in Hong Kong? We were. If you're willing to splurge a little I would recommend staying at Hong Kong's luxury Hotel Icon (room rates for two start from around R2700) where you get complimentary snacks and drinks in the mini-bar and a specially programmed smart Handy Phone with unlimited data, free international calls to 25 countries and free local calls. This is the only hotel I have heard of that offers this lend-a-smart-phone service. You won't need to worry about searching for Wi-Fi when you're out and about in the city and you can use their Handy Smart Phone to easily access transport schedules and museum opening times.
But what can you fit into 4 hours in Hong Kong?
A lot actually. I had heard that Hong Kong is one of the most expensive cities in the world, however as a layover destination it proved fairly cheap. This is because it is really inexpensive and efficient to use public transport and there are many free activities on offer.
We used red taxis to get around to save time, however the distances on Hong Kong Island are fairly small so if you have the time, walking along the sky pathways is a good way to get around (especially considering Hong Kong traffic). Short distances by red taxi cost about R70, there were four of us per taxi so this actually wasn't too bad and it allowed us to fit in more attractions, the taxis run on a meter system.

I would recommend getting the Airport Express to Central Station (return from the airport costs only R174). From Central do a short 5 minute stroll to the Star Ferry Terminal and catch a very cheap (only R3,50 one way) 11 minute ferry across Victoria Harbour to Tsim Sha Tsui. The ferry runs daily from 6.30am to 11.30pm every 6 to 12 minutes. If you fancy some air-conditioning (a necessity in summer) pay a wallet-busting 1 rand more for the upper deck (R4.50).
The ferry service has been operational since 1888 so feel as if you are taking part in a grand tradition of Hong Kong ferry crossing. Plus the short trip offers you breathtaking views of the shoreline and surrounding mountains.
From the other side you could get a taxi or take the efficient MRT subway system to the amazing food stalls in Mong Kok (upper Nathan Road).
Don't miss out on the famous Hong Kong waffles known as eggettes and shaped like honey combs, crispy on the outside and soft on the inside. BBQ grilled squid on a skewer is also a favourite. If you don't have a lot of time I would recommend returning on the Star Ferry immediately back across the bay to Hong Kong Island (this entire process shouldn't take longer than 30 minutes from start to finish and if you're lucky you may have even spotted dolphins in the bay).
Since you're in easy waking distance (just a few minutes from the Star Ferry Terminal) you can get an incredible free view of the city if you take the elevator to the 55th floor of the International Finance Center 2 building. Take your passport along as a photo ID is required for security reasons.
Opening hours: Monday to Friday 10am-6pm, Saturday 10am-1pm.
Next we tried to take the tram to the famous Peak, unfortunately there was quite a large queue and we had limited time so instead we went for a stroll in the beautiful Hong Kong Park (free entrance) and visited the Edward Youde Aviary which is teeming with rare birds such as the Bali Myna. This was very pleasant and also free.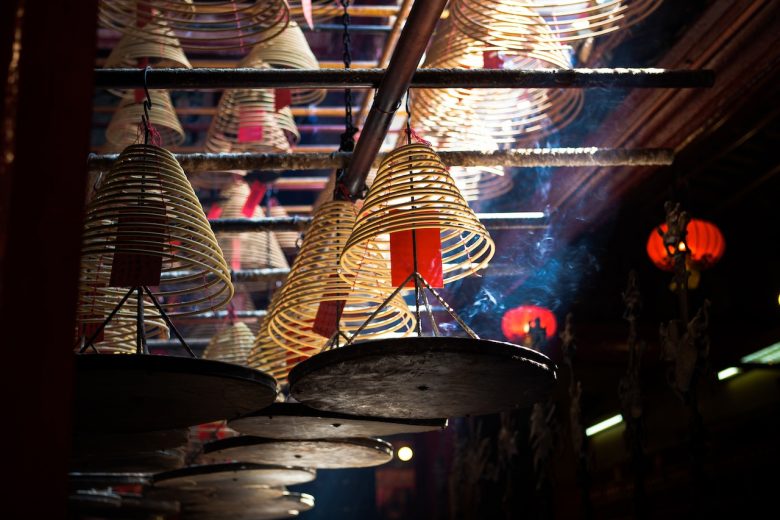 After that we took a red taxi through the evocative buzzing streets near Hollywood Road and got off at the Man Mo Chinese temple (also free however a donation is recommended). Streaming with devotees, tourists and clouds of sweet incense this is a great experience. The temple is one of the oldest on the island and was built for the Chinese god of literature (Man Cheong) and the god of war (Mo). Open daily from 8am to 6pm.
Oldest Chinese temple in Hong Kong today, built by merchants in the 19th Century for the God of Literature (Man) and the God of War (Mo).

It is very easy to find a taxi in Hong Kong. There was a designated waiting point, outside the park near the queue for the tram to the Peak, and the same was true for outside Central Station. Interestingly the taxis are colour-coded; green taxis are for the New Territories while red taxis are generally a safe option as they cover Kowloon and Hong Kong Island.
After Man Mo temple we hoofed it and walked back to Central Station (an easy twenty minutes) and stopped in at a traditional noodle place on the way.
This was less than a fraction of the activities on offer in thriving, cosmopolitan Hong Kong, however it whet my appetite to return. There are mountains to be climbed Hong Kong is famous for the range of outdoor adventure activities on offer, not to mention its dynamic food scene. However we cautiously returned at high speed to the airport in anticipation of our connecting flight.
Everything about our layover in Hong Kong was effortless and interesting. The airport staff and security were polite and efficient.
Immigration took 10 minutes when we exited the airport and instead of a stamp in your passport you are given a small piece of paper to keep in your passport giving you 30 days free entrance to Hong Kong.
Some other highly recommended layover destinations:
Hong Kong, Singapore and South Korea all allow South Africans visa-free entry for 30 days. Ireland and Israel offer 90 days free entry for South Africans (making Tel Aviv and Dublin great layover and stopover destinations) and Istanbul is very easy to visit when you quickly complete their FREE eVisa process online ahead of time giving you 90 days entry.
Don't miss out on Travelstart's Turkish Airlines International Sale here. Find great flights to Tel Aviv from R7676 (and cheap fares to Athens, Lisbon, Malta, Zurich and more).
Singapore's Changi Airport
Multiple winner of best airport in the world you would think that there wouldn't be too many reasons to leave the comfort and attractions of Changi airport, however South africans get 30 days visa free in Singapore and it is definitely worth venturing into the city either on your own steam or on the free tour offered by the airport.
To qualify for the free tour (which includes the famous Gardens by the Bay) your layover period needs to be at least 5 and a half hours and less than 24, and your flight schedule needs to fit in with the Changi Airport tour timing requirements.
If you are in Terminal 2 sign up for the free tour near the escalators to North Arrival Immigration and Skytrain station at Transit Mall North, Level 2 (Near Transfer Lounge E).
If you are in Terminal 3, sign up is next to Transfer Lounge B at Transit Mall North, level 2. And if you are in Terminal 1, it is necessary to transfer to Terminal 2 to register.
Important to note:
According to Changi Airport transit passengers are allowed to enter and exit Singapore once during their layover period, as per guidelines stipulated by Immigration & Checkpoints Authority of Singapore. Passengers are not able to join more than 1 tour as it will involve entering and exiting Singapore more than once.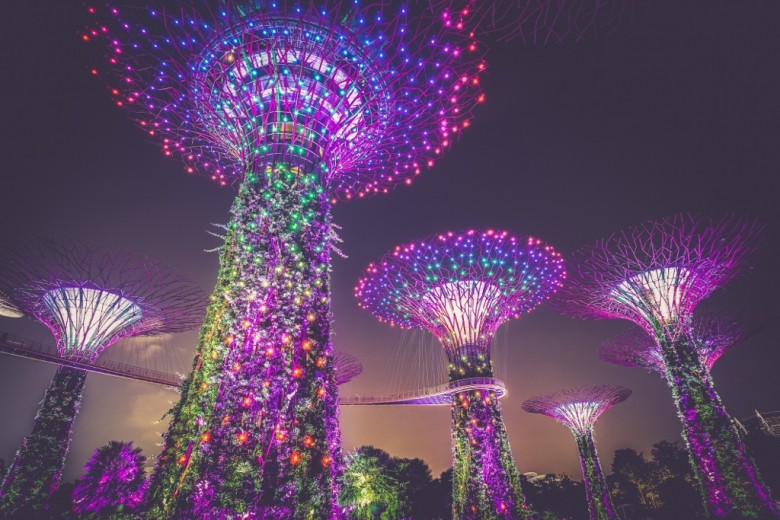 Read Dawn Jorgensen's account of her time in the supremely clean sovereign city-state:
And Russell Jarvis' account of how to spend 11 hours in Singapore on a budget:
Not enough time to leave the airport? Never fear there is so much to do in Changi International you won't feel like you're missing out. options include their open-air cactus garden, butterfly garden and more:
If you find yourself on a layover in Incheon International Airport in Seoul (winner of second place in the Skytrax World Airport Awards 2016), you can sign up for a $10 Incheon city tour. Find out more here. South Korea also offers South African citizens 30 days visa-free making this a great layover choice if you are flying to New Zealand or Tokyo.