An ancient civilization shrouded in myth and mystery, Egypt is fast becoming a top bucket-list destination. Famed not only for the limestone pyramids that stud its desert landscape, or the lion-like Sphinx, Egypt's beaches, culture and cuisine are all drawcards in their own right. The best time to visit Egypt and its fascinating features depends on a few factors, which we delve into on this Egypt travel guide.
Egypt Weather
October through to May is the best time to visit Egypt overall for more temperate weather conditions. There are four seasons in Egypt, although with little difference between them. Located along the Mediterranean sea in the north and an arid landscape in the central and southern regions, means that Egypt is mostly hot and dry all year round.
Spring
The spring season in Egypt spans from March to May. Springtime is marked by strong gusts that kick up sandstorms intermittently from the desert regions, and the hot, dry winds carry dust to the peripheral cities. Average temperatures near Cairo are at a lovely 21 degrees Celsius, while the coastal regions enjoy an average of 19 degrees in the north and 24 degrees Celsius in the east.
Summer
June to August signals the summer months in Egypt, accompanied by exhaustive heat, sometimes reaching as high as 50 degrees Celsius. July is the peak of the summer season, with an average overall of 28 degrees Celsius inland and 30 degrees Celsius along the coastal resorts of the Red Sea. Conditions are slightly cooler and more humid along the Mediterranean coast, at around 25 degrees Celsius, thanks to the welcomed sea breeze. This is a great time to dive in the Red Sea to escape the heat wave!
Autumn
Arguably the best time to go to Egypt, autumn falls between September to November and boasts cooler temperatures and less wind – along with reduced crowds. Average inland temperatures are at 23 degrees Celsius, while the Mediterranean and Red Sea resort areas see 22 and 25 degrees Celsius respectively. The pleasant temperatures of the day drop considerably in the evening however, and warrant warm clothing.
Winter
The winter months in Egypt are between December to February and coincide with the windy season. Winter is the best time to visit Egypt's desert-bound landmarks if you want to avoid the scorching Giza and Cairo weather. The Mediterranean coastline sees cooler temperatures of around 13 degrees Celsius and some winter rain, while the coastline of the Red Sea experiences an average of 17 degrees Celsius across the season. Inland near Cairo, the chill of winter is apparent at 14 degrees Celsius.
Average temperatures in Cairo:
| | | | | | | | | | | | | |
| --- | --- | --- | --- | --- | --- | --- | --- | --- | --- | --- | --- | --- |
| Month | Jan | Feb | Mar | Apr | May | Jun | Jul | Aug | Sep | Oct | Nov | Dec |
| Low °C | 9 | 9 | 12 | 15 | 18 | 20 | 22 | 22 | 20 | 18 | 14 | 10 |
| High °C | 18 | 18 | 22 | 27 | 32 | 34 | 34 | 33 | 32 | 28 | 23 | 19 |
| Rainfall (mm) | 15 | 4 | 8 | 7 | 0 | 0 | 1 | 0 | 5 | 5 | 1 | 3 |
Average temperatures in Hurghada:
| | | | | | | | | | | | | |
| --- | --- | --- | --- | --- | --- | --- | --- | --- | --- | --- | --- | --- |
| Month | Jan | Feb | Mar | Apr | May | Jun | Jul | Aug | Sep | Oct | Nov | Dec |
| Low °C | 11 | 12 | 15 | 19 | 22 | 24 | 25 | 25 | 24 | 21 | 16 | 12 |
| High °C | 21 | 22 | 25 | 29 | 33 | 35 | 35 | 34 | 33 | 29 | 26 | 22 |
| Rainfall (mm) | 0 | 0 | 0 | 0 | 0 | 0 | 0 | 0 | 1 | 0 | 0 | 0 |
Average daylight hours
Catch the spring sun as it rises and sets between 06:00 and 18:00. Summer will see you up near 04:55, taking refuge from the heat as the sun sets at around 18:55. Autumn's average sunrise braces the horizon at around 05:40, before retiring near 18:00. As winter creeps in, the sun makes its tardy appearance for the year near 06:40, and sets soon again around 17:10.
Sea temperatures
The best beach locales in Egypt can be found at the resort towns of Hurghada and Sharm El-Sheikh on the Red Sea coast, in an easterly direction. The year-round warm waters of Egypt's coastline make for excellent diving, swimming and snorkelling off the sandy stretches.
While sea temperatures average 25 degrees Celsius along the coast of Hurghada, April to May and October to November are particularly great months for taking a dip or exploring the underwater wrecks on a dive. A popular point of departure for liveaboards and for diving off the coast, Sharm El-Sheikh also enjoys average sea temperatures of around 25 degrees Celsius year round.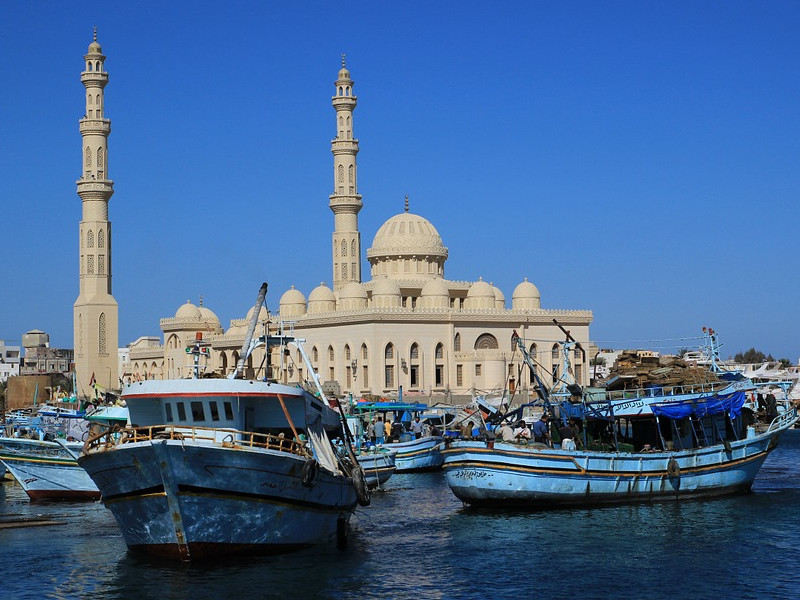 How much are flights to Egypt?
With an array of things to do in Egypt throughout the year, your biggest decision may come down to choosing the best time to fly.
Low Season (June-August)
The sweltering summer months deter all but the hardiest of travellers, who brave the searing temperatures to enjoy tourist-free sights (at reduced prices) in the arid regions. The coast, however, is bustling at this time, with the ocean providing a welcomed relief from the heat. Flight prices taper off by 33% from the prior busy Ramadan period. Ramadan falls at a different time every year, roughly ten days earlier each time around, following the lunar calendar.
Shoulder Season (March-May / September-October)
Egypt is swept by occasional dust storms around springtime, which can be unpleasant and sometimes interfere with flights. Also forming part of the shoulder season, Autumn is largely considered the best time to visit Egypt, thanks to the warm but not unbearably hot weather. An exception to the early shoulder season is Ramadan, with flight prices increasing by up to 91% in the month that it falls! Later in the shoulder season, you can snap up the cheapest flight of the year at around 48% less in October.
Peak Season (October-February)
Coinciding with global holidays and prime weather conditions across Egypt, the peak season falls over autumn and winter. As a result of the influx of visitors, you can expect hotel accommodation to be more expensive in preparation for the high season. South Africans will be relieved to know that this is the cheapest time to book flights to Egypt, but be sure to book your flights early as prices may fluctuate closer to your departure date.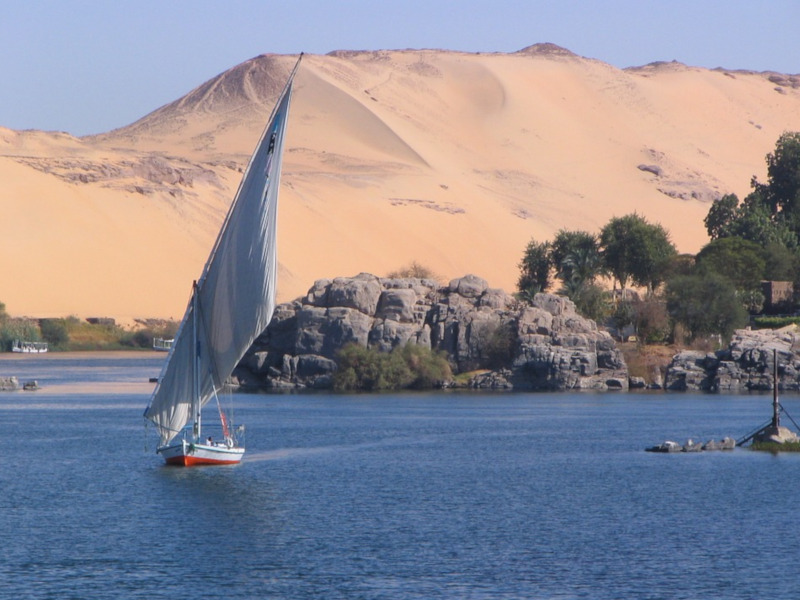 Annual events and festivals
Once you've completed your exploration of the best places to visit in Egypt – from the sand-swept sights of Giza to Nile River cruises aboard a felucca and the many beaches lining the Red Sea – you'll want to check out these top festivals and events.
Cairo Bites Food Festival (Spring: April)
A two-day foodie festival, Cairo bites brings together local and international cuisine with a whole lot of fun. With a changing theme each year, enjoy music, competitions and much more in the lush setting of the Family Park in New Cairo.
Cairo Jazz Festival (Autumn: October)
Gather with local and international musos for the multi-day Cairo Jazz Festival, paying tribute to all things Jazz across the city, including a stop at the Cairo Opera House. Apart from great music, expect workshops and masterclasses for all ages too, during arguably the best time to visit Egypt.
The Sphinx festival (Winter: December)
Reminiscing back to Egypt's ancient roots, to a time of pharaohs and folklore, the Sphinx festival in El Gouna takes place over five days on a moveable date between October and December. The resort town along the Red Sea bustles with music, dance and educational activities – a great chance to learn more about ancient Egypt!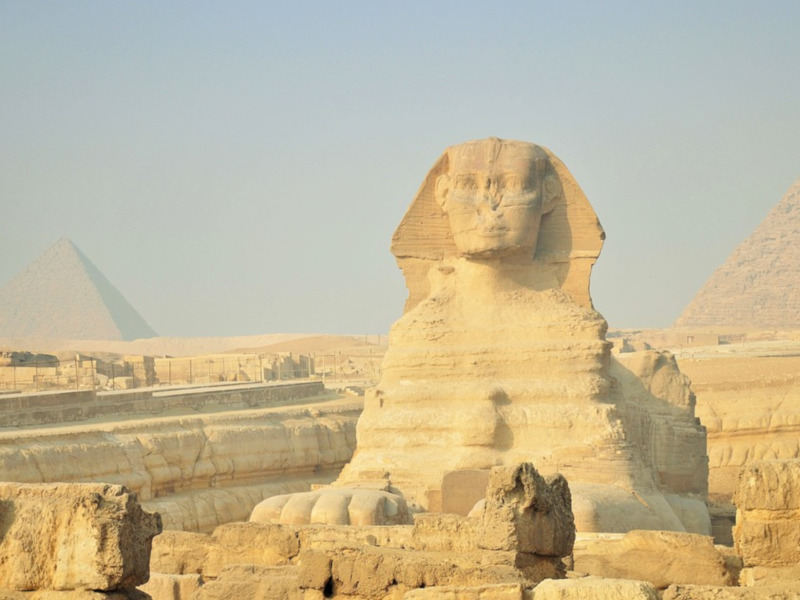 If you're ready to be transported back to ancient times, we can help get you there in real time. Search for cheap flights to Egypt on Travelstart, and while you are there, why not browse and book from an array of hotels in Egypt for your upcoming trip! Sign up to our newsletter too, so we can keep you in the loop on all things travel.
Have you explored the fascinating contrast of old and new that is Egypt? We would love to hear about it and get your opinion on the best time to visit Egypt!
All information on this blog page was correct at the time of publishing and may change at any time without prior notice. Travelstart will not be held liable for loss or inconvenience resulting from the use of out-dated or incorrectly noted information.