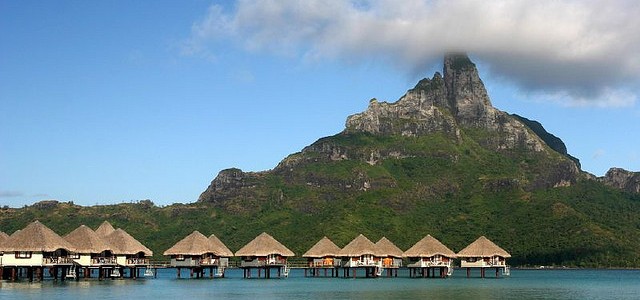 Bora-Bora is destination deeply entrenched in the mind of the romantic traveller thanks to an avalanche of popular travel media, particularly from Australia and the USA showing magical images of crystal-clear waters, tropical beaches and rain-forest covered mountains. The island has a number of hotels, many of them with stilted bungalows hovering over the azure waters – it sounds like heaven! No wonder that requests for flights and packages to Bora Bora are something we get regularly, but few realise the difficulty in getting to this remote island and the costs involved from South Africa.

Where is Bora Bora?
The island forms part of the French territory of French Polynesia, it's an extinct volcano, surrounded by a coral reef and while close to it's neighbouring islands is in a very remote part of the world.
It's in the Southern Hemisphere
It's in the Pacific Ocean
It's 230 km from the capital of French Polynesia, Papeete
It's 4000km from Auckland, New Zealand
It's 6500km from Los Angeles, USA
and 15,000km from Johannesburg
In short, it's a long way away from anything, so be prepared for a long trip taking about 55 hours there and 45 hours back.
How do I get there and how much does it cost?
From South Africa, it's quite a multi-leg journey using three separate return tickets usually involving flying via New Zealand or the USA. This is the route I recommend as it means fewer visas (prices are a rough minimum):
Ticket one – Johannesburg to Auckland (cheapest is often via Hong Kong or Sydney) for about R13,900
Overnight in Auckland (about R500 per person sharing)
Ticket two – Auckland to Papeete (direct flight) for about R8,500
Overnight in Papeete (about R1000 per person sharing)
Ticket three – Papeete to Bora-Bora (direct flight) for about R3,600 (you'd need to buy a ticket with the airline directly)
Visa for French Polynesia – About R700
Accommodation in Bora-Bora  – About R13,500 per person sharing for a 3 star hotel for 7 nights.
So that makes R26,000 for flights + R700 for the visa + R15,000 for accommodation = R41,700 per person for a one week trip.
Cheap Alternatives to Bora-Bora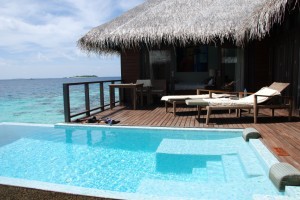 If this all sounds like a bit too much money for you, great alternatives to the whole tropical island experience at a fraction of the price including flights and a week's accommodation include:
Prices from under R10,000
Prices between R10,000 and R20,000
So if white sand, blue seas and tropical heat are what you are after, get in touch with our consultants who are able to assist with flights, accommodation, packages and travel insurance. You can book and pay over the phone and email without having to leave home!
Bora-Bora image by Benoit Mahe
[boilerplate bytitle="text"]