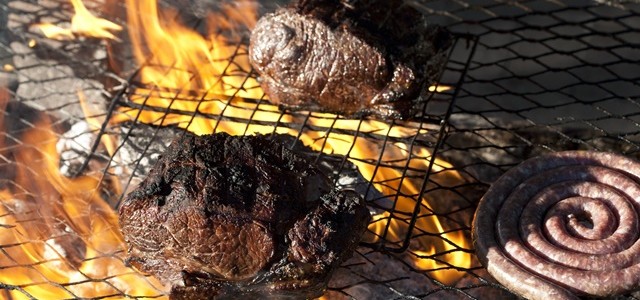 It's official Braai Day on September 24th, when all South Africans come together and do what they do best: braai. Carla Lewis-Balden recommends a few places where you can enjoy a tjop or boerie with a view.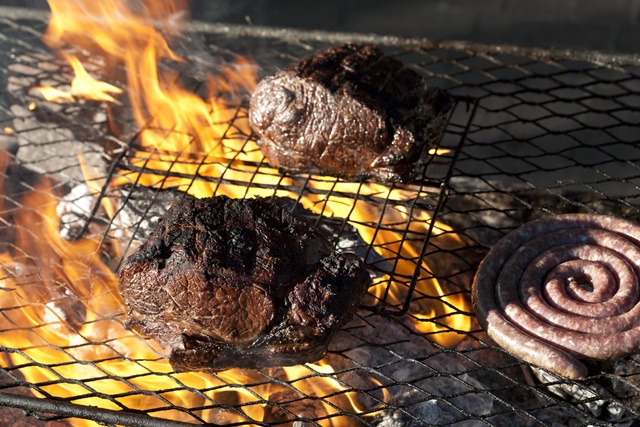 KwaZulu-Natal
Durbanites are better known for their fragrant curries than their braai skills, but Braai Day is the ideal opportunity to have the best of both worlds.
Take a trip to Inanda Dam and Resort, situated on the Inanda Dam in the Valley of a Thousand Hills below Hillcrest in KwaZulu Natal. Braai and picnic sites are available. (Tel (031) 765 7724; Web: msinsi.co.za).
Eat this: Put a classic spin on the bunny chow and turn it into a braai bunny. It's basically the same concept as a braaibroodjie, but instead of using cheese and tomato, you use the curry of your choice, slap it between two thick pieces of white bread and grill it over the fire. Serve with a dollop of homemade raita, made from greek yogurt, chopped mint and cucumber.
Eastern Cape
The Transkei's beaches beg for bonfires, guitar singalongs and crusty travellers crooning along to Jack Johnson. You can also buy local fish here from the fishermen and if you give them R20 extra, get them to gut and clean it as well.
Buccaneers in Cintsa is spread over 8 hectares of wild coastal forest and is located next to the Cintsa beach, the ideal place to get your braai vibes on. (Tel: 043 734 3012, Web: cintsa.com).
Eat this: Build a fire right on the beach, wrap your freshly caught fish in some tinfoil, with salt and pepper and finish it off with a can of chakalaka.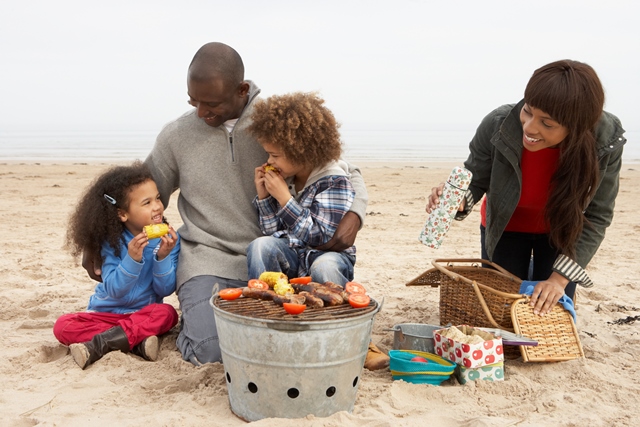 Western Cape
It's the fairest Cape, so a person can hardly move without tripping over a berg with a view. If you want to beat the crowds and see some flowers, head to the West Coast and have a snoek braai.
Tsaarsbank is situated in the West Coast National Park near the Postberg section, south-west of Plankiesbaai and has a great picnic spot, with braai facilities and views of the Atlantic Ocean. Bring a ice bucket, a dry Sauvignon Blanc (OBiKWA's SB is a bargain at only R28 a bottle) and have a braai that is sort of on the rocks. (Tel: 022 772 2144; Web: sanparks.org).
Eat this: Like the Afrikaans saying goes: Snoekbraai en die Weskus gaan saam soos boude. All you need is apricot jam, some salt, pepper and lemon juice, and you are good to go.
Northern Cape
It's dusk at the Bitterpan camp in the Kgalagadi. Lions are calling in the distance and towers of cumulus omnibus clouds are gathering in the distance, getting ready for those tempestuous Kalahari thunderstorms. You're standing on the stoep of your self-catering unit, a cold beer in your hand and a dozen lamb chops are sizzling over the fire. Life does not get better than this. (Tel: 012 428 9111, Web: sanparks.org).
Eat this: The Northern Cape is renowned for it's excellent lamb, but you can't go wrong with any type of meat. Keep it simple with lamb chops on the fire, with a dash of sea salt and rosemary seasoning.
Gauteng
Now is the time to make friends with somebody in Jozi who lives in a block of flats in the CBD and has access to an amazing rooftop. Joburgers may get exposed to more smog and pollution, but there is one perk; spectacular sunsets. There is no better place to enjoy the pyrotechnics of a Jozi-sunset reflecting off the skyscrapers, than on one of the rooftops of a block of apartments in the inner city. The Ashanti/Dogon Apartments in Anderson Street in the CBD has one of the best views of the Jozi-skyline, with a swimming pool.
Eat this: Nothing says spring like the fatty smell of boerewors grilling on the fire. Impress your inner-city hipster friends with gourmet boeries, which is rivalling the popularity of gourmet burgers. Instead of the normal toppings like tomato or sheba sauce, make a red onion relish, top it with a grated matured cheddar and rocket leaves.
North West
How about braaing in a place that was hit by a meteor 2023 million years ago? There are several camping sites and resorts in the Vredefort Dome, the central part of the impact crater where you can braai blissfully and contemplate the chaos the meteorite caused eons ago.
The Suikerbos Resort, just outside of Potchefstroom has self-catering and camping options, with decent braai facilities. (Tel: 018 294-3867).
Eat this: Throw a piece of fillet on the braai and finish it of with a shot of brandy a la steak flambe, to recreate the fire of the meteor impact.
Free State
Do you get excited by rolling mountains and imposing sandstone formations? The Golden Gate National Park is located on the foothills of the Maluti's and the perfect place to spend Braai Day this September. Visitors have a choice of camping, self catering chalets or if you want to glam it up, you can stay in the hotel. (Tel: 012 428 9111, Web: sanparks.org).
Eat this: You get some excellent venison up in the Eastern Free State, which has an abundance of game farms. Ask around the bigger towns, like Bethlehem or Clarens, someone is bound to refer you to a butchery that sells some tasty springbok loins or kudu steaks.
Limpopo
South Africans experience something spiritual when they are building a fire in the bush. At the Singo Safari Lodge, perched on a cliff overlooking the banks of the Luvuvhu River, you can get in touch with your African roots while braaing up a storm. The units overlook a baobab forest and the bushveld. (Tel: 015 293 3600 Web: golimpopo.com).
Eat this: With a view like this, you can bring out the big guns and do a big mixed grill. Bring on the tjops, wors, rump steak and for a little fibre you can also throw a mealie on the grill. Salad is optional.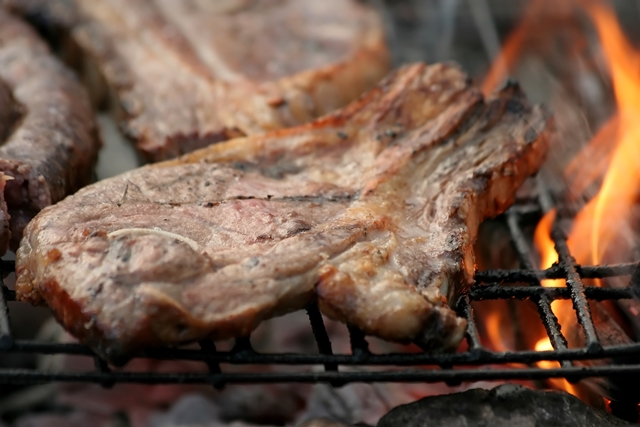 Mpumalanga
Few things beat a bush brunch or breakfast in the Kruger National Park; Onder-Sabie, Skukuza and Berg and Dal is just some of the rest camps where you can cook up a storm on your Cadac-skottel. (Tel: 012 428 9111, Web: sanparks.org).
Eat this: Start with the bacon and breakfast sausages, follow it up with some mushrooms and fried tomatoes and last, give those eggs a good scramble. Just watch out for those pesky yellow billed kites, which are known to snatch a piece of bacon or wors from the skottel.