I was as excited as a five year old the night before Christmas when I received my invitation to the official Johannesburg launch event of British Airways' much-celebrated Airbus A380-800.
The well-publicized buildup to this day which will surely go down in African commercial aviation history, saw BA's Man vs. Plane campaign – which happened to be No. 7 on the list of airline marketing stunts that impressed us in 2013 – come to a head at O.R. Tambo International Airport on 6 February 2014. Allow me to take you through the day's events in this blow-by-blow account.
On arrival at Oliver Tambo Airport, we were welcomed by the gracious BA hostesses and were asked to choose a coloured ball which determined where we would be seated. Lady Luck was on my side and I landed up choosing seat 2F – First class baby! Pre-drinks and snacks were served in the very swanky Slow Longue before we were escorted on board the star of the show – British Airways' A380.
The aircraft smelt like a shiny new car and everything was brand spanking new and beautiful onboard. The crew were all super excited about being our hosts and everyone was in a very cheerful and celebratory mood. Airlines configure their A380s differently and BA has opted to locate the First Class cabin in the front of the plane, followed by Business Class and Economy Class in the back of the Main or Lower Deck. On the Upper Deck, Business Class is in the front, followed by World Traveller Plus (Premium Economy) and Economy in the rear. There is a sweeping staircase in the front of the plane that makes you feel like an extra in a "Gone with the Wind" rerun.  The front toilets on the Upper Deck are worth a visit as you can literally swing a cat in there which is a refreshing change to the knees around your ears experience that most of us are accustomed to in most airlines' Economy Class loos.
In a day packed with highlights, some of my favourite moments included the champagne High Tea compliments of the Saxon Hotel with posh cookies and cakes telling the story of the day, the pink Harrods cookie dress and the blue Union Jack Macaroons, as well as the South African band "Freshlyground" serenading us. The fun didn't stop there with a Harrods fashion show taking place at 30,000 feet, appearances by BA Ambassadors and Springbok greats Flip van Der Merwe and Bryan Habana representing the onboard safety demonstration and the awesome Buskaid violin players. I don't think First Class has ever seen so much excitement with attendee's seat swopping, trying out the knobs and dials and relaxing in the fully flat seat. We were flying for two hours over South Africa before returning to Johannesburg. British Airways has taken to South African Skies in an A380 and has changed the face of our airspace forever!
BA A380 Facts
British Airways offers 4 cabin classes on their Airbus A380 with a total of 469 seats.
First Class (Main deck): 14 seats.
Club World (Business Class):  44 seats on the Main Deck and 53 seats on the Upper Deck. The Upper Deck will feature a new 2-3-2 configuration in the centre of the cabin.
World Traveller Plus (Premium Economy): Situated on the upper deck only with 55 seats.
World Traveller (Economy Class):  Available on both decks with 104 seats on the Upper Deck and 199 seats on the Main Deck in the 2-4-2 configuration. There is a quieter and smaller cabin on the Upper Deck – I would recommend this to Economy Class passengers. The seat configuration is 3-4-3 on the Main Deck.
– Click to view British Airways Seat Plan for all cabins –
The Airbus A380 is a double-deck, wide-body, four-engine jet airliner manufactured by Airbus. It is the world's largest passenger airliner; many airports have upgraded their facilities to accommodate its size. Currently the only other airlines that operate the A380 out of South Africa are Air France and Lufthansa out of Johannesburg. Cape Town International Airport currently does not have the facilities to accommodate this aircraft.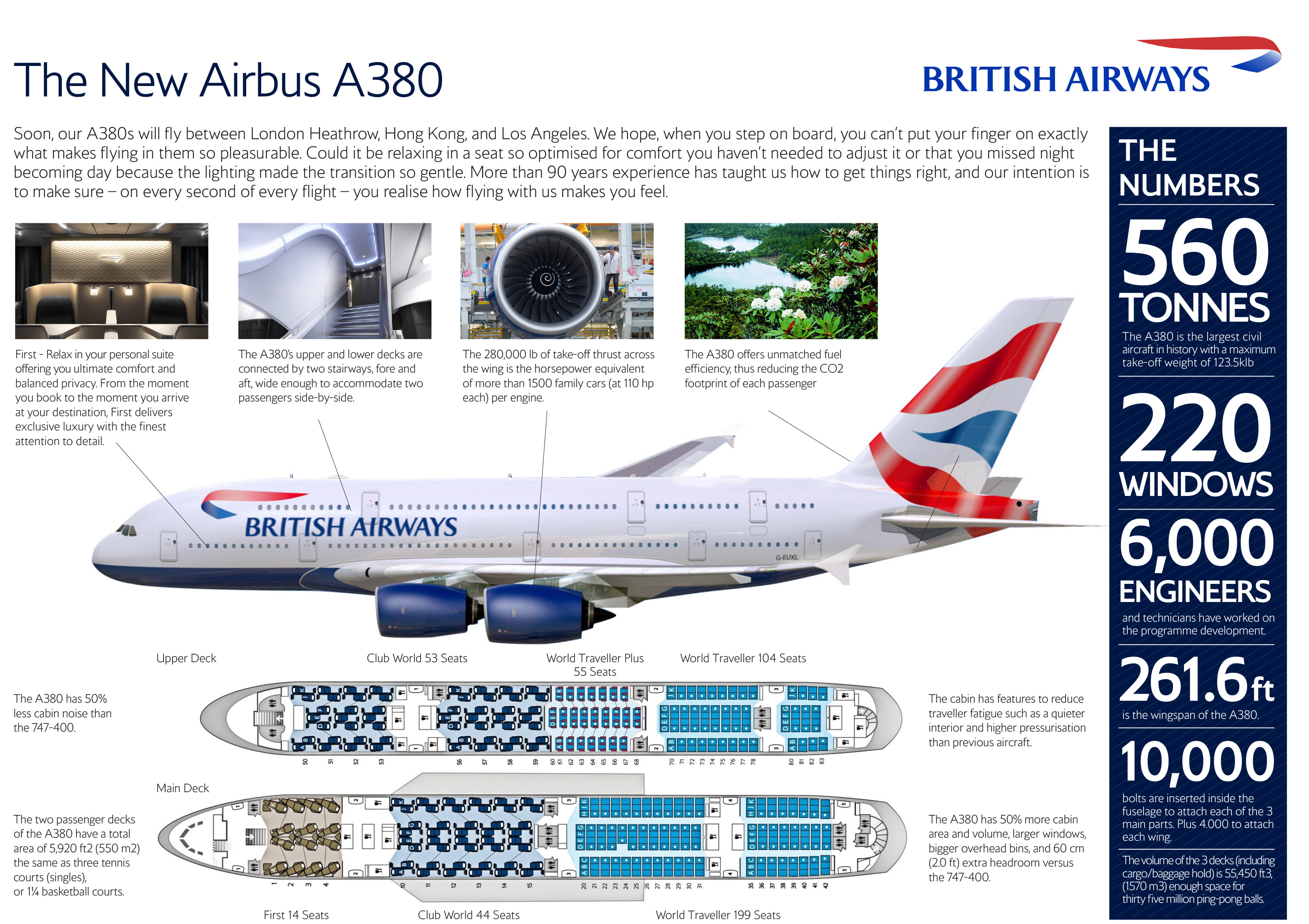 British Airways A380 Routes
British Airways currently operates their A380s on their London-Los Angeles-London and London-Hong Kong-London routes. London-Johannesburg-London will be the 3rd route that BA operates this aircraft with Washington DC starting in September 2014.
Their inaugural flight from London Heathrow to Johannesburg was on Wednesday 12th February 2014 returning to London Heathrow on Thursday 13th February 2014 from Johannesburg.
The A380 schedule out of South Africa and London is as follows: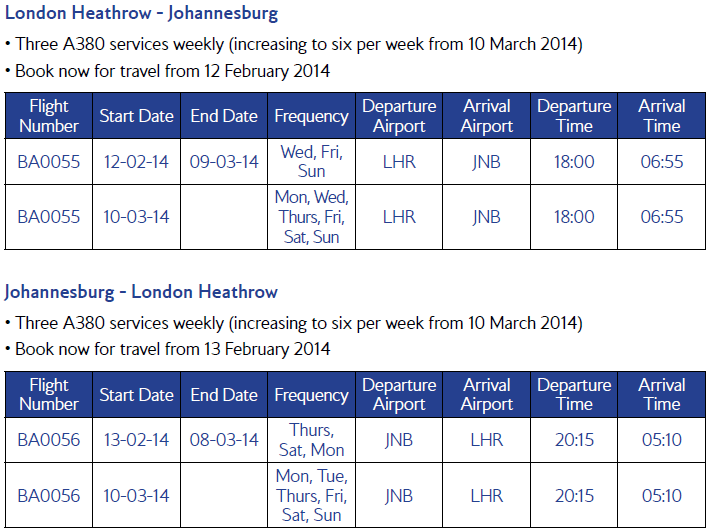 The new A380 service departs three times a week, increasing to six times a week in March. Be one of the first to experience the space and comfort of the largest, roomiest passenger aircraft in the world.
The schedule is subject to change so to make sure that you have booked the A380 give our call centre a buzz on 0861 878 278 (select Option 1) –  do this  before you make payment and have your ZA reference number handy.
Return Economy Class Fares on the A380
ex Johannesburg to London from R10,057 per person all inclusive
On sale from 10th February-22nd February 2014
For outbound travel between 13 February-31 March 2014 to return anytime within the next 12 months.
---
Other BA A380 Adventures in South Africa
See the A380 flyover Cape Town …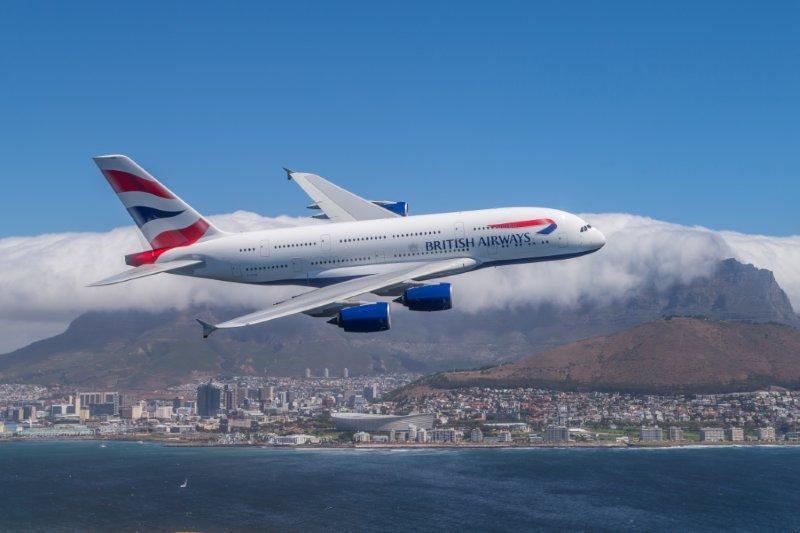 Go home Airbus A380, you're drunk pic.twitter.com/IVHQ2LKnT0

— Stuart Buchanan (@StuBuSA) February 5, 2014
… And make a cameo appearance in Durban
This was the first arrival of an A380 at King Shaka International Airport. The British Airways A380 was scheduled for training and the "Man vs. Plane" competition.