When Boeing originally designed the 747 they considered it a low-end product, never suspecting that it would become a cultural icon of the modern era. From 1970 until 2007 when the first Airbus A380 took to the skies, the 747 was the largest passenger carrier ever, and the remarkable image of its bulky head has become part of our cultural consciousness.
Photos from the early days depicting spacious cabins, comfortable lounge chairs and smartly-clothed passengers are a stark reminder of the 'golden age' of commercial aviation in comparison to the packed and often poor travel conditions we're accustomed to today.
In a time when airlines competed on service and not price, the Boeing 747 was the undisputed 'hero bird' of this era – the good ol days when passengers didn't try to avoid baggage fees by bringing carry-ons that would have classified as full size luggage, when flying was intended to be a memorable experience, when service mattered, and when swivel seats were almost the only way to fly.
Commercial air travel was an affluent and social affair and most airlines had forward and aft lounges where passengers were free to stretch their legs, have a drink and network with their peers.
Ladies & gentlemen welcome aboard this departure flight to London. Please greet your neighbour, charge your glass and light up a smoke.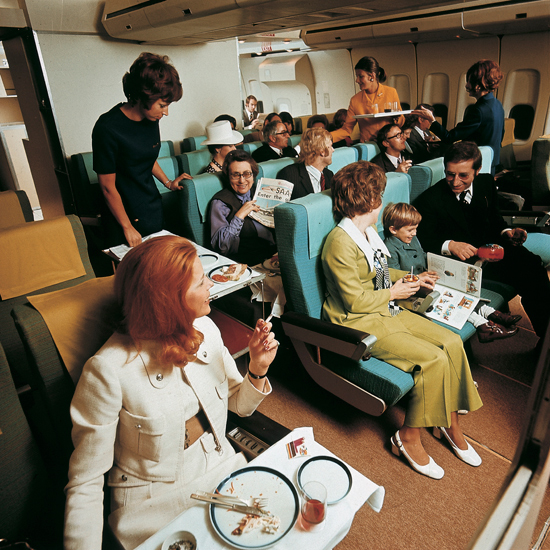 Legroom legitimate in the 747 Economy Class of the 70's.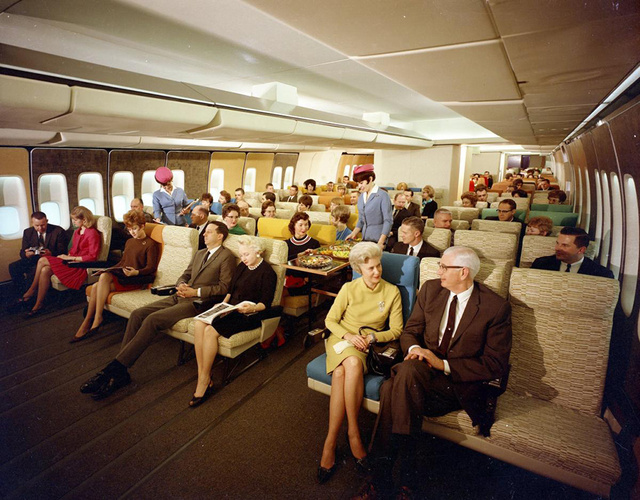 Can you imagine any airline of the modern era configuring the cabin interior of the 747 specially to provide more "living space" for each passenger? Braniff International did! Circa 1971.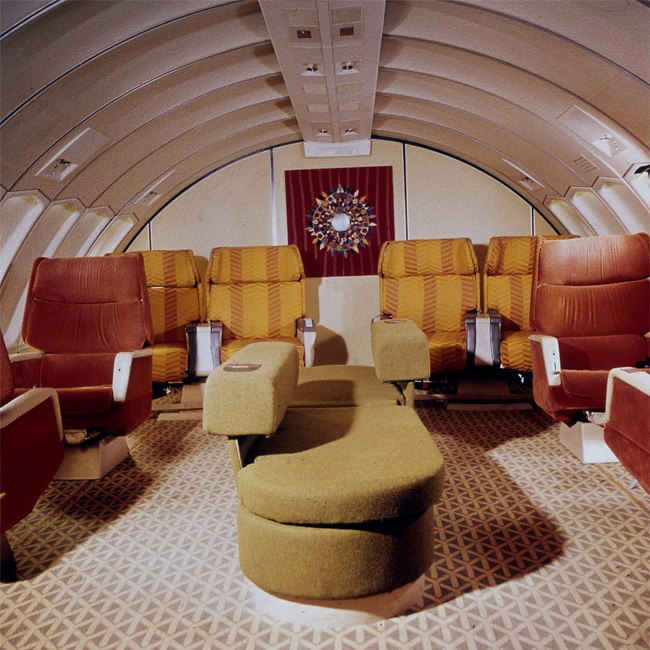 Photo from Braniff Flying Colors
Flying in the 1970's meant more room for knitting and nattering.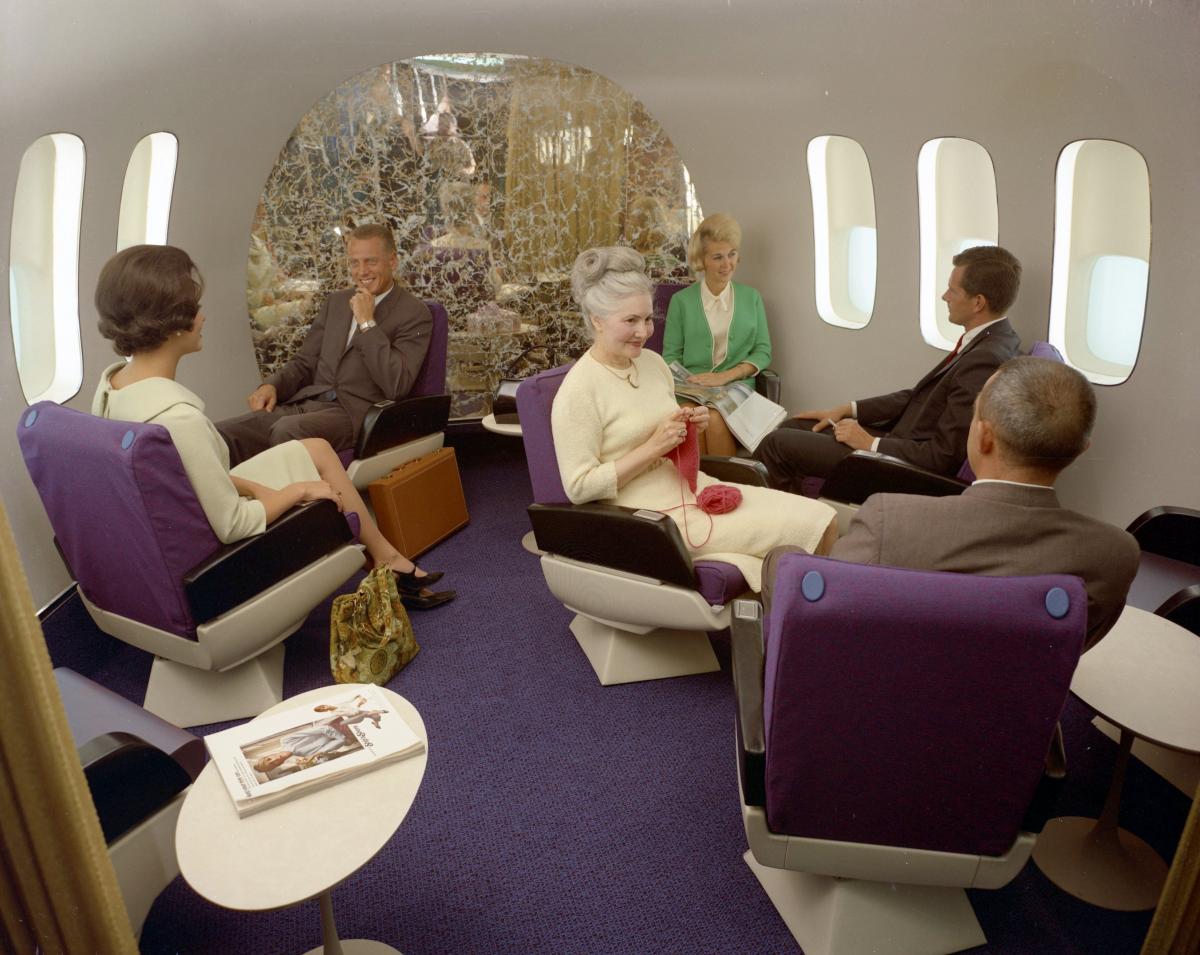 Suit up, fasten your seatbelt and sit back. The early Boeing 377 Stratocruiser interior.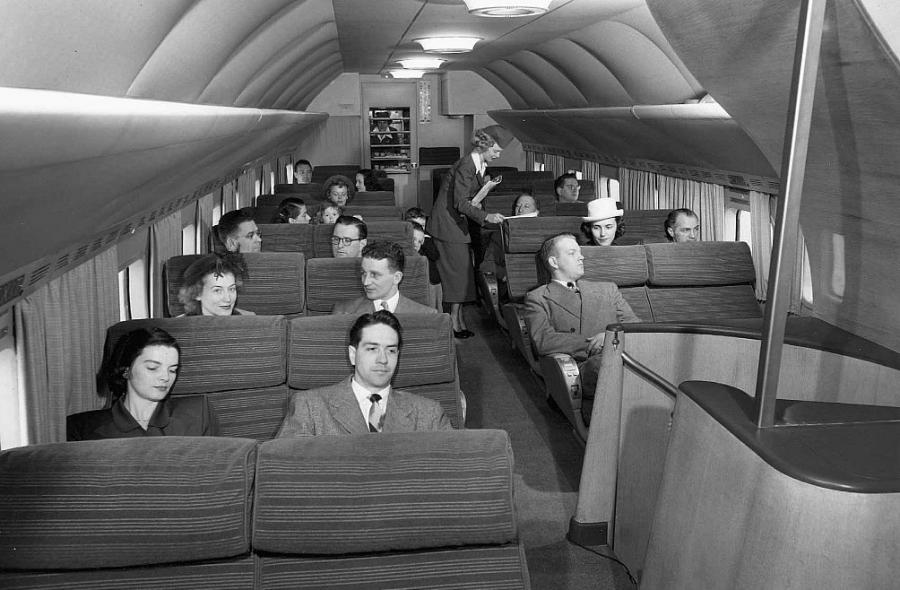 The luxurious First Class International Lounge onboard a 747. This uber plush and Larsen textile adorned Upstairs Lounge featured 12 extravagant lounge seats and a "Shagadelic" rug.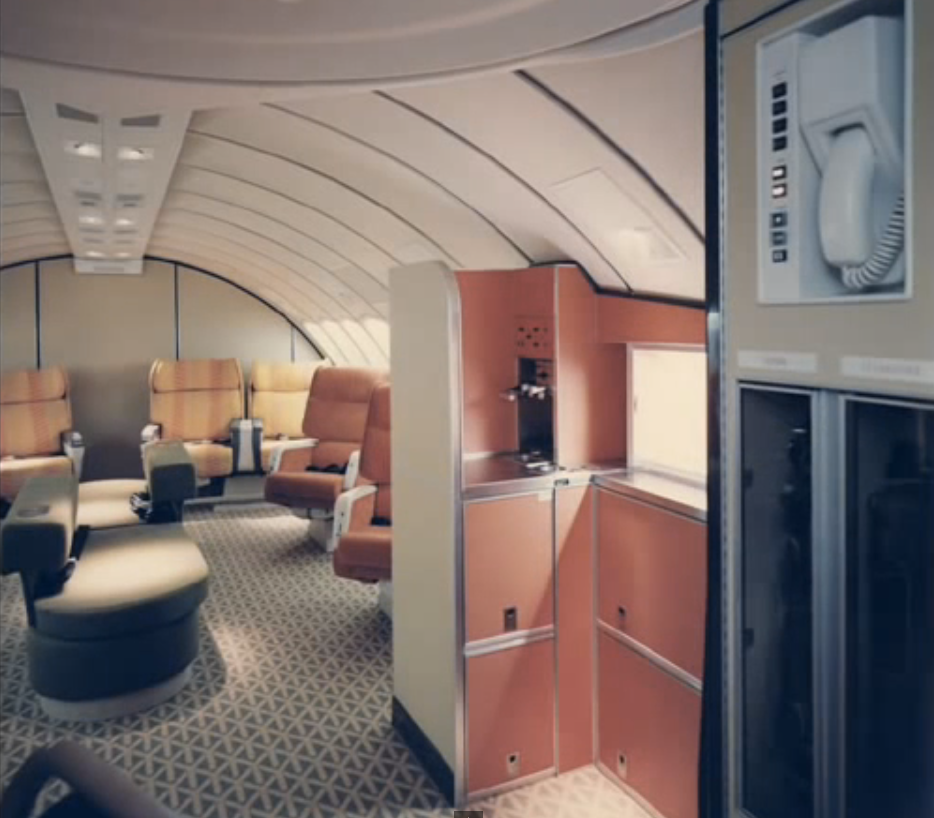 Photo from Braniff Flying Colors
The Boeing 747 was once, and to some extent still is, the most exclusive address in the sky.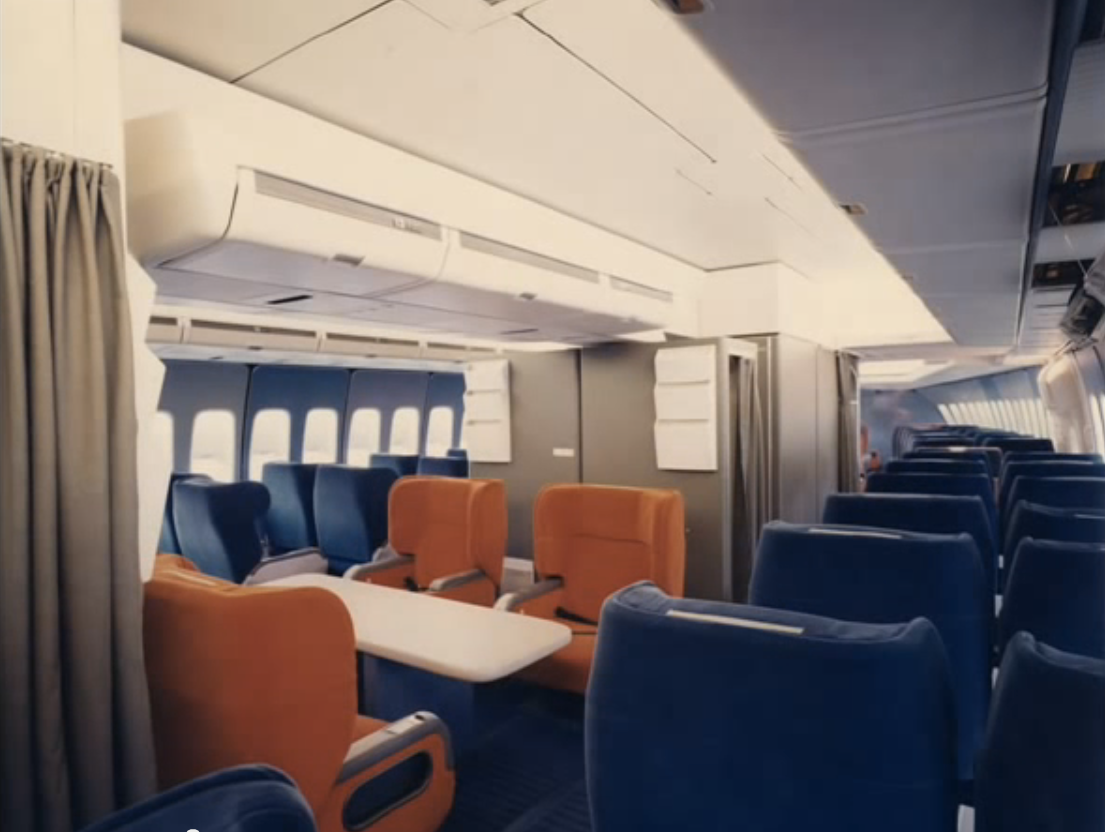 Photo from Braniff Flying Colors
This retro 747-100 Upper Deck Lounge looks like something out of The Jetsons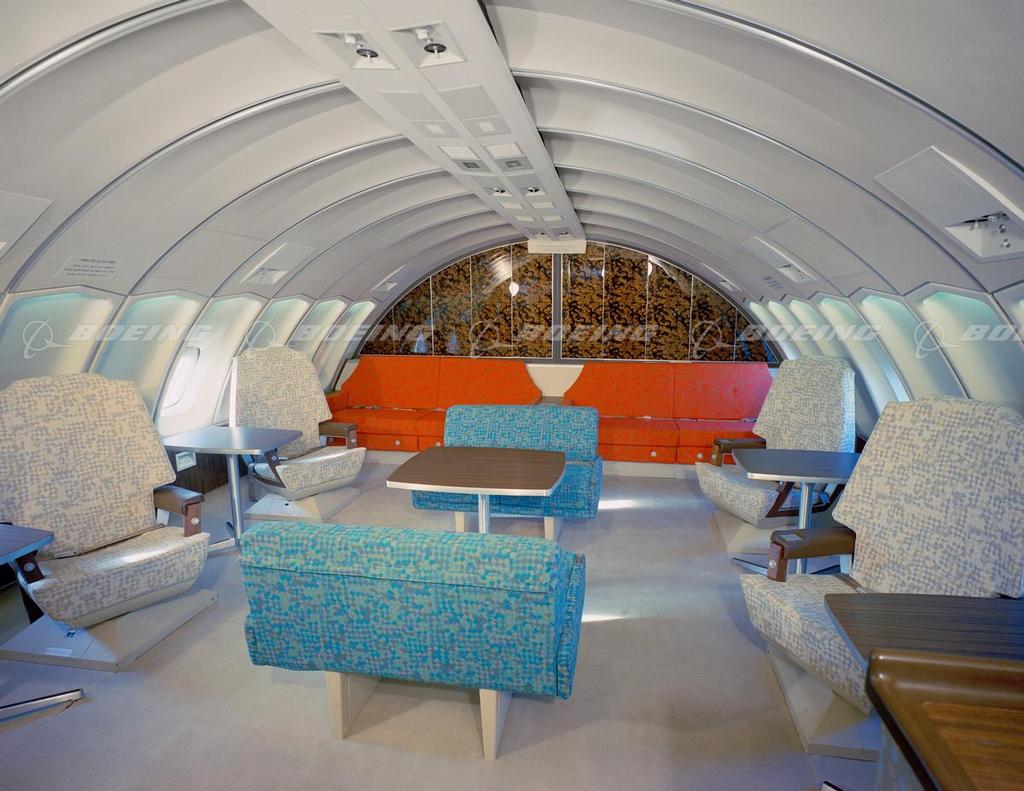 Jack Wadell, the First 747 Pilot, helped with the airplane's design, particularly the cockpit.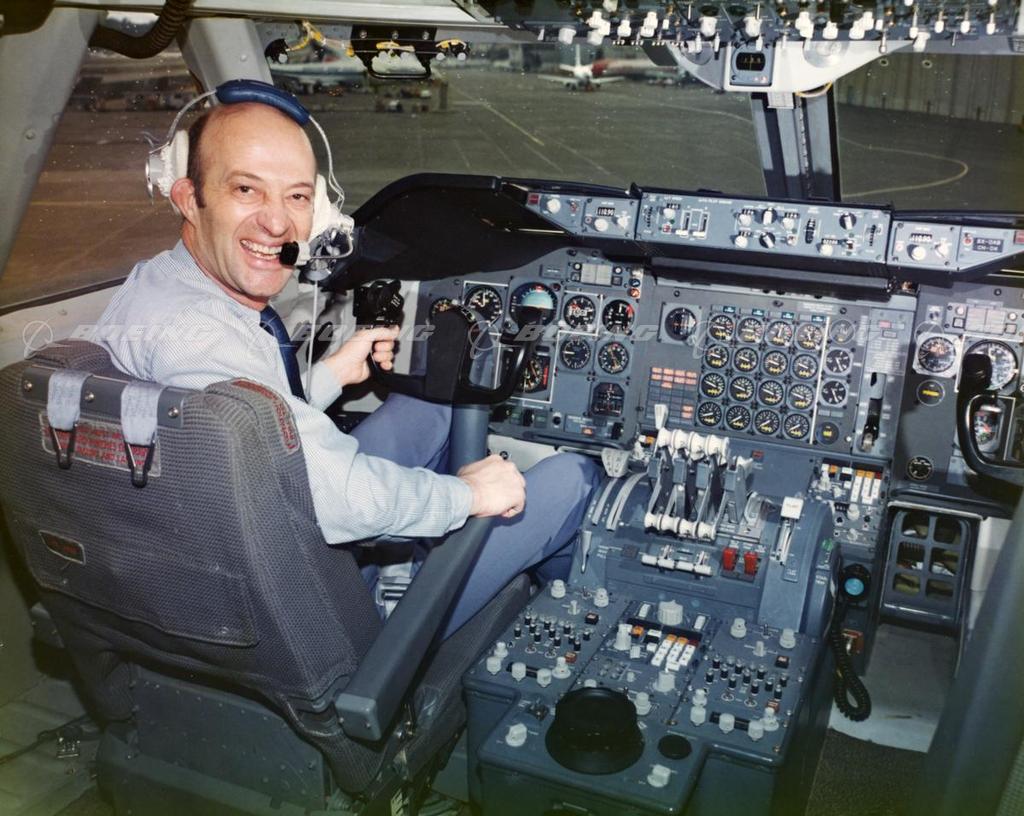 ---
While the appeal of old school commercial aviation still holds strong, there's much to be said for the new era of flying – an age piloted (pun intended!) by Boeing and Airbus with its A380. Many operators of Airbus' flying behemoth have forgone the opportunity to squeeze more seats in favour of increasing features and creature comforts in the sky – this harks back to the old school days of aviation.
Emirates is one major carrier leading the charge in this regard with their Onboard Lounges, while the Lufthansa's 747-400 retrofitted First Class cabin where everybody gets a seat and separate bed also springs to mind.
Not to mention the service one receives in the sky nowadays! From the "Flying Chef" service on Turkish Airlines to Etihad's recently introduced "Flying Nanny" concept – a new offer from the airline whereby specially trained child caregivers are available to parents on long haul flights for an additional fee.
On reflection, there's no doubt that we have lost and gained perks in the skies and we found these retro Boeing photos from the 70s to be a fitting memento from the Golden Age of flying.