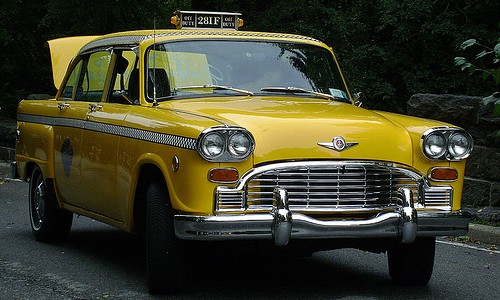 New York City is about to lose one of its famous iconic and mobile landmarks. Mayor Michael Bloomberg of New York has announced that the yellow taxi cabs as we know them today will be replaced by state of the art Nissan mini vans starting somewhere in 2013.  The "Taxi of Tomorrow" project which was a competition between several car makers was announced by Mayor Bloomberg in 2009. Its aim was to make The Big Apple's taxi fleet more modern and environmentally friendly.
Japanese car maker Nissan was the winner of the competition and it will use its NV200 minivan to replace the 13,000 plus Ford Crown Victoria taxis. These new cabs will have 'a transparent roof, mobile charging outlets, passenger air bags, GPS and high fuel efficiency of 25 miles per gallon. It has been fully crash-tested and will be produced to withstand the rigors of traveling the pothole-riddled streets of New York City.'
It's kind of sad to see the Yellow Cab go after it has been bringing some colour to the streets of New York for over 100 years. Okay, it's not as shocking as when the last Checkered Cab was taken off the streets in 1999. The one good thing is that the high tech vans will still be yellow and will even feature some black and yellow checks.
Soon New Yorkers and the millions of visitors who hit the Big Apple every year won't be hailing a yellow cab, but a yellow van. It doesn't have quite the same ring to it, does it? But I guess even a cosmopolitan city's landmarks need to adapt to modern times. It just makes me wonder what is next.  A Kindle and a rechargeable torch for Lady Liberty? Time will tell.
To find awesome flights to New York go here.