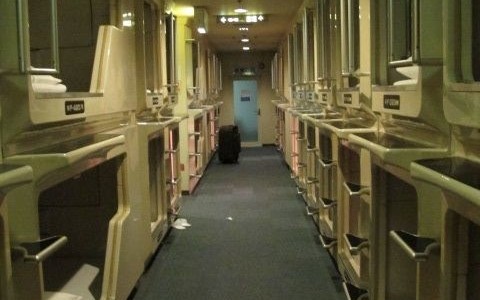 Having spent some time at the Capsule Ryokan in Kyoto we felt that it was time to check out the real deal and stay in a capsule hotel. Capsule hotels, developed in Japan, have many extremely small "rooms" or capsules intended to provide cheap and basic overnight accommodation for those who don't require the normal services offered by hotels.
My wife and I weren't sure what to expect so, on the recommendation of a friend who lives in Japan, we checked into the Asahi Plaza in the busy Shinsaibashi district of Osaka, one of the few capsule hotels that caters for both men and women. When you check in, you are given a key to a locker in which to place your belongings and where you find a set of beige kimono-style pyjamas as well as a towel and other basic toiletries.
Once checked in, you can peruse the four floors of the hotel, which contain the capsule accommodation quarters, separated by gender, lockers, toilets and onsen (hot baths), as well as mixed gender rest areas and a canteen.  The common areas are great for people watching. There are reclining chairs where people sleep (you can pay to stay in the hotel for just a few hours), smoke (it is allowed inside in many parts of Japan), watch TV, read or eat. Massages are offered throughout the night until about 4am and you can check in all night – the capsule hotels were aimed, in part, at stressed-out Japanese business men cutting loose and drinking after a busy day. The unadorned concrete walls and thin, pale green carpets really give the feeling of a surreal school dormitory, particularly as most people are uniformly dressed in their 'pyjamas'.
When you are ready for bed you retire to your capsule, either at ground level one or two levels up. The capsules are small, fibreglass shells with a mattress and pillow, a built-in alarm and radio, a small shelf and not much else. Some of them have a TV, others have a plug point, some have both. You then draw the curtain for some privacy and hope that not too many drunk locals or tourists wake you up during the night. My wife and I both slept really soundly in the capsules though and I would definitely recommend this as a uniquely Japanese experience!