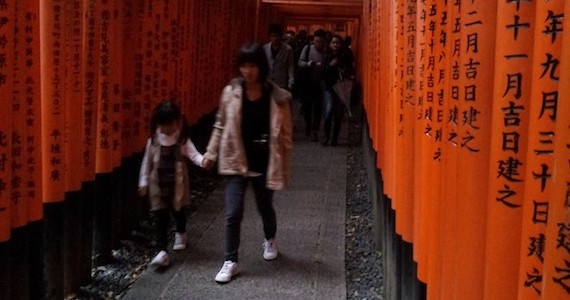 Kyoto is a must see in Japan. When we mapped out our one month itinerary for Japan, we had initially only earmarked three days in the city. Thankfully, a friend in Japan suggested that we spend more time there. Sound advice as there is loads to do and we still only scratched the surface!
Kyoto is known as the heart of traditional Japanese culture. The city, which boasts more than 2000 temples and shrines, often surrounded by stunning Japanese style gardens, is also the "home" of the geisha culture and has an impressive range of markets, shops and restaurants to explore and unwind in. We split up our visit to the city by area – one day each in North and South Higashiyama, one day in Arashiyama and the northwest of Kyoto, one day in the southeast, and finally one day in downtown Kyoto. Buddhist and Zen temples and shrines are a focal point in Kyoto and in each area we saw about three or four temples/ shrines per day, which was a steady pace. We were lucky to be in Kyoto during the famed autumn foliage season, which added to the allure (and the busyness) of the city.
It can be a bit overwhelming to try and tackle all the temples, shrines and areas in Kyoto. While there are some famous must-sees, we found that it is best to pick and choose places to explore or you end up getting temple fatigue and they all meld into one. This way you also get to discover some of the lesser-known (and quieter temples). Our Kyoto highlights were definitely:
The Fushimi Inari shrine,  shrine to Inari (originally the god of rice harvest and now also tied to prosperity in business) where thousands of red toriis (Japanese gates) are lined along a 4km path up a mountain
The tiny Gio-ji Temple which has a very small but stunning moss garden
The famed Golden Pavilion (though get ready for big crowds!)
The 1000 statues of Kannon, the Buddhist goddess of mercy at Sanjunsengando (no pics allowed – sorry!)
The autumn colours at Eikan-do Temple
In the downtown area we visited the Kyoto Manga Museum, which was a fun outing. Go on Saturday or Sunday to get your very own manga souvenir portrait.
The flea market at Toji-on Temple was also great for kimono and lacquerware bargains and check out the Nishiki Market for delicious (and sometimes strange) Japanese foods…