We've just launched a new app for Android and iOS. The aptly-named Flapp (Flight App), is the world's first single route commuter app meaning you can only book flights between Johannesburg and Cape Town and vice versa on it.
Flapp allows bookings for the next 7 days only and same-day bookings so you can book when you're Ubering your way to the airport, making it ideal for business and last-minute travellers. This helps the app be super fast, meaning that full availability for the next week is immediately accessible and bookable as soon as the app opens – no wait time!
Flapp can store multiple credit cards allowing you to effortlessly separate personal bookings from business ones. It also allows you to store multiple passenger details so you don't need to look those up each time you book for a colleague or family member.
The result is an ultra fast booking experience in just 2 taps!
How to Flapp
Sign into Flapp with your Travelstart account or social media, or you can stay anonymous and input your information when you complete your booking.
The first thing you will see are the latest flight prices between Johannesburg (OR Tambo and Lanseria Airport) and Cape Town International Airport.
All airlines (from SAA to Skywise) are in one place.
You can filter by price or departure time, and save your payment and passenger (s) details to make a booking almost instantly!
Choose between one-way and return trips, select economy or business class.
Review the itinerary, the total price, the passengers and pick one of the saved credit cards, or just check out with a once-off payment.
See your booking number in the confirmation page and receive your e-ticket via email shortly afterwards.
It's completely secure and makes the checkout process astonishingly fast – Sergio Mello, Flapp Design Lead
Why Flapp App?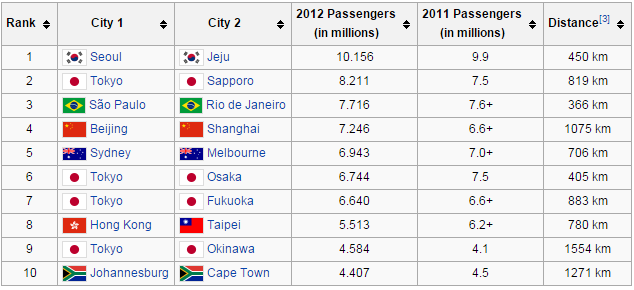 Source: Amadeus – Wikipedia
With more than 4 million people flying this route annually, Johannesburg to Cape Town (and back) enjoys pride of place among the busiest air routes in the world. In addition to the sheer volume of passengers who fly regularly, more airlines have taken off (most recently FlySafair and Skywise) making the route more competitive, and offering fairer prices to the public.
Download FLAPP today by visiting the Play Store (for Android) or Apple App Store (for iOS).
See what others are saying about Flapp.
Happy Flapping!