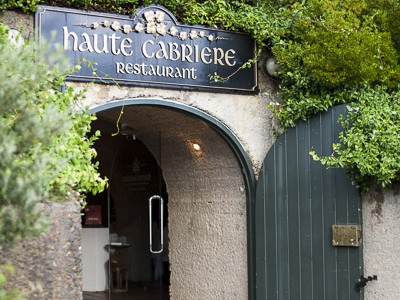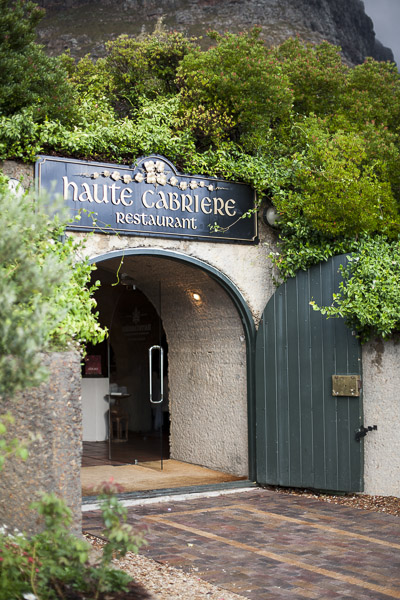 We recently spent the most glorious weekend eating our way around Franschhoek. There are so many incredible spots in this little French-inspired culinary heaven that it was a tough call which ones to choose, but the Cellar restaurant at Haute Cabriere was top of the list, and exceeded every expectation.
Haute Cabriere offers, quite simply, an evening of extraordinary dining. Go early and enjoy a glass of their fabulous Pierre Jourdan bubbly as you watch the sun set over the lush Franschhoek valley. Because they're halfway up a hill, the vantage point is wonderful, and there's nothing like a sundowner with a view to make you grateful to be alive.
Then venture indoors to the Cellar restaurant, with a wall of glass looking over the underground cellar, filled with wooden casks of their famous Pinot Noir. The food is worthy of just as much fame. Order a la carte or choose from one of two tasting menus: the vintage menu or the surprise menu. The vintage starts with the wines and then creates the dishes to match (the pairing is simply superb). A five-course menu that gives a taste of the bubbly, white chardonnay Pinot Noir, rose Chardonnay Pinot Noir and two glasses of Pinot Noir – a 2000 and a 2009. (The Pinot Noir is clearly the hero here!) These are delicate dishes with surprising flavours and textures, not over-complicated and pretentious, just delicious fine dining.
If you're feeling adventurous, you can go for the chef's surprise menu. A six-course tasting menu where each course is a surprise. It's quite wonderful to not have any preconceived ideas about the food, and with a soup, pasta, fish, pork, lamb and dessert course, you're sure to get a taste of the kitchen's unique translations of traditional dishes.
It's not only the food and wine that makes for such a special evening, though. The restaurant, with its concrete cellar walls and interesting acoustics, low lighting and fireplace in winter, feels like a special occasion, but is also relaxed enough that you can unwind and enjoy yourself. The staff are friendly and chatty but very on the ball, and there's no starched shirt stuffiness here.
We ended off the evening with a private cellar tour, a fitting end to a memorable meal. In short? Haute Cabriere is the perfect place for a celebratory dinner – even if all you're celebrating is life itself.
Images credit: Mark Peddle