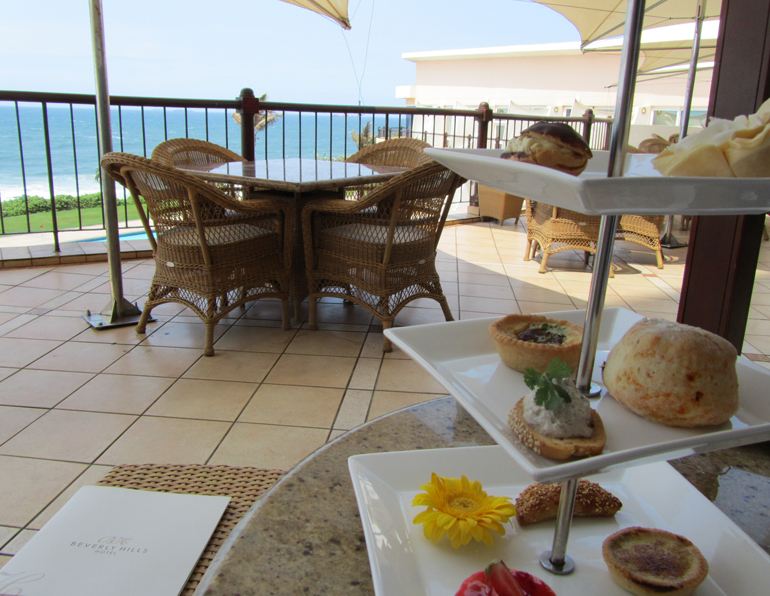 If you mention the words 'fancy hotel' and 'Umhlanga' in the same breath, most people will think you're talking about the Oyster Box, a very swanky hotel on the beautiful coast of KwaZulu-Natal. But right next door to said Oyster Box is an even lovelier treat, the classic Beverly Hills Hotel.
Right on the shore of the Indian Ocean and with stunning panoramic views from every room (every room has an ocean view!) the Beverly Hills was South Africa's first five star hotel, and feels every bit as luxurious as that sounds. It has a colonial edge to the decor, and a very Durban feel pervades the hotel (a plus, in my books, as too often luxury hotels feel as if they could be anywhere in the world). But what impressed me most was the high tea.
Oh how I love high tea.
A choice of four sweet or four savoury delicacies accompany the beautifully creamy coffee plungers and large pots of perfectly brewed tea (which are served, as a matter of course, with a silver platter of shortbread. Yum). The choices are varied, but all superb. We decided on a sundried tomato scone, a mushroom terrine, a steak pie and a butternut and feta tartlet (all miniature and so much more terribly sophisticated than they sound!) For the sweet half of our high tea, we chose a superb mini strawberry cheesecake, a zingy orange and chocolate tart (my personal favourite), a chocolate éclair and a simply scrumptious lemon phyllo pastry parcel.
The service is as close to perfect as you're likely to find – sophisticated and discreet, available when you want it and unobtrusive when you don't. My favourite moment of the day was when the waiters politely interrupted us to point out a school of frolicking dolphins just in front of us. Great stuff.
Of course, the location helps a lot. The views are something special, but being able to walk along the Umhlanga promenade after a decadent high tea is really the perfect end to a delightful morning (or afternoon). The new pier, in the shape of whalebones or elephant tusks (depending who you're asking) is a wonder in itself, with finely worked mosaics decorating the pathway to the ocean, and picture perfect photo opportunities at every turn. Keep walking along the promenade, and you'll understand why people who love Durban love Umhlanga so much. It's the coastal vegetation, it's the bright blue sea, it's the wide beaches and the comfortable promenade. And, of course, it's the simply scrumptious high tea at the Beverly Hills Hotel.
Take someone you love for a treat. It's one of those experiences that will stay with you long after the day itself has passed.