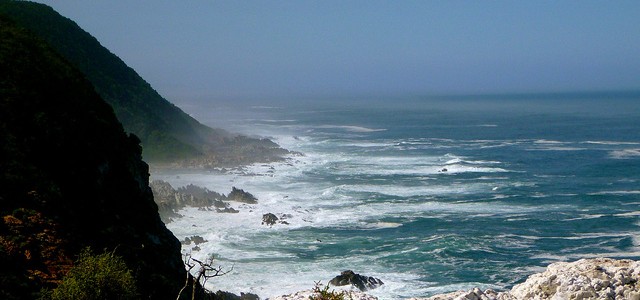 "Thousands of tired, nerve-shaken, over-civilized people are beginning to find out that going to the mountains is going home; that wildness is a necessity."
It was well over a hundred years ago that beloved American naturalist, author and appreciator of all things wild, John Muir wrote these words.
Good lord! Tired? Nerve shaken? Over-civilized? If this was the case more than a century ago when automobiles were few and far between, travelling overseas entailed a couple of months on a ship instead of a few uncomfortable hours on a plane, the web was something spiders spun and social networking happened at the bi-monthly town dance, what would Muir call the state of us today?
Sure, we're dynamic beings, able to adapt to ever-advancing technology and the seeming growing demands of everyday, but if these exhausted people from a hundred years ago realised that wildness was a necessity, I think it is even more so today.
So, if the mountains have been calling you, it's time you went!
Lucky for you Southern Africa has hiking trails a-plenty to pick and choose from. Here are eight of the most iconic.
Header Image courtesy of Rick McCharles via Flickr
1. The Otter
Inaugurated in 1968, the Otter Trail is the oldest official hiking trail in South Africa, making it an absolute must for any keen hiker's must-do list. The trail starts at the Storms River Mouth rest camp in the Tsitsikamma section of the Garden Route National Park, winding its way along cliff tops, through forests and along beaches to the Groot Rivier Estuary at Nature's Valley.
Accommodation is extremely rustic, with no hot water and electricity, but cold showers are a small price to pay for the dazzling scenery exploding all around you every step of the way.
---
Distance: 42.5km
---
Number of days: 5 days (4 nights)
---
Difficulty: Hikers should be fit and strong enough to take on steep up- and downhills as well as a number of river crossings. Previous hiking experience is advised.
---
Cost: R1 000
---
More info: Visit the SANParks website
2. The Fish River Canyon
Exploring the world's second largest canyon on foot – I mean! Does it get any more epic? Second only to the Grand Canyon in the US, the Fish River Canyon in Namibia stretches 180km from Seeheim in the north to the Orange River in the south. The trail itself covers just under half of the full distance of the canyon, starting at the viewpoint at Hobas and ending at Ai-Ais resort and spa.
Because of its arid climate, it can get very hot during the day and rather cold at night, so be sure to bring appropriate the clothes. Along the way you will be treated to starkly beautiful scenery, nourishing hot springs and the starriest skies you've ever imagined!
---
Distance: 84km
---
Number of days: 4 days
---
Difficulty: While there are no sharp inclines as you'd have with a mountain trail, extreme weather conditions, sand and boulders do pose something of a challenge. You should be relatively fit and have had trained before undertaking the trail.
---
Cost: N$130 (Namibian dollars equal Rands, so R130)
---
More info: Send an email.
3. The Whale Trail
If you want to treat yourself to a hike of a slightly more luxurious nature, then the Whale Trail is without a doubt the way to go. Wending its way along the coastal part of the De Hoop Nature Reserve in the Overberg, it's awash with spectacular ocean vistas, and yes, if you go at the right time of year (June – December), you're guaranteed to spot whales frolicking with their calves!
So where does the luxury come in? Well, firstly, it's exclusively a slackpacking trail, which means the bulk of your luggage as well as all your meals are transported to your accommodation every day. Secondly, whereas most hikes have rugged overnight huts available to hikers, the Whale Trail offers cosy cottages complete with comfy made beds, fully equipped kitchens, in-house bathrooms with warm water and flush toilets.
---
Distance: 55km
---
Number of days: 5 days
---
Difficulty: Although the trail itself is quite challenging, the fact that you need not carry your full heavy backpack (they offer porterage). A medium level of fitness is still required.   Cost: R4 900
---
More info: Check out the De Hoop Collection website.
4. Fanie Botha trail

One of the very first multi-day hiking trails to be laid out in South Africa, the Fanie Botha Trail in Mpumalanga was supposed to be the start of a network of hiking trails known as the National Hiking Way System, stretching from the Soutpansberge in the north to the eastern escarpment of the Cape. Sadly the network never realised, but the five-day Fanie Botha trail still remains one of the most magnificent in the country, with legendary spots like the Mac Mac Falls featuring along the way.
---
Distance: 71,5km
---
Number of days: 5 days
---
Difficulty: A medium level of fitness is required to enjoy the experience fully.
---
Cost: R525 per person + R55 admin fee
---
More info: Visit the Sabie website or send an email.
5. Amatola Trail
If you have a penchant for fantasy adventure films the likes of The Lord of the Rings or The Chronicles of Narnia, this trail will charm your socks off! The hike will take you through the enchanted forests of the Amatola Mountains, with plenty of cascading rock pools, waterfalls and springs providing ample opportunities for snack and photo breaks.
The trail is rather challenging and overnight accommodation is rather rustic, however the exceptional beauty of the route makes it worth the suffering 1000 times over.
---
Distance: 100,3km
---
Number of days: 6 days
---
Difficulty: Generally considered to be one of the toughest hikes in Southern Africa, an above average level of fitness is required.
---
Cost: R193 per day's hike + R110 admin fee per person
---
More info: Visit the Amatola Trails website
6. Giant's Cup

Stretching from Sani Pass to Bushman's Nek, Giant's Cup could be seen as the quintessential Drakensberg hiking trail. It wends its way all along the foothills of this majestic mountain range, through patches of indigenous forest, over babbling boulder-strewn streams, into picturesque, valleys and onto grass-covered mountain crests with panoramic views rolling out into the distance.
It's not an overly strenuous trail, making it a great option for families with kids. Overnight accommodation is provided mostly in farm houses or collections of rondavels.
---
Distance: 59,3km
---
Number of days: 5
---
Difficulty: It's not a particularly difficult trail, you can even do it with kids. Obviously, the fitter you are, the more you will be able to enjoy it.
---
Cost: R75 per person per night
---
More info: Check out the KZN Wildlife website
7. Tankwa Camino
In the last decade or so, the Camino de Santiago de Compostela, a legendary network of Catholic pilgrim routes covering parts of Spain, Portugal and France, has seen an almost unprecedented revival with thousands upon thousands of soulful individuals following its path in search of enlightenment, peace and joy every year. Inspired by the idea of pilgrimage, Danie Pieterse from Rawsonville, decided to fulfil a lifelong dream of walking from his one grandfather's grave in Calvinia to his other grandfather's grave in Ceres in 2013 and so doing established the Tankwa Camino.
The 10-day trail starts in Calvinia in the Northern Cape and ends in Ceres in the Western Cape, taking your right through the heart of the desolate beauty of the Tankwa Karoo. The route is only open four times a year to small groups of pre-registered hikers. The dates for 2016 are already fully booked, but why not try your luck for March, April or September 2017?
---
Distance: 256,6 km
---
Number of days: 10
---
Difficulty: Definitely not for beginners. You need to be relatively fit and rather tenacious. Also, since it takes the form of a pilgrimage, don't forget that there is a deeper level to this trail – be prepared for some uncomfortable emotions to surface as you walk. Cost: R3 500 in two instalments
---
More info: Visit the Tankwa Camino website
8. Rim of Africa
Now, look, if you have done every single one of South Africa's iconic hiking trails at least once, spend your weekends and holidays exploring smaller day routes and feel more comfortable in hiking boots than your slippers, then this awe-inspiring thru hike is for you.
Made up out of nine separate trails in different regions of the Western Cape – Ceres, Kouebokkeveld, Agterwitzenberg, Hex River, Langeberg, Marloth Ridge, Grootvadersbosch, Gouritz River and Outeniqua – Rim of Africa is what the wildest wild part of every adventurer's soul dreams of. It only opened recently, meaning that you could be one of the first ever to take it on.
---
Distance: +/- 650km
---
Number of days: 54 days
---
Difficulty: It's a long, extreme and strenuous hike. You need to be super fit and have a lot of stamina. All hikes are guided.
---
Cost: R49 800
---
More info: Visit the Rim of Africa website
---
Tell us – which is your favourite South African hike?
Also read: