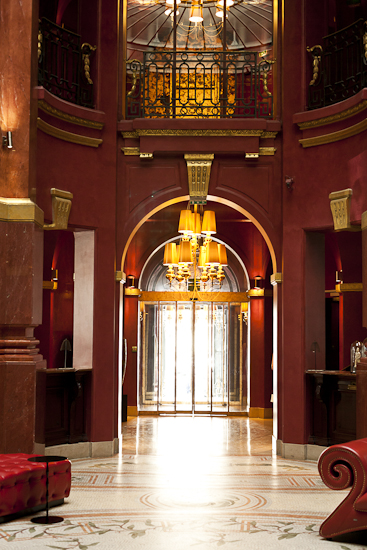 One of the things nobody ever mentions when they're talking about wandering around romantic European cities (let's take Paris, for example) is how exhausting it can get. A whole day on your feet? That's tiring! Luckily, I have found the solution: a long, lazy lunch somewhere fabulous rejuvenates the mind, body and spirit like no other tonic. This is how we found our way to the Josefin Restaurant at the Banke Hotel in Paris – and it was one of the most memorable meals we have ever eaten.
For starters, the Banke Hotel is impossibly cool. Snakeskin tables and menus, gold and maroon décor that is both lavish and decadent, it is an escape from the hubbub of Paris. The Josefin is one of three restaurants in the Banke Hotel, and it is Spanish-inspired fine dining. What that means is creative, full-flavoured Spanish dishes in a French setting – superb.
We started off with a welcome glass of bubbly and an amouse bouche of smoked salmon and quinoa, accompanied by a breadbasket with Spanish olive oils from millennial olive trees (yes, that does mean olive trees that are 1000 years old). Then we had our first courses: blue lobster carpaccio with spicy apple vinegar and green mango, and broken egg, ham bellotta and white truffle oil. They were exceptional. You know when food is so delicious you have to close your eyes to taste it? That good.
For mains, we had a saddle of lamb with gratinated macaroni and petal of confit tomatoes, and pluma Iberian pork with roasted potatoes and green salad. Amazing. And for dessert we had a coconut cloud of red fruits with basil cherry sorbet and (just to add in the necessary French touch!) a plate of rainbow Laduree macarons (strawberry, lemon, caramel, pistachio and chocolate).
End off the meal with gourmet tea and coffee and you can see why this is one of the most extraordinary meals we have ever eaten. I can't recommend the Josefin Restaurant enough – whether you're wandering around Paris for the day or have some time to explore, be sure to book off a few hours to luxuriate in this exceptional taste adventure.
Images credit: Mark Peddle