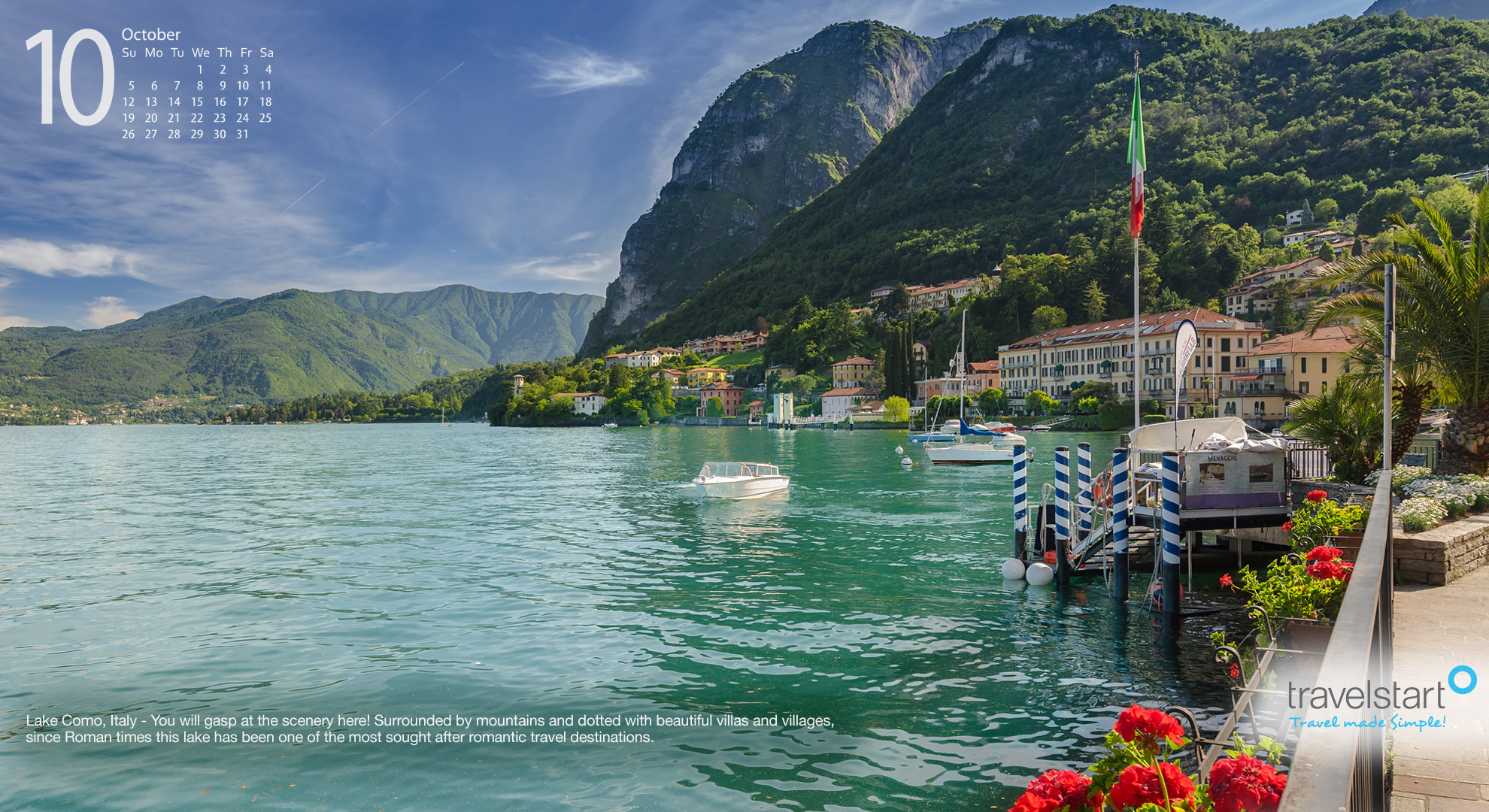 We realise the official "month of love" is still 4 months away but we couldn't help featuring this picture of Lake Como, Italy for the October free travel wallpaper.
Scroll down for free wallpaper downloads
There are few places as romantic as Lake Como (or is that Lake FOMO to the poor souls who've never been?), and the Lake District is a popular day trip from Milan as it's just 90 minutes' drive from the fashion capital.
This is where one of Italy's most sought after scenic sides reveals itself; characterised by cobbled streets, lively piazzas, ancient monasteries and campanile, and the high-brow beings who reside here, at its heart is Lake Como – at 146 square kilometres it is Italy's third largest lake and the deepest.
While the region is probably best known for its elegant hotels and luxury resorts, on further inspection you will find a few options for budget travellers including campsites and villas. Lake Como is a popular weekend getaway, especially for locals who come up from Milan; overall July and August are the busiest times of the year. In winter, some attractions close, however skiing in the nearby mountains is a satisfying alternative.
Free Wallpaper Downloads for October 2014
Desktop Computers
1366 X 768 – DOWNLOAD (with calendar)
1366 X 768 –  DOWNLOAD (without calendar)
1980 X 1080 –  DOWNLOAD (without calendar)
1980 X 1080 –  DOWNLOAD (with calendar)
Laptops
1440 X 900 –  DOWNLOAD (with calendar)
1440 X 900 –  DOWNLOAD (without calendar)
Tablet Computers
960 X 800 –  DOWNLOAD
Phones
320 X 480 (for iPhone 3/Small Android) –  DOWNLOAD
640 X 960 (for iPhone 4/Regular Android) –  DOWNLOAD
Facebook Cover Photo
851 X 315 –  DOWNLOAD
You might also like