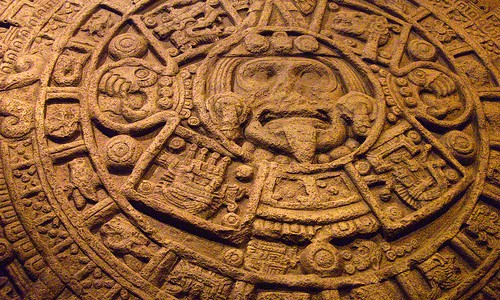 How far would you go to save your job? Six former Mexicana flight attendants wanted to hold on to theirs so badly that they decided to take off their clothes for a cheeky calendar as they were not taking off on any flights anymore. They pulled some $8000 of their personal funds together and organised a photo shoot to create a calendar of themselves striking sexy poses and making pouty faces in front of real airplanes at some nondescript airport. (I hope this didn't cause any crashes at said nondescript airport)
They're not the first airline stewardesses to be photographed naked. Their colleagues at Ryanair do this every year, but the 'aeromozas', as the flight attendants are called in Mexico, are the first to bare all to save their company.  The ladies were hoping this would raise some cash to help the Mexican airline that went bankrupt in August 2010 get back on its feet. Apparently this worked and the calendars are selling like hotcakes. The first 1000 were sold out in in no time and a new batch will be available shortly. However at only $12 each they need to sell a heck of a lot of calendars to cover the airline's $ 800 million debt. But even if their photo shoot will not raise enough cash to save the company, it could possibly raise some interest from possible investors who can't wait to be served their next inflight meal by one of the 'models'.
Now I can honestly say that I am dedicated to my job and like to show my employer how much I like doing what I do. But I think I will stick to showing him my sales numbers and stats instead of my birthday suit. Especially now that it turns out that Mexicana may start operations again and will re-hire some of their ex flight attendants.  Just not the sassy six. According to the airline they showed just a tat too much, er… dedication as they'd liked. But I'm sure that because of this calendar they don't need to worry and will be looking at a flying career in the nude magazine business. How's that for a career change?