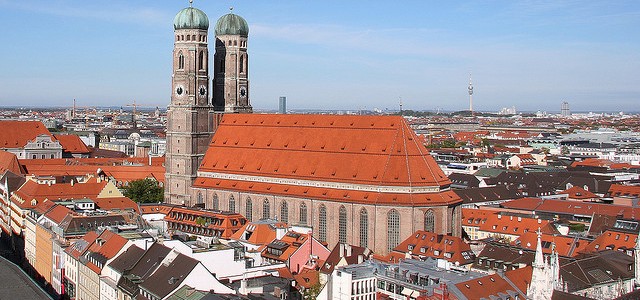 Munich, capital of Bavaria is a great destinations for a number of reasons, and in my books, mostly for what it's close to rather than what's in it. Here are a few tips to help you make the most of your trip to Munich:
Getting from the airport the City Centre
Munich Airport (MUC) is far outside town in a greenfield site, it's not connected to the main Deutsche Bahn rail stations directly like Frankfurt and Dusseldorf Airports are though, meaning you'll need to use alternative transport to get into town, I recommend using the S-Bahn (overland city train):
it's about 45 minutes to München Hauptbahnhof (main station)
train leaves every 10 minutes on the S1 & S8 lines – both take you to the main station from the same platform
tickets can be bought on the ground level of the airport at the top of the escalators (about €10)
remember that the Hauptbahnhof is not the last stop, so pay attention to the announcements so that you don't miss it
also do no board the train without a ticket, even though no one will stop you, there's a hefty fine!
What to do in the city
Munich has a number of activities within the city boundaries to keep the visitor busy, my recommendations are:
Visit the Englischer Garten – the most popular city park and have a pint of beer from the Chinesischer Turm (Chinese Tower)
Go river-rafting on the Isar river (during summer)
Take a trip to the 1972 Olympic park with the BMW museum right next door
Visit the world-famous Hofbräuhaus for a huge pint of lager and be entertained by the local oom-pah bands (don't sit at tables labelled "Stammitsch" as these are reserved for regulars).
Munich as a base to explore from
Munich is perfectly situated so that you are a short train ride from not only from other German sites and towns, but from cities in other countries too, in particular those in Switzerland, Austria and the Czech Republic. Here are my top day-trips from Munich (many of these can be organised via the tours office at the Hauptbahnhof):
Visit Dachau Concentration Camp site – a sobering reminder of the horrors of the Holocaust during World War II
Visit Neuschwanstein Castle in the Bavarian Alps, the fairy-tale castle built by "mad King Ludwig" on which Walt Disney based his Cinderella Castle at Disneyworld
Take a day trip to Salzburg, home of Wolfgang Amadeus Mozart for a bit of a cultural experience of the Austrian kind
Spend the day in Rothenburg, one of the most well-preserved traditionally German towns
Cheap flights to Munich
Travelstart allows you to compare prices and routes of all major airlines on one page to help you pick the best deal for your needs. Search for the cheapest flights and hotels on www.travelstart.co.za.