Paris has a special place in my heart… and while I was there in April, all the delicious things it had to offer had a special place somewhere else too!
Paris is famous for many things, not least of all the marvellous foods and treats  that you cannot help but taste, and the French charisma with which it is served to you makes it all the more delightful.
The best macaroons in Paris
Macaroons have become quite the trendy dessert recently and while they are in abundance in Cape Town, you haven't tasted a real macaroon until you've tasted one made in Paris. The rainbow colours of the macaroons all piled together offer a visual feast in addition to the one enjoyed by your tastebuds.  The best macaroons in Paris are undoubtedly from the famous tea salon, Ladurée.  Slightly crispy on the outside and soft and creamy on the inside, these macaroons dance on your mouth. With flavours enough to suit any palette, Ladurée is a must on your Paris itinerary.
My best friend and I stumbled across Ladurée on Rue Bonaparte on our first day in Paris and needless to say the macaroon we each bought didn't last very long despite our best efforts to "keep them for later". Our last day in Paris wasn't complete without a stop at this Ladurée again.
Ladurée also has little stores at the airport, so save some euros for your way home and you'll be able to take a taste of Paris home with you!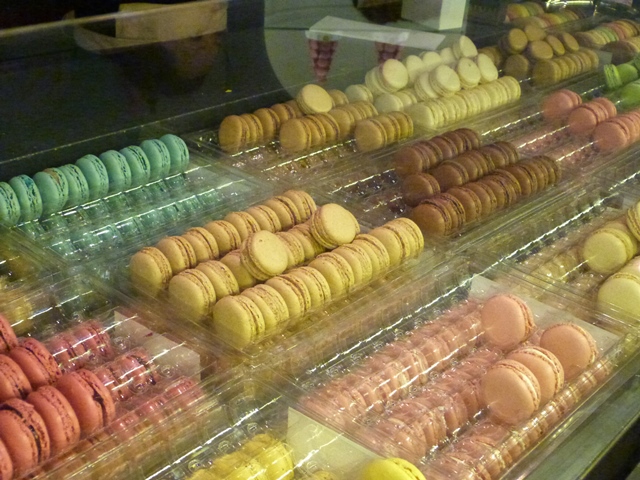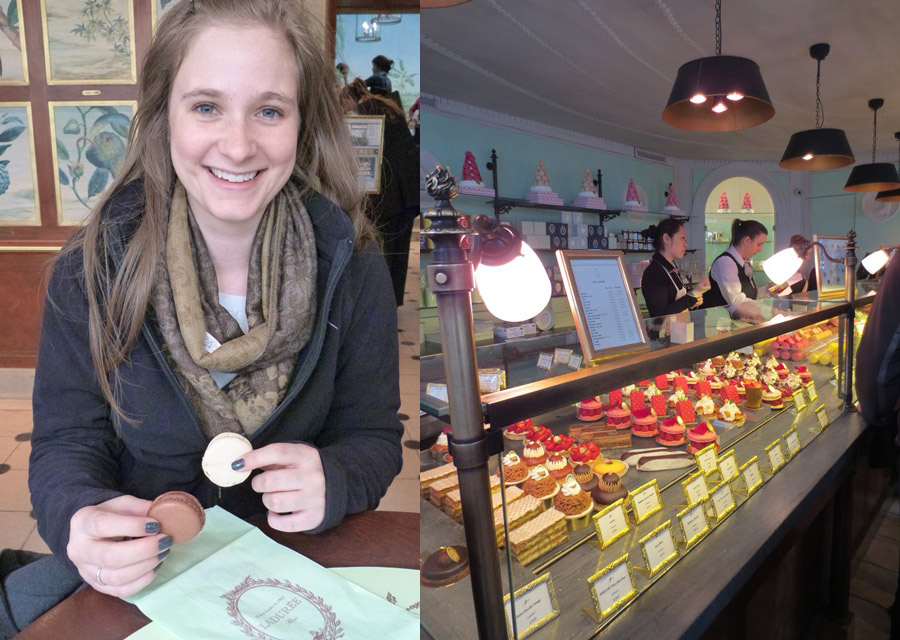 The best crepe in Paris
Another component of the staple diet of any Parisian tourist is the crepe. Believe me when I say my best friend and I tasted way too many crepes… but this allowed us to find the best one (built-in justification).  The best crepe you will have in Paris guaranteed is from a tiny creperie down Rue Saint-Louis en l'Île on Ilé Saint-Louis. Take a stroll there after you visit Notre Dame as most of the shops in this area only open after 10am. This crepe is a reason to visit Paris in itself and pure memory brought me back to the store from my first visit to Paris in 2009. I think the secret is the lemon juice but I can't be sure… in any case these crepes are magical!
Make sure that any crepe you buy is made fresh when you order it (the vendors often pre-prepare the crepes) and for the brave chocoholics out there, the Nutella crepe is a must!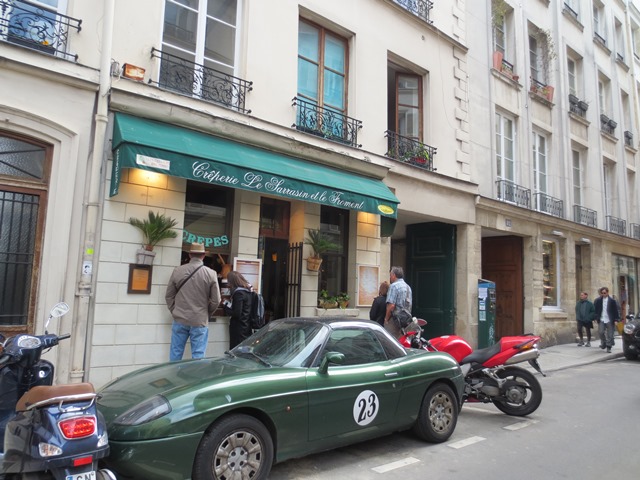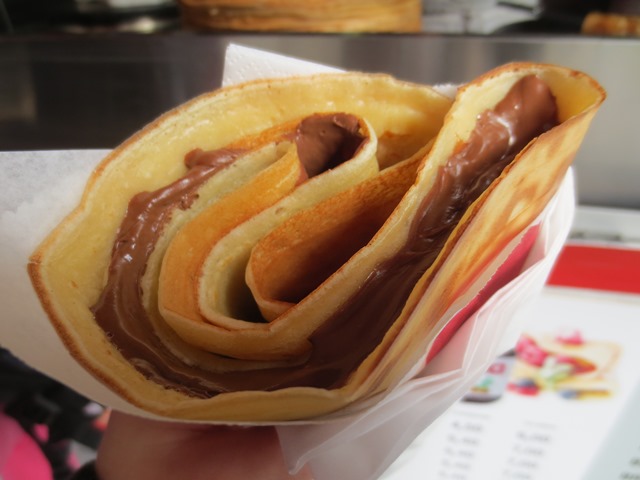 Other yummy things you must try in Paris!
While you are waiting for the shops on Ilé Saint-Louis to open (Rue Saint-Louis en l'Île has some lovely shops and is not to be missed), pop into Café St Regis for some delish authentic hot chocolate. This hot chocolate is like molten chocolate and is perfect to warm you up if you are visiting Paris in the Autumn/Winter months. And of course don't forget to have a croissant with your hot chocolate. While sipping on your hot chocolate take note of the atypical French waiters who are able to effortlessly throw your food and drink items onto the table in such a posh way.
If the hot chocolate doesn't quell your need for chocolate, you'll find no shortage of this sinful delicacy in Paris. Almost every street has a chocolatier and it can be overwhelming as to which one to choose to buy/taste. A great place to start is Fauchon, on Place De La Madelein – a chocolate heaven. There are two stores on Place De La Madelein, the one being pastries and fresh products (yes they have delish Macaroons! We tasted these too of course!) and the other being the gift shop. I recommend buying the pack of 6 Fauchon chocolate bars – that way you can try every flavour. Each of the bars is numbered 0 to 6 and each has its own delectable flavour from white chocolate, to caramel to dark chocolate. Make sure to buy more than one…you won't want to share! And these make great gifts for your loved ones at home.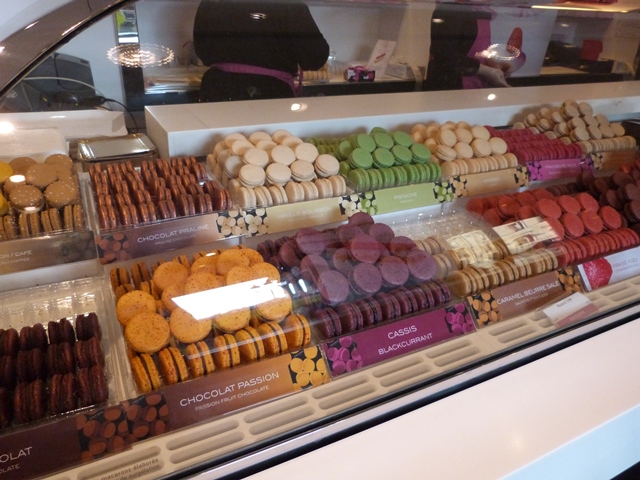 No French holiday is complete without eating a baguette for lunch (no, Paris is not diet friendly). Treat yourself to the baguette experience by purchasing one from the outdoor vendors. The carts are usually very pretty, there is always a lovely hustle and bustle surrounding them, and there is generally a good variety of fillings. The experience isn't complete however until you plonk yourself on the sidewalk to eat and watch the traffic and people go by. We found a great vendor at the end of the Tuileries Gardens right on Place de la Concorde. It was a welcome find as we were starving after having fed ourselves visually spending the morning at the Louvre (the restaurants along Rue de Rivoli are quite expensive). We ate our baguettes with gusto while watching the famous traffic circle at the Place de la Concorde, where Marie Antoinette was brought to be beheaded in 1793.
On our last night in Paris we decided we must experience dining in a French bistro. We spotted the Bouillon Chartier in Rue du Faubourg Montmartre, which was within walking distance of our hotel (Holiday Inn Paris Opera – Grands Boulevards – we stayed in a great area by the way, busy night life and a safe area for female travellers). The restaurant met all our expectations including the bustling French waiters in their white shirts and black aprons. We enjoyed a lovely meal, including the very French tradition of sitting almost on top of the people on either side of us. The French people on the one side of us were not very impressed at our need to take photos of everything in the restaurant and each item of food brought to us, including us with the food, and shaking their heads, muttered to each  other "technology at the table"… We were most surprised and delighted by the waiter using the paper table cloth to record our order and use this as our bill at the end of our meal! When we finished, the waiter promptly scrunched up the table cloth and laid the next one on for the next patrons – the accountant in me could not grasp this strange system and I was relieved to see that whatever left the kitchen was being recorded by an officious looking lady sitting perched on a chair at the kitchen door.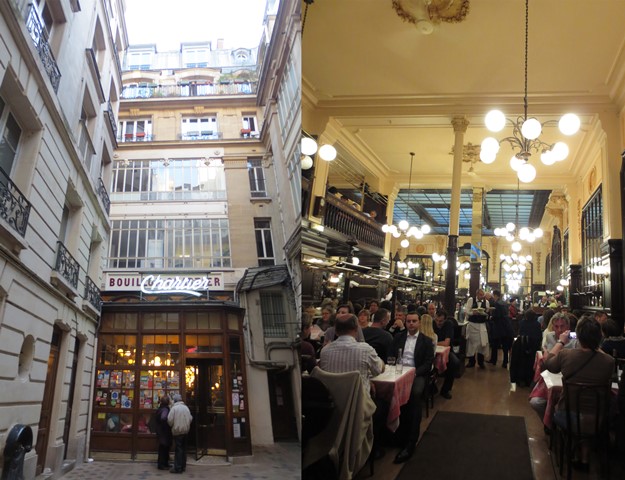 Another culinary delight that one simply cannot leave Paris without tasting are the falafels and shawarmas at L'As Du Fallafel in Rue des Rosiers in Le Marais, the Jewish quarter of Paris. The schwarma will keep you full until dinner and is the best one you'll ever taste.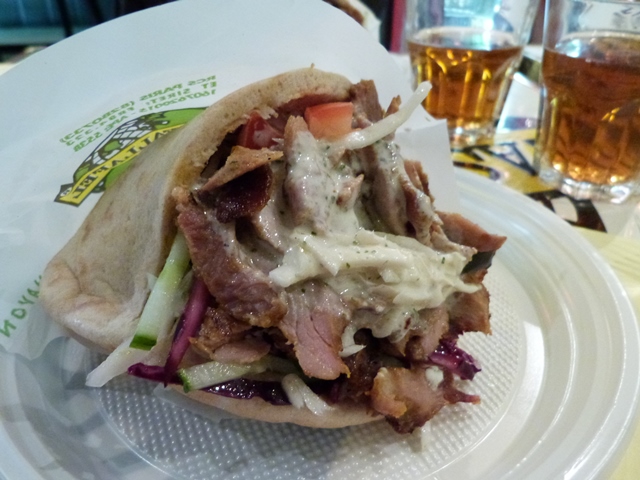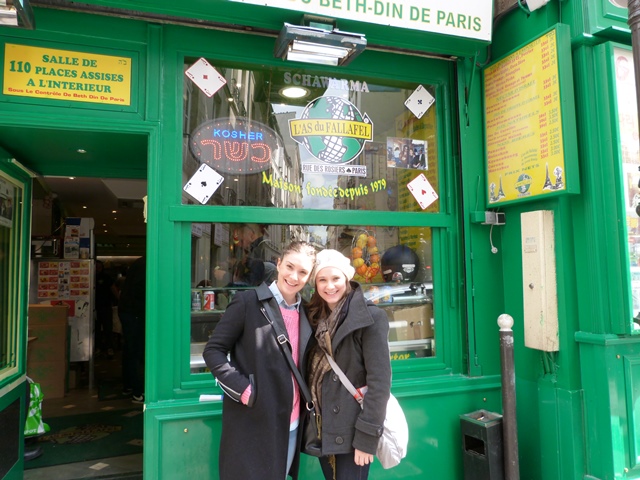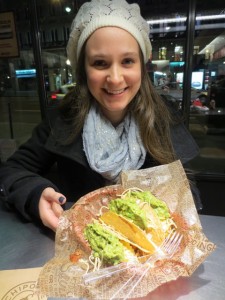 We also found the nicest Mexican food (I know, in Paris…). Chipotle Mexican Grill on Boulevard Montmartre sells amazing and fresh fast Mexican food but it tastes healthy and delicious. My best friend and I went there twice (it is also down the road from our hotel) and already began attempting to figure out how we could possibly bring this to South Africa.
Finally, if you are craving some fresh fruit or need some small grocery items, the French groceries are a tourist attraction in their own right. Beautiful displays of colourful fruit and vegetables and gorgeous flowers decorate the outside and spill out onto the pavement.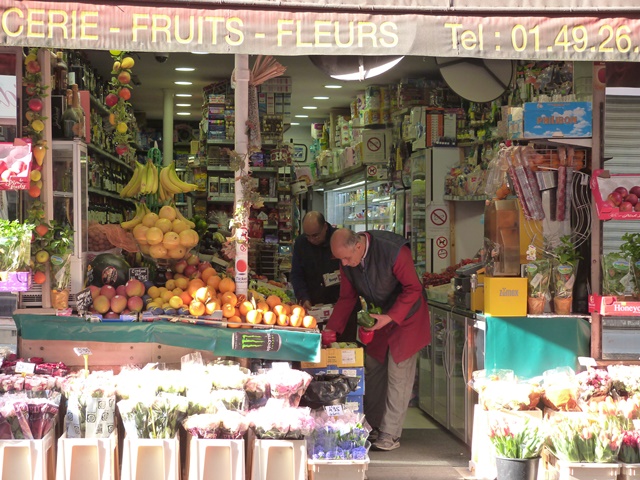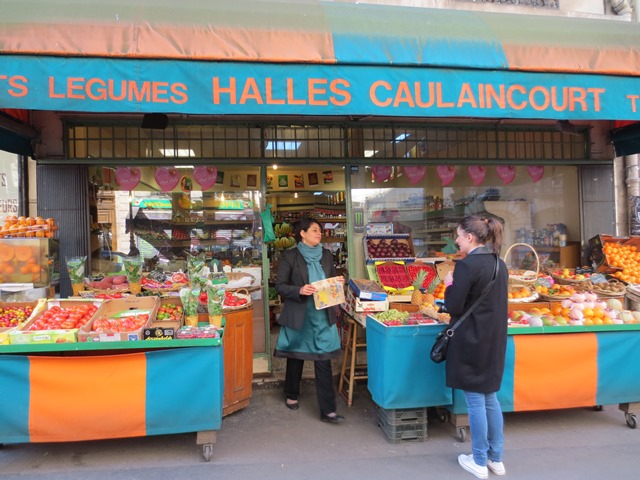 I have no doubt that there are many other Parisian foodstuffs to discover… and I can't wait to find out!