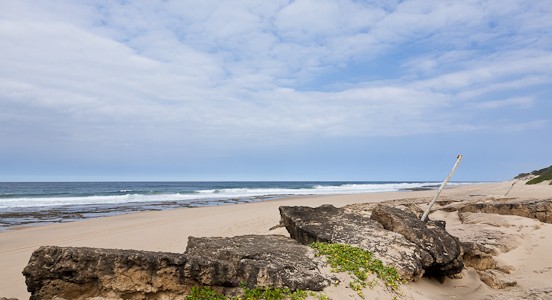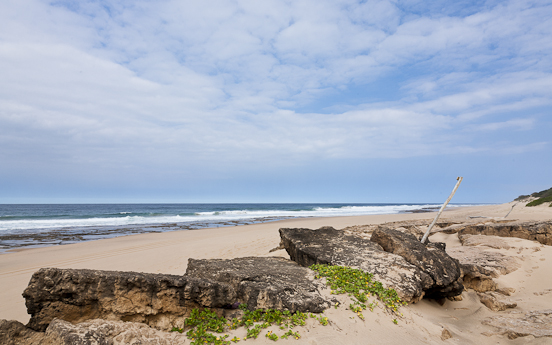 (image credit: Mark Peddle)
Looking for a completely unforgettable holiday, that combines natural beauty, relaxation and a large dose of pampering? I have the perfect place for you…
Last month we were lucky enough to spend two nights at Rocktail Beach Camp and I have been thinking about it ever since (and wishing we could go back – the sign of a perfect holiday, as far as I'm concerned!) It's the kind of place where you can take your shoes off as soon as you arrive, and not put them back on until you reluctantly leave… Even in winter, where the temperatures hover around the 20°C+ mark. Heavenly!
What makes Rocktail truly unique, though, isn't the relaxed, welcoming nature of the hotel, or even the beautiful rooms (that are half-tent, half-chalet, with open sides to let in the warm breezes). It's not even the fact that the whole camp is perched inside an indigenous Maputaland Coastal Forest, so you're constantly surrounded by birdcall and butterflies. Nope, it's the fact that the Maputaland Marine Reserve is just offshore – a mere twenty minute stroll through the forest, in fact. And once you're in that marine reserve, you have access to the kind of marine life that can't be seen anywhere else.
Sodwana Bay is known for its extraordinary array of tropical fish, dolphins, turtles and whales, but Rocktail is blessed with the only concession to dive this section of coast, which means you'll be entirely uninterrupted in the underwater wonderland. It also means the snorkelling is top-class, and if you're lucky enough to be around from November to January, you might even see the once-in-a-lifetime sight of leatherback and loggerhead turtles hauling themselves on to the beach to lay their eggs.
Yes, Rocktail is a once in a lifetime kind of place… Except I intend to return many more times!