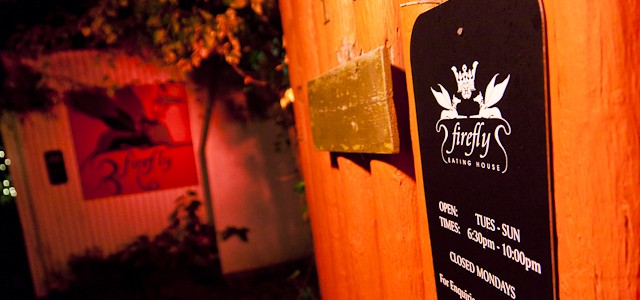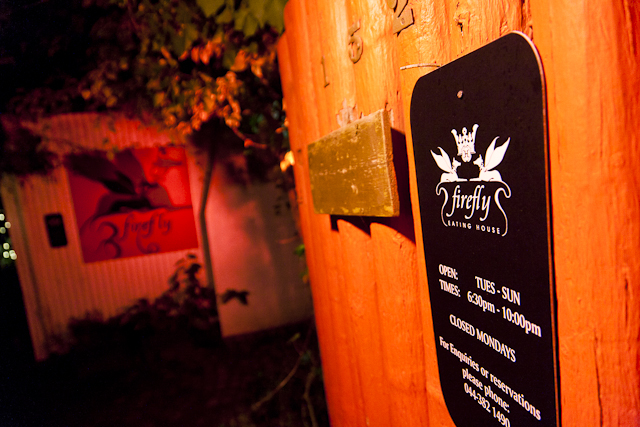 If you're looking for somewhere unique and memorable to eat dinner next time you're in Knysna, might I suggest Firefly Eating House & Chai Bar? Just across the road from the lagoon, it's a glowing red invitation in the evenings, and quite frankly a delightful place for supper.
That said, I will admit to being ever so slightly hesitant when I sat down and opened the menu. Mainly because underneath 'Firefly Eating House & Chai Bar' came the words: Exploring barks, berries, seeds and leaves. Now, I don't know about you, but most of the time when I go out for dinner I like a bit of indulgence. I want my food to taste gooood, and I don't really want a lesson in restraint or health. Breakfast and lunch can be perfectly healthy, but going out for dinner should be (in my books) a treat. Luckily, my preconceptions were shattered as soon as our food was served.
The menu has a wide array of exotic dishes on offer, from Firestarters like sumac fish samoosas served with sweet chilli dipping sauce (which were superb – packed with flavour and crunch) and Cape Malay bobotie spring rolls with mint chutni (which were a real winner: spicy, flavoursome and with a lovely bite).
For mains, we struggled to choose between Fragrant and mild prawn curry with red leaf masala, cashew nuts, ginger and cream; Sichuan peppercorn and 5-spice chicken with sweet potato wafers; Tangy pork with fenugreek seed, cassia bark, apple and citrus and Smoky berbere beef, individually handroasted with a spice blend of 12 spices. We ended up choosing the chicken and the beef, which were both aromatic, fragrant and multi-layered (the beef was particularly tasty), but next time I'll go for the prawn curry – I saw it going to another table and experienced instant menu envy!
Desserts are simple and refreshing – we had a light lemon delight that was creamy but not rich, and the ideal way to end off the meal. And then there's the famous tea menu – everything from pure peppermint to lemongrass and ginger, red tea cappuccino, oolong, green and both masala and rooibos chai.
It's not only the food that makes Firefly such a special place, though. The relaxed atmosphere, the cosy, warm (and downright quirky!) décor – from red striped walls to red spotted curtains, glowing red rose lights and African print fabrics, the friendly service and the beautiful presentation of the food all combine to make this a truly memorable meal in a unique environment. Treat your tastebuds to a flavour explosion and head to the Firefly Eating House & Chai Bar – it's like hopping over to South-East Asia without having to pay the airfare!
Images: Mark Peddle