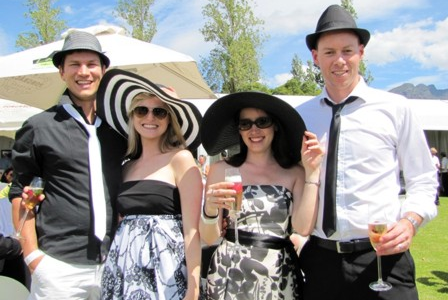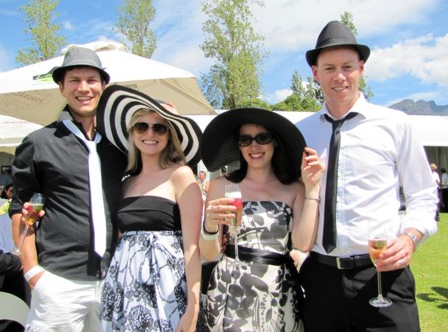 Image credit
What could be more fabulous, at the beginning of December when the weather has just turned lovely and everyone's thoughts turn to holidays, than a bubbly festival? Nothing, that's what.
The Franschhoek 'Magic of Bubbles' Cap Classique and Champagne Festival is a weekend-long festival celebrating the art of champagne. Now in its fifth year, the festival attracts a steady stream of visitors who return year after year to sit in the sun or shade, listen to some fantastic live music, and sip on countless tasting glasses of champagne. In short, it's a festival of decadence, but a terribly classy one…
Franschhoek is the perfect spot for this, of course: a thoroughly charming village in the heart of the Cape Winelands, saturated with French colonial spirit and full of delightful little spots to sip wine (or champagne!) and nibble on delicacies.
That said, you probably won't be doing tooo much touring around Franschhoek after a day of indulgence. On arrival, guests at the Magic of Bubbles grand marquee are given a champagne tasting glass and ten coupons for tasting. These can be exchanged for any of a number of delicious bubblies, everything from France's best champagnes to the finest cap classiques from South Africa. As the organisers say: "With the winemaking method virtually the same, it comes down to the terroir and skill of the winemakers, something which South African winemakers have mastered throughout the years."
Who can resist tasting that?!
This year, popular wineries included Graham Beck, Krone, La Motte, Pierre Jourdan, Villiera, Boschendal and many others, with a host of bottles available to buy should the tasting spark your fancy. Even though the summer days in Franschhoek can be blisteringly hot, the plentiful marquee shade and umbrellas dotted around the lawn make for a pleasantly cool experience. And of course, you can't have all that bubbly without anything to eat, so a selection of local restaurants whip up delicious offerings that complement that champers – everything from homemade salami rolls to sushi, canapé platters, smoked trout flatbreads and delicious fresh oysters (courtesy of some of the big names in fine dining: Le Quartier Francais, Bread & Wine, Le Franschhoek, etc etc).
And that's really what the day is all about: catching up with friends in a shady spot on a hot summer's day, listening to some great live music, sipping on some excellent chilled bubbly and indulging in some delicious food… With maybe a homemade ice-cream or frozen yoghurt to top off the experience!
Choose from the Friday evening slot (6pm to 10pm), the ever-popular Saturday (12pm to 5pm) or the slightly more relaxed Sunday (12pm to 5pm), but be sure not to miss out on next year's Magic of Bubbles festival!
[boilerplate bytitle="text"]