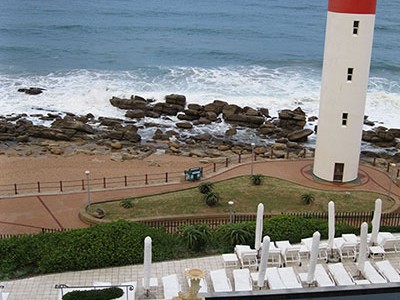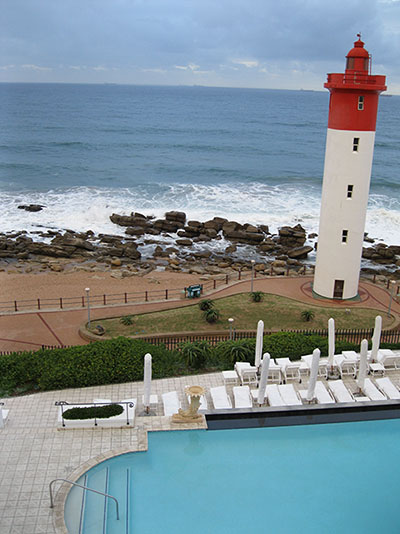 If you're going to be spending any length of time in (beautiful) Durban, odds are you're going to hear about The Oyster Box Hotel.
It is, quite simply, one of the most luxe and famous hotels on the Umhlanga coastline – which is, in itself, one of the most stunning coastlines in KwaZulu-Natal. What makes it such a special place? Well, for starters, there's all the old world charm. Step into the marble lobby and you could just as well be stepping back in time… The staff are impeccably trained and very friendly, the rooms are beautiful, with sweeping views out over the ocean and the iconic red and white striped lighthouse, and the food will make you go weak at the knees. Literally.
We treated ourselves to their famous afternoon high tea, and spent a blissful few hours sipping tea from teacups covered in pink roses, and nibbling on assorted sweet and savoury delicacies that were so pretty they could have been little artworks. After high tea, we took ourselves off to the private cinema (I kid you not!) where we chose a movie we wanted to watch, and then sat in the twenty-seater cinema (just the two of us!) with an array of snacks and sweets, and a twinkling star-studded ceiling above us. You can't make up memories like these….
Of course, there's plenty of other things to do that don't involve food. The pools are bright blue and sparkling, the spa is supposed to be heavenly, and the Lighthouse Bar is famous for their live music and sundowners that last long into the night. Then there's the famous breakfast (complete with unlimited bubbly), the stunning stretch of beach to walk along, and and and… Maybe you'll just have to visit The Oyster Box to experience it all for yourself?