Prepare to be amazed by the sheer number of delicious and unusual things to eat, see and do in the magnificent sprawling Cape Winelands region.
1. Visit the Rasta House in Mbekweni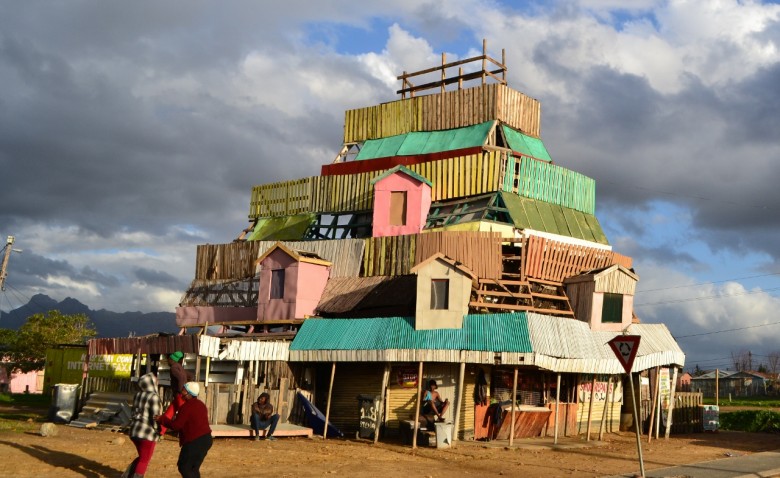 This five-story wooden rasta house is a feast for the eyes. The owner has been building for over twenty years and plans to add another two stories. For a tour of Mbekweni with a knowledgeable local guide, including a visit of the Rasta House contact Nancy Cowie on 021 764 3442 or Mariette van Velden on 021 873 2967.
2. Make Samoosas and Sweet Potato Koeksisters with Latifa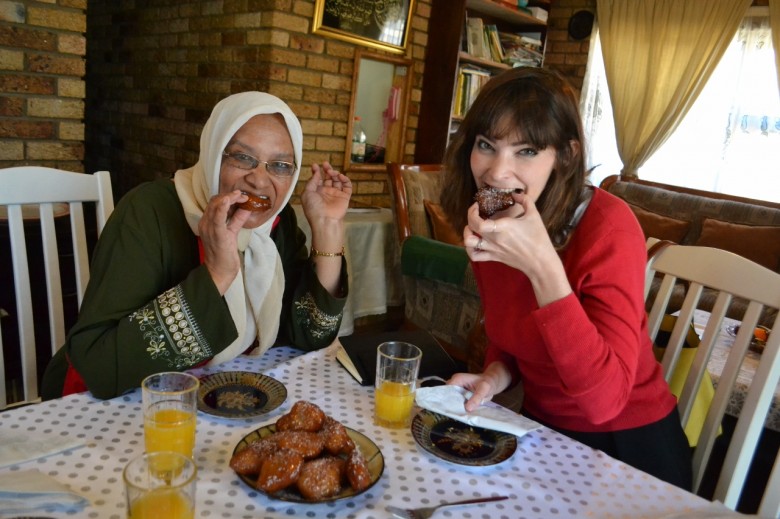 I had a fabulous time with Latifa at a Hands on Malay Cooking experience organised by Hanli at Bites and Sites. For Hanli food is an expression of culture and a visit to a town is not complete without having a meal at a local eatery and learning how to cook traditional dishes. Latifa graciously taught me the intricacies of folding a samoosa correctly and what spices to add to make her incredibly delicious coconut and cinnamon koeksisters. Contact Hanli on 076 032 8234 to book.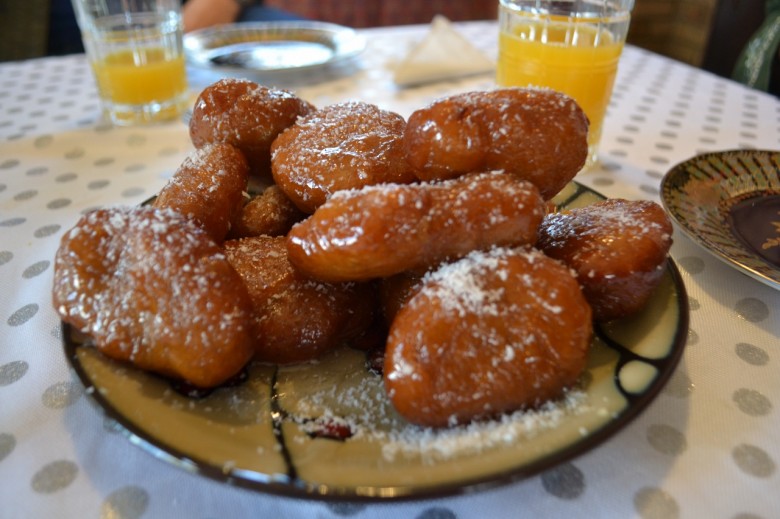 3. Eat Wors Rolls by the Fire at Chippa's Place, Mbekweni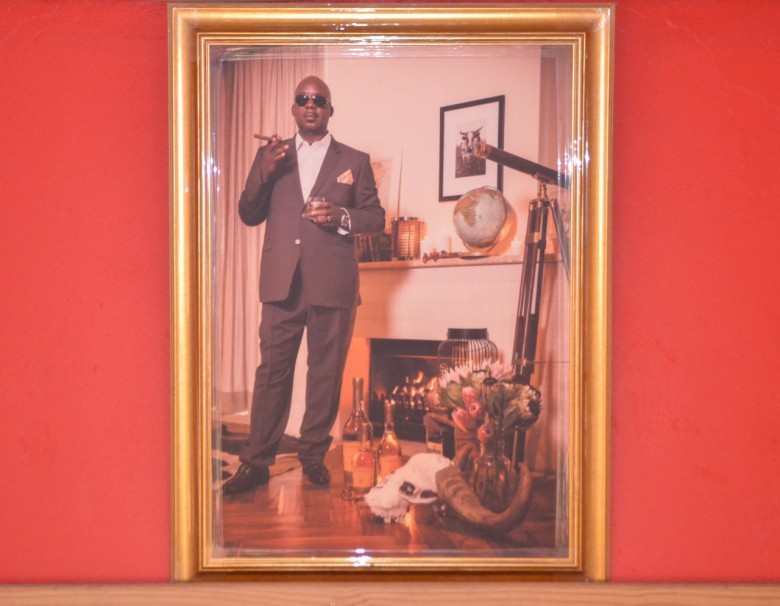 Chippa owns a highly successful bar and braai spot which is always happening even on the rainy day we visited. We knocked back some beers and enjoyed boerie rolls by the fire while watching the cricket. Big on atmosphere. 4895 Mahojane street, Mbekweni, Paarl. Call 082 454 0585.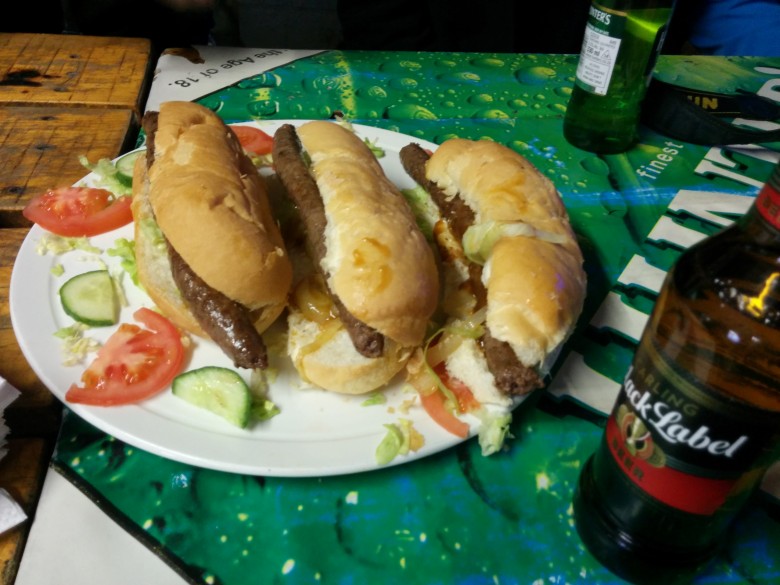 4. Meet Mamma Swartbooi and taste her delicious Chakalaka and Morogo in Khayamandi
Thembi met me at the theatre "Amazink Live" at 18 Masithandane street, Khayamandi dressed in a fabulous emerald jumpsuit. She gave me a highly entertaining whirlwind tour of Khayamandi introducing me to people and places including community based projects such as the Zenzele Creche. We then paid a visit to Mamma Swartbooi, an inspirational lady whose father-in-law was renowned for helping the community during apartheid. The street is hence named "Swartbooi street". I was treated to a tasty lunch of morogo (african spinach), chakalaka and fried dumplings. I highly recommend this tour. To book contact Thembi on 072 891 2021 or Hanli at Bites and Sites on 076 032 8234.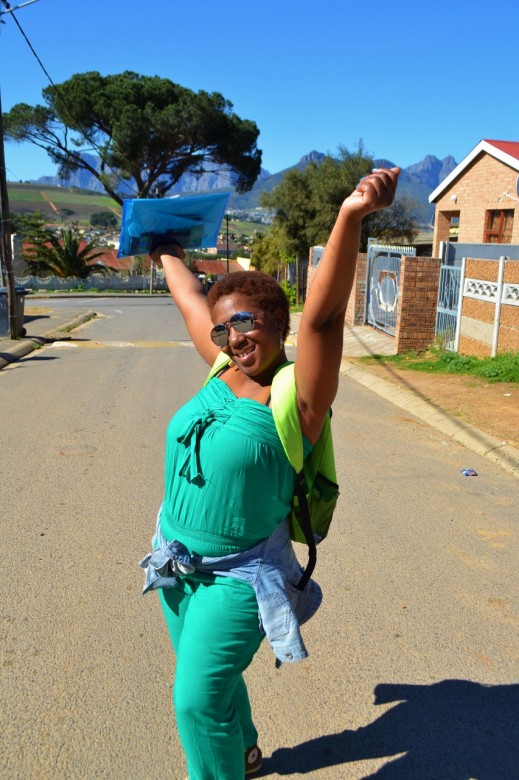 5. Stay in the Oldest Hotel in South Africa, Stellenbosch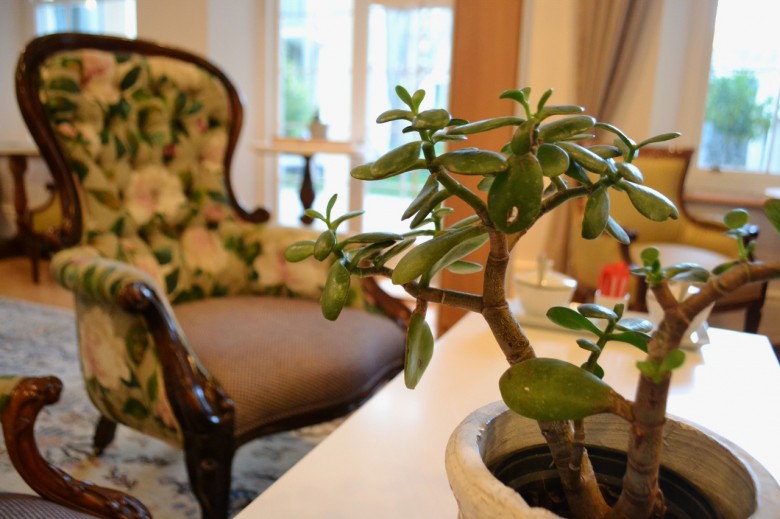 One of the marvelous things about staying at Oude Werf, aside from having premium underground parking in the heart of Stellenbosch, is that you will find yourself in Church street right in the thick of the gorgeous bistros, book shops, art galleries and gourmet markets. It's built on the site of South Africa's very first church (hence the name "old churchyard") which was built in 1687 but sadly burned down on 1710 making way for Wium's Inn, the Arcadia and finally the Oude Werf Hotel. Since 1802 it's hosted the first female graduates at the university, explorers, statesmen and legend has it even a ghost or too. The hotel has 52 rooms, mine was outfitted with marble counters in the bathroom, a large walk in shower with a generous shower head and beautiful modern bath. The kitchen is fitted with stylish copper lights and is visible to the diners. Sip wine by the fire in winter or enjoy the vine-covered courtyard in summer. Chef Albert van der Loo delights the palate with local specialties- I enjoyed an outstanding vegetarian bobotie and rich chocolate tart. A breakfast spread, lunch and high tea are also available. Keep on the look out for their weekend, long stay and corporate traveler specials.  30 Church St, Stellenbosch. Call 021 887 4608.
6. Go on a Fascinating Architectural Tour of Paarl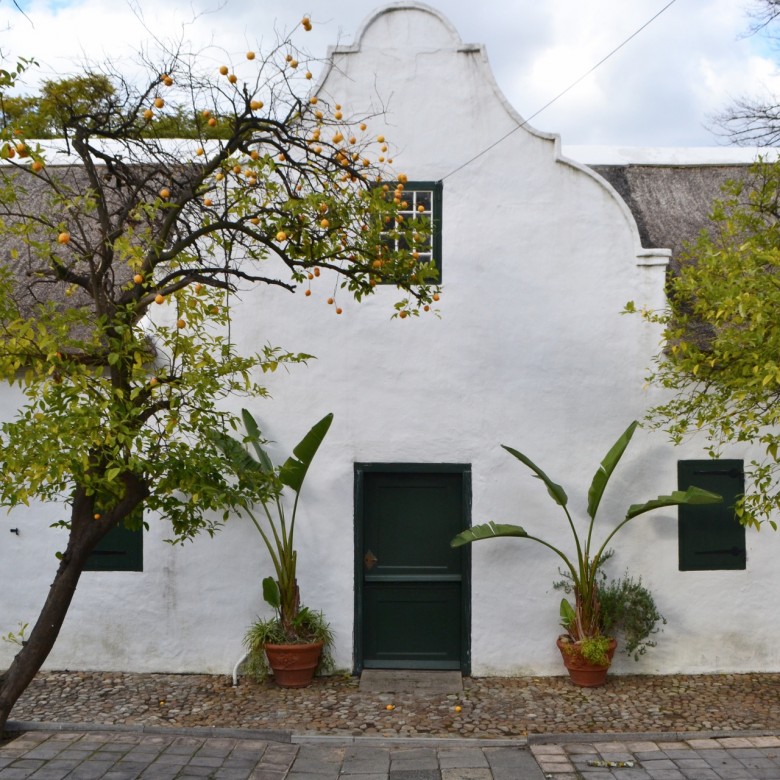 Join ebulliant Hybrѐ van Niekerk on an eye-opening tour of the historical buildings of Paarl. Her tales of the town's history paint a vivid picture in your mind while she shows you secret spots off the tourist trail which you would never find on your own (one being a beautiful well built in a Malay architectural style). She tells wild tales of former Paarl inhabitants, one who actually had a pipe built under the main road leading from his distillery to his office, so that he could simply open a tap for his daily tipple. You can organise a tour on Tuesdays, Thursdays and Saturdays from 11am and Mondays, Wednesdays and Fridays from 2 pm. For a group of 3 to 5 people the tour costs R100 per person and for a group of 6 to 10 the tour costs R90 per person. To make a booking call Hybrѐ on 073 065 0165. The tour lasts between 90 to 120 minutes.
7. Antiques and Cake at Perfect Place in Wellington
Quite literally the perfect place for a delicious fry up, cake and cappuccino and authentic antique shopping. We visited on a day when the rain was lashing down and found a beautifully curated haven of glittering silver, glass, posies and candles. 66 Church St, Wellington. Call 021 873 6620.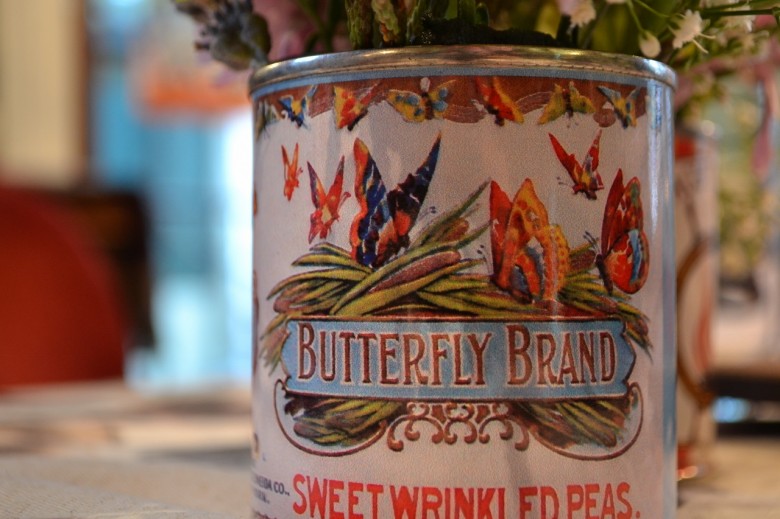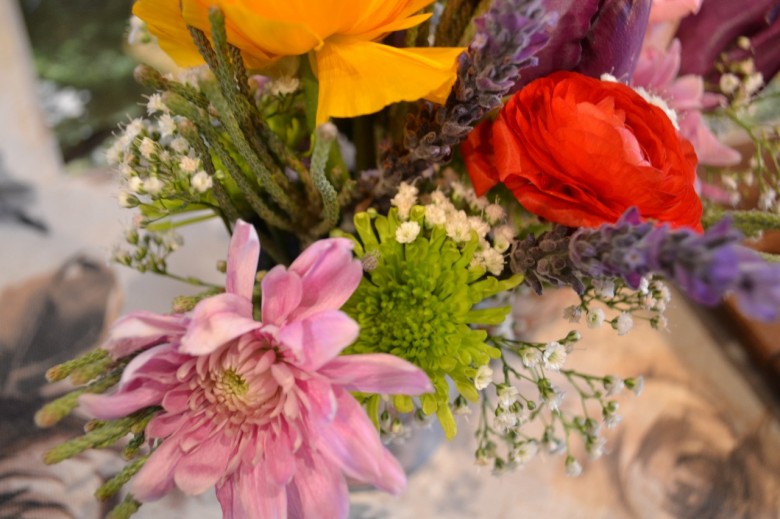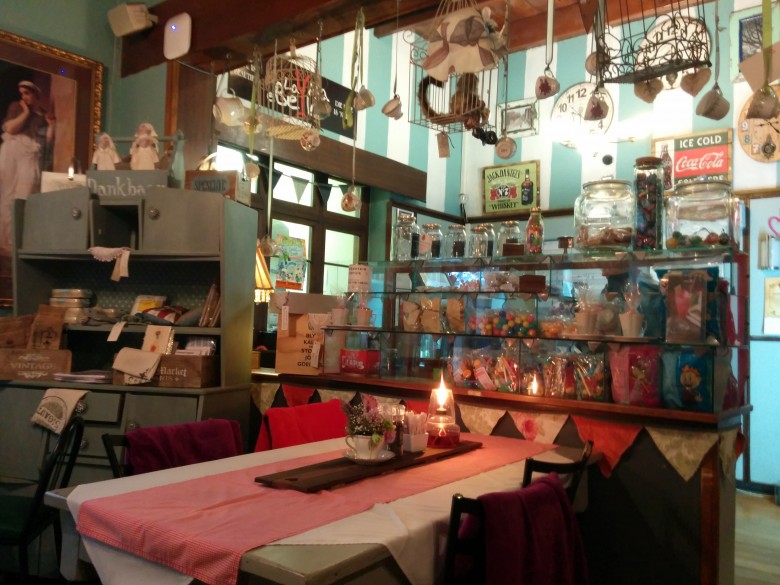 8. Find out about the Oral History Project at the Wellington Museum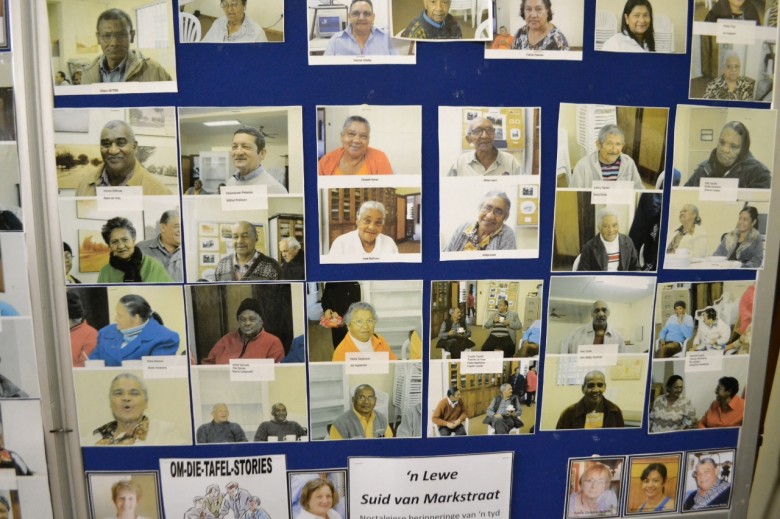 The historians at the Wellington Museum have completed an important project of interviewing elderly members of the Wellington community who were displaced by apartheid. These interviews provide invaluable insight into the history of Wellington. They also have a collection of genuine Egyptian artifacts including an ancient scarab beetle. R5 entrance for adults and R2 for children. College and Church Street, Wellington. Call 021 873 4710.
9. Discover a Luxurious 4 Star Retreat at the Foot of a Waterfall with Olive Groves for Company, Paarl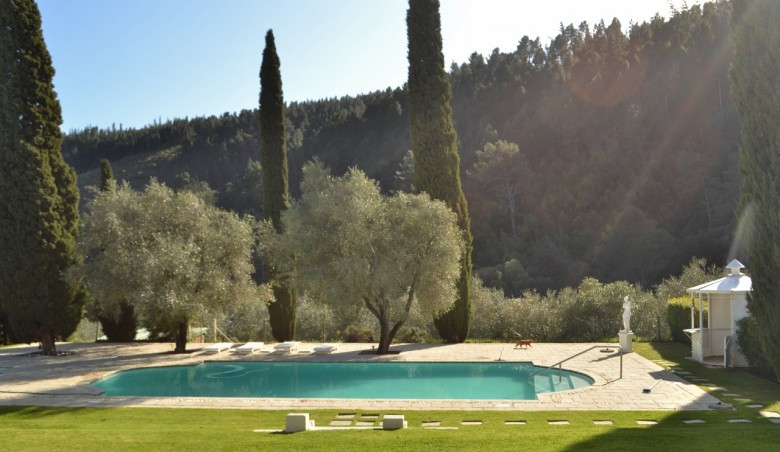 I had no idea that this retreat was waiting for us in the foothills of the Drakenstein mountains, a ten minute drive from Paarl. You might think you'd stumbled on a corner of northern Italy with the hundred year old olive grove and dramatic waterfall peeking through the trees behind the manor. Cascade Country Manor mostly receives overseas visitors but there is a winter spa special which is perfect for South Africans. We did an olive oil tasting with Volker Goetze who is fiercely passionate about South African olive oil. The Duke of Bedford escaped the second world war to this green corner of the world and it was he who converted it into the American Colonial-style manor house you see today. If you're more of the active type you can abseil down the waterfall, for those more predisposed to relaxation a weekend-long spa visit will be perfect. Call 021 868 0227.
10. Mountain Bike Adventure from Stellenbosch to Jonkershoek

The guys at the Adventure Shop took me on wonderful mountain bike tour of the town, including some interesting anecdotes about the settlement of Stellenbosch and the significant buildings. We then visited Lanzerac wine farm for a chocolate and wine pairing. Highly recommended is a guided mountain bike ride to Jonkershoek Nature Reserve. The tour lasts 4 to 5 hours and includes 2 wine tastings and a snack pack and drink as well as all equipment and a cellar tour. It costs R580 per person. They also offer the popular Vine Hopper tour at R250 per person per day which includes stops at 6 wine farms (you can choose from the Southern and Northern Route). This is the safest way to enjoy a full day of wine tasting and you can get on and off the bus whenever you want. Corner of Dorp and Mark Street, Stellenbosch. Call 021 882 8112.
11. Meet Cellar the Cat and do the Charcuterie and Wine Pairing at Laborie Wine Estate, Paarl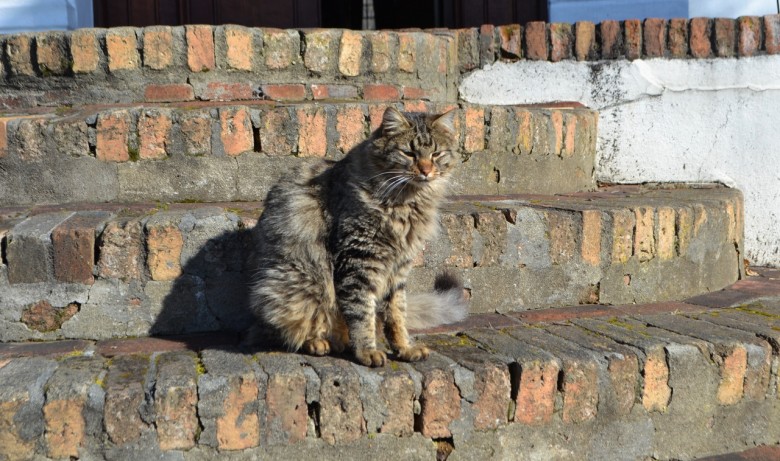 Stop in at Laborie Wine Farm, one of the oldest wine farms in the Cape, situated at the foot of iridescent Paarl rock and make the acquaintance of Cellar the cat. You can also page through the visitors' book (signed by Nelson Mandela) feast your eyes on many paintings by Cecil Skotnes and then get down to the business of serious wine and chacuterie tasting at Taste at Laborie (either inside or on the enormous verandah that overlooks the vineyards with a play area for kids). They also have a MCC and macaron tasting. Taillefer, Paarl. 021 807 3390.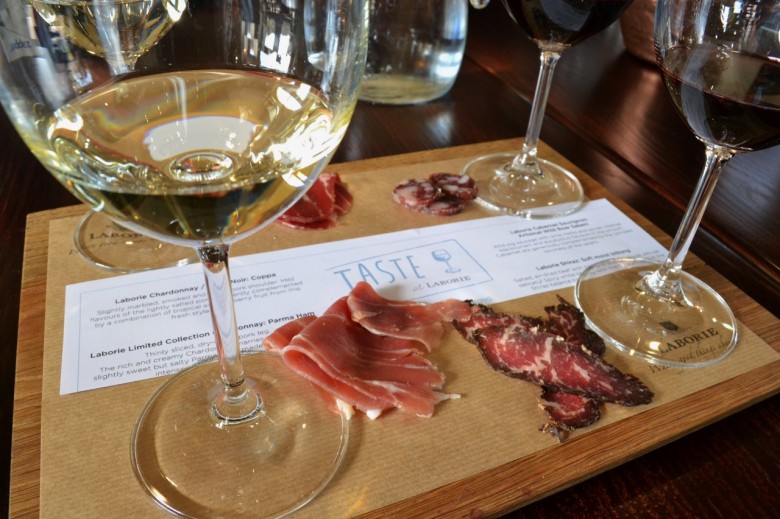 12. Drink a World First Rooibos Wood Matured Red Wine at Audacia Winery, Stellenbosch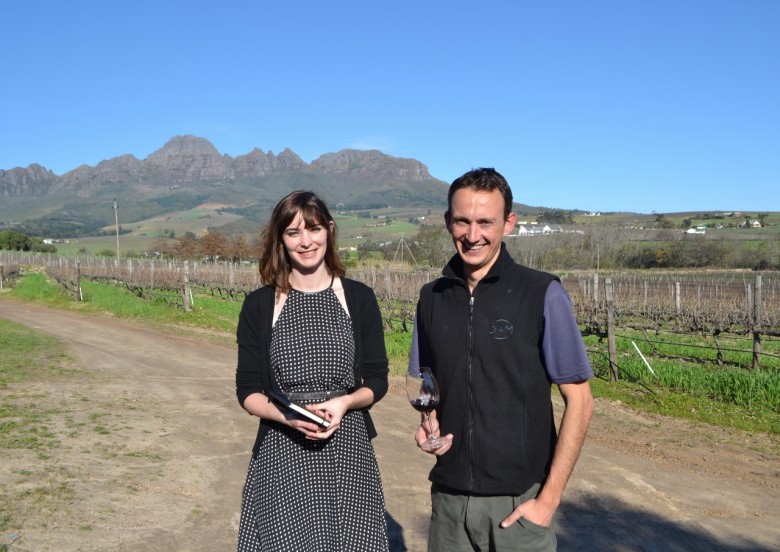 Audacia hosts the enormously popular Route 44 market that runs every Saturday and Sunday from 10am to 4pm rain or shine with live music and a wonderful convivial atmosphere. They are also home to the world's first sulphite and preservative free, rooibos wood matured wines. Winemaker Michael van Niekerk describes the wine as having "intense aromas with a bouquet of sweet cherries, roses, Turkish delight and fynbos". Owner and director Trevor Strydom is effusive about the documented health benefits of the rooibos plant. Visit Audacia (home to audacious wine pioneers) at R44, Stellenbosh. Call 021 881 3052.
13. Disappear into the "genteel black hole" that is Book Traders, Wellington

There is no balm for the soul like a proper second hand bookshop. Book traders is up there with the best and I highly recommend the 40 minute drive from Cape Town to disappear into this gem. EFT possible but no card machine at present. Book Traders can be found in the Breytenbach Centre, a community and art centre in the home of illustrious writer Breyten Breytenbach's parents. Be sure to stop in for coffee and apple tart at the cosy tearoom, browse the art gallery, ceramics and drama centre upstairs, die Bôrdienghuis, an intimate dinner-theatre in the adjacent building followed by a stroll in the beautiful mosaic-filled garden outside. 14 Burger St, Wellington. 021 873 2786.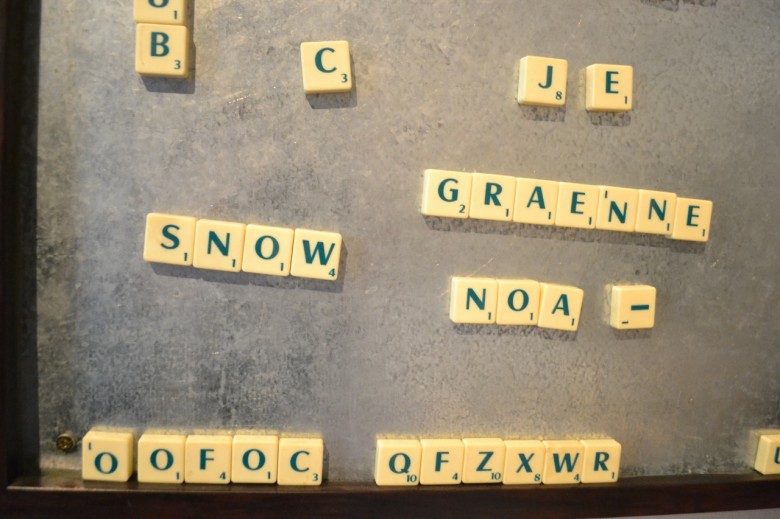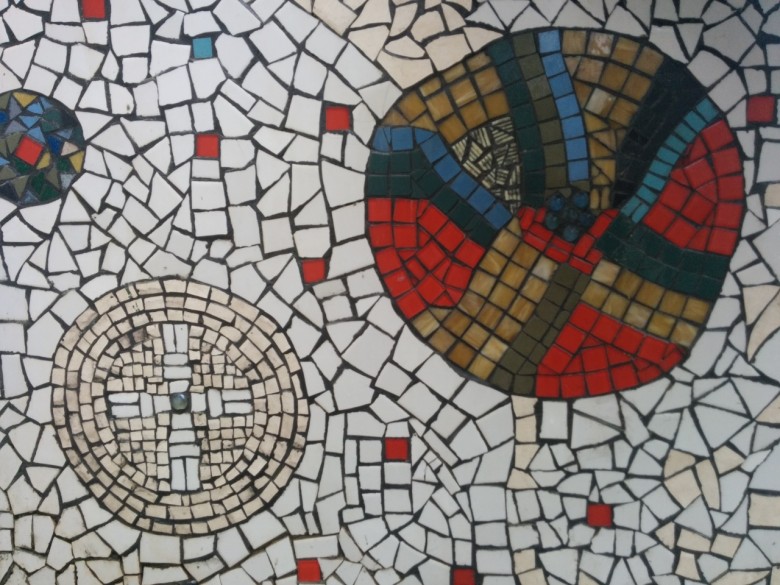 14. Eat at one of the Best Restaurants in the Cape, Noop, Paarl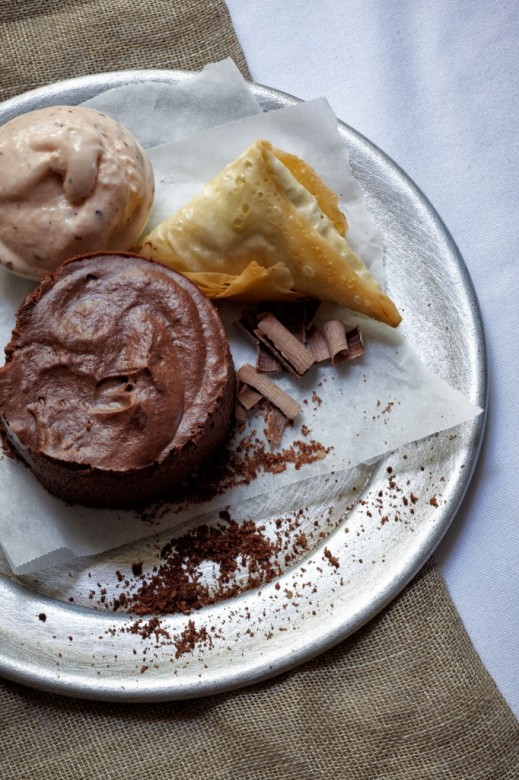 Courtesy of Noop
Paarl locals already know about the delicious secret of Noop ensuring that you will have to be quick to get a booking. I can recommend a starter of fresh yellowfin tuna seared and served with a ginger, wasabi and asian dressing baby leaf salad. For mains try the crisp roast duck, pan fried kingklip with lemon beurre blanc or the slow roasted lamp neck with rosemary jus. Considering the outstanding quality of the food the restaurant is very fairly priced. Be sure to call ahead for a booking on 021-863 3925. The address is 127 Main Street, Paarl.
15. Rummage through Oom Samie se Winkel, Stellenbosch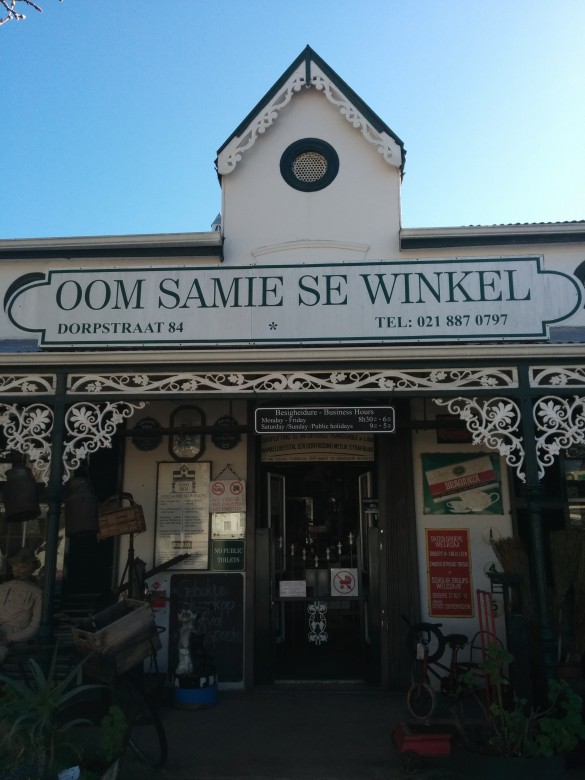 On my guided mountain bike tour with Raino from the Adventure Shop (see number 10) we stopped in at this old fashioned trading post. No photographs are allowed inside this curiosity shop which enhances the mystery with rooms and rooms with countless drawers brimming with unusual bits and pieces, preserves, old silk and quirky finds. 82/84 Dorp St, Stellenbosch. Call 021 887 2372.
16. Go on a Wine Safari at Jordan Wines
 At Jordan wines you can experience wine tasting with a difference. You can go on an hour and a half wine safari taking in views of False and Table Bays as well as the flora and fauna of the Cape Winelands while tasting wines amongst the vines where the grapes were cultivated. This also includes a cellar tour. It costs R350 per person for 1 to 5 people and R280 per person for 6 to 10 people. Call 021 881 3441. Stellenbosch Kloof Road, Vlottenberg.
17. Visit Bertus Basson at Spice Route, Paarl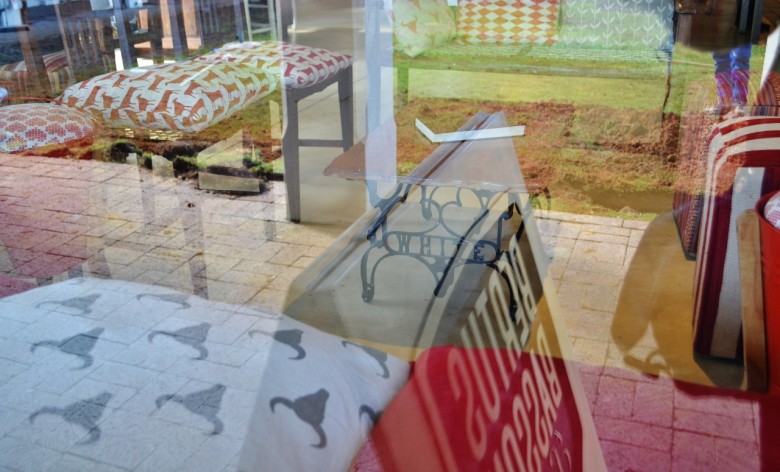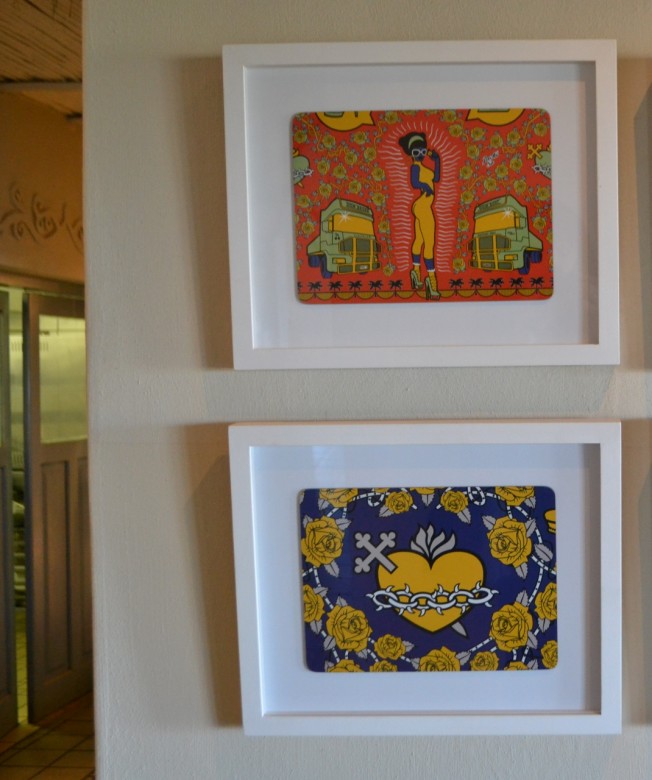 Acclaimed chef Bertus Basson's restaurant at Spice Route is definitely worth the 40 minute drive on the N1 from Cape Town. With so much to choose from on the Spice Route Estate this is a personal highlight, the african-chic decor and riffs on South African culinary favourites result in an outstanding dining experience. Open Monday to Sunday from 08:30 to 16:00. 021 863 5222. Visit to DV Artisan Chocolate at Spice Route is also non-negotiable. Attend the chocolate Truffle Workshop at a cost of R125 each. Suid Agtes Paarl Rd, Suider, Paarl.
18. Eat Fresh Bread at the Schoon de Companje, Stellenbosch
Courtesy of Rusthuiz
Life's simple pleasures, thick cuts of freshly baked bread and fluffy butter make it all worth it. Banish your banting ways and pay a visit to the corner of Bird and Church Street. Add homemade ice cream, macarons and old fashioned tea to your order. Call 021 883 2187.
19. Do your own Wine blending at Middlevlei Farm

This happy dog is resident at Middlevlei wine farm where you can learn how to blend your own wine. The blending session is 1 and a half hours long and is by appointment and subject to availability. You need a group of 6 people minimum and the blending experience costs R135pp with a personalized bottle of blending wine costing R115 per bottle. Call 021 883 2565. Flamingo Road, Stellenbosch.
Check out the video below to see the lovely Dudu Luthuli blending wine among many other exciting activities for solo (or non-solo) travelers in Stellenbosch:

20. Visit De Warenmarkt, Stellenbosch

This recently reopened market space (13 July) is a designer's dream of ceramic tiles, wooden beams, scandi-stye furniture and indigenous plants. The Devil's Peak & Friends takes over the adjacent room to the main market space with artisanal cheeses, Ryan Boon meats and veggies for sale along with great Deluxe Coffeeworks coffee! Yes, you might want to scream if you hear the word artisanal one more time but this place gets it exactly right. Corner Ryneveld and Plein Street.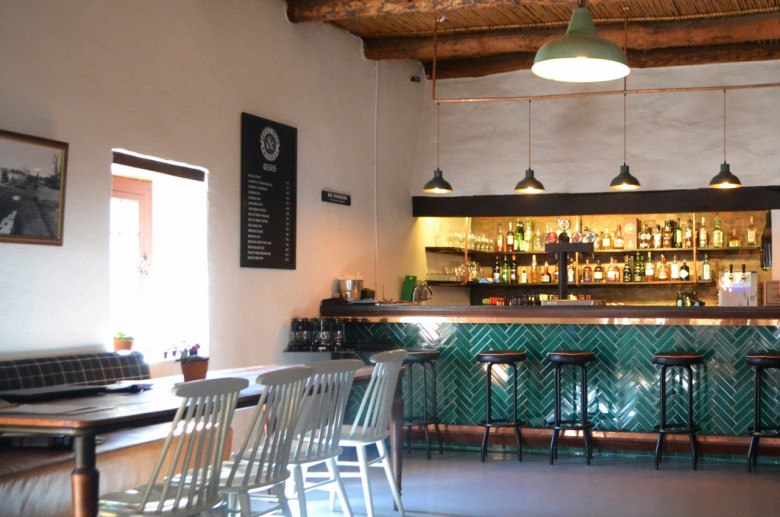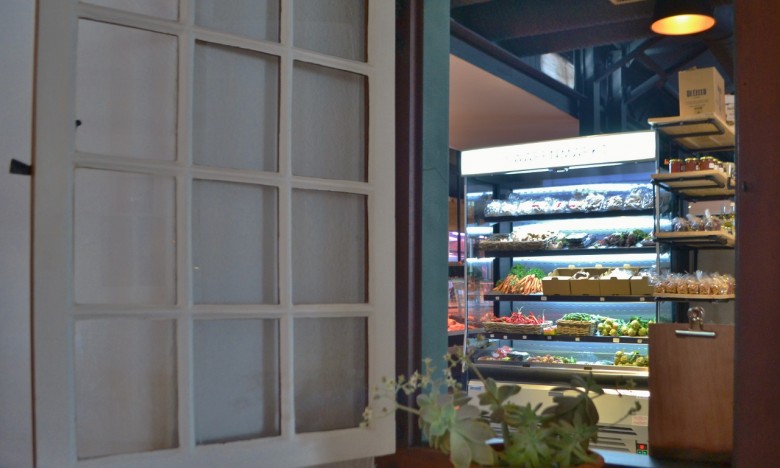 How many of these things to do in the Cape Winelands have you checked off your bucket list?