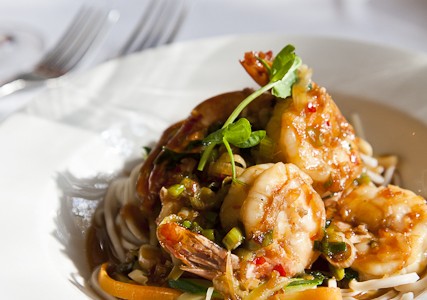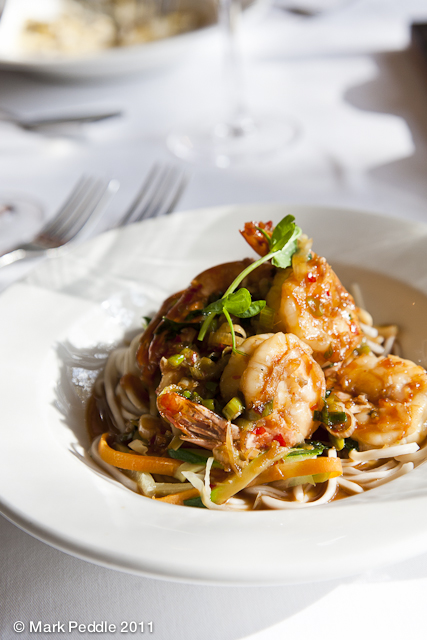 One of the (only) good things about Cape Town winters are the delicious winter specials that many high-end restaurants bring out when the temperature drops – making it possible to taste some truly exceptional food for half the usual price, and rewarding locals for living through the many winter storms!
One of the best winter specials this season is at the beautiful Constantia Uitsig restaurant in Constantia. Nestled amongst the vineyards, this sophisticated restaurant looks out over the bright red and orange autumn leaves and offers a menu full of classic dishes perfectly prepared. Their winter special is a 2 course lunch for R190, 3 courses for R220, or a 3 course dinner for R250.
The menu is extensive, with starters like carpaccio, oysters, warm goat's cheese salad and starter portions of their superb risotto, panzerotti and Asian prawn noodles – the noodles were to die for and the wild mushroom ravioli in a creamy parmesan, wild mushroom and truffle oil sauce was breathtaking. Mains are a choice between a few decadent pasta dishes, some heavenly seafood (think Norwegian salmon, sole, kingklip and prawns) and staples like roasted Karoo lamb, beef fillet, tripe, veal and grilled springbok loin. There are also those winter specials which we took full advantage of – sirloin and gnocchi served in a rich jus dressed with bone marrow, seared tuna on a bed of Asian greens, kingklip baked with fresh herbs on creamy garlic and parsley mash. Paired with the perfect Constantia Uitsig wine and you have a meal fit for the gods.
But let's not forget dessert – never mind the refreshing yoghurt and sour cherry sorbet to cleanse the palate between starters and mains, the dessert menu will melt your heart… We had the Constantia Uitsig pavlova: a tower of meringue with a soft fluffy middle, dressed in tropical fruit and just a hint of cream, and a rich chocolate truffle dessert on orange flavoured crème anglaise. Exceptional.
This is the kind of food you have to close your eyes to appreciate. It's that delicious. And as well as the simply superb food, there's the incredible service – knowledgeable, well versed in food and wine pairing, friendly and discreet. The fabulous staff make every meal feel like a special occasion.
No matter what you're celebrating – whether it's an anniversary, a birthday, or just making it through one of Cape Town's notoriously wintry weeks – a lunch (or dinner) at Constantia Uitsig will leave you feeling completely satisfied, happy, and lucky to have had such a fabulous afternoon's experience. This is no simple lunch: it's an exercise in appreciation of the finest food Cape Town has to offer. Don't miss out!

Images: Mark Peddle
[boilerplate bytitle="text"]