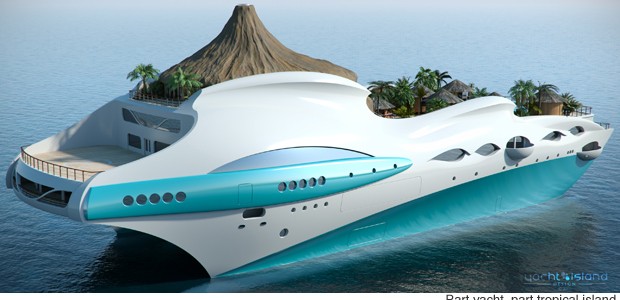 If you're torn between buying your own private yacht or your own private island (as you do), then this newly designed vessel will bring the solution to your dilemma. Yacht Island Design, the yacht design company that likes to do things differently, have come up with what they call the 'Tropical Island Paradise' which is a yacht made to look like a desert tropical island.
As surreal as it sounds, the yacht comes with a proper cove lined with beach huts, a working waterfall and a small volcano. All designed to look just like the real thing although the volcano doesn't actually spew ash clouds.  There will be room to sleep up to 10 people with the master bedroom and en-suite right inside the volcano offering grandiose views across the 'beach' and the ocean from its balcony. There will be an on-board cinema, an exercise room and a library. Trawling behind the yacht, there will be a deployable platform, equipped with covered lounge areas from which the owner and his/her friends can enjoy a variety of water sports or just laze and catch some rays. Inside the vessel there will be a spa, a game room and lots and lots more. Who needs a destination when you've got all of that right on your own boat?
If you thought this was way out there, then make sure to check out the other designs by Yacht Island Design. They also offer the 'Streets of Monaco' that is made to look like… er well, Monaco. This design comes with its own miniature go-kart track that is copied from the F1 race track in Monte Carlo. Or what about their 'Eastern Promise'? This design is not ready yet, however initial drawings show that it will look like a floating palace taken right out of 1001 nights.
Yacht Island Design also offers the option to come up with your own idea which they will then build for you. Now here's a whacky idea for a design: A yacht that is made to look like a yacht? I have a feeling my idea will be deemed to normal, but whatever floats your boat!
[boilerplate bytitle="text"]