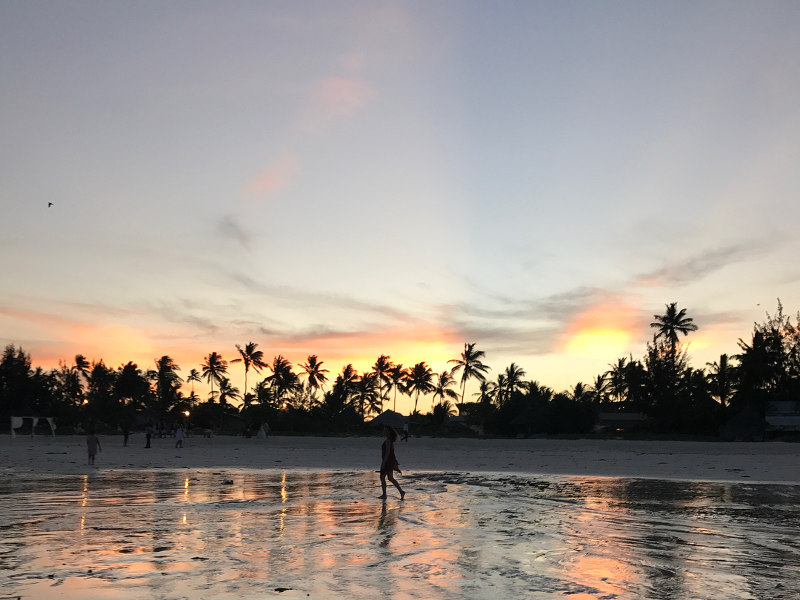 Nightlife in Zanzibar can be as enticing as the cultures of the world coming together to dance, or as relaxed as watching the sun set over the ocean through rose-tinted sunglasses. It is what you make of it and this island destination caters to all. Zanzibar is known for many extraordinary things and is a traveller's dream beach location. Visitors to the islands can look forward to snorkelling in the corals, swimming with marine life or lounging on the beach. And if that doesn't suit your fancy, you can go on cultural spice tours through the villages, visit ancient palaces that once housed kings and queens or even try your hand at bartering at the local markets. The Zanzibar nightlife options are fun and unique, and you could easily spend your evening at a laid-back beach bar in Kendwa or an up-market nightclub in Stone Town – the choices are at your fingertips!
Book your cheap flights to Zanzibar online with Travelstart!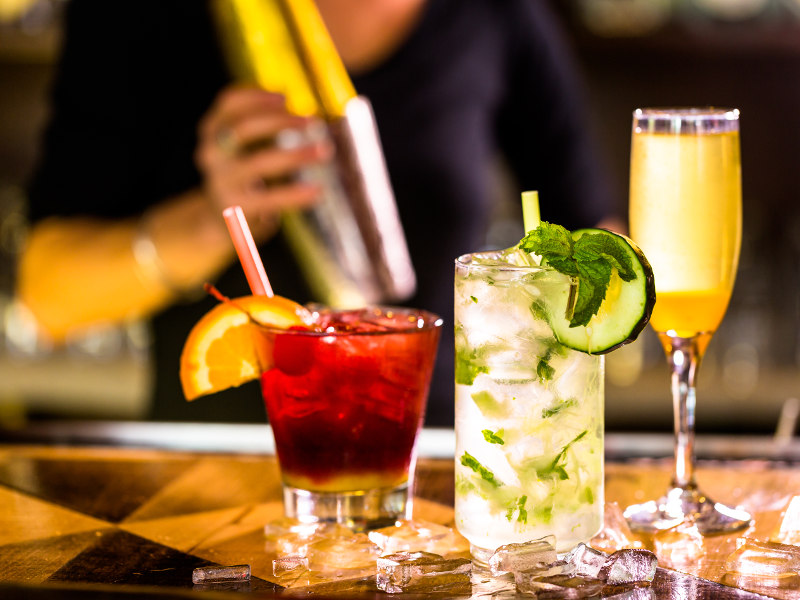 Nightlife locations in Zanzibar
City centre – Stone Town, Zanzibar City
As Stone Town is where you'll find the urban buzz of the island, it is here that you'll have the most options within an enclosed area. Less travelling around means more chances to really sit down (or get up!) and enjoy the town's bars and restaurants. Enjoy putting on a nice pair of shoes as you'll appreciate a more city-feel atmosphere at the restaurants and bars that you'll come across.
Beachside bars and lounges – Kendwa, Paje, Jambiani, Nungwi
For more of a beach party scene, you would be right to assume that the best parties are held on the famous beaches of Zanzibar themselves! You can leave your fancy shoes at home and head down to bars that come especially alive after dark. You can tick 'dancing under the stars' off your bucket list as many of the beachside bars and lounges cater to the younger crowd and are known to play some good reggae and popular house music to get the crowds going. Just make sure to stay away from the water's edge once you've had a drink or two!
Types of establishments
Restaurants
Taarab restaurant, Stone Town
This restaurant is perfect for sampling some of the islands' most tasty seafood and African delights, as voted so on TripAdvisor. Visitors can unwind on the restaurant's rooftop after a long day of activities with a chilled beverage, while enjoying the sounds from the bustling streets below.
Bahari Pizza Restaurant, Jambiani
This beachside restaurant is perfect for Italian pizza and other enticing flavours, as you enjoy your meal under the stars and listen to the sounds of the ocean. Be sure to come hungry as you indulge in good, authentic food!
Kambakocho Bar and Beach Restaurant, Palumbo Reef Resort
Open until late in the evening, this evening bar and restaurant is located in a popular beach resort and is known for their lobster and crayfish dishes. The décor is a mix of African and Eastern influences, making it a beautiful location to dine.
Sunset spots
6 Degrees South, Stone Town
Popular with tourists, this is your ideal location to watch the sun set as you relax and catch up with your travel buddies. Cocktails are known to be more than affordable at 6 Degrees South so you'll be enjoying the finer things in life at a fraction of the price!
Africa House Hotel, Stone Town
The hotel is well-known and can get crowded, so go early for the best seats to catch the sun go down. This restaurant is open all day and is especially active around town as one of the top sunset-watching spots with its colonial style architecture.
Gerry's Bar and Restaurant, Nungwi Beach
Gerry's Bar and Restaurant has made a name for itself for its relaxed atmosphere and a great view of the sunset over the Indian Ocean. Food and drinks are affordable and after sunset, as the evening progresses, you can look forward to good music to get you into the island spirit.
Cocktail beach bars
Kendwa Rocks Beach Resort, Kendwa
A popular Saturday night hangout, this Kendwa Rocks beach bar is located in the resort of the same name and is famous for its good grills, tasty cocktails, and music. The bar is loved for its rustic look as you can either spend your evenings in one of the bungalows or in one of its old wooden beach huts.
The Rock, Pingwe
Possibly the most famous of all beach bars in Africa, The Rock is a great location and an experience all on its own! This beach bar is located in the waters of Michanwi Pingwe Beach and to get there, visitors wade through shallow waters to get to this unique location. Once there, visitors enjoy the views and drinks on offer.
Paje by Night, Paje
The hotel of the same name has a beach bar that serves up delicious African, Spanish and Portuguese cuisine with a large array of cocktails to choose from. The hotel arranges a themed party once a week so you'll be sure to meet lots of fun characters there.
Nightclubs
Garage Club, Stone Town
For a proper night out on the town, you should visit Garage Club in Stone Town. The club plays a mix of urban fusions, depending on which night you find yourself there, and often gets known DJ's from around the world to get the crowds pumped.
Red Monkey Lodge, Jambiani
Monday nights are party nights at the Red Monkey Lodge! Here you will dance to local sounds and get to mingle with those who live on the island as well as lots of travellers too. Book your tickets ahead of time as the lodge is part of the resort.
Coccobello, Nungwi
Twice a week, if you're looking for a late-night party then head over to Coccobello in Nungwi for some local and reggae beats. The otherwise laidback bar comes alive on Sundays and Wednesdays and you'll soon find yourself on the dancefloor, partying the night away.
Zanzibar Nightlife Events and Festivals
Monthly
Full Moon Party – Kendwa Rocks
Every month you can look forward to the biggest party on the island, the Full Moon Party. Held on the first Saturday after the full moon is sighted, you can look forward to a large and crazy evening where you're sure to have an immense amount of fun! There are taxis from Stone Town to Kendwa Rocks, so you can easily get to the party and enjoy this Zanzibar nightlife activity without having to worry about getting lost.
Annually
 Sauti za Busara – February at the Old Fort, Stone Town
This festival has been going strong for more than 10 years and brings together artists from across Africa to celebrate! You can expect to experience the sweet sounds of 400+ artists and join in on a carnival parade too.
Zanzibar International Film Festival – July, Stone Town
Enjoy your vacation in July and take advantage of this one-week festival that showcases amazing films from across the world. There are also inspiring talks and other forms of entertainment throughout the week, with evening activities planned in too.
Jahazi Literary & Jazz festival – end of August/beginning of July, Stone Town
Spend your weekend days listening to well-known poets and book authors, and engaging in workshops during the festival. After, get ready to samba as you spend your evenings dancing away to jazz music during this Zanzibar nightlife annual event.
Whatever your cup of tea, there are plenty of evening activities for you to engage in on the island. The Zanzibar nightlife scene is diverse and fun and you'll be sure to have a good time after a full days' worth of activities in the sun! Plan your days accordingly to visit the most beautiful beaches in Zanzibar and spend some time diving and snorkelling around the diverse coral selection, amongst other great daytime things to do.
Find your Mango flight to Zanzibar with Travelstart!
Map of top places to visit in Stone Town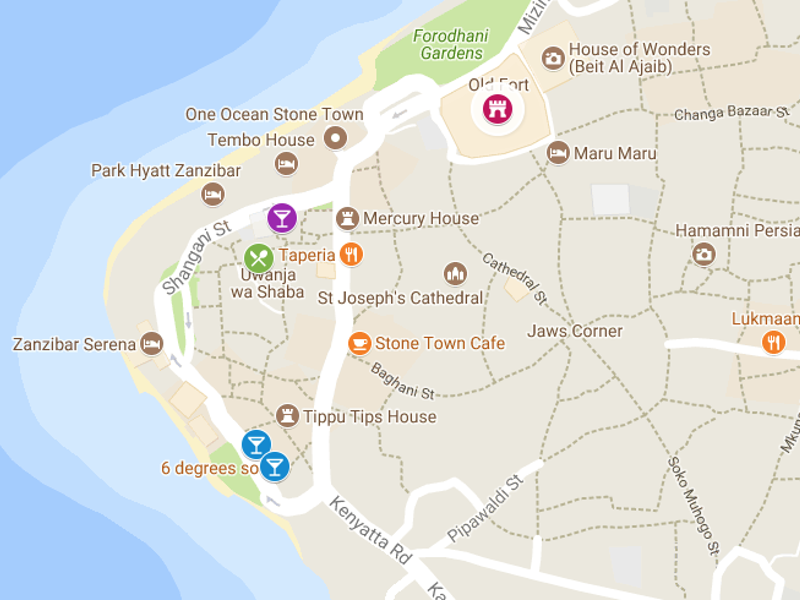 Map of top beach bar locations in Zanzibar
So, ready to party the night away in Zanzibar? Sign up for our newsletter for the best deals to get your flights booked for your island vacation!
Feature image courtesy of @nat_yudina via Instagram.