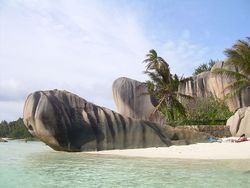 (photo courtesy of Wiki Commons)
The Republic of Seychelles is an island nation – 115 islands, to be exact. 
It's an ideal spot to vacation, relax, and maybe enjoy a day (or week) at the beach. Your toughest choice might be deciding which beaches to explore.  
Many people will start their trip in Victoria, a city known for many things, including its nightlife. It's located on the island of Mahe.  
Popular spots include the Vallee de Mai, a world heritage site. Aldabra Atoll is the world's largest coral reef, a must see for anyone who likes exloring the underwaters. It streches over 35 kilometres east to west, and is home to tiger sharks, manta rays and giant land tortoises. In fact, pretty much any water activity imaginable can be done in the Seychelles. 
The Seychelles has the smallest population of all African nations. Maybe its time to go pay those lonely people a visit. Travelstart has some exceptional deals at the moment on their home page.