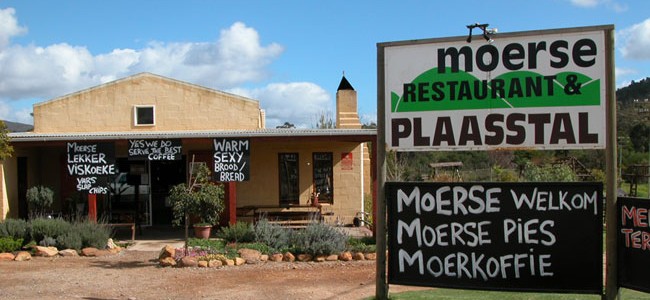 Everyone has memories of early mornings on the road, feeling car sick, the day you won at car cricket, squabbling with your siblings and your favourite padstal which made everything OK and meant that the holiday had really begun. In an age of selfie sticks and chain stores, farm stalls make memorable pitstops. Their entrepreneurial spirit, indefatigable character and humour are knitted into our childhood memories which is why we keep going back. We present to you (in no ranking order) a compendium of the best farmstalls in South Africa.
1. Pucketty Farm Stall, Underberg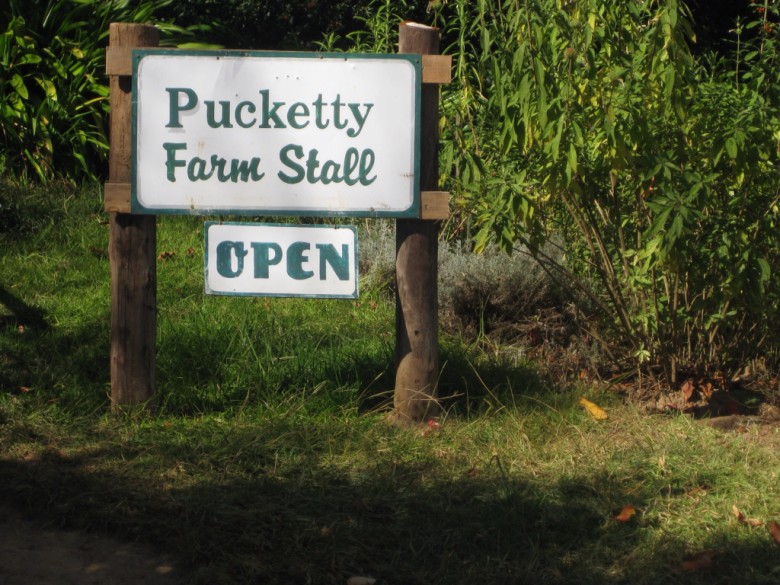 Pucketty Farm courtesy of Penny Boden
Pucketty Farm stall rests on the west side of the gentle Hlogoma Mountains near Underberg in KZN. They're famous for their honour system. Choose farm-baked rusks, old fashioned ginger beer, pickled onions and preserves among many other delights then note your purchases in the counter book, add them up and work out change with the calculator provided. Most people also scribble a message about their visit in the honesty book. You can read the comments here.
Old Main Rd | Underberg
033 701 1035
2. Nanaga Farm Stall, Eastern Cape

Nanaga Farmstall courtesy of Accurate Construction
Nanaga has the best roosterkoek I have ever tasted- grilled on the outside, steamingly hot on the inside with fresh farm butter melting into the cheese and tomato or what-ever-you-want-filling. They are famed for their pies but the roosterkoeks are something you salivate about months after your pit stop. You can also take some dough home to make your own.
N2 | Between PE & Grahamstown, Port Elizabeth
041 468 0353
3. Wag 'n Bietjie Padstal near Hoedspruit

Image courtesy of Skimming Stones
Pause at this peaceful spot while the kids explore the petting zoo and the play area. The butternut quiche is delicious.
R 531 | Farm Antioch 19
0833736045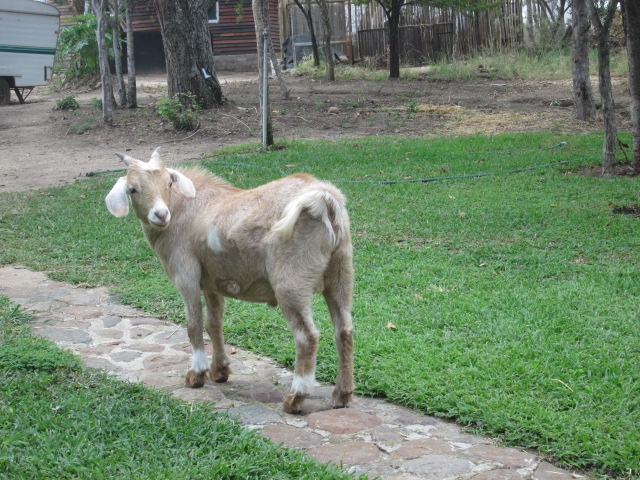 Image courtesy of Skimming Stones
4. Baddaford, Fort Beaufort

Baddaford Farm courtesy of Fred Hatman
A good stop on the way to Hogsback, you might hear baboons barking in the nearby hills. Recommended are the locally-grown oranges and delectable lemon meringue pie.
R67 | Baddaford Farm, Fort Beaufort
046 645 1215
5. Daggaboer

Daggaboer courtesy of Max from the The Max Files
The "dagga" is a playful misnomer- the roosterkoek, high-quality biltong, droëwors, pineapple juice are more than worth a visit. Voted the best farm stall in SA by Weg, this is a destination in itself. They have more than 50 homemade jams and preserves including slap hakskeentjies (onions in a mild mustard sauce), boeremeisies (apricots in almond-infused witblits), and turksvystroop (thick prickly pear syrup) as well as dried fruit, Dutch cheeses, biltong, dry wors, snug sheepskin slippers and mohair blankets.
N10 | 35km after Cookhouse if you're driving from PE.
082 651 8627
6. Peregrine Farmstall, Grabouw

Peregrine Farmstall courtesy of SA Venues
A favourite of voyaging Capetonians, Peregrine is aptly-named for the wanderers who visit her. They source locally from farms in the Elgin Valley so take your pick of luscious pears, apples and light flaky pastries and other savouries.
N2 & R321 | Grabouw
021 848 9011
7. Affie Plaas just before you get into Robertson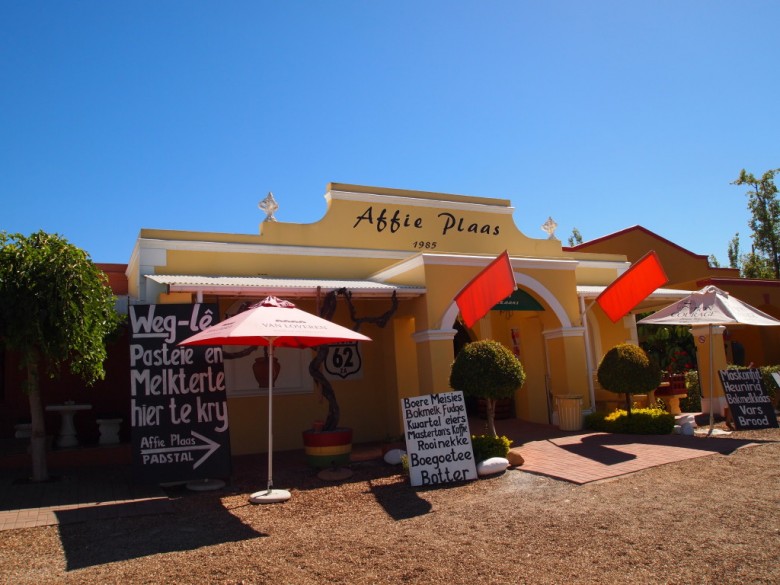 Affie Plaas courtesy of Travel Food Family
It's impossible to miss the hay bales dressed up as a family directing you to the shop. Recommended buys include fruit rolls, quail eggs, chocolate salamis, waterblommetjie-feta pies, melk tert and delicious syrupy koeksisters.
On the R60 towards Robertson.
072 362 64567
8. Tankwa Padstal, Tankwa Karoo

The last stop before the nothingness of karoo desert and the dirt road which eats Afrikaburners' tyres for breakfast. The Padstal, which has been reconstructed after a fire, is frequented by bikers and all manner of road trippers to the Tankwa Karoo National Park and further afield. Note the statuesque torsos of two mosaiced ladies on the gates as they wave you in. You'll find an assortment of chips, baked goods, matches, airtime, droëwors and cigarettes. For the non-drivers there's a bar next door for a pint and a prayer before you head into the Tankwa haze or back to cellphone reception in Ceres.
Along the R355 between Calvinia and Ceres.
Closed on Wednesdays.
No cellphone reception.
9. The Rotunda near Hilton, KZN

Fresh Produce courtesy of SA Venues
A great stop for Johannesburgers heading to sultry Durban, the Rotunda, a quick stop off the N3 before Hilton, is perfect to do all your holiday shopping. They've got an excellent selection of wines, A-grade meat, fresh produce, imported tinned items and locally-made cheeses.
1 Cedara Road | Hilton
033 343 1198
10. Albertina Farmstall on the Garden Route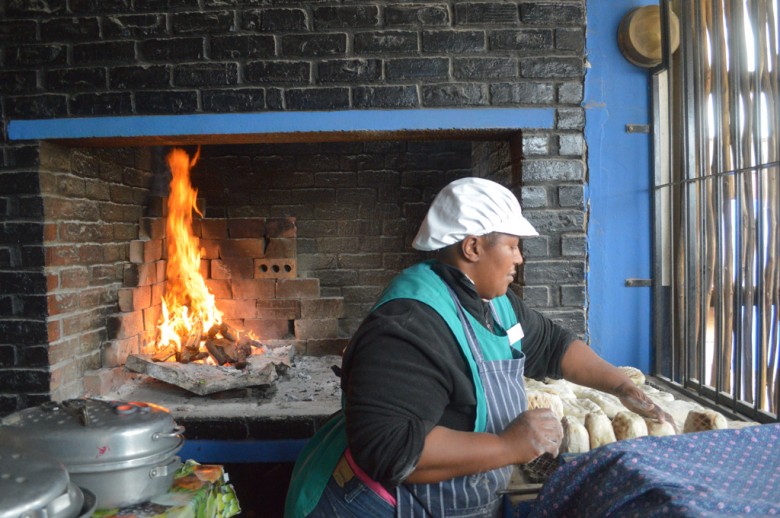 Roosterkoek Stall in Albertina courtesy of Andrea Weiss on South Africa net
My friends swear that the roosterkoek here is better than Nanaga. If this is the case then I need to invent a reason to visit Albertina tomorrow.
On the corner of the main Shell station in Albertina – just before or just after the House of Aloe, Aloe Ferox farm shop, depending on the direction you're travelling from.
11. Kardoesie, Western Cape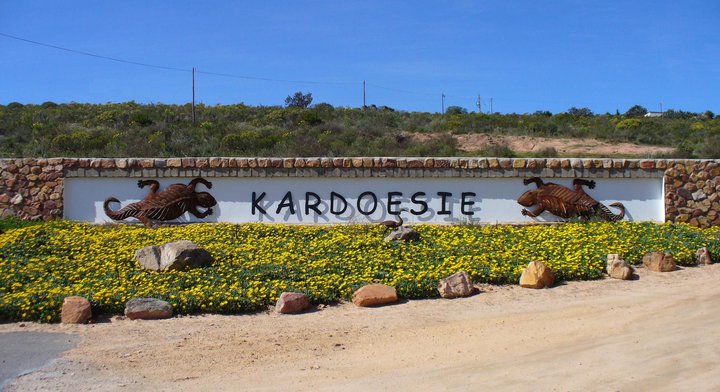 Kardoesie courtesy of Tygerberg Caravans and Campworld
A great stop on the way to Clanwilliam or the Cederberg you have to stop for one of their home made pies.
Citrusdal N7
Western Cape
022 921 2382
12. Die Pampoenstalletjie, Worcestor

Pampoenstal courtesy of Up Close Tours
Pause for a photograph of the jewel-coloured pumpkins resting cheerfully outside this little farmstall, if not for anything else. But you'll be sorry you missed out on the quince jam, pumpkin muffins with cheese and jam, excellent moerkoffie and home-made ginger beer.
Find them a few kilometres east of Worcester at the Vlakplaas turn-off.
13. Ou Meul Bakkery, Riviersonderend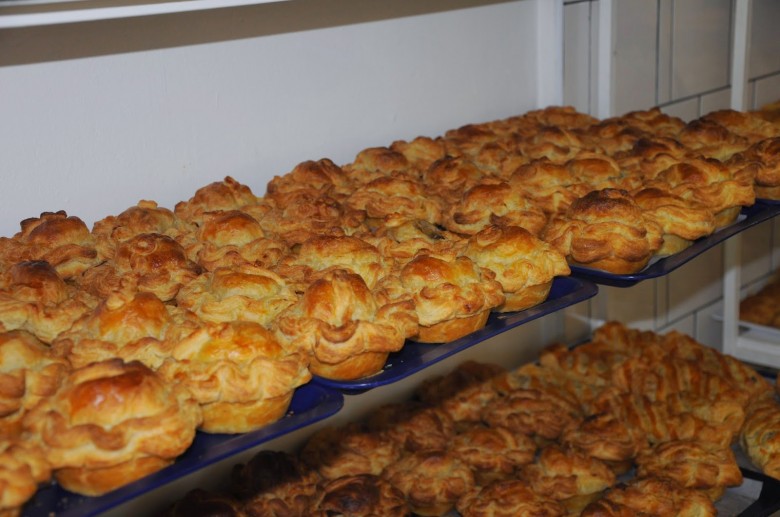 Image courtesy of South East From Cape Town Blog Spot
Through the mass-appreciation of the heavenly pies at the Ou Meul bakery in Riviersonderend there are now two branches open in Cape Town. However delicious the pastries at these branches may be, you need to visit the source for the best chicken, steak, ham and cheese and bobotie pies in the country.
27 Main Rd, Riviersonderend.
028 261 1568
14. Breede River Trading Post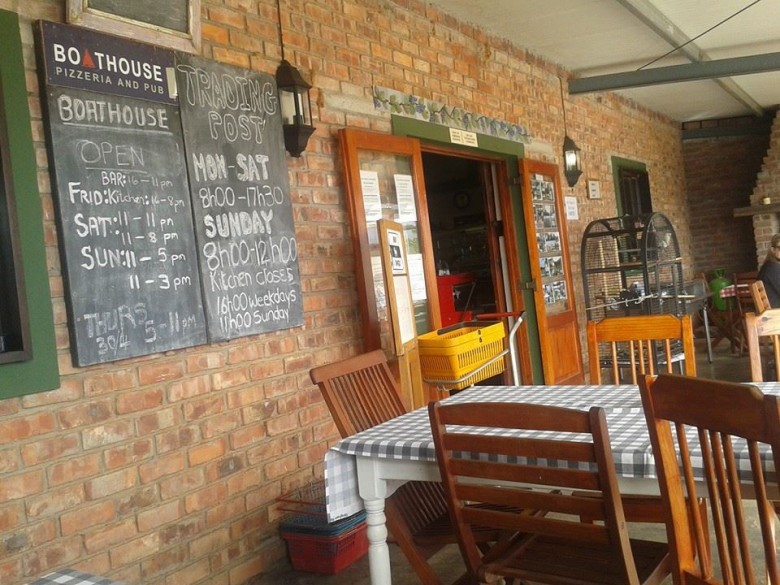 Breede River Trading Post courtesy of Breede River Trading Post
The Breede River trading post sells fresh bread, preserves and rusks. To get there you take the only hand-drawn ferry in South Africa across the Breede river at Malgas for R48. A fortune was made in the late 19th century by a steam boat transporting essential goods between Cape Town and Malgas, which was far quicker by boat than by ox wagon. According to Andrea Weiss some signposts also read Malagasy, the village's original name before it was shortened to Malgas because the post office was mistakenly sending letters intended for Malgas to Malaga in Spain.
To get to Malgas, look for the turn-off from the N2, just outside the town of Swellendam.
082 455 3457
15. Oupa Batt se Winkel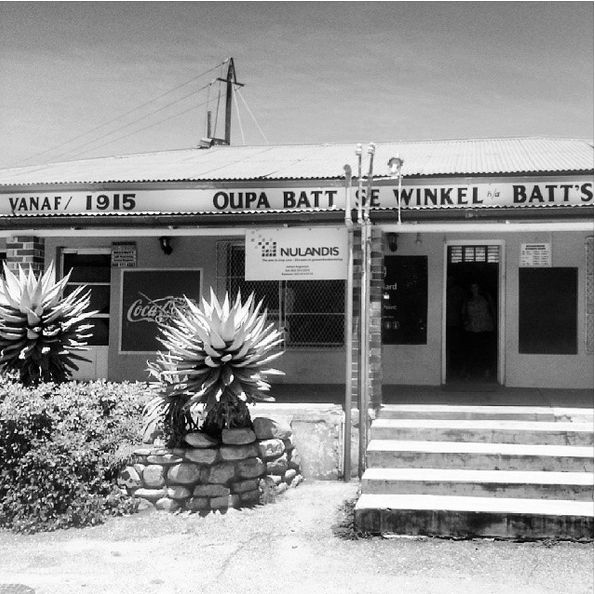 Oupa Batt se Winkel courtesy of lekkeslaap
A must-visit on the Forgotten Route, Oupa Batt se Winkel has been serving people since 1915. Find this authentic slice of Karoo life in the Koo Valley. Hannetjie Augustine might demonstrate for you how to make biltong. Recommended buys: tasty dried fruit and homemade biltong.
16. Moerse Farmstall, Napier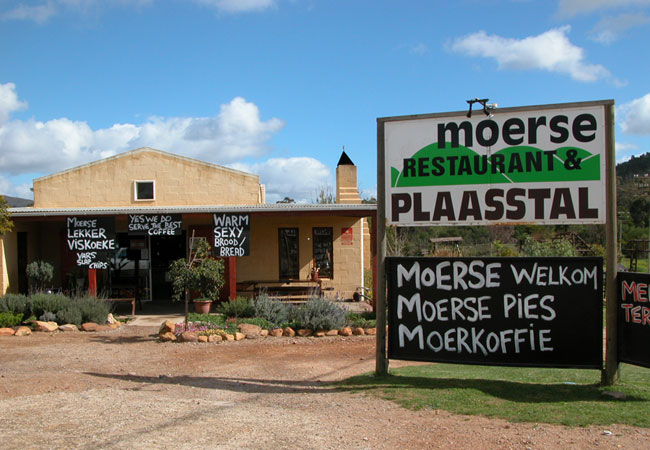 Courtesy of Moerse Farmstall
Get the most delicious everything here from crispy fish and chips to warm "sexy" bread, coffee and vetkoek.
Sarel Cilliers Street, Napier, Cape Overberg
028 423 3334
17. Red Windmill Nursery, Napier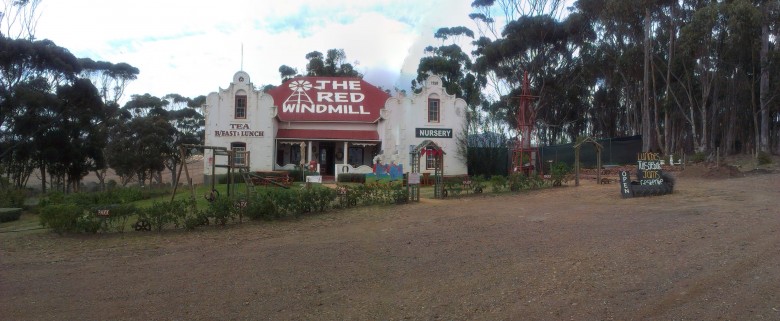 Courtesy of The Overberg Files
Another Napier must-stop padstal is the Red Windmill nursery (if you happen to be flying overhead you'll see their name emblazoned on their roof). They also sell vintage clothing and indigenous plants and stock fresh produce and mini windmills for garden ornaments as well as hand-written care-instructions on the plants in the nursery. There'll be delicious hot soup waiting for you from Dave's Country Kitchen when you're done browsing.
Find them 13km from Bredasdorp, GPS: S34° 28' 50", E19° 56' 01"
028 423 3576
18. Delish, Heidelberg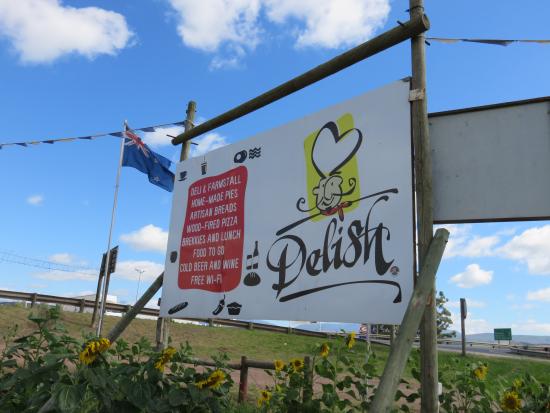 Delish Heidelberg courtesy of Tripadvisor.uk
Stop in at Delish off the N2 for their Goldilocks and the three bears breakfast, free wi-fi, artisanal breads, wood-fired pizzas, pies, jams and sauces.
Kloof Street, Heidelberg, Western Cape
028 722 1850
19. Houw Hoek Farm Stall, Grabouw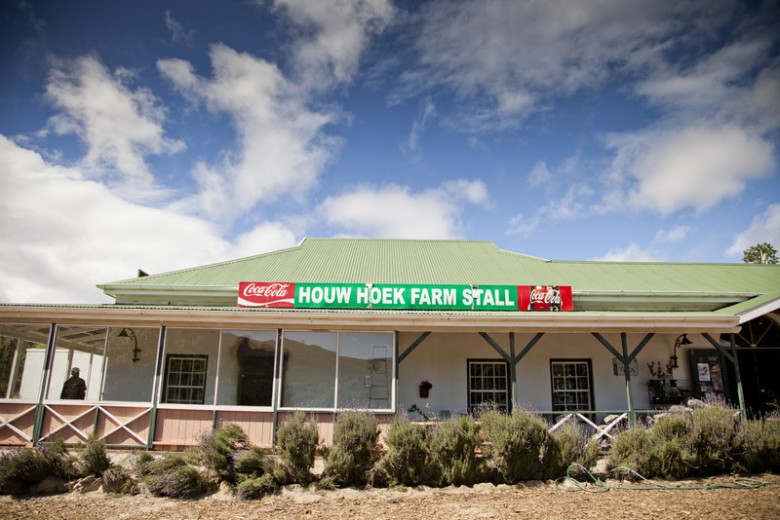 Courtesy of Southern Destinations
Just before Houw Hoek pass find this well-stocked mountain-top padstal with all the usual pies, quiches and baked goods as well as fresh produce from surrounding farms. They can make up picnic baskets for you, you can also go trout fishing or relax under big shady trees nearby.
Off N2 | 10kms from Grabouw
021 284 9015
20. Nature's Way Farm Stall, Nature's Valley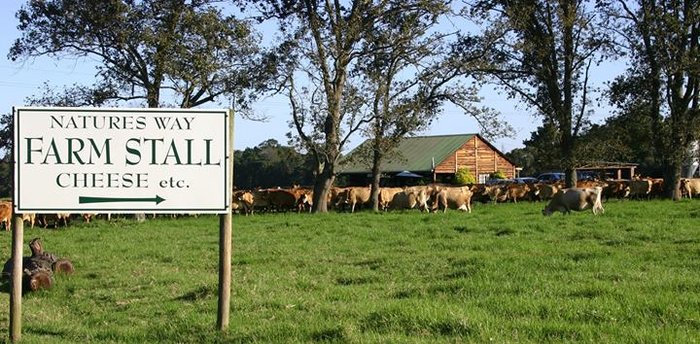 Courtesy of Cruise the Crags
This is cheese-tasting heaven on a working dairy farm. Take your kids along to watch the jersey cows at milking time. Taste and buy their international and local cheeses, including their Loredo Farm Cheese as well as pestos, dressings, preserves, honeys, real free-range eggs and olive oil. Farm tours on request.
The Crags | Plettenburg Bay
082 8757 044 or 044 534 8849
21. Constantia Cherry Farm Stall, Free State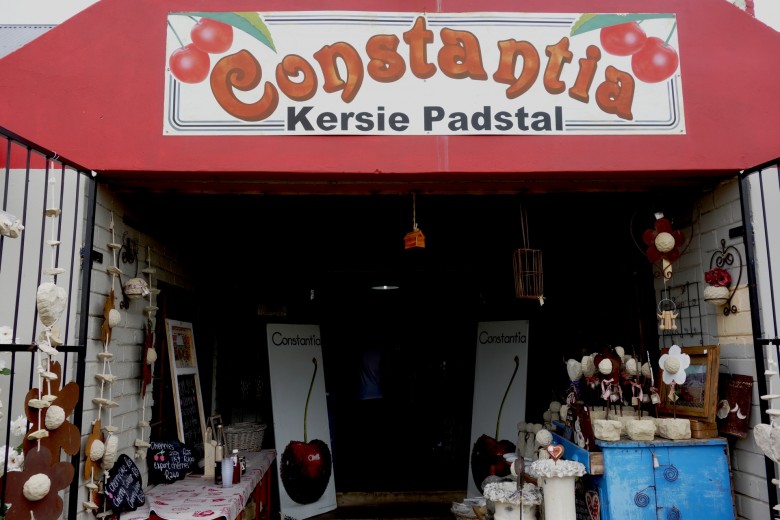 Courtesy of Kris and Nick from Frog and Toad Travel
The Ficksburg cherry festival may only take place once a year in November but the Constantia Farmstall (in the Eastern Free State) along the R26 between Ficksburg and Clocolan is open all year round. They have cherry liqueur, secret cherry sauce to pour all over fresh creamy ice cream, cherry smoothies (as well as melk tert and pancakes for those less-enthusiastic about cherry products) and of course freshly-picked cherries in season. There's also a Sunday Lunch Buffet and a cherry tasting tour you can book to visit the orchards in season.
R26 | between Clocolan and Ficksburg
082 304 7043
22. Jasmyn Farm Stall, Hartbeespoort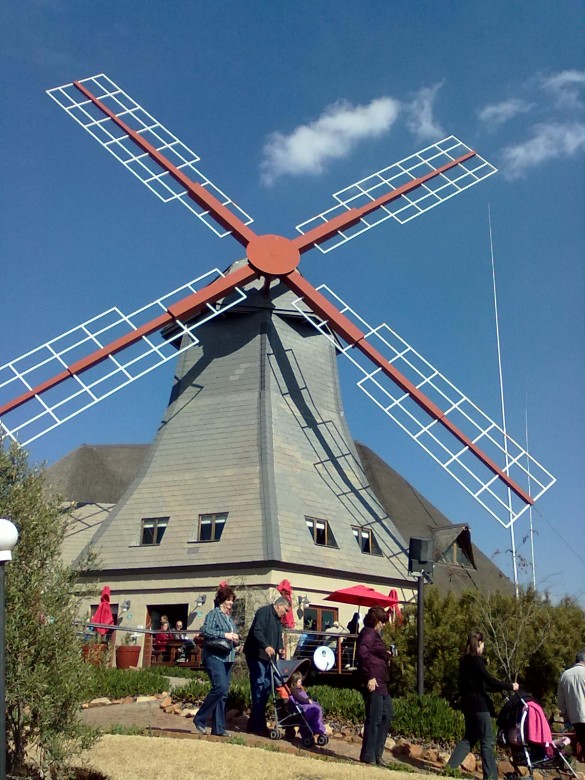 Courtesy of Elle from Whimsical Elle
Jasmyn farm stall on the R511 just outside Hartbeespoort is teeming with fresh produce, preserves, Dutch baked goods (in keeping with the Netherlands theme), a butchery and many other products. You'll even find a book store up the staircase on the second floor and waffles in the windmill-shaped restaurant adjacent. There's also a wine and cheese tasting facility. Perhaps a bit vast for some, it is well-priced and holds bucolic views of the dam.
Jan Smuts Avenue & R511, Meerhof, Hartbeespoort
012 259 1183
23. Mac Bananas, South Coast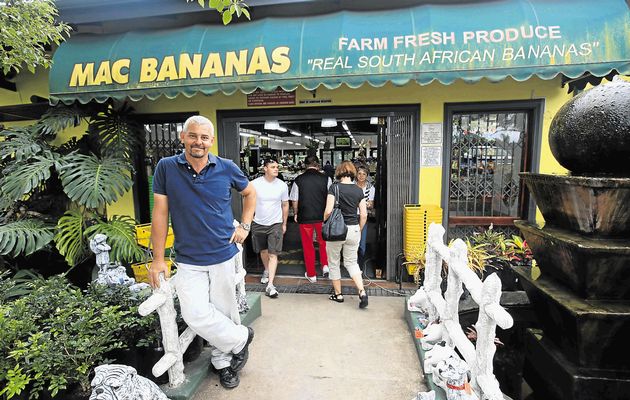 Courtesy of Shelley Seid
Like Jasmyn this is a lifestyle centre more than a pothole-in-the-road padstal so be aware that this may not be your padstyle. Along the South Coast on the R61, Vernon and Gloria Duggan's Mac Bananas offers parents respite, with over 20 activities on offer kids could spend an entire day here mountain biking, horse riding, visiting the animal farm, jumping on the trampoline and taking to the green for some Mac Venture golf. There are also three restaurants, an art gallery, a beach shop for boogie boards and forgotten beach paraphernalia, a car wash and wine emporium as well as a tour of the Banana Farm. Shelley Seid recommends Vernon's Wrath, a cocktail grenade filled with peppermint liqueur, mint, banana vodka and lemonade.
On the R61 between Palm Beach and Munster, near Port Edward
0393191454
24. The Wheelbarrow, Magoebaskloof near Tzaneen
Courtesy of Food with a story
The Wheelbarrow is worth a visit for its indigenous nursery, fresh produce, fire in winter and lush summer picnic spots (venture past the nursery). Recommended buy: Hazel's Harvest chilli, jam and preserves.
R71 Magoebaskloof Road, Tzaneen, 0850
082 739 4424
25. Giant's Cup Café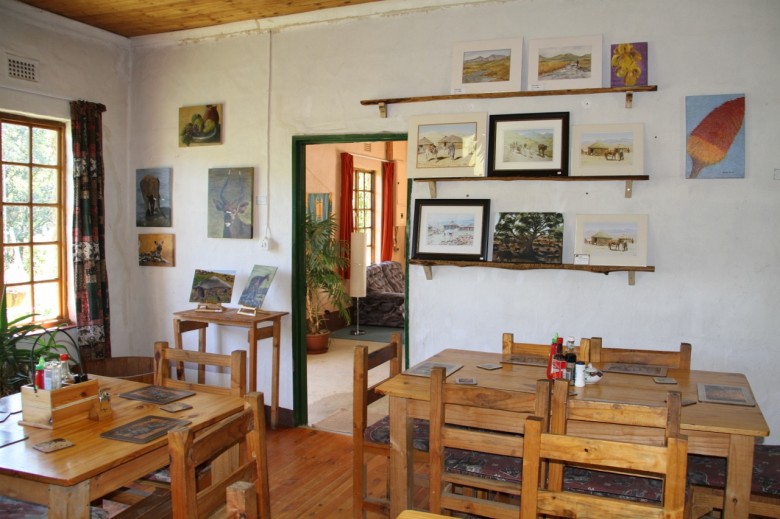 Courtesy of Simone at Sanilodge
Simone Suchet's exceptional dairy range of ice cream and yoghurt from her jersey herd is worth the stop before you venture off up precipitous Sani Pass. Decades ago the Giant's Cup building used to be a launching pad for Landrovers braving the pass back when this was one of the few ways to enter Lesotho. After a day of exploring you could return for dinner at the Giant's Cup and rest up at SaniLodge on the same property. Notable farmstall products include chutneys, honey, chocolate coated homemade marzipan, Riverglen cheese from the Underberg Cheesery as well as indigenous plants and curios.
Beside the road at the foot of Sani Pass.
033 7020330
26. Halls, Nelspruit
Courtesy of SA Venues
Halls are famous for their avocados and excellent coffee- two things I would happily live on for the rest of my life. Take in Mpumalanga's natural beauty in their café situated in a lovely garden filled with trees and succulents.
R104 into Nelspruit, Lowveld, Mpumalanga
013 755 6074
27. Boeteka padstal, Beaufort West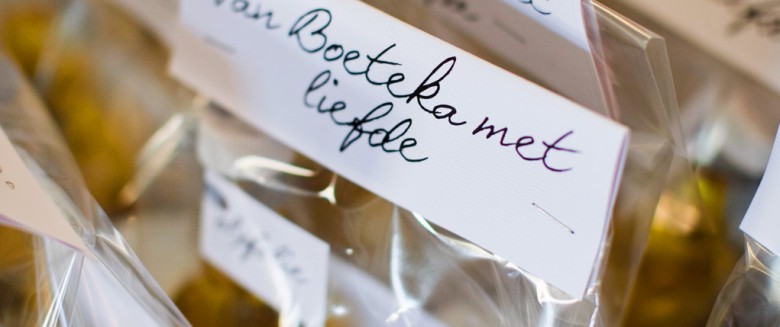 Courtesy of Boeteka Farm
I have never seen a sunset like the one at Boeteka Farm as it dipped over the thorn trees. Visit Boeteka padstal for proper padkos and a warmth and authenticity that cannot be replicated. A great little detour on the way to The Karoo National Park or on the way if you're travelling directly to Oudsthoorn or George. You'll find their padstal next to their olive tree orchard. A great service offered is to pre-order Karoo Lamb and venison which you can pick up on route to your holiday destination.
Find them along the N12 towards Beaufort West.
072 739 5311
28. The Blue Crane, Heidelberg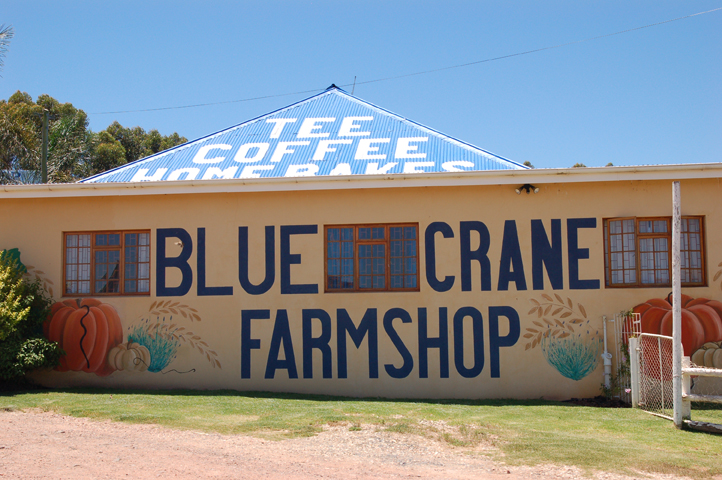 Courtesy of The Blue Crane on Facebook
Bright blue roof, "blue without you burger" and ample use of blue-veined gorgonzola cheese, Philippa Macdonald's Blue Crane Farm Shop will banish your eating-up-the-road, miles-to-go roadtrip blues. The shop also stocks fresh bread, fruit and vegetables, quiches and preserves.
N2 | 3 km from Heidelberg along the Garden Route
028 722 2651
29. Kuilfontein Farmstall

Courtesy of Accommodation Springfontein
A great stopover between Cape Town and Johannesburg near Springfontein in the Free State, this fifth generation sheep farm has a bed and breakfast for the weary as well as a farmstall that serves va-va-vroom cappuccinos, lamb & mint and chicken masala pies.
500m from the N1 between Bloemfontein and Colesberg | close to Springfontein
083 283 7522
30. Clarke of the Karoo, Barrydale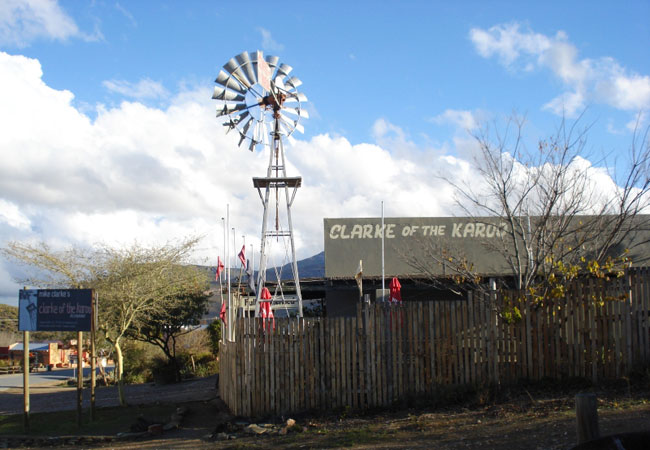 Clarke of the Karoo courtesy of SA Venues
If you're headed out along Route 62 Clarke of the Karoo is a must. The restaurant is in Eat Out's top 10 best Karoo restaurants and is famed for its "Karoo Oysters", part of the ruminant's anatomy that you won't find on female sheep as well as their legendary Karoo lamb curry. You won't find fresh produce in the padstal but our recommended buy is the chilli sauce.
R62  |  Barrydale
028 572 1017
31. Die Pienk Padstal, Kakamas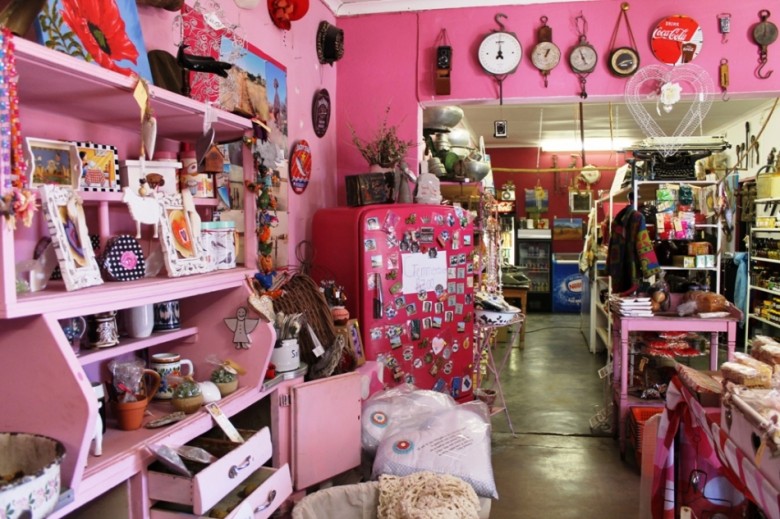 Courtesy of Open Africa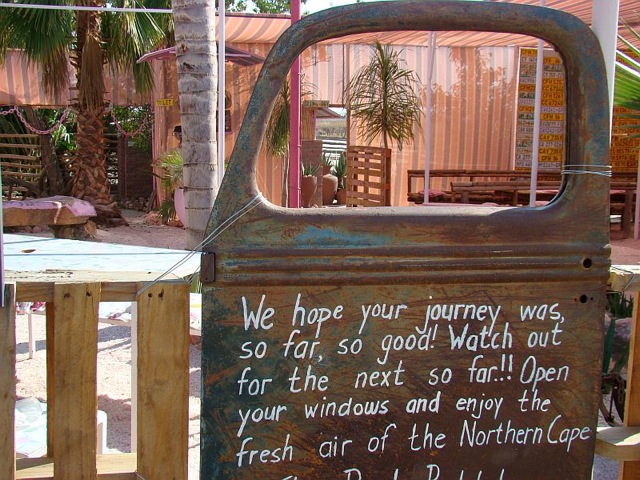 Courtesy of Open Africa
Halfway between Pofadder and Uppington you'll find Annmarie's rose-coloured roadside beacon die Pienk Padstal. Recommended are the roosterkoeks, green bean stew and to take away- delicious preserved chutneys, biltong and dried fruit. Make sure to bring your camera for some memorable shots.
N14  | Kakamas | Northern Cape
054 431 1457
32. Ouma Miemie's Farm Stall, Northern Cape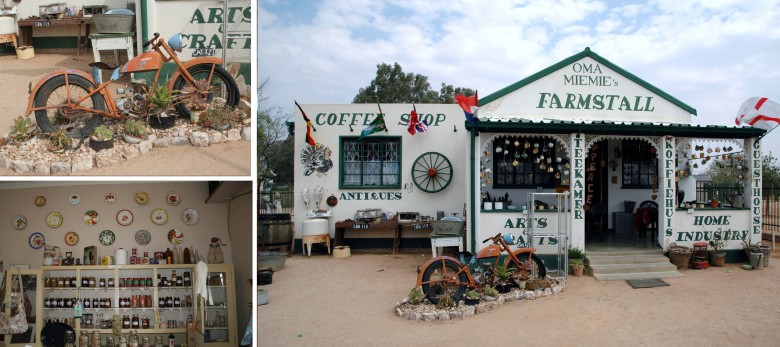 Courtesy of Louise de Waal for The Good Holiday
Don't miss out on the potbrood, vetkoek or roosterbrood but rumour has it that Ouma Miemie's burgers are the reason you should stop in on this lonely stretch of road. Ouma Miemie has "the biggest burgers this side of the Limpopo" according to Farmstalls and Padstalle of South Africa. You can also buy the usual assortment of high-quality preserves and don't forget Ouma Miemie's Melk Tert.
Ouma Miemie's Farm Stall | Main Road | Kenhardt | Northern Cape
054 651 0695
33. Thyme & Again Keurbooms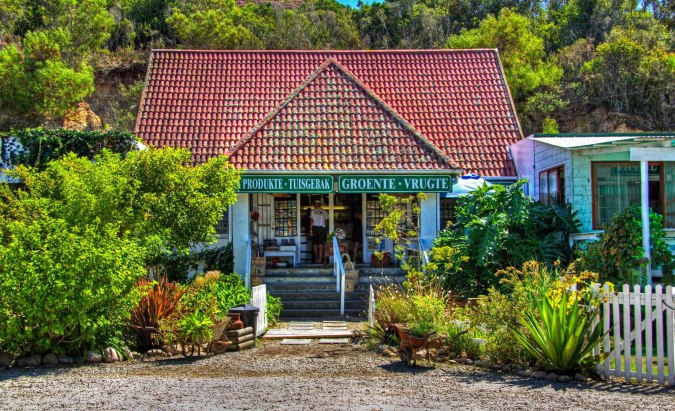 Courtesy of Zomato
Just before Plett, outside the little seaside enclave of Keurbooms and before the lazy Keurboom river is Thyme & Again, the perfect place to find gifts of high-quality olive oil and imported goods. Their freshly baked breads, quiches and pies attract a stream of locals and holidaymakers. Call ahead to find out what time the bread comes steamingly-hot out the oven.
N2 | Keurboomstrand
044 535 9432
34. Tam'JaZi gift and coffee shop, Alexandria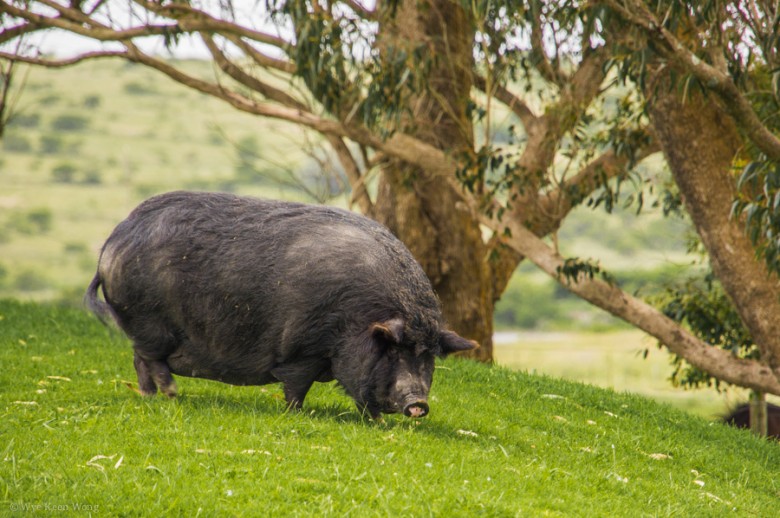 Image by Wye Keen of Moekee Goes Global
Stomp on those roadside blues- stop in at Tam'jazi for a "wrong-side-of-the-bed" breakfast and some fresh pineapple juice. Prices are very reasonable and kids will be entertained by the pot-bellied pig and other farm animals trundling about the garden. They also have guest cottages for a longer stay.
A few kilometres outside Alexandria on the Port Elizabeth side of the R72 in the Eastern Cape
046 653 0914
35. Akkerboom Padstal, Keismos, Northern Cape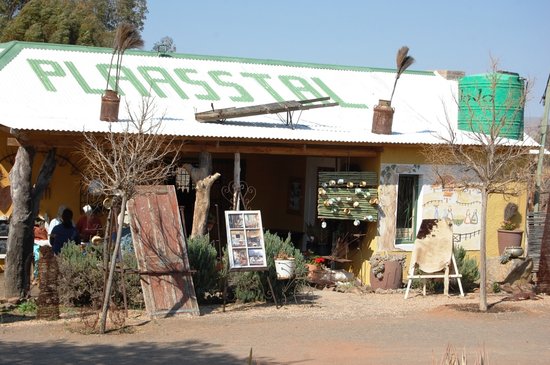 Courtesy of djdup on Trip Advisor
When you feel like you've eaten up as much road as you can take you need to make a stop here in the sweet middle of nowhere to sit under a beautiful thorn tree, eat fluffy cheese cake and relax. Trudie De Wet's food and coffee comes highly recommended.
Between Keismos and Kakamas.
36. Bagdhad Cafe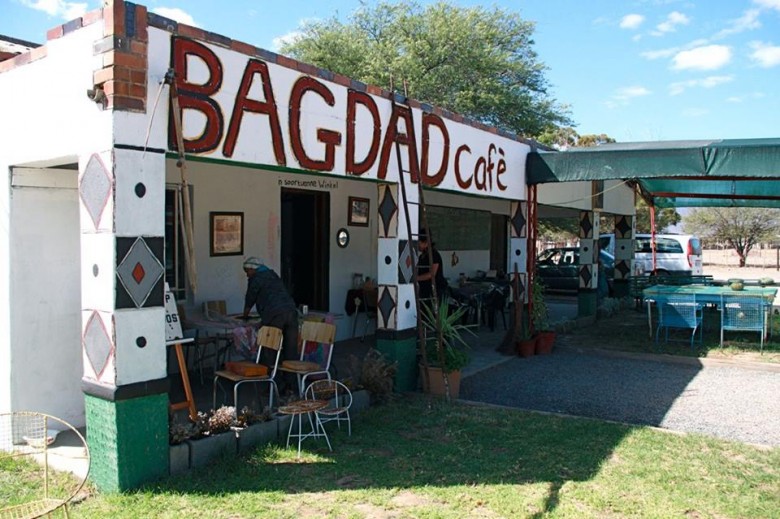 Courtesy of Farmstalls and Padstalle of South Africa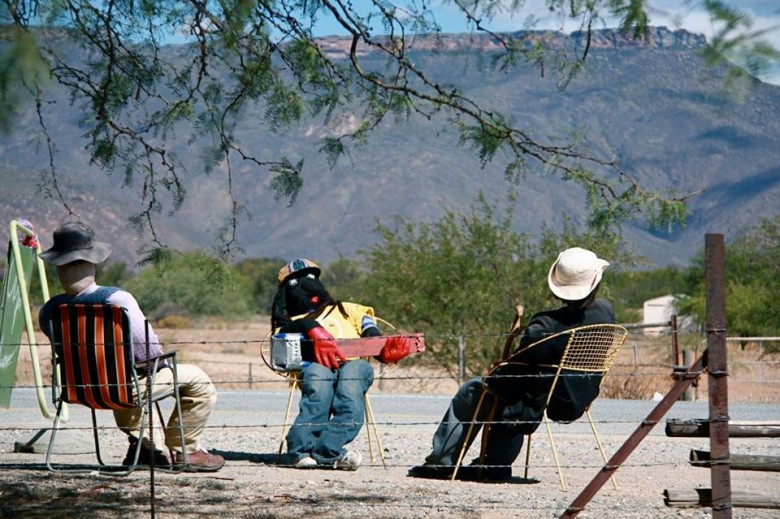 Courtesy of Farmstalls and Padstalle of South Africa
Louise and Owen McGregor have created an inventive padstal oasis with stuffed hay bale men sitting outside in the sun beckoning you in. You'll find something completely different at Baghdad Café – there's no shortage of quirk and character.
30 km from Vanrhynsdorp on the R27 coming from Nieuwoodtville.
084 065 8464
37. Jagtpoort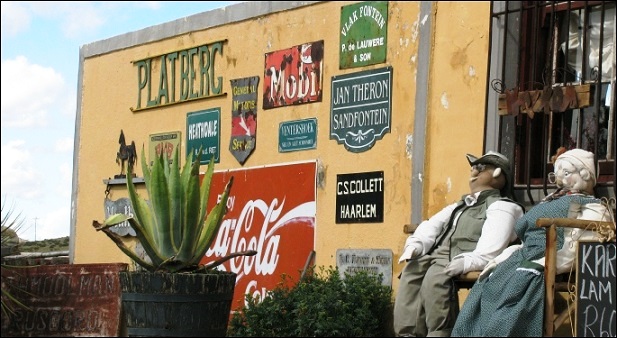 Courtesy of Farmstalls and Padstalle of South Africa
Reasonably priced karoo lamb, droë wors and biltong with ouma and oupa haybale sitting out on the stoep. They sell handmade pocket knives and good-quality jams as well as offering a variety of wilderness activities including abseiling, game drives and mountain biking.
Ventershoek | Middelburg | Eastern Cape
049 842 2106
38. Heath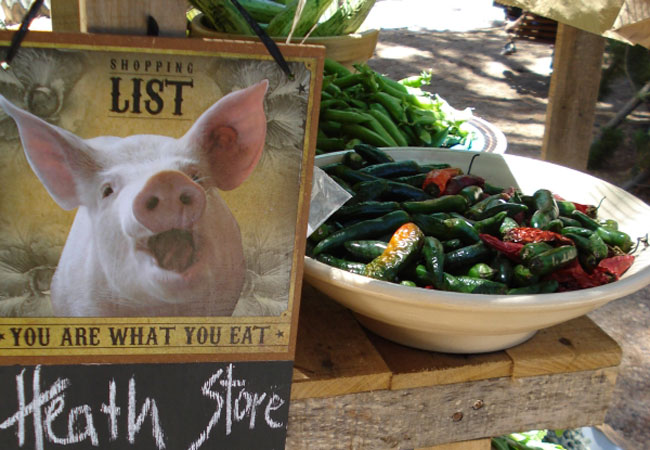 Courtesy of Garden Route Venues
Wander around the forest or gambol through the lavender labrynth. Sit and have a hot or cold cup of something or snooze in a hammock while the kids go wild on the foofie slide and jungle gym. They sell local crafts, gifts, preserves as well as pesticide-free, tenderly-tended vegetables.
Off the N2 towards Knysna | 7km from Plettenberg Bay | Garden Route
044 532-7724
39. Rietdakkie padstal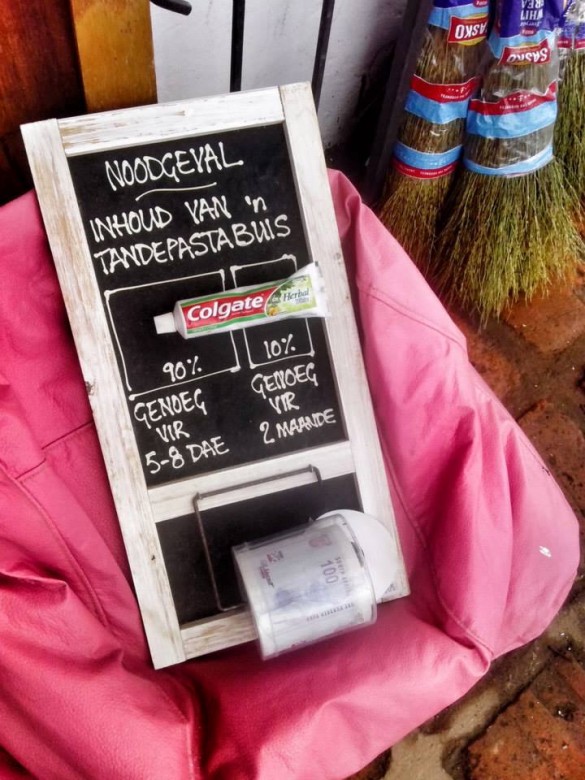 Courtesy of Farmstalls and Padstalle of South Africa
The old Dover stove in the corner will keep you toasty in winter. Have a nose among the trove of eccentric items to buy then enjoy a strong cup of coffee.
Find Rietdakkie on the R43 between Worcester and the Bain's Kloof/Tulbagh road
023 355 1754
40. Oppi-Vlak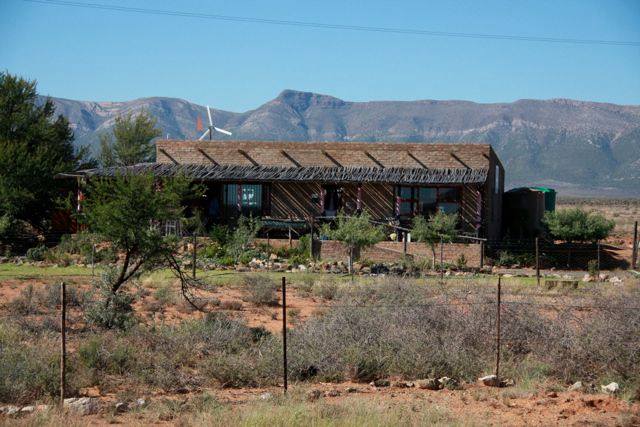 Courtesy of Farmstalls and Padstalle of South Africa
You know you've come to the right place when the clock at Oppi-Vlak reads in Afrikaans "Stay calm roosterkoek is on today's menu". There are horses, chickens and a mischievous peacock to keep the kids occupied. You'll also find quality gifts.
40km from Willowmore | N9 to Graaff-Reinet
083 421 4409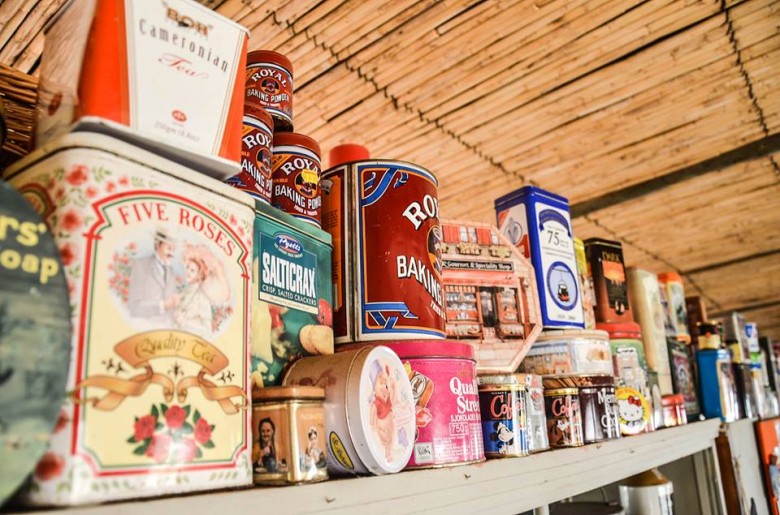 Courtesy of Oppi Vlak on Facebook
41. Die Tolhuis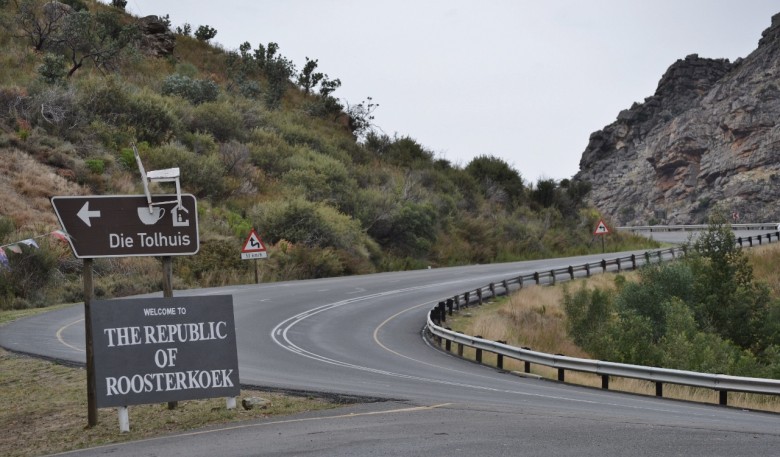 Die Tolhuis is an institution devoted to the humble roosterkoek. On the day we went I'd actually say I preferred the pies, but the fire in the grate, the friendly atmosphere, the mountains looming mistily in the background all conspired to make us never want to leave.
Find it on the left along Michellspas if you are driving towards Ceres. GPS: S 33 22.772, E 19 17.474 Call 023 312 1211.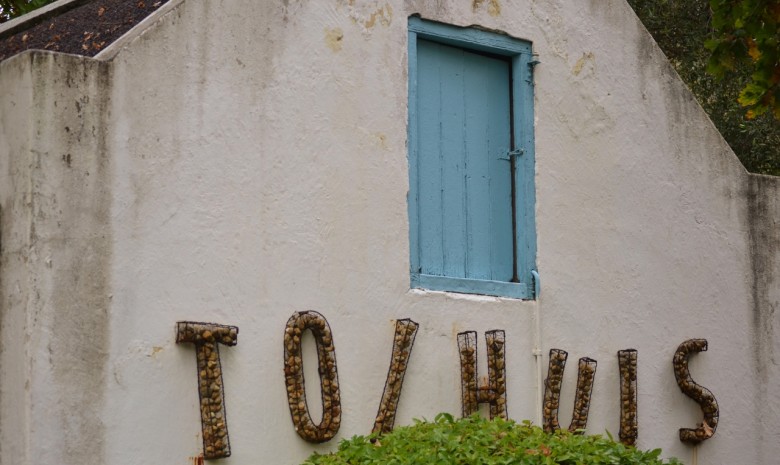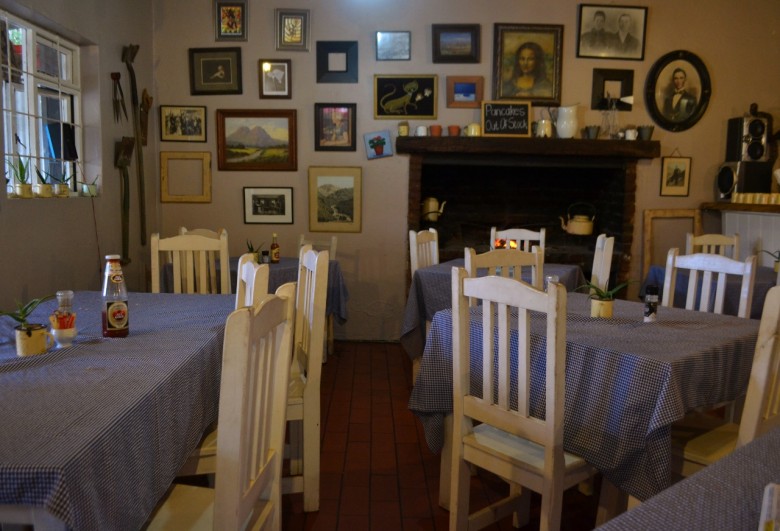 42. Fine Bush Country Kitchen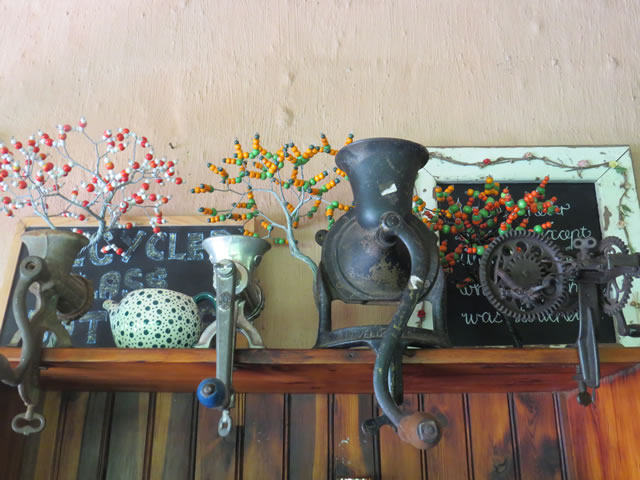 Courtesy of Finebush Country Kitchen
This farmstall is new to the garden route, on sunny days you can enjoy outside picnics. Be sure to try their whisky marmalade, brandy marmalade,  their ginger, orange and lemon and onion marmalades, their peppadew jam, the owner's grandmother Roa's chutney, their beer, pepper, garlic and chilli-flavoured country mustards as well as old-fashioned piccalilli know as farm-style "Pick-a-Lily". Their cheeses are also recommended.
8km east of Storms River Village | N2 | Tsitsikamma
042 280 3503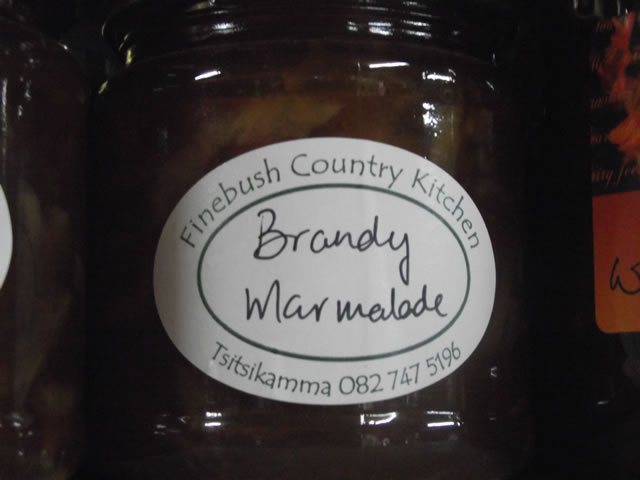 Courtesy of Finebush Country Kitchen
43. Paternoster se Padstal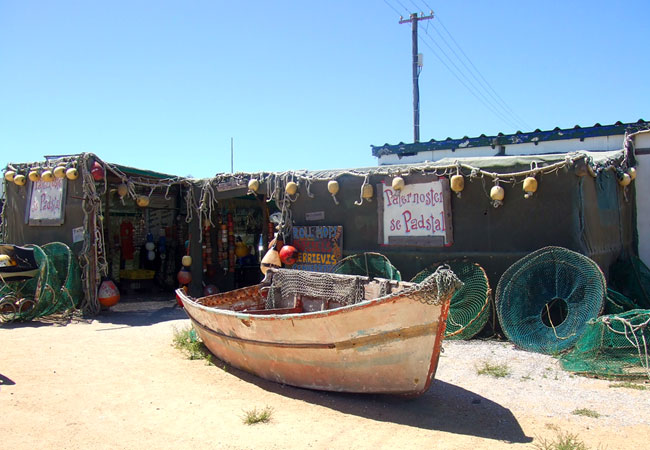 Courtesy of SA Venues
You can't miss the Paternoster se Padstal with its little fishing boat moored outside on dry land and the salty smell of dried fish "bokkom" welcoming you to the padstal. Note that the cat is a fierce custodian. Here you'll find marinated mussels in jars, bokkom (of course) as well as fudge, t-shirts and various odds and ends.
Beachfront | Main Street | Paternoster
082 298-0917
44. Ronnie's Sex Shop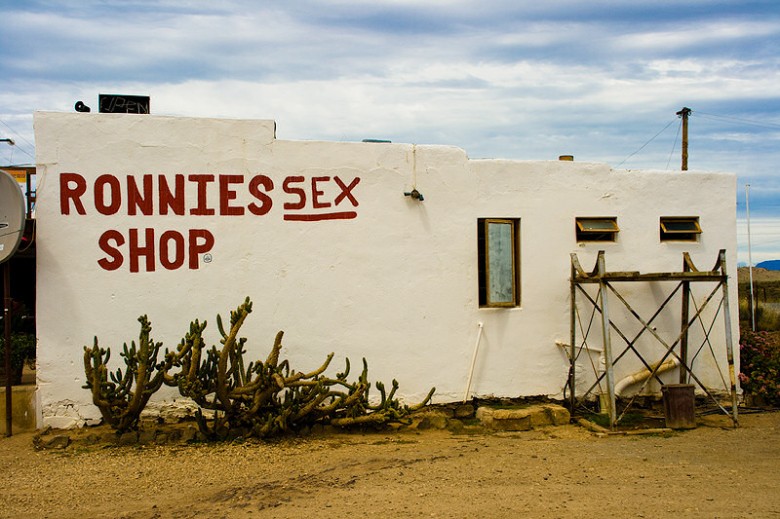 Courtesy of Vincent Mounier
Ronnie's appears as a shimmering white mirage in the semi-desert landscape of the klein karoo. The music is blasting wild boys by Duran Duran as we pull up into the parking lot last Sunday. Ronnie is there with his distinguished white beard and long plait. We share pineapple and cheese burgers which go down very well with some black labels for the non-drivers, then consider whether to buy a Route 62 t-shirt while examining the explosion of graffitied initials. Somehow the middle of nowhere feels like the centre of everywhere and you can't believe you've been missing out on this in the city. The famous story goes that Ronnie painted "Ronnie's Shop" on the road-facing wall of his new store and his friends decided to prank him by making some adjustments to his sign. Ronnie wasn't charmed, nevertheless the word got out about this eccentric spot and business was so good Ronnie decided to keep the sign as is.
After Barrydale heading for Ladysmith | R62
028 572 1153
45. Turksvy Trading, Rosendal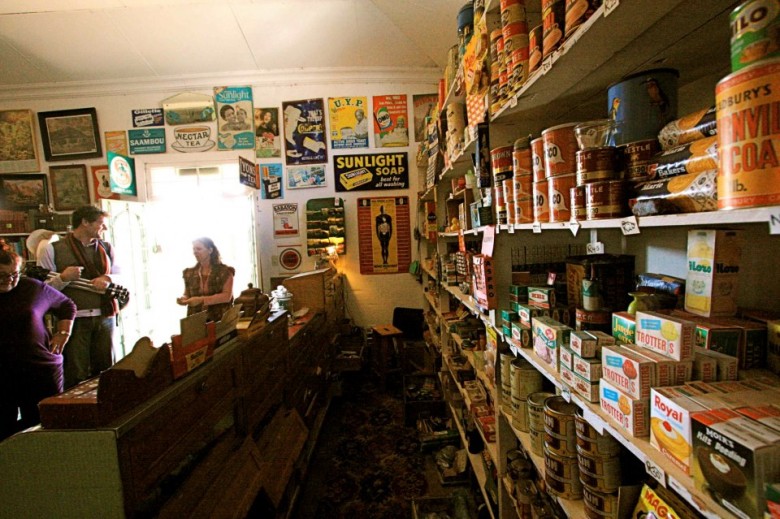 Courtesy of Farmstalls and Padstalle of South Africa
Step back in time in Sandy Lemmer's Turksvy Trading store near the Lesotho border. This is an experience not to be missed. You'll  find pinball machines, radiograms, enamel pots of all shapes. Antique magpies will be thoroughly satisfied rootling around Tursvy Trading. Don't miss out on the succulents in the garden.
Kriek Street | Rosendal
082 371 2137
46. Vygevallei Farmstall, West Coast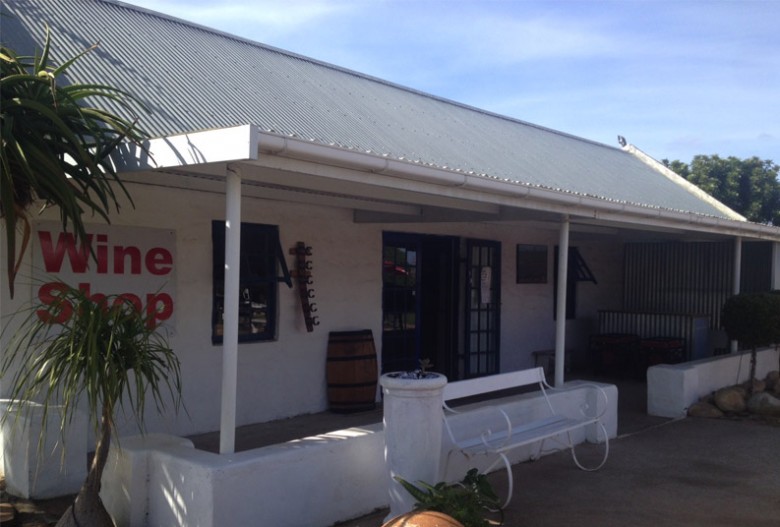 Courtesy of Farmstalls and Padstalle of South Africa
Visit the Louw's farmstall for an excellent selection of local wines from the Swartland and West Coast and dessert wines made by Juan Louw. The fresh baked bread, cheese cake, carrot cake, vetkoek, quiches and pecan nut tertjies will keep you coming back each time you head to the West Coast.
You'll find the turnoff to Vygevallei Farmstall on your right, driving from Cape Town on the R27 in the direction of Yzerfontein, 6km before the turnoff to Yzerfontein and Darling.
Vygevallei Padstal
R27, Weskuspad
Darling Area
Call: 0795286631
47. Dassiesfontein
Inside Dassiesfontein by Danie van der Merwe on Flickr
This Overberg gem started with just two wagons on the side of the road. Today it's a popular stop though still small enough to be friendly. Order their generously proportioned boerekos for a hearty and satisfying breakfast or lunch. Don't miss out on their fresh milk, yoghurt, fruit juices and cheese to take away.
N2 | Between Botrivier and Caledon
028 214 1475
48. Peel's Honey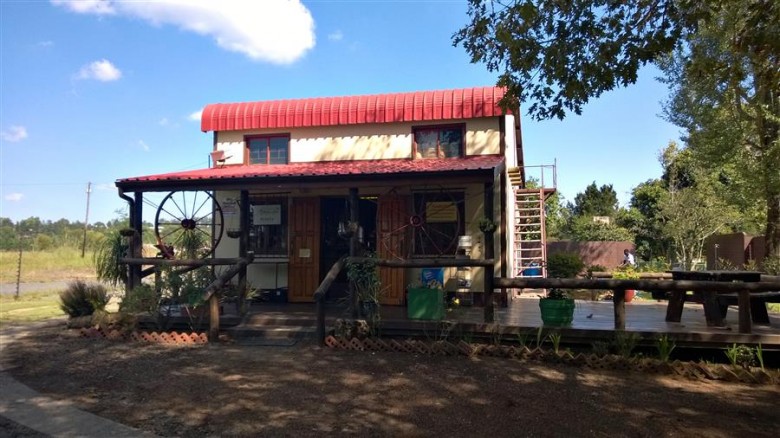 Peel's Honey courtesy of Kwenda Travel
Peel's are the oldest honey label in South Africa. They were started in 1924 by Doris and Jack Peel and are most famous for their peanut honey brittle (still Doris' original recipe) and their creamed honey- absolutely delicious when spread on hot buttery toast or dolloped on top of greek yoghurt. Faye and John Smith subsequently bought the business and named it Peel's. Mr Smith used to sell his honey from his venerable old truck which he parked on the old Durban/Johannesburg main road. This is the spot where the Peel's Honey Farmstall sits today along the N3 between Pietermaritzburg and Howick.
Boston Rd | Howick
033 330 3762
49. Mooiberg Farm Stall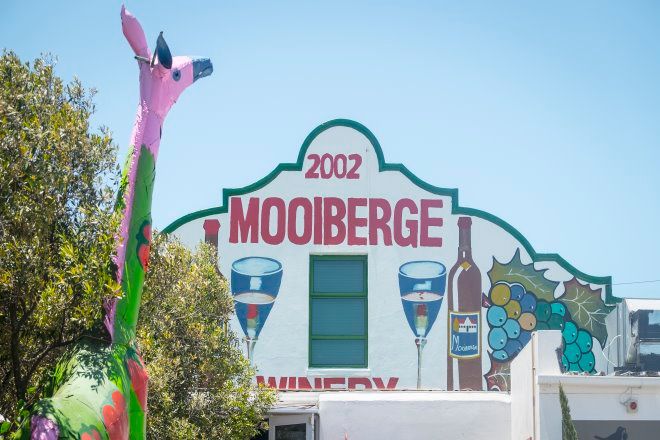 Mooiberg courtesy of Rooms for Africa
Pile the family into the car and take a weekend roadtrip to Mooiberg Farmstall from October to the end of December. The comical scarecrows will keep you company as you pick a big box of juicy strawberries to enjoy in summer salads, desserts and on picnics. The farmstall also sells dried fruit and sweet treats. Strawberry picking is available everyday during the school holidays in December.
R44 | Stellenbosch
021 881 3222
50. Victoria Trading Post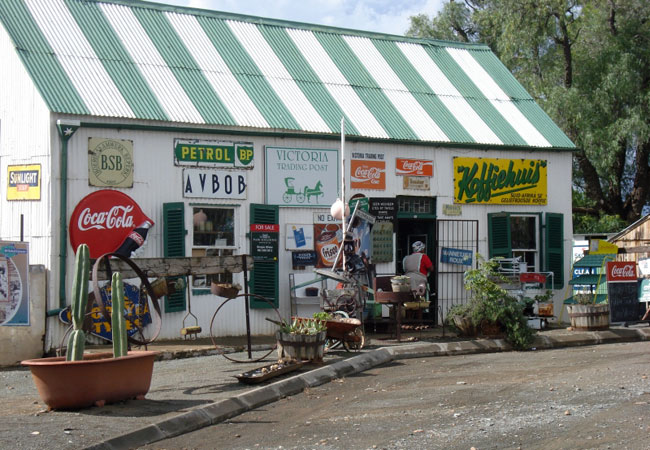 Victoria Trading Post courtesy of SA Venues
The attractive green and white-striped roof of Victoria Trading Post is run by the wife of rugby legend Mannetjies Roux, Charlotte. Stop by for some freshly-baked pie, ginger beer, succulent biltong and preserves. There is also a beautiful selection of enamelware and porcelain to browse through.
Helpmekaar Street, Victoria West, Karoo
082 321 0165
Let us know which are your favourite farm stalls, and ones we should add to the list, in the comments below.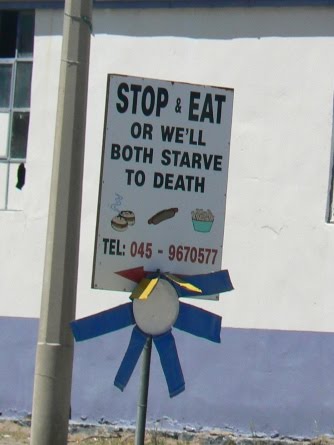 Sign in Molteno courtesy of Max from The Max Files