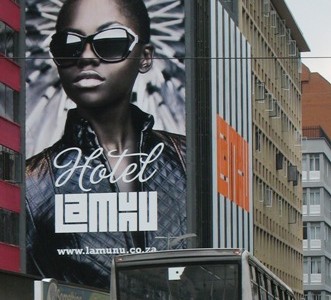 I know Braamfontein, or at least I used to, eons ago, when I was student at Wits University (and dinosaurs still roamed the earth).
Back then, it was a mix of businesses, colleges, barbershops (yes, with red and white poles), mom and pop cafes, student bookstores, and coffee shops.
By then, it had started to look a little shabby (hey, who wouldn't at age 100+), but it was still somewhere that people dressed up to go to the theatre, and its restaurants and hotels were snooty places you went to celebrate a special occasion.
Gradually though, as Jo'burg's inner city, got grubbier, more overcrowded,  and less safe, the big corporates that kept Braamfontein's coffers fed, got antsy about their real estate investments, and scuttled over the hill to Rosebank and Sandton.
In a matter of years, Braamies went from shabby-smart to "looks like crap". Illegal taverns opened up, hawkers moved in, and everyone forgot to pick up litter. All the good restaurants grabbed their stockpots and ran.
If the Y2K bug didn't crash South Africa's computers, at least it must have hit someone in the Jo'burg City Council on the head, because in 2000, talk started of 'cleaning up' Braamfontein ("the spring by the brambles").
Braamfontein restaurant Narina Trogon was arguably the first to stick its toe back in the water, when it opened up a chic eatery on De Korte Street in late 2006. In the same year, the Wits University Fine Art department (my old haunt) was replaced with the Origins Centre.
With two new spots of rouge on her tired cheeks, Braamfontein set about getting a proper facelift, courtesy of urban Nip Tuck gurus, Adam Levy, Urban Genesis, and South Point.
Adam set about botoxing old buildings into revamped urban work and play spaces – check out his drop-dead gorgeous new Lamnunu Hotel and Seventy Juta – a colourful, funky little collection of one-off galleries and décor stores.
South Point sent a colour-blind office assistant to the paint store, and upon his/her return, they set about converting dilapidated office blocks into cool student accommodation, and painted the town neon yellow, orange, and pink.
City plastic surgeons, Urban Genesis took care of the saggy bits by repairing pavements, fixing water pipes, installing CCTV cameras, uniformed security guards, parking attendants and planting trees.
City Council, having semi-woken from its coma, came bearing gifts of public art – the Eland at the Braamfontein Gateway, and the metal tree sculptures along Juta.
Net effect, is that while it's not perfect yet, Braamfontein is starting to look bootylicious once again. Sporting a distinctly African vibe, there are trendy lunch spots, clubs, cocktail bars and cafés popping up everywhere.
Showgoers are returning to the  Johannesburg Theatre for Broadway musicals, the Johannesburg Planetarium quit star gazing long enough to put up a website, and Wits University stopped blockading everyone and starting letting the public visit their fantastic museums and galleries. Constitution Hill watches over it all with dignity.
Braamfontein deserves its bling back – vibey and cosmopolitan, it provides easy access to some of the city's must-see attractions.