Pretoria holds its own with an amazing mix of cultural, outdoor and foodie experiences on offer. We discover 30 affordable, free and fun things to do in Pretoria, a city known for more than jacaranda blossoms and the blue train. With monthly pop-up markets, free Zulu lessons, the longest urban street in SA and some of the best mountain bike tracks, there's lots to explore in Pretoria. In no particular order:
Many thanks to Candace Gawler for the insider tips.
1. Attend the Vibey Market-at-the-Sheds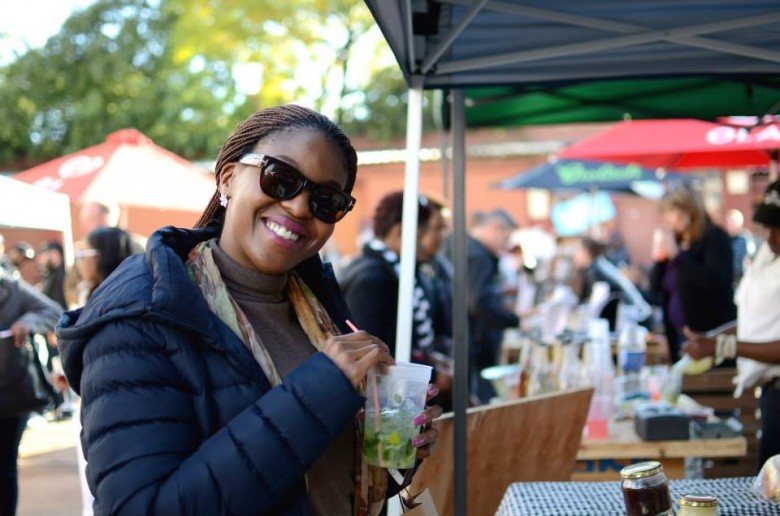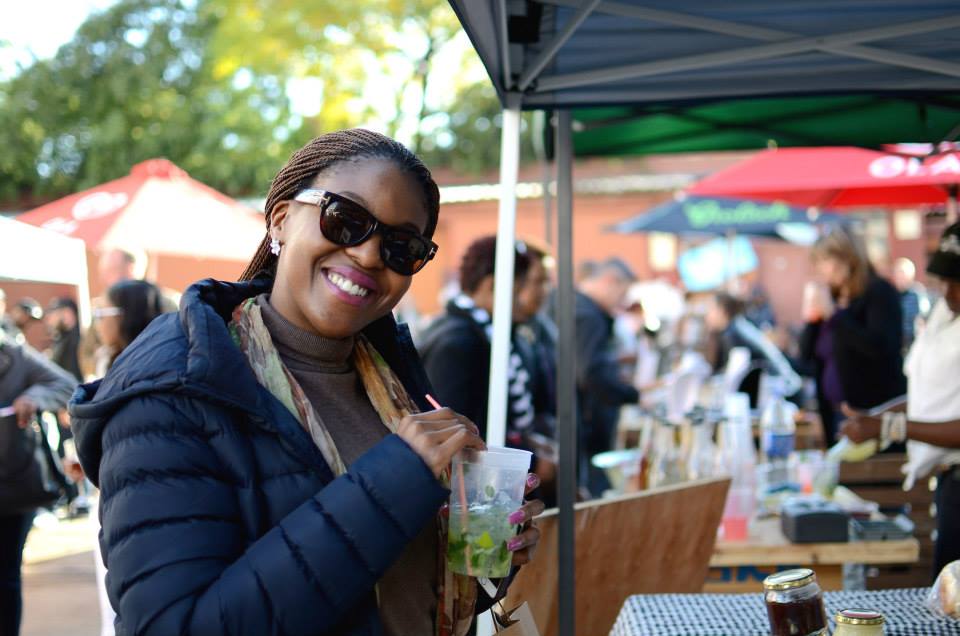 Courtesy of Market at the sheds Facebook page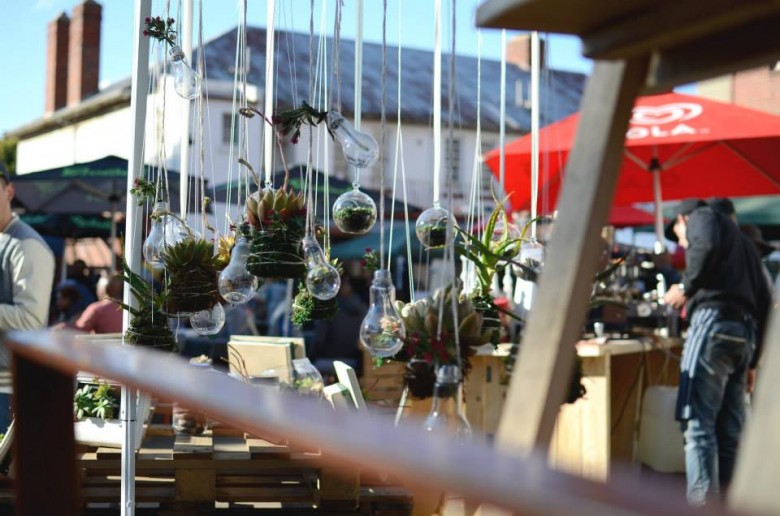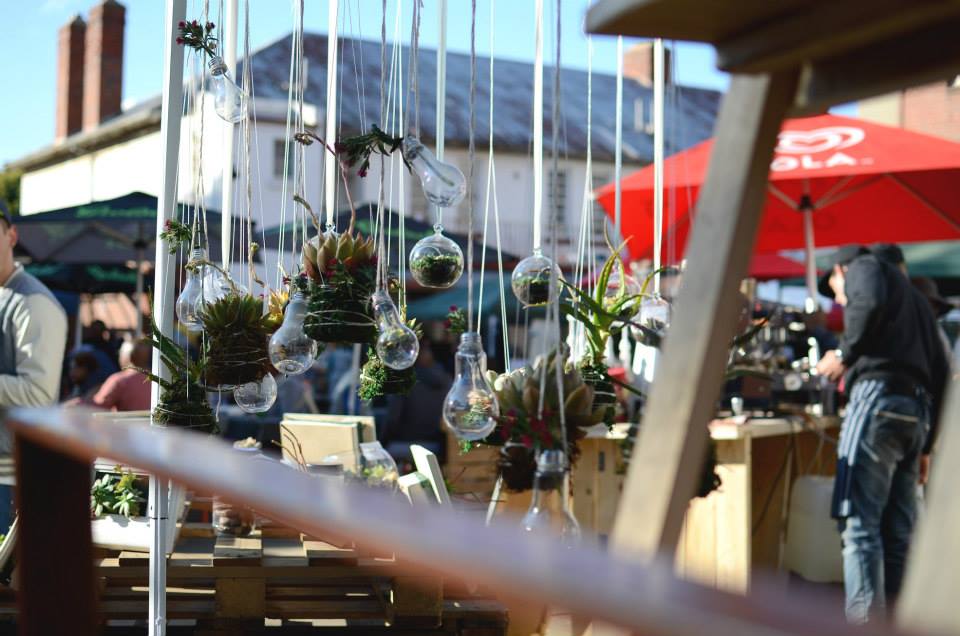 Courtesy of Market at the sheds Facebook page
Visit this social market celebrating good vibes with tunes, people and sassy food like Tacos in a Kombi. It's organised by the Capital Collective with the aim of rejuvenating Pretoria's inner city and making it a space where everyone feels welcome.
Where: The Market-at-the-sheds takes place on the last Saturday of the month from 9am to 4pm and pops up in venues around the city. Check here for the updates about the next pop-up market.
Cost: R20 entrance for adults, free for kids.
2. Tall Stories and Agatha Panther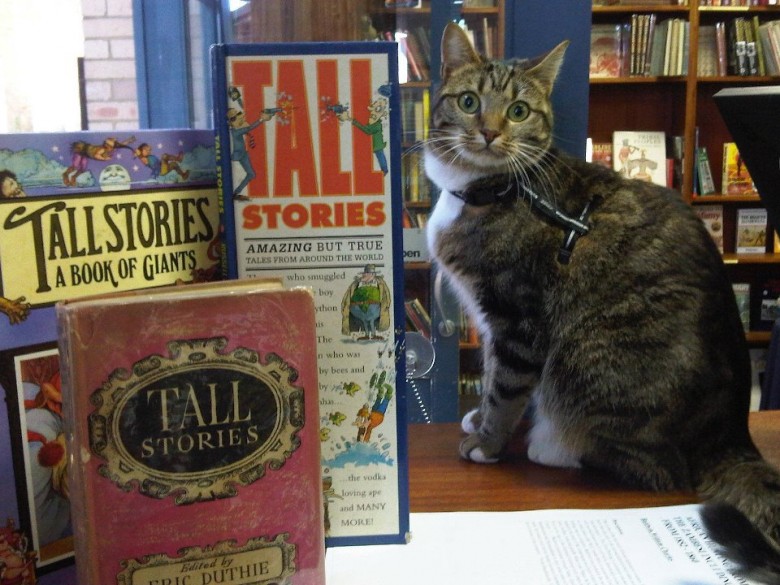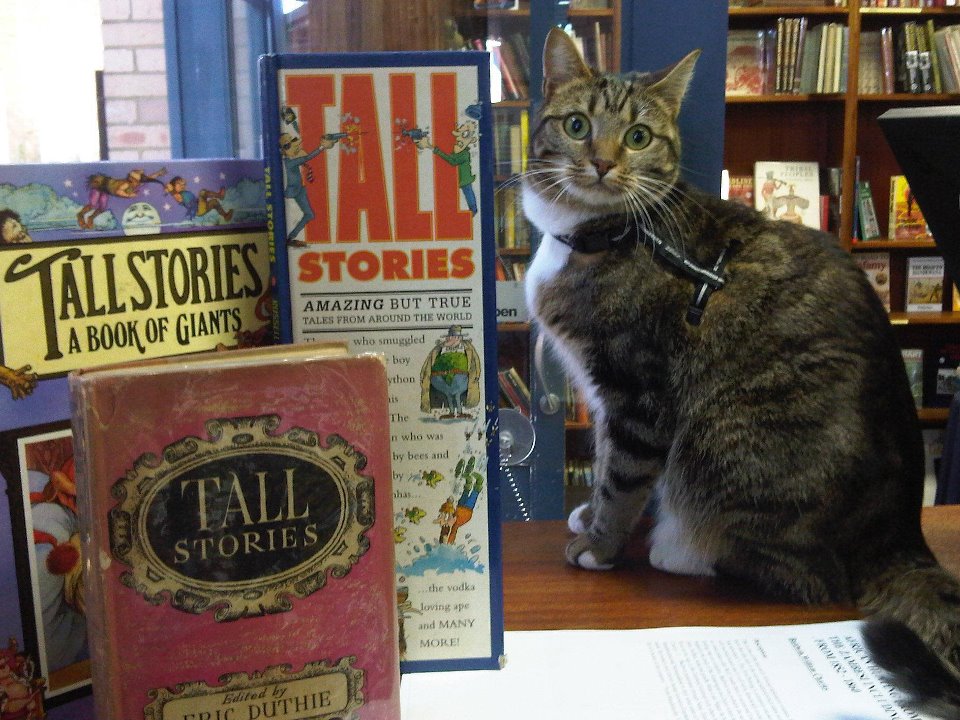 Courtesy of Tall Stories Bookshop
Just 20 minutes from Pretoria central find this haven for bibliophiles. They sell well-priced new books and very affordable second hand ones on a wide range of topics. If you're lucky handsome feline Agatha Panther will be there to greet you.
It is open every day of the week.
Where: Shop 139, Irene Village Mall, Cnr. Nellmapius & Pierre Van Reyneveld Roads.
Contact: 012 662 2829
3. Drink Tea and Eat a Signature "White Chocolate and Macadamia Nut Blondie" at Carlton Café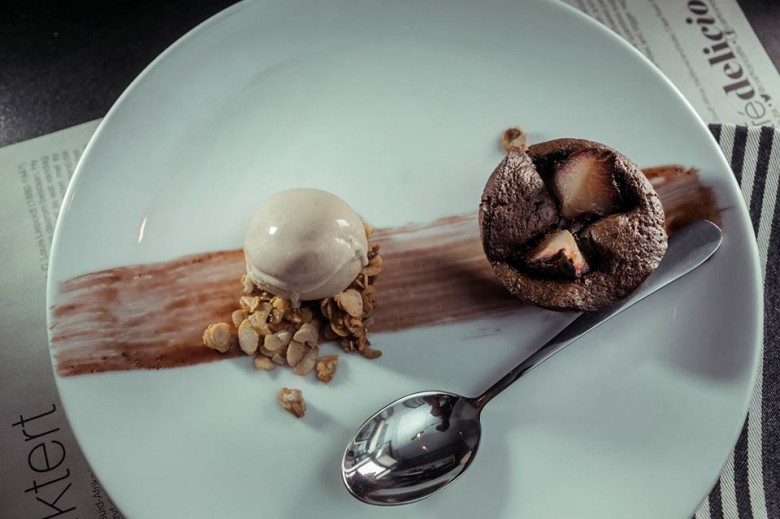 Their white chocolate macadamia 'blondie' brownies are an institution. If that's not your thing they have an extensive daytime menu. Carlton Café hosts "Delicious The Food Shop" where you can get all sorts of deli food and specialty food items like TWG Tea's luxury French Earl Grey, Chamomile and Grand Wedding Tea.
Open on Mondays from 07:30 to 16:00, 07:30 to 17:00 from Tuesday to Friday and 7:30-14:00 on Saturdays. Closed on Sundays.
Where: 71, 13th Street, Menlo Park.
Cost: about R100 for a meal and drink.
Contact: 012 460 7996. Be sure to make a reservation.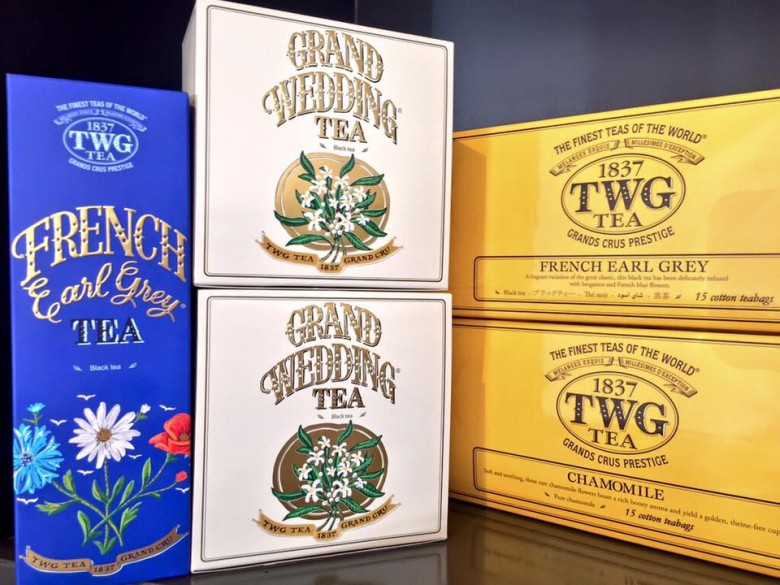 Courtesy of Carlton Café Bookshop Facebook Page
4. Take in the Whole Town with the Camera Obscura at the University of Pretoria
Science-Enza Camera Obscura courtesy of University of Pretoria
The Camera Obscura (precursor to the modern camera) at Pretoria University is a marvelous invention allowing you to view the whole of Pretoria in turn as you change the direction of the lenses and the view is projected in a darkened room. You'll even be able to see birds and people scurrying around.  It's recommended that you visit in the mornings to see the best view of the city centre when it's illuminated by the sunlight from the east. On a clear day they say it's possible to see vehicles on the pass in the Magaliesberg leading to Pretoria North. Entrance: Free but you are encouraged to place a donation in the Science-Enza Vortex Donation Exhibit.
The opening hours of Sci-Enza are 8am to 4pm on weekdays. They are also open 2 Saturdays a month for specific educational projects. The viewing of the Camera Obscura falls under Sci-Enza. You will be accompanied to the Camera Obscura from 11h00 – 15h00. Groups must be four or more people at a time and they must come to Sci-Enza first.
Where: Roper St, Pretoria.
Cost: For group bookings to Sci-Enza (that includes a science show, visit to the CO and the hands-on exhibits in the science centre is R20 per person if the group is less than 20 people and R10 per person if the group is 20+.
Contact: 012 420 3767
5. Free Zulu Lessons at Grounded at Echo Café on Mondays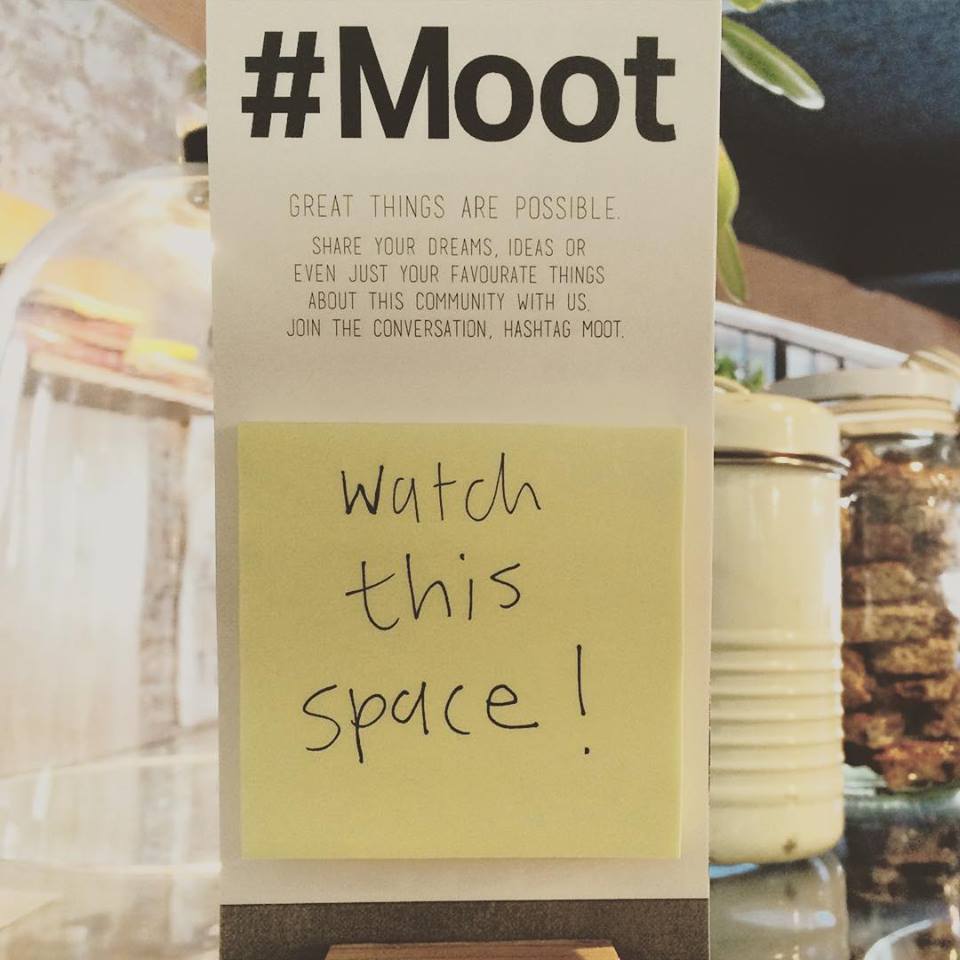 Courtesy of Grounded at Echo Facebook Page
Grounded at Echo is a place for new ideas, community and delicious coffee.
They also hold free Zulu lessons from 5pm to 6pm every Monday. Open from Monday to Friday from 6am to 6 pm and Saturdays from 8am to 3pm, closed on Sundays.
Where: Corner Pierneef Street and 24th Avenue, The Moot, Pretoria.
Cost: R45-R55 for a piece of carrot cake and coffee.
Contact: 012 329 0159
6. Afro Boer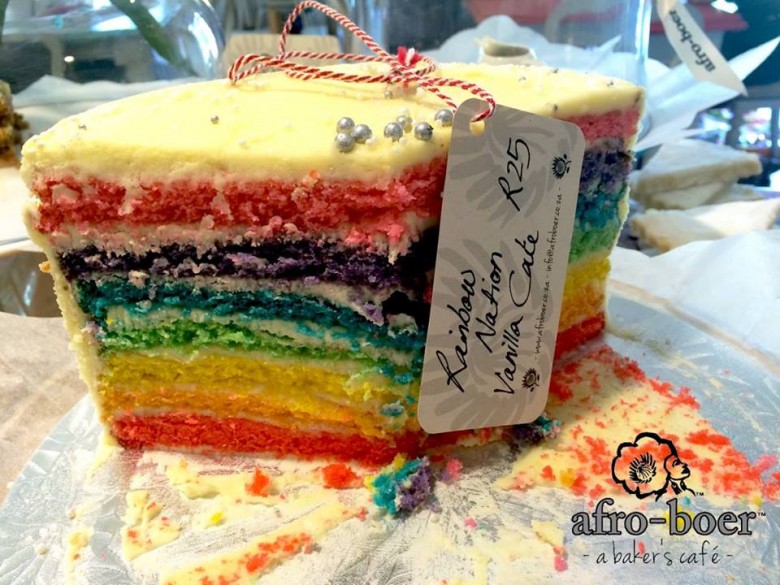 Courtesy of Afro Boer Facebook Page
This unique restaurant is chock full of attitude and delicious food. Order a glass of wine "for a whine", enjoy the garden setting, breakfast, light or serious lunches and of course their incredible cakes. They change things up in the kitchen "to keep kitchen, ooms, tannies, and copy-cats on their toes". Soon they plan to have breakfast and lunch takeaway boxes for picnics under the trees.
Open from Monday to Saturday from 7am to 5pm and on public holidays fro 8.30am to 4pm, closed on Sundays.
Where: No. 1 Meerlust Avenue, Pretoria.
Cost: Meal and wine +/- R100.
Contact: 012 807 3099
7. Acrobatics in the trees with Acrobranch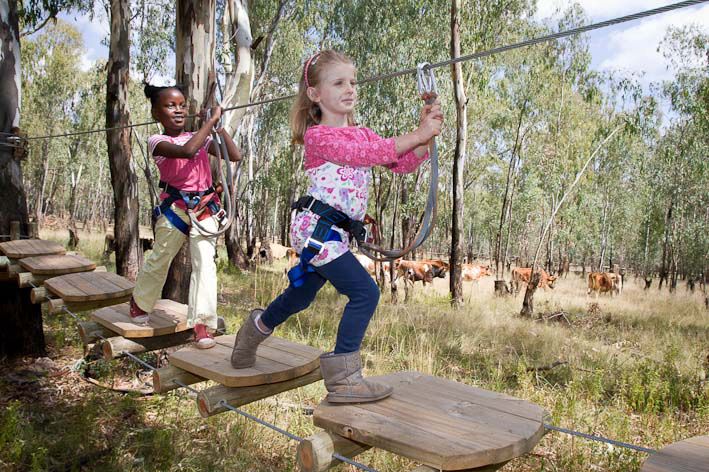 Courtesy of Acrobranch
The Pretoria North park has a 3 hour high flying adult course, kids need to be 9 years and older, it costs R290 per person. You can take younger kids to acrobranch in Centurion which has much smaller obstacles for the little ones and costs R80. The Pretoria course consists of 8 adrenaline packed obstacles, including tarzan swings and a 300m long zipline which will end your amazing aerial adventure.
Open Wednesday to Sunday and Public holidays From 9am to 5pm.
Contact: 012 940 1966
8. Visit the 1000 year old Wonderboom fig tree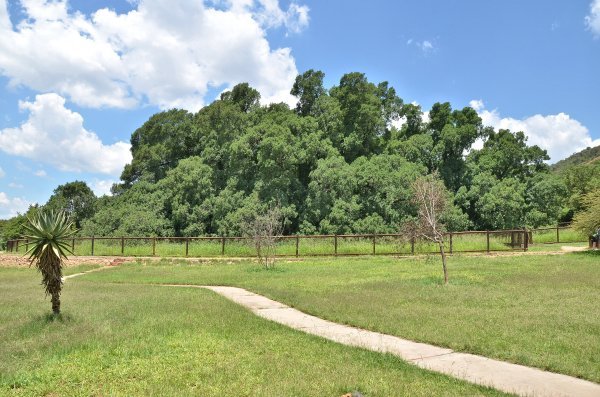 Die Wonderboom courtesy of Wikipedia Commons
The Wonderboom is a fig tree over a 1000 years old which grew in such a way that 13 daughter trees sprung up around it forming a massive shaded area that spans 50 metres that can shelter up to 1000 people. It's 23 metres high and a nature reserve has been built around it to protect it. There are also interesting Iron age discoveries made near to the tree and a fort built for protection against the British, views from the fort of Pretoria are exceptional.
The Wonderboom Nature reserve is open from 7am to 4pm in Winter and 7am to 6pm in Summer (entrance to nature reserve will only be allowed until 1 hour before closing time).
Where: 275 Jacob Maré Street, Pretoria.
Cost: Adults (13 years and older) pay R25 entrance fee, Kids aged 7 to 12 years pay R15 and Children aged younger than 6 years pay R9. Pensioners pay R16.
Contact: 012 341 5204
9. Best Italian at Alfie's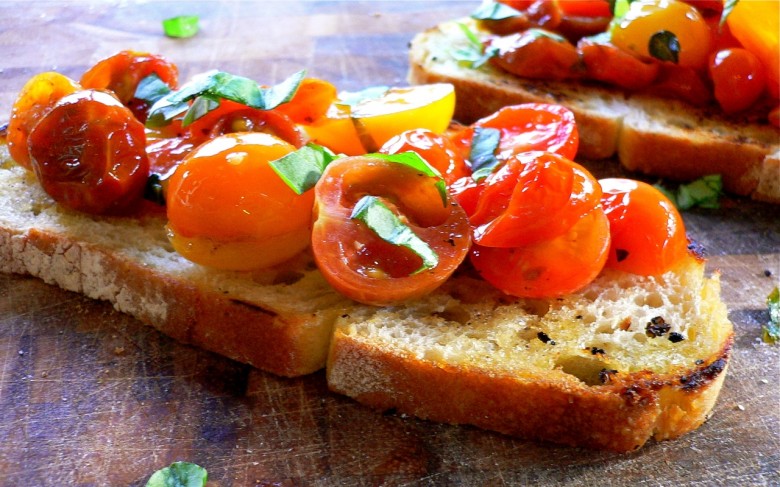 Courtesy of What We Love Most
For authentic italian head to Alfie's. Locals rave about Alfredo Fiachetti's traditional Italian Restaurant, the proof is that it's always full so remember to make a reservation. You can't go wrong with bruschetta, fresh pasta or rack of lamb.
Where: Hazelwood Rd, Pretoria.
Cost: about R150-R200 for a meal and drink.
Contact: 012 346 7873
10. Park Acoustics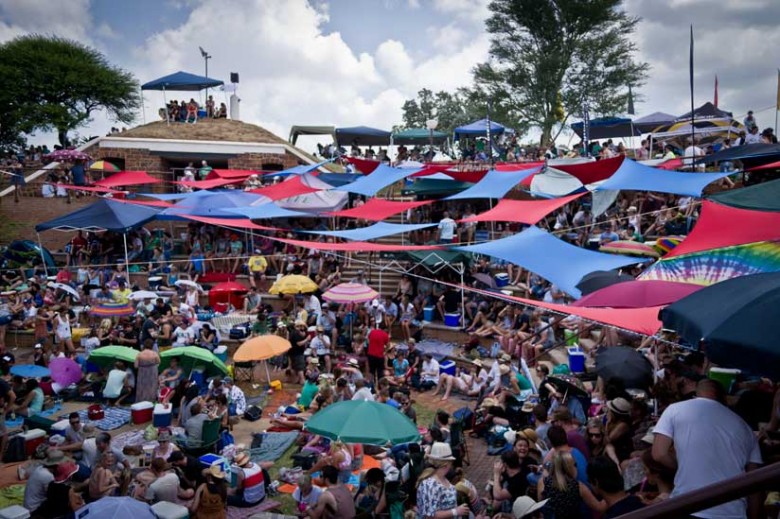 Courtesy of Francois at Humology
The perfect way to outrazzle the Sunday blues. Park Acoustics is a monthly outdoor music festival that happens at the Voortrekker Monument and features some of the best local musicians.
Cost: Tickets cost R150 online and R175 Gate. It's free for kids under the age of 6, R15 per vehicle. No under 20's except for kids under 6 accompanied by their parents.
Website: Park Acoustics
11. Have a cold one at Capital Craft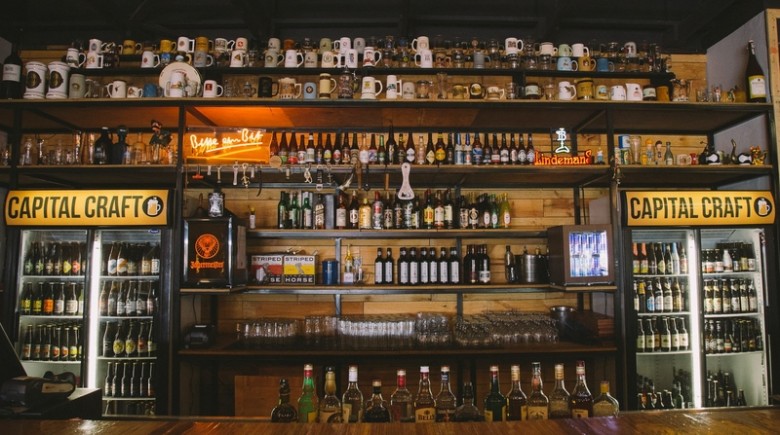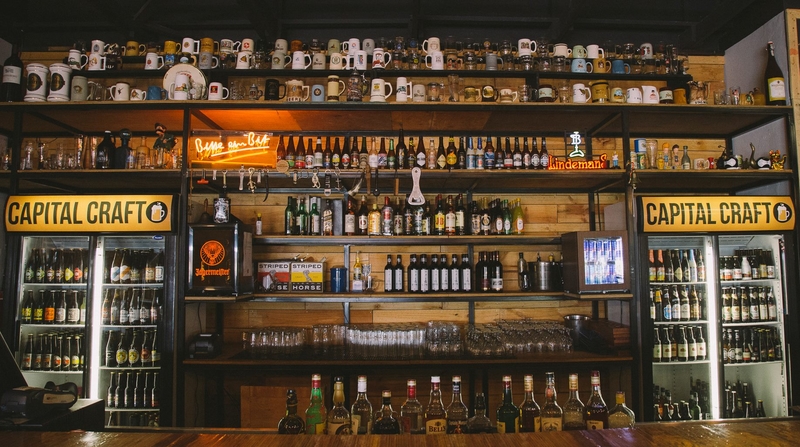 Courtesy of Capital Craft Facebook Page
Craft beer fans will be in heaven, they add new beers to their collection regularly. Try their new black mushroom and white cheddar burger for vegetarians, add a beef patty if you're not. Their Crafty bitch hot dog is a winner as is their pulled pork sandwich.
Open on Tuesdays from 2pm til Midnight, Wednesdays to Saturdays from 10:30am til Midnight and Sundays from 10:0am til 8pm.
Where: Shop 20, Greenlyn Village Centre, Corner of 12th Street East & Thomas Edison, Menlo Park, Pretoria.
Cost: About R100 for beer and meal.
Contact: 012 424 8601
12. Picnic in front of the Union Buildings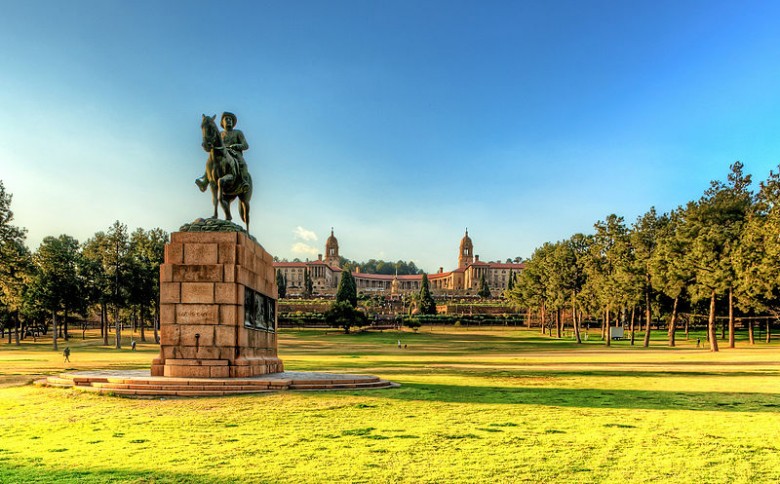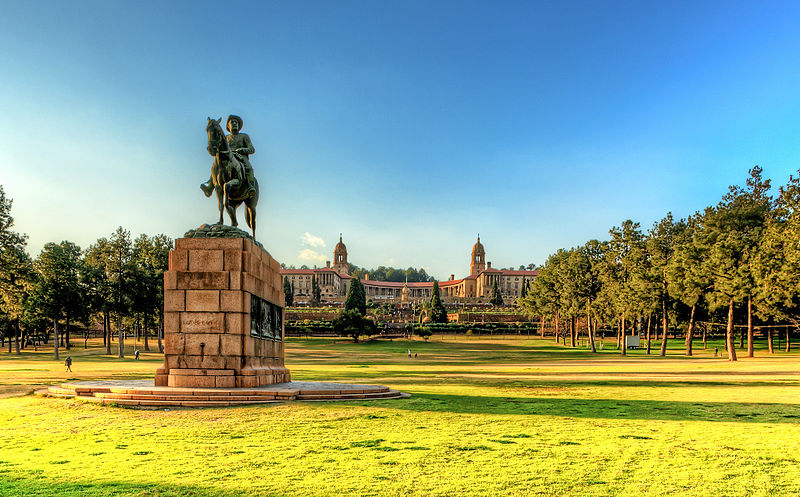 Union Buildings courtesy of Wikipedia Republished
It's practically always picnic weather in Pretoria (Pretoria can claim being on average 2 degrees warmer than Joburg) so pack some picnic stuff and head to the gardens of the most famous buildings in South Africa. Be sure to visit the 9m statue of Mandela and take in the view.
Cost: Free.
13. Explore Duncan Yard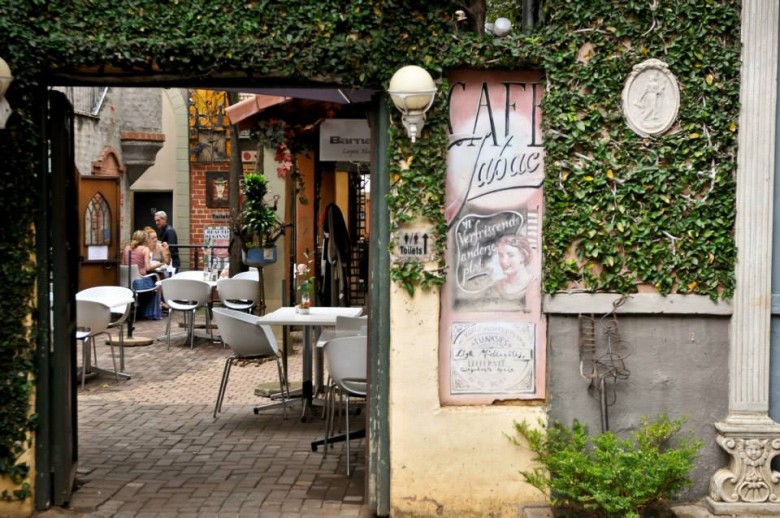 Courtesy of Duncan Yard Facebook Page
This is the place to pick up a unique antique, or find the right gift in fashionable Hatfield. Breathe in the heavenly scent of fresh flowers from the "Florist @ Duncan Yard", get your nails done, lunch at Deli on Duncan or at Papa's Real food. You could spend an entire afternoon here happily investigating all the little boutiques.
Where: Duncan St, Pretoria.
14. Visit the Boeremark for the best vetkoek and pancakes in the world!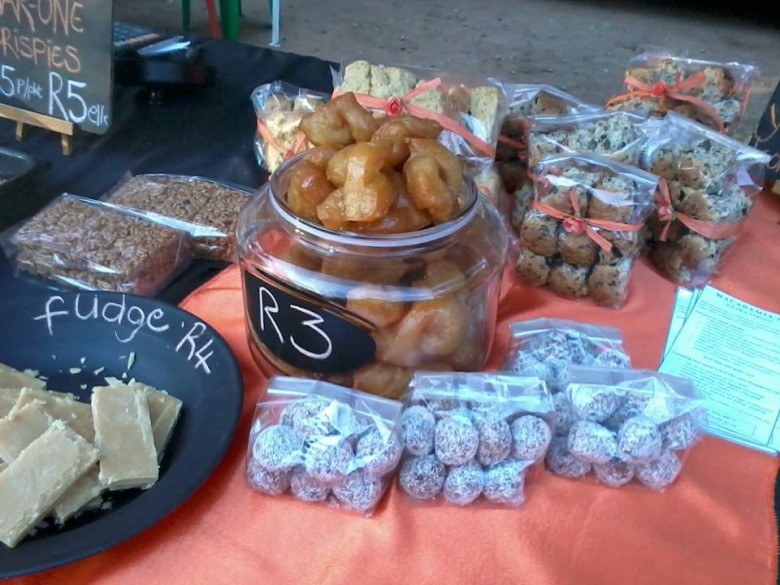 Courtesy of The Boeremark Facebook Page
Pretoria's best kept secret and worth an early Saturday morning start.
The market is open on Saturdays from 05:30am to 09:30am.
Where: Keuning Street, Pretoria.
Contact: 079 987 1025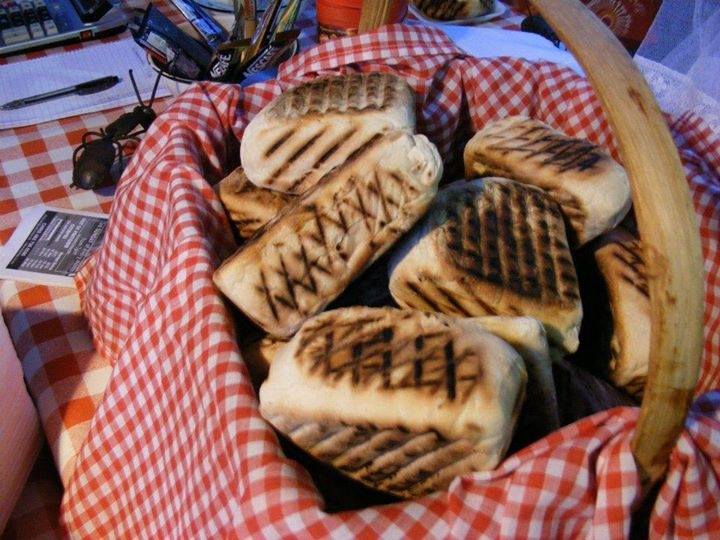 Courtesy of The Boeremark Facebook Page
15. Cheer at Loftus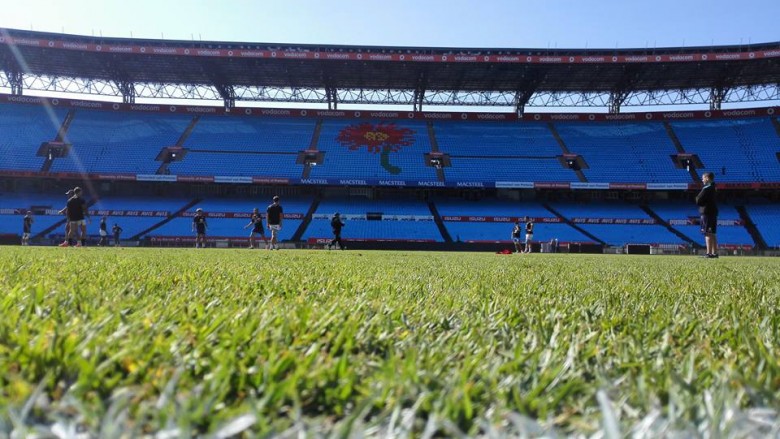 Courtesy of Blue Bulls Facebook Page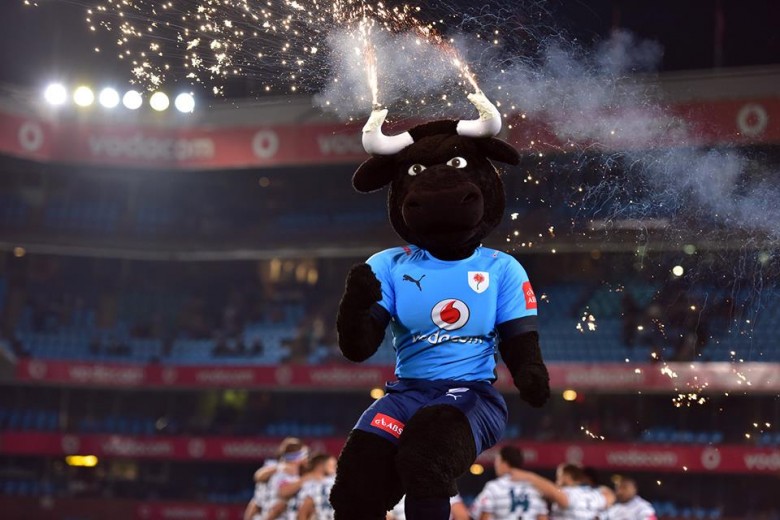 Courtesy of Blue Bulls Facebook Page
There's nothing like the frisson in the air, the raucous cheers of fans and the smell of sizzling boerewors when watching a team play on their home turf.
Where: Kirkness St, Pretoria.
Cost: Tickets range in price from R10 to R250. Get your tickets here.
16. Visit Mrs Ples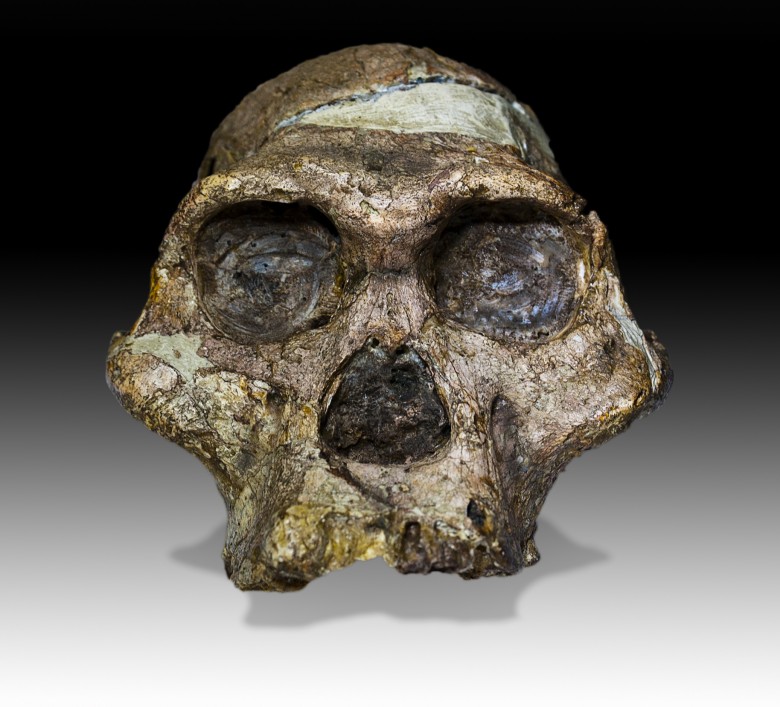 Mrs Ples Face uploaded by Archaeodontsaurus on Wikipedia Commons
Pay a visit to Mrs or indeed Mr Ples, one of the most complete examples of a pre-human skull ever found. Mrs Ples is a mighty 2.3 million year old skull you can visit at the Ditsong National Museum of Natural History (formerly the Transvaal Museum).
The museum is open every day from 8am to 4pm except Christmas Day and Good Friday.
Where: 432 Visagie St, Pretoria.
Cost: R25 for adults, R10 for children.
Contact: 012 322 7632
17. Challenge yourself at the Climbing Barn
Courtesy of Climbing Barn Facebook Page
The Climbing barn is a well established climbing facility with over 450m squared of climbimg walls.
Open Monday to Friday 4pm to 9pm, Saturday 10am to 8pm, Sunday 10am to 6pm. Public Holiday 10am to 6pm.
Where: Plot 210, Korhaan str, Mooiplaats, 183, Pretoria.
Cost: Day Pass R70 for adults, R65 for students, R60 for scholars, R65 gear hire (rope, shoes, chalk bag, harness). Beginner classes offered.
Contact: 082 335 3220
18. Blue Crane Restaurant
Courtesy of Blue Crane Restaurant Facebook Page
The Blue Crane is a thatched restaurant has an unbeatable setting with a sun deck by a lake in a bird reserve. Perfect for a lazy weekend lunch. Their Sunday breakfast buffet is offered from 9am to 11:30am, R135 for a hot and cold buffet breakfast. The lunch buffet menu changes every week so give them a call on
012 460 7615/7 to find out what's on offer this Sunday. Lunch starts at 12:30am.
Where: Melk St, Pretoria.
Cost: About R160 for the main course only and about R220 for the full buffet.
19. Take a drive down the longest street in South Africa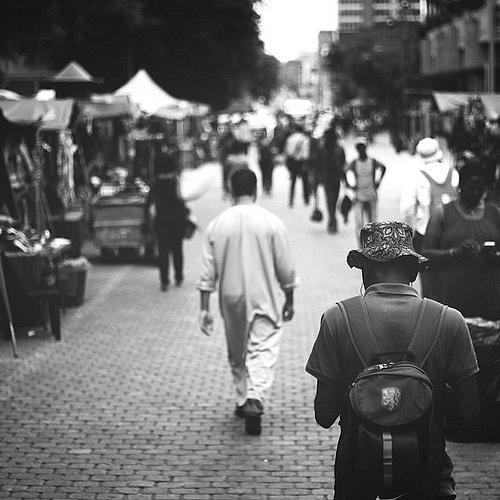 Church Street courtesy of Tyler Yeo on Flickr
Pretoria boasts the longest urban street in South Africa and one of the straightest urban streets in the world. Stanza Bopape, Helen Joseph, W F Nkomo and Elias Motsoaledi streets (formerly all known as Church Street) are worth a drive to take in the buzz of the nerve centre of Pretoria and the historical buildings and to reflect on the anti-apartheid struggle.

Courtesy of Antique Print Gallery
20. Go mountain biking in Groenkloof Park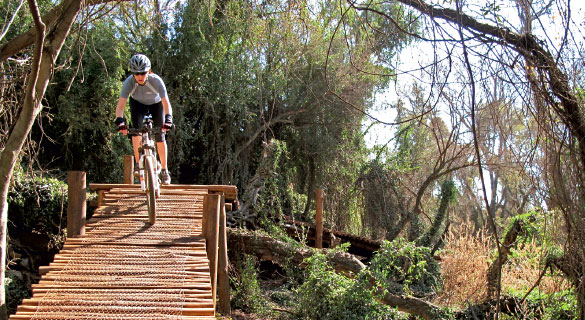 Courtesy of Bicycling.co.za
Groenkloof Nature Reserve is the first and oldest game sanctuary in Africa. There's a 20km mountain bike trail to explore and you might pass some curious giraffes and zebra as you navigate the reserve. Various guided horse trails are also available with a minimum of 4 horses and a maximum of 6 horses (pony trails for children also available). Though generally safe exercise caution when running or cycling alone and don't leave valuables in your car.
Open to day visitors from 5:30am to 7pm in summer, and 7am to 6pm in winter.
Where: Eeufees Road & Christina De Wit Ave, Groenkloof, Pretoria.
Cost: R25 entrance fee.
Contact: 012 440 8316
21. Hazel Food Market, Menlo Park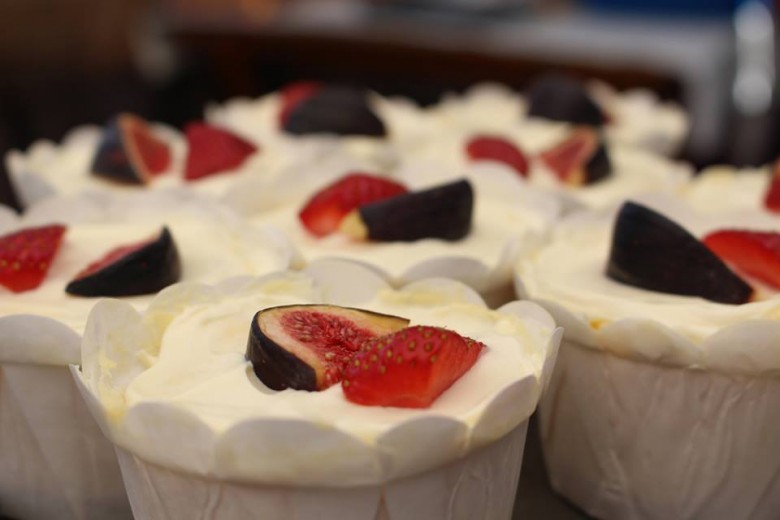 Firmly in its stride in its sixth year, this Menlo Park Saturday market staple Greenlyn Village Centre, Corner Thomas Edison and Mackenzie. Nammie's mini cakes are a must eat with a bullet-proof coffee. And if you're feeling adventurous and epicurious a jar of Stanley's snails in a french burgundy butter, parsley and garlic style.
Open every Saturday from 8am to 2pm.
Contact: 083 554 5636
Courtesy of Hazel Foodmarket Facebook Page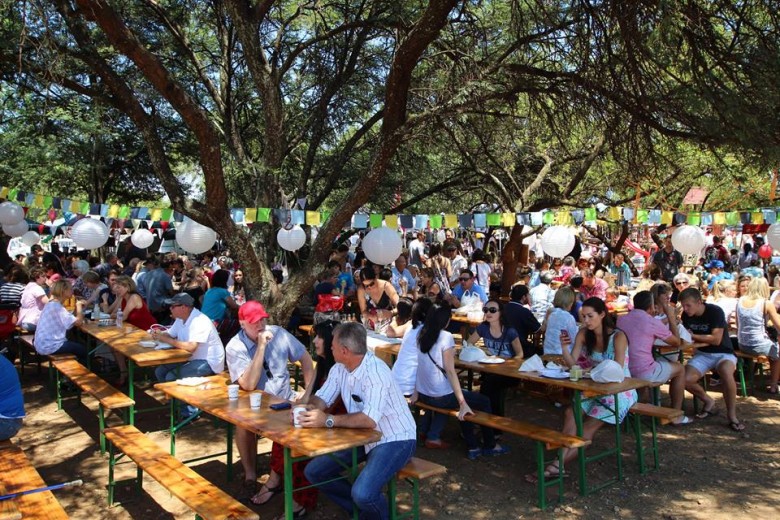 Courtesy of Hazel Foodmarket Facebook Page
22. Seek out the Urban Being Sculpture and Spirit of Tshwane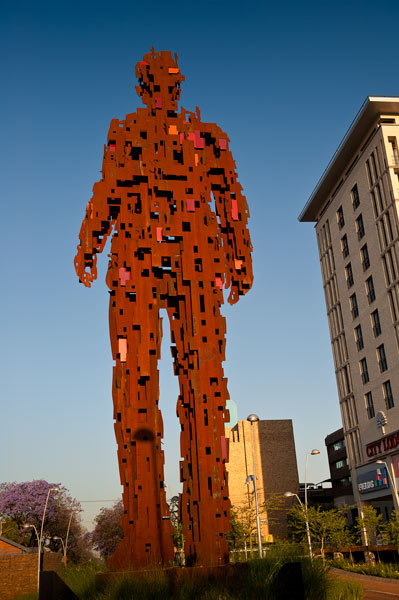 Urban Being Sculpture courtesy of MarcoCianfanelli.com
There is interesting outdoor art to be experienced if only you know where to look. Marco Cianfanelli is the acclaimed sculptor responsible for the outstanding Mandela Capture Site monument. His Urban Being Sculpture stands at nearly 12 meters high weighs 8.2 tons and can be found at the front of the Pretoria City Lodge. The Fields, 407 Hilda Street. He says, 'I am interested in making things that prompt a sense of the complexity of the present'.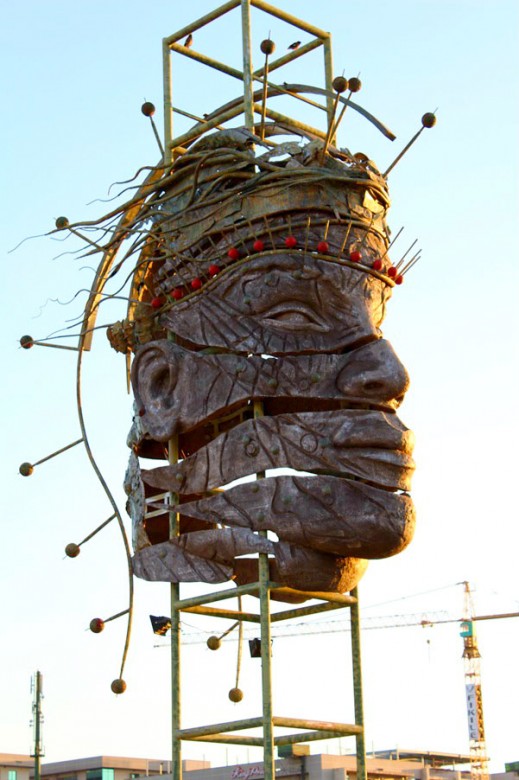 The Spirit of Tshwane courtesy of Urban Africa.net
The Spirit of Tshwane by Anton Smit can be found at Aramist Avenue, Menlyn Maine. The sculpture is designed to represent the spirit of the local Apies River (known as the Tshwane). The river is symbolized by flowing elements attached to the heads but Tshwane also means 'we live together therefore we are interdependent" which the sculptor asserts is symbolized by the two main heads growing from each other.
23. Enjoy the Jacaranda Trees in bloom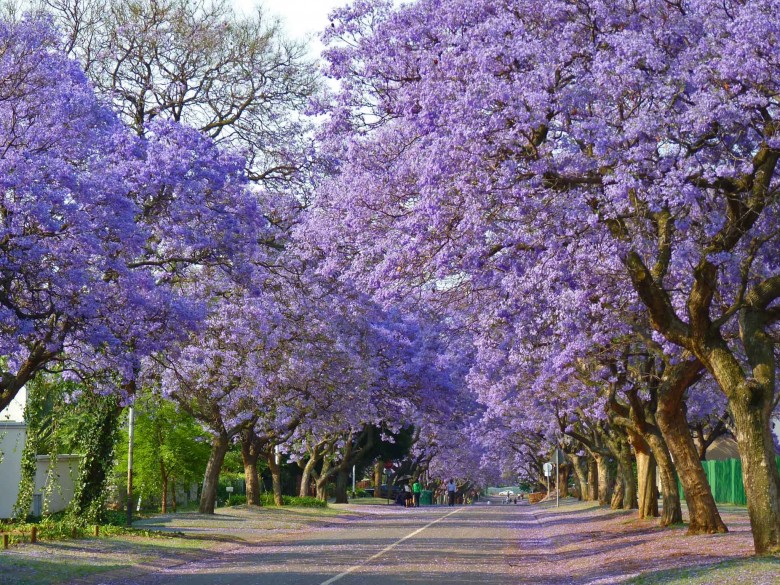 Yes there is more to Pretoria than the beautiful purple aliens that line the streets giving hope to frantically cramming students each time a bud falls on their heads (legend has it that when the jacaranda blossom strikes you're sure to pass). But these iconic trees are in danger as they have are infected with a fungal condition, also because they are classified as aliens, no more can be planted to replace the diseased trees. So enjoy the jacarandas while they last. Nelson Mandela wrote about sitting under the jacarandas at lunch during the Treason Trial "those moments under the shade of the jacaranda trees on the vicarage lawn were the most pleasant of the trial."
24. Stay In the house designed for artist Walter Batiss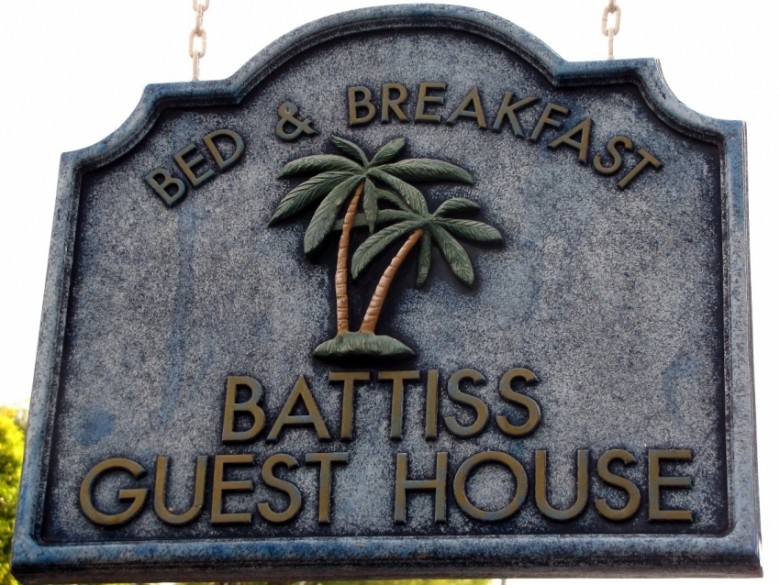 Battiss Zeederberg Guest House courtesy of Pretoria City Seekr
Norman Eaton designed this house in 1939 for influential South African abstract artist Walter Battiss and the Battiss murals on the walls and bathroom floor remain to this day. Battiss is famous for his unusual philosophy whereby he imagined a utopian paradise he called Fook Island. Take a break and experience a slower pace of life the Battiss way.
Where: 92 Twentieth Street, Pretoria
Cost: This one exceeds our budget slightly- it costs R390 per person sharing per night to stay at the Battiss Guest House.
Contact: 012 346 4145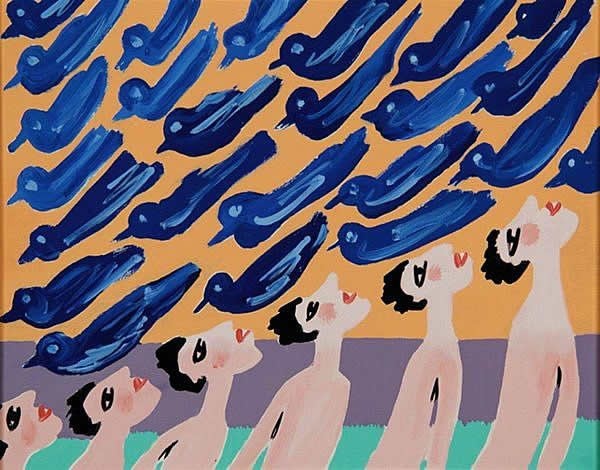 Painting by Walter Battiss courtesy of Karoo Heartland
25. Attend the "Not a Dead Poetry Society"

Courtesy of Dowe Digters Facebook Page
Die Dowe Digters was established four years ago by Andries De Beer as an informal platform for creative writers, poets, musicians, composers and songwriters to perform and network. It is now an important part of the Pretoria social fabric. The open mic/poetry starts at 8am, followed by the band then more open mic. For updates on their events go here.
Where: It's held at Die Proviand (Fort Schanskop), every last Thursday of the month.
Cost: R30.
Contact: David on 076 128 0667.
26. Old Mutual Concerts At Beautiful Pretoria Botanical Gardens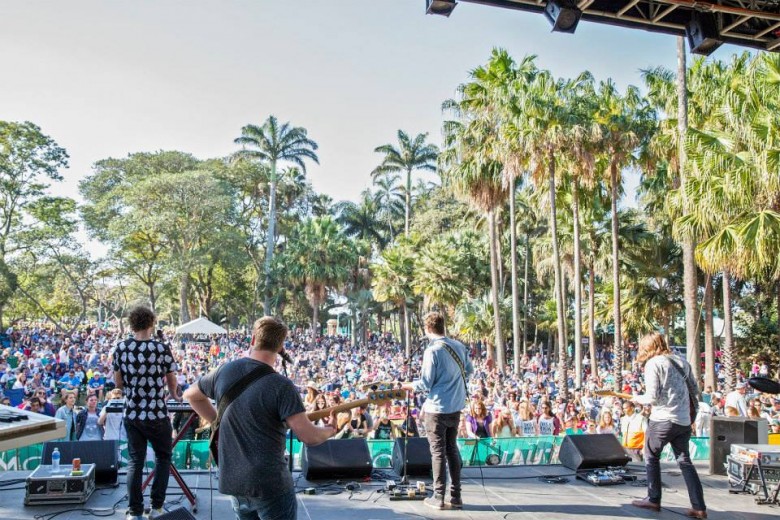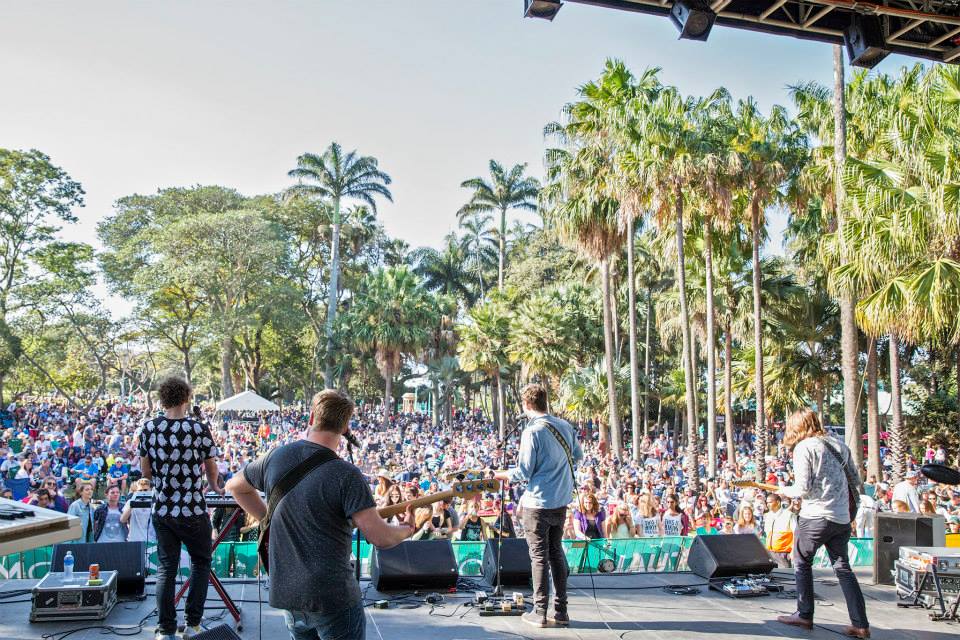 Courtesy of Old Mutual Music in The Gardens Facebook Page
The Old mutual Music in the Gardens concerts are a Pretoria staple. Take a picnic blanket, some snacks and have a laid back afternoon enjoying the festive atmosphere and top South African music acts. Find schedule info here.
Where: 2 Cussonia Ave, Pretoria.
27. Go on a Game Drive at the Rietvlei Game Reserve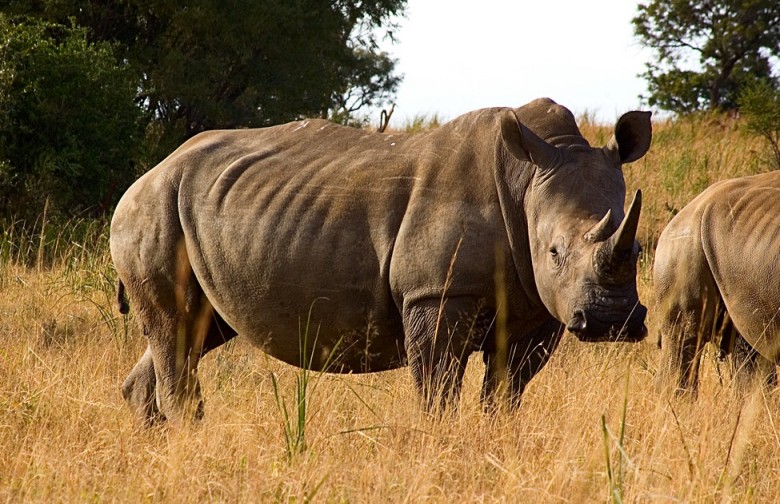 Courtesy of Andre van Rooyen on Flickr
Home to protected rhinos this is the best bush break by a city (the largest game reserve within city borders in the world). Make use of the riverside picnic area, the birdhide, have breakfast or lunch at the café. Interesting to note that the dam at Rietvlei supplies Pretoria with 15 % of its water supply.
Opening times in Summer (months September to March) are 05:30am to 5pm and in Winter (months April to August) 6am to 4pm.
Where: Nelmapious Drive, Centurion, Pretoria.
Cost: Entrance for adults is R45 and R25 for kids aged 6 to 16 years of age. R5 for kids under 6 and R25 for pensioners. You can go on a pre-booked game drive (with minimum 10 pax, maximum 20) from 6am to 10:30pm on Mondays to Saturdays (under guidance). The drive takes approximately 2 hours. This costs R165 per person with a minimum deposit of R660 in advance. You can do your own bring and braai after the game drive.
Contact: 086 658 0596
28. Pretoria Banting Market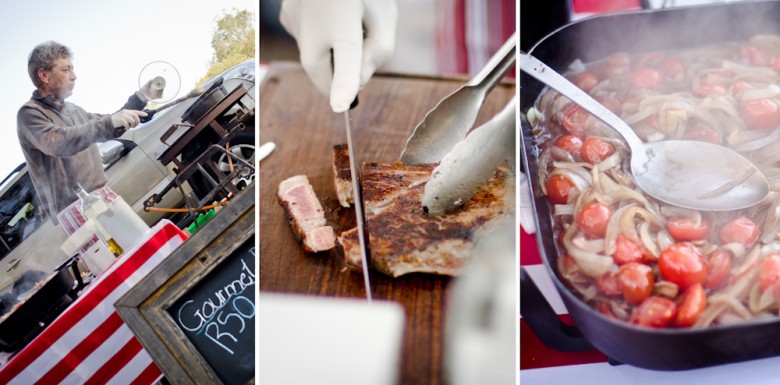 Banting Food Market Pretoria.co.za
The Banting market is set in the Botanical Gardens so you can get your fix of healthy, high-fat, low-carb products while taking a relaxing stroll in a beautiful setting.
Open from 9am to 1pm on the first Saturday of every month.
Where: 2 Cussonia Ave, Pretoria.
29. Meet on Milner, Waterkloof
Courtesy of Meet on Milner Facebook Page
Meet on Milner is great for adults and kids alike. Adults can wind down with a glass of wine, excellent fillet steak, live music and convivial atmosphere while kids are entertained.
Where: Find them on the Corner of Long & Milner in uber trendy Waterkloof.
Contact: 083 627 8172
30. Take on Pretoria by bike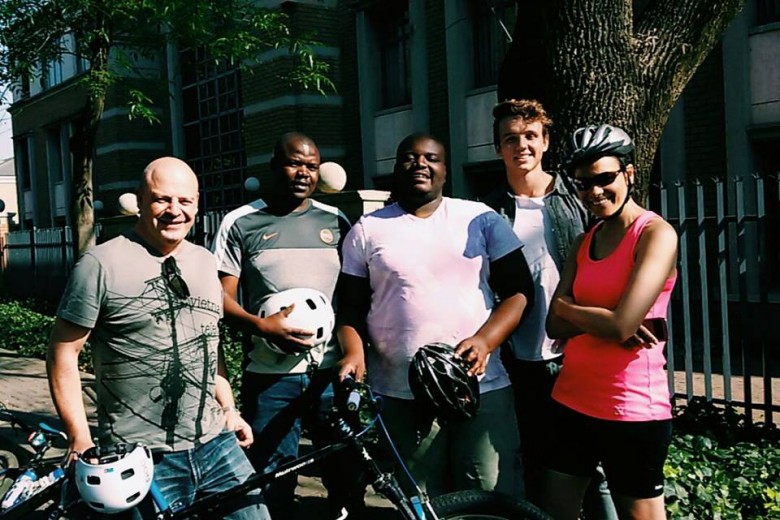 Courtesy of Capital Collective Pretoria Facebook Page
Capital Collective (ever active in revitalising Pretoria's inner city) are involved with the City of Tshwane  in creating a new cycling route that stretches from Brooklyn Mall to the Botanical Precinct along the Walkerspruit river. A launch date is still to be announced but the route is already mapped out so should be a few weeks! Watch this space for updates. Healthy living in a revitalized Pretoria.
You Might Also Like: Free & Fun Things To Do In Pretoria For Under R100