Docklands Hotel in Durban
I remember a time when Durban's Point Road area was a frightening underworld with a dubious future.  As a teenager in the 90's we were warned by our parents and our friends' parents of the acute danger associated with visiting a certain well-known nightclub in the Point Road area. Needless to say, these warnings often went unheeded and most of us made it through school and the start of our working lives unscathed.
Fast forward to 2011 and times have changed dramatically. The Durban Docks have followed in the footsteps of city improvement districts in Cape Town (Sea Point, Woodstock) and Johannesburg (Newtown). By building on its unique postindustrial, Art Deco foundation; Durban has developed one of South Africa's most sought after neighbourhoods in the Point. Now accessed via Mahatma Gandhi Rd (previously Point Rd), the area is a bustling up and coming district of trendy sidewalk cafes, upmarket apartments and hotels and romantic canals.
Docklands Waterfront Hotel in Durban
This week we're offering you the chance to experience Durban's Point Waterfront quarter for just R880 per person sharing for two nights at the Docklands Hotel.
The Docklands Hotel at the Durban Waterfront is part of the Signature Hotel Group and opened in June 2010. All 83 rooms are designer decorated, inspired by the urban landscape and offer stunning views over the Indian Ocean and Durban Harbour. Every aspect of the rooms from the amenities to the décor has been carefully considered in a bid to offer the ultimate comfort for business and leisure travellers. All bathrooms are equipped with expansive showers and power showerheads, and the hotel offers state-of-the-art conferencing facilities large enough to accommodate up to 600 delegates.
Book the Docklands Hotel package now and check out the video below showing the room with a view at Durban's Docklands Hotel.
Docklands Hotel Features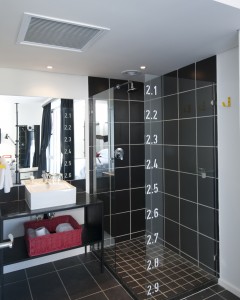 Free Wi-Fi
Airport Shuttle Service
Enjoy fine dining at the award winning WODKA Restaurant serving intercontinental cuisine in a New York style bistro
Access to nearby Golf Course
Bicycle Rental
Nearby Durban Attractions
Docklands at the Durban Waterfront is located close to all the highlights of the city. You're not far from the Golden Mile and Durban's Blue Flag beaches, Moses Mabhida Stadium and the ICC. uShaka Marine World is on your doorstep and the hotel offers a free shuttle to and from the aquarium and entertainment complex. Enjoy world class restaurants at uShaka Marine World including Moyo and the opportunity to dine with dolphins and sharks at the Cargo Hold Restaurant. Your children will love the aquarium and the 'Wet n' Wild' water world park with all its concept slides.
Point Waterfront Accommodation + Flights to Durban
Fly into Durban's new(ish) King Shaka International Airport (flights not included in the R880 price) and stay at the Docklands Hotel in Durban's refreshingly tasteful Point Waterfront development. This standalone accommodation offering includes a 2 night stay at the Docklands Hotel for just R880 per person sharing and breakfast daily.
Call the Travelbar now on 0861 878 278 to book this Durban hotel. If you're not based in Durban and want to take advantage of this special offer from Signature Hotels and Travelstart then our consultants will also be able to help you with flights to Durban and car hire.
Find conditions and book
Directions to Docklands Hotel
Directions to the Docklands Hotel in Durban from King Shaka International Airport:
From King Shaka Airport get on to the N2 southbound towards Durban
Take Exit 182 Umhlanga/Mount Edgecombe to the M41
From the M41 get on to the M4 South towards Durban
Head passed the Moses Mabhida Stadium and travel right through the city until you get to the old Customs building on the Esplanade
At the Customs building turn left into Winder Street and then right into Mahatma Gandhi Road
Travel down Mahatma Gandhi (previously Point Rd) until you get to the Docklands Hotel (on your left) on the corner of Browns Road and Mahatma Gandhi
Docklands Hotel Durban images Signature Hotels | Video Credit Docklands Hotel Durban: Andreb2129 | Point Road photos NY Times & Durban Point Waterfront