Escaping the desert heat of the UAE is best done at one of Dubai's famous water parks, but the question on everyone's mind is which one? Jonty Medcalf from our direct sales team took on the challenge and visited both Aquaventure Waterpark (at Atlantis The Palm) and Wild Wadi Water Park (adjacent to Jumeirah Beach Hotel) on a recent holiday. See who came out on top in a slippery battle which pitted Aquaventure against Wild Wadi.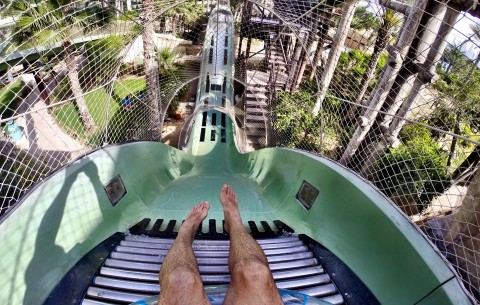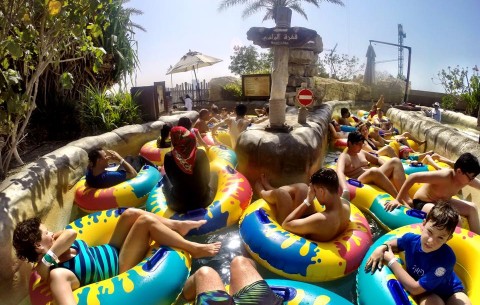 Aquaventure at Atlantis The Palm (left), and Wild Wadi Water Park near Burj Al Arab (right)
Park Grounds
Aquaventure opened in 2008 along with the famous hotel it shares grounds with – Atlantis The Palm. Spread over 42 acres of pool areas, palm tree shaded grass and a 700m long beach, at Aquaventure Waterpark there was more than enough space to settle in and make a day of it. Because of the large grounds it was easy to find a quiet spot.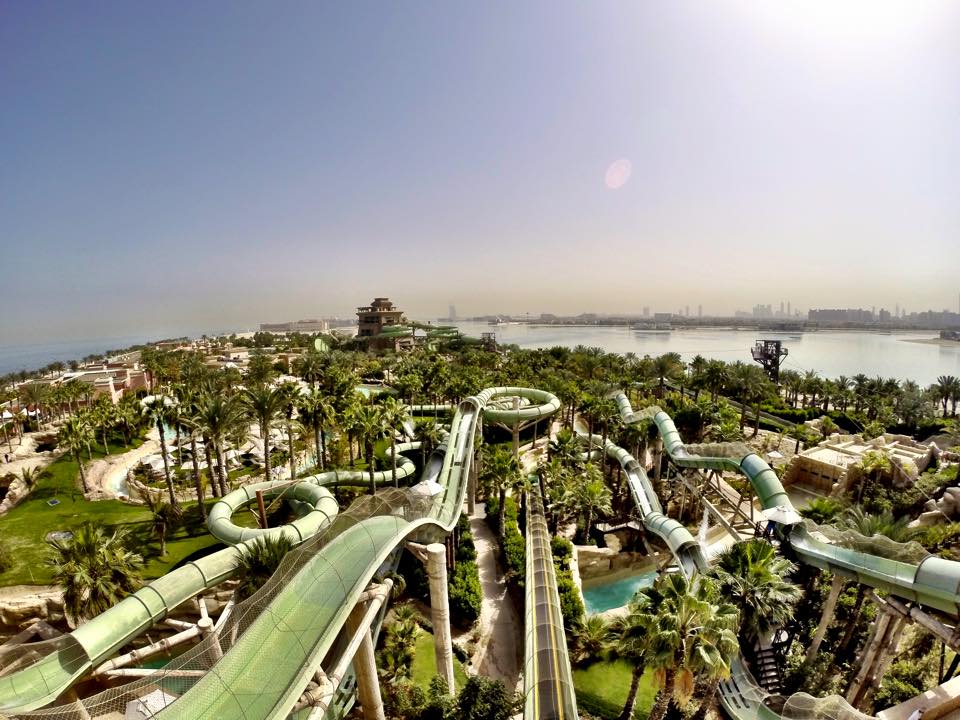 Wild Wadi, which opened in 1999 as Dubai's first water park, is spread over only 12 acres and it is much smaller than Aquaventure so at times it also feels much busier. Unfortunately there is no direct access to the beach from the park, however the park has its own man-made beach and the views of the iconic Burj Al Arab are excellent!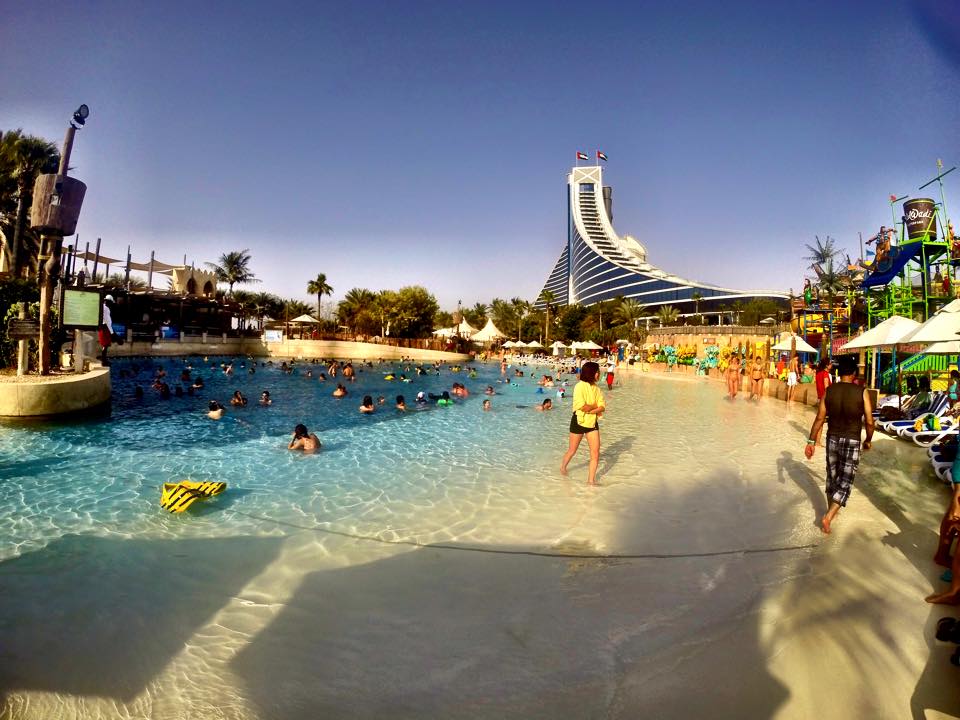 Aquaventure grounds: 9/10
Wild Wadi grounds: 7/10
---
Food & Beverage
Aquaventure has 16 food and beverage outlets and kiosks with something to suit every taste. Most meals start from around 50AED. Portions are generous so we shared a meal and it was more than enough. When you purchase your entrance ticket you can add a meal voucher for 45AED which seemed like good value.
Wild Wadi has 2 main restaurants and a number of kiosks spread around the park. We also chose to share a meal here and like Aquaventure we found the portions generous.
Both parks do not allow you to bring in food from outside, however, on both visits we packed some fruit and a bottle of water each and we had no issues.
Aquaventure food & beverage: 8/10
Wild Wadi food & beverage: 7/10
---
Rides
Now for the fun part! Most of the rides at Aquaventure Waterpark take place from "The Tower of Neptune" and "The Tower of Poseidon" with various river rides in between. The Tower of Neptune holds the fabled "The Leap of Faith" ride. A near vertical slide drops you from a height of 9 stories through a clear Perspex tube surrounded by sharks and rays. In all honesty you are going too fast to appreciate the marine life but it's a lot of fun nonetheless.
In the Tower of Poseidon, Poseidon's Revenge involves climbing into a capsule and once the floor gives way you hurtle at speeds of 60km's per hour to the finish. Aquaconda and Zoomerango are two huge raft slides that I really enjoyed. Each raft holds up to six riders. The Rapids is a 1.6km river ride with lots of white water sections, and The Torrent is another river ride that creates waves of up to one metre to push you along the river. Aquaventure allowed me to take a GoPro on all the rides.
For little kids, Aquaventure has the Splashers Play Area which is filled with mini slides, climbing frames and various water games to keep the young ones entertained for hours. Many of the river rides at Aquaventure are also suitable for them.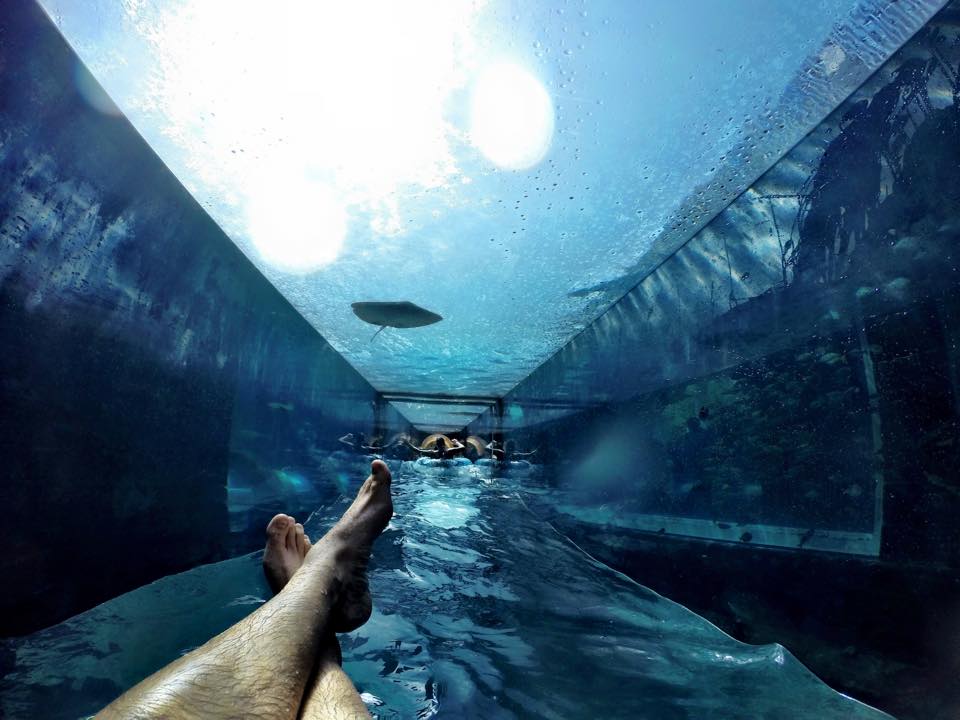 At 33 metres in height, Wild Wadi's Jumeirah Sceirah is Dubai's highest ride. You step into a launch chamber and after a countdown the floor gives way rocketing you near vertically to the bottom. I found this ride to be more of an adrenaline rush than The Leap of Faith at Aquaventure.
Burj Surj at Wild Wadi has two large sections of downhill water slides for inflatable rafts. Another great attraction at Wild Wadi is what they call the Master Blasters. Best described as a water roller coaster that uses jets to push you and your tube uphill, and on to the next downhill. These are so much fun and I went a few times.
For the little ones Wild Wadi has Juha's Dhow and Lagoon with over 100 water activities specially designed for kids.
Another attraction unique to Wild Wadi Water Park is the "Wipeout Flowrider" (just like the one at Durban's Wavehouse). It is one of a few globally and gives you a stand up or lie down surfing experience. Throw the lazy river and a gentle wave pool into the mix and Wild Wadi manages to pack plenty of fun and excitement into their 12 acres. Wild Wadi also allowed me to take a GoPro on all rides except the Jumeirah Sceirah.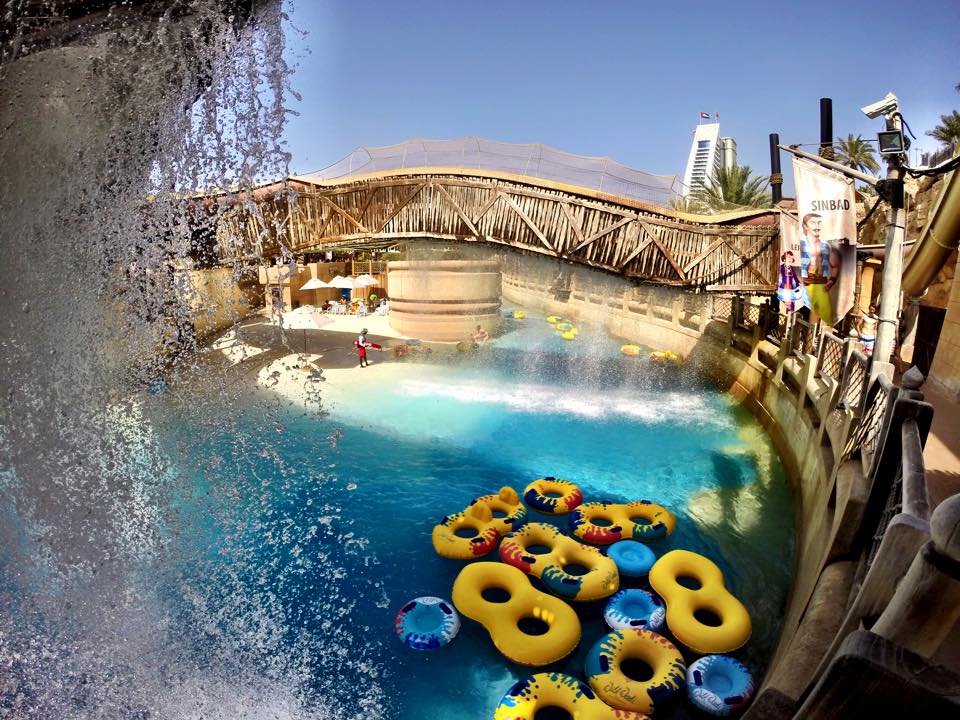 Aquaventure rides: 8/10
Wild Wadi rides: 9/10
---
Cost
A day out at either of these Dubai water parks is no cheap affair. Factor in travel costs, as well as locker and towel rental and food and you are spending a lot of South African Rand (at current exchange rates you can multiply by a little over 3 to get the ZAR equivalent). You could save yourself some money by taking your own towels, and we did not find a locker necessary at all. At both parks we left our bags unattended for long periods of time next to our sun loungers with no issues. This is, of course, at your own risk.
Aquaventure entry for an adult will set you back 250AED and 205AED for a child. You might have to add on a monorail fee to reach Atlantis The Palm.
Wild Wadi adult entry is 255AED and 195AED for people under 1.1 metres in height.
Aquaventure cost: 6/10
Wild Wadi cost: 6/10
---
Overall Experience
Being on the Palm and just getting to Aquaventure Waterpark is a unique experience. We loved the well-kept grounds and beach that Aquaventure offers, and found it a little more relaxing than Wild Wadi. The variety of rides were brilliant and on our visit the queues were not long at all. We would definitely come back to spend a day here.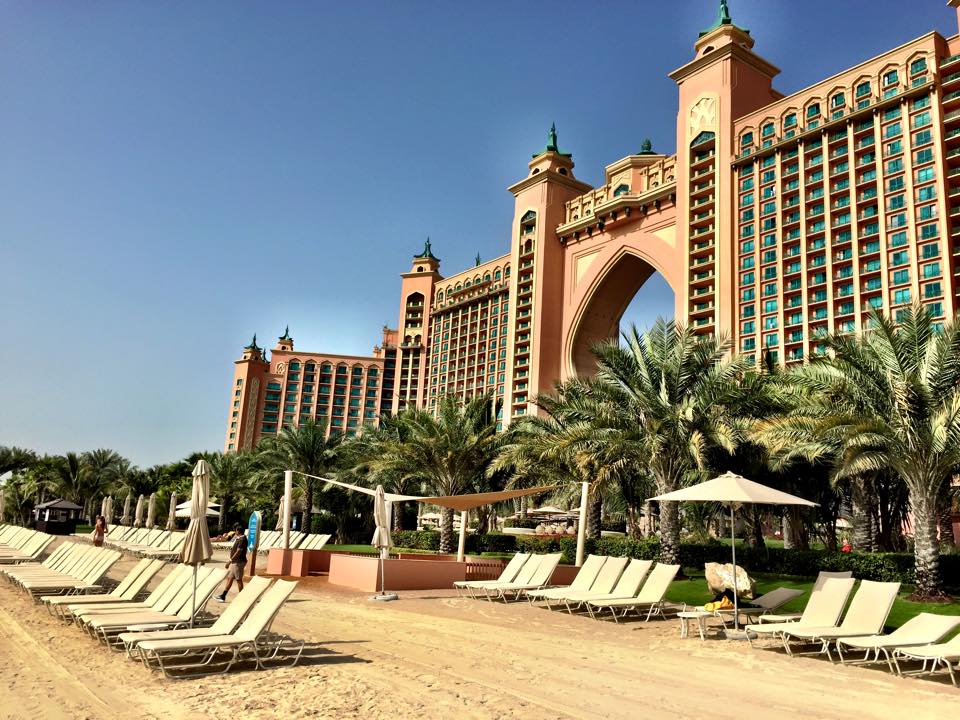 If it's pure adrenaline you are after I think Wild Wadi just nudges ahead here with their rides. Being quite a bit smaller though meant you felt the crowds more here as you're packed into queues for rides.
Service at both parks was excellent and staff were all very friendly.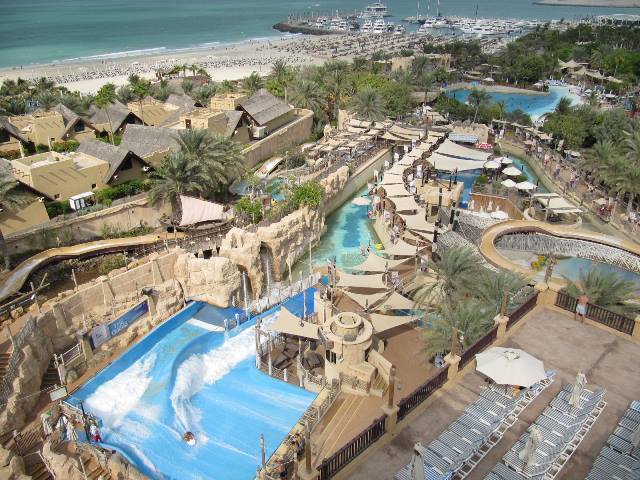 Aquaventure overall experience: 9/10
Wild Wadi overall experience: 8/10
---
Final Verdict
Aquaventure: 40/50
Wild Wadi: 37/50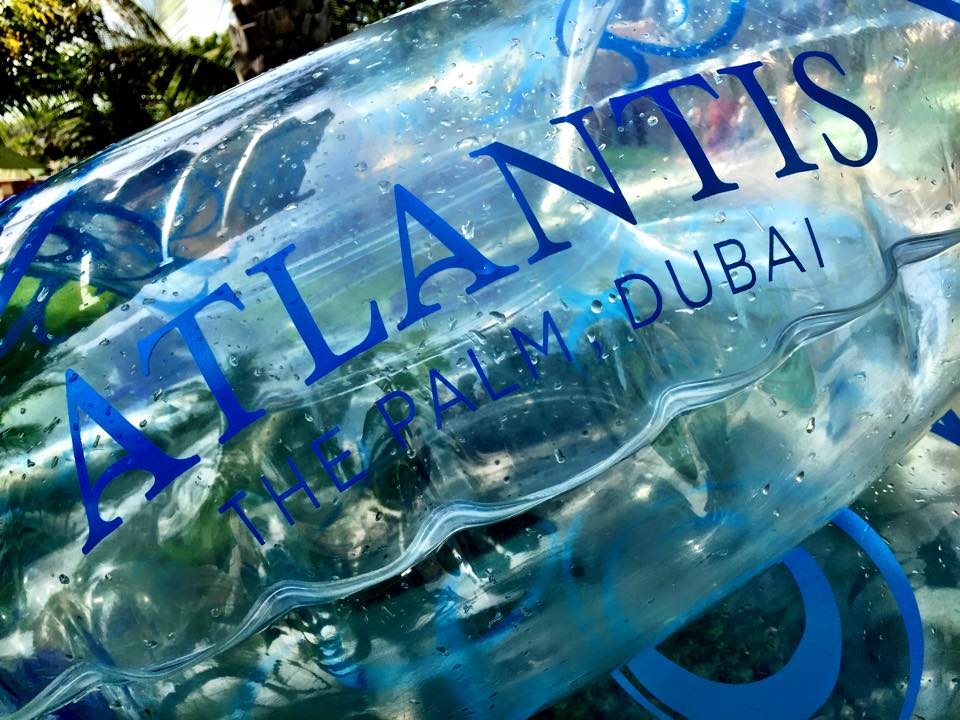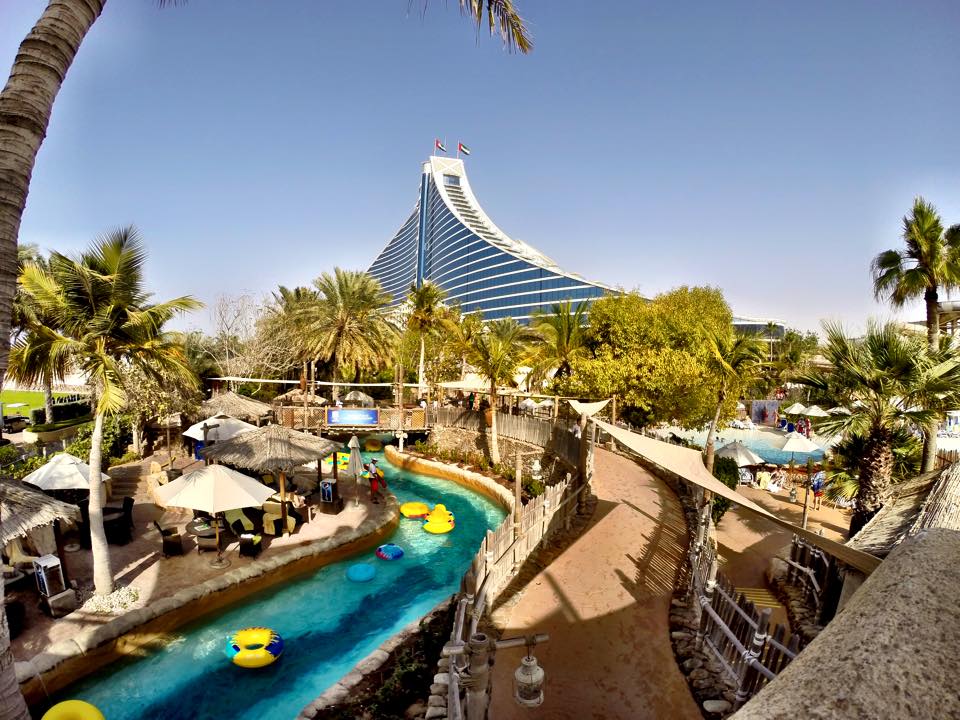 Both of these Dubai water parks set you up for a brilliant, if not tiring day out. Both Aquaventure and Wild Wadi are well-managed, and I really enjoyed both experiences so if you only have time for one water park I don't think you can go wrong with either one … flip a coin maybe. Personally I enjoyed our day at Aquaventure slightly more than that at Wild Wadi but if you have limited time and are only focussed on adrenaline then Wild Wadi might be best for you. Either way, 100% fun is guaranteed at each of these venues! Is it time to book one of those Dubai flights?