I
ndonesia
is an epicentre of biodiversity, hosting a greater variety of marine life than anywhere else in the world.
Its 13,466 islands, some of which are situated in the heart of
The Coral Triangle,
make Indonesia a diver's paradise.
We have pinpointed this diverse country's famed dive and snorkel spots to help you plan out your next big adventure.
In this guide, you can explore the dive sites that make up the world-renowned
Komodo National Park
, famed by UNESCO for its biodiversity and teeming unspoilt underworld.
We bare insight into the underwater sculpture museum of the
Gili Islands
, sunken Japanese warships from World War 2, getting up close and personal with manta rays and turtles in
Nusa Pinda
and what life would be like on a Liveaboard.
Gili Islands
The three small Gili Islands
(
Gili Trawangan
,
Gili Meno
and
Gili Air
),
fringed by white-sand beaches and coral reefs, provide some of the best snorkelling in
Southeast Asia.
Because of their close proximity to both
Bali
and
Lombok,
they can easily be accessed by a short boat ride.
The crystal-clear waters of these paradisiacal islands ensure incredible water visibility when viewing its teeming marine life.
Coral reefs surround all of the islands, flaunting off both their soft and hard corals. Parrotfish are in an abundance, as well as butterflyfish and surgeonfish, which can often be seen in large schools.
Other things to spot is the shy Moorish Idols or the Sixbar Wrasse.
The highlight of snorkelling in Gili has to be swimming with turtles, particularly the green sea turtle at Turtle Point. The underwater grassland a few meters off the shores provides an attractive feeding ground for these creatures.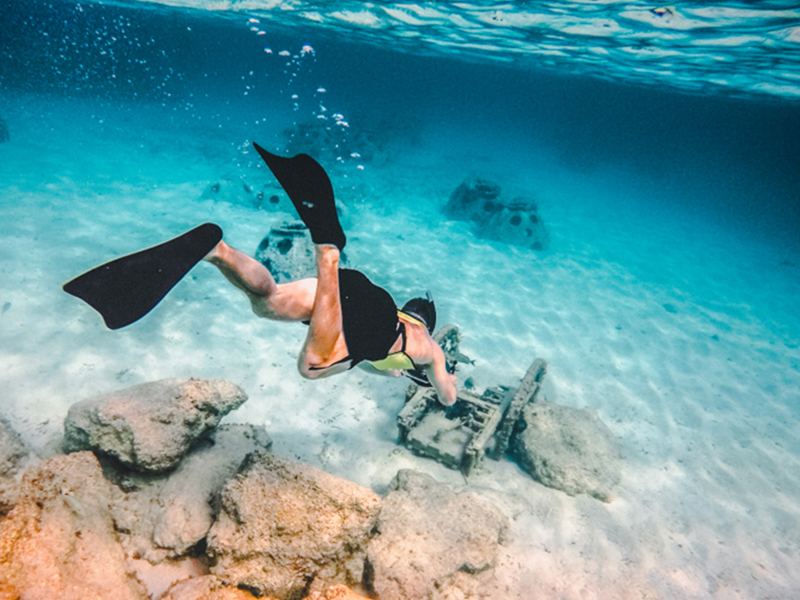 The Underwater Sculpture Museum
A few meters off the shores of Gili Meno you will find the incredible
underwater sculpture museum
featuring 48 life-size human figures arranged in a circle. Some of the figures stand together and some are curled up on the ground.
It was created by Britain born artist,
Jason de Caires Taylor
who has spent a big portion of his life creating incredible underwater museums, in the likes of the
Caribbean
,
Canary Islands
and in the
River Thames.
The sculptures are made from pH neutral, environmental grade concrete and based on the casts of real people. The idea behind these is to aid the growth of the dying coral reefs, by providing a natural home for new corals to form, thus transforming the sculptures into a reef.
Shipwrecks and other Wrecks
The Japanese Wreck off the shores of Gili Air is a favourite. It lies at a depth of 45 meters and is completely solitary, which means that there is only sand surrounding it.
The ship was used as a submarine patrol boat for the Japanese during the second world war, yet its initial origin and the reason for its sinking are still unclear today. It was left undiscovered for almost 40 years, and when discovered, bullets and empty magazines were found.
The bounty wreck lies at the bottom of the south-west coast of Gili Meno. It used to be a jetty for the Bounty Cruise Ship to dock back in the day. The top of the wreck features hard and soft corals, proving that the wrecks rich iron can stimulate coral growth. Be warned though, strong currents will prevent even the most experienced divers from swimming through it or even underneath.
What's more, is that at this site, you can view loads of car tires, mooring lines and even bikes. How these have become housed here remains an absolute mystery.
Another wreck to keep an eye out for is The Glenn Nusa. This tugboat, serving Lombok years ago, was bought over by and deliberately sunken by the Trawangan dive centres in an effort to stimulate a new coral reef.
Best time to visit
The rainy, or monsoon season runs from November to April, but the rains are not as heavy as on other nearby islands. The dry season runs from May through to October.
The best time to go scuba diving and to enjoy the best weather is between the months of July and August and December and January.
Nusa Penida
Nusa Penida can be visited as a day trip from Bali or as a trip on its own. It has a great variety of dive sites for experienced scuba divers and snorkelling enthusiasts can enjoy Manta Bay, home to a wide variety of Manta Rays.
Snorkelling
Snorkelling with Manta Rays will become your favourite activity in this region.
Manta Bay offers the best encounters. The abundance of plankton in these waters make it the ideal feeding ground for these mesmerizing creatures.
Some Mata's can grow up to 7 metres and weigh up to 3000kgs. But despite their size, they are completely harmless to humans.
Diving
Diving in Nusa is only for the more experienced divers. Possibly a highlight of diving here is to encounter the Mola Mola, a weird and wonderful ocean sunfish.
Although you can see these creatures in a number of spots, Crystal Bay's clear waters are arguably the best spot to see them during the high season. The sites huge coral pillar, starting at 5m has a white sand base and is teeming with other marine life. You can spot swarms of glassfish, the leaf scorpion fish, angelfish and banded sea snakes, to name a few.
Interesting this dive site gives way to other unique encounters. That is with bats! Bat Cave can be accessed from underwater, and you may encounter a few small white tip reef sharks on the way in. Its quite an experience for divers.
Leopard, wobbegong and guitar sharks can sometimes be spotted at this dive site too.
Manta Point is one of Nusa's furthest dive sites, taking approximately one hour to reach. Its coastline is rugged, unspoiled and absolutely beautiful, making the journey to get there worthwhile.
Its abundance of Manta rays is what makes this site. You will watch in wonder as the magnificent manta rays glide over the cleaning stations at Manta Point. Some of the mantas here have wingspans of more than three meters and all have an individually unique black, white or grey pattern on their undersides.
Blue-spotted rays can be found here too, usually on the ocean floor and lying on top of each other.
Other marine life to keep an eye out for are: bamboo sharks, octopus and Mola Mola.
Other dive sites to consider is Malibu Point, perfect for a drift dive and an opportunity to see one of Bali's wildest sharks, the Thresher Shark.
Sental, PED, SD along Nusa Penida's north coast are also great!
Best time to visit
You can visit Nusa Penida's many dive sites throughout the year, but currents may be affected by the monsoon season. The optimal time is when the seas are calm between November and May.
If you are heading there to encounter the Mola Mola's, it is best to visit during the months from July to October. This is the season whereby these spectacular animals frequent these waters.
Manta Rays can be spotted all year round.
Pink Beaches
Far from civilisation and reached only by boat, Serai Island's beach blushes a rich shade of pink. The boat anchors a few metres from the shoreline to protect its spectacular coral reef, leaving you to swim to shore.
This incredible natural wonder gets its striking colour from thousands of broken coral pieces, shells, and calcium carbonate materials left behind by red microscopic animals called
Foraminifera
. These live in the coral reefs that surround the beach.
Pink is not the only colour you will see. The island is a marvel of all the colours of a rainbow. The sandstone cliff overlooking the beach boasts a shade of yellow and the trees that surround the beach are lush green. What's more, these colours are contrasted with its lapping clear blue turquoise waves and blue skies.
The underwater world is no less fascinating.
Snorkelling here will reveal a beautiful panorama and a healthy and colourful underwater garden. Various kinds of amazing sea biota can be found here, including thousands of different kinds of fish and 70 kinds of sponges.
Komodo National Park
Komodo National Park is located in the centre of the Indonesian archipelago and has been declared by UNESCO as a world heritage site.
The park covers an area of 1,733 km² and comprises of an unparalleled terrestrial and marine ecosystem.
The coral reefs fringing the coastlines of each of its Islands are diverse and luxuriant due to the clear water, intense sunlight and rapid exchange of nutrient-rich water.
Thus, making it one of the best dive sites in the world.
Marine Life
Located in the heart of
The Coral Triangle
, the global epicentre of marine biodiversity, Komodo's waters harbour more than 1,000 species of fish, some 260 species of reef-building coral, and 70 species of sponges.
Since Komodo is mainly about the big stuff, it is not uncommon to spot an abundance of different shark types here.
You can spot the 1,6m long white tip reef shark roaming the ocean floors. These are usually found at the dive sites of Castle Rock, Crystal Rock, Tatawa Kecil, Cauldron and Tengah.
The shy 2m long blacktip reef shark can be spotted at the dive sites of Tatawa Besar, Karang Makassar, Golden Passage and Cauldron. And seeing that their staple diet is Mantas, you could be lucky enough to spot these gliding past you.
The most dominant of all sharks are the grey reef shark. They are slightly bigger than the other reef sharks in the area, measuring in at 2,5metres.
They can be seen hunting schools of fish, lobsters, octopi and crab. They are super social and curious so don't be surprised if you have a close encounter with one of these apex predators. Best sites to have encounters with these are the dive sites of Castle Rock and Crystal Rock.
Occasionally Hammerhead sharks, Brown-banded bamboo sharks,
and whale sharks can be spotted.
What's more is that blue whales, sperm whales and 10 different species of dolphins often frequent these waters.
Don't go underestimating the macro life in the park though. Cannibal Rock is home to frogfish, pygmy sea horses, nudibranchs and Coleman shrimp. At other dive sites in the region, you can spot crocodile fish, seahorses blue-ringed octopus.
The small island of Tatawa Kecil has a big reputation with divers. It is an underwater playground with a mix of swim throughs, small caves, bommies and valleys. Each harbouring a wide variety of fish.
You can expect to see jacks, batfish, snappers, groupers, sweetlips and occasionally a passing ray.
You will appreciate The Cauldron, Batu Bolong, Pillarsteen dive sites as well.
Liveaboards
Liveaboards are the next best thing for every professional diver or diving enthusiast.
The idea behind them is to live on a boat for a few days and dive to your heart's content. These enable you to dive more remote and often better dive sites, spend your evenings close to nature, out on the ocean whilst gazing at stars far from the madding crowd.
The Liveaboard life can be summed up as follows "Dive, Eat and Sleep".
A typical 4-day tour will give you a maximum of 14 dives, including at least 1-night dive. This may seem like a lot of diving, but your surface intervals are long and you will find a liveaboard cruise rewarding and relaxing.
On a full day of diving your first dive is usually just before breakfast, then a second dive before lunch. And the third one usually happens sometime in the afternoon or depending on the conditions, in the evening.
Moreover, you would be surprised at just how much you can fit in on a trip like this. In many areas, in between dives, there may be chances to zip over to some of the exotic beaches and islands you are sailing by.
Best time to visit
Planning the best time to visit Komodo can prove a difficult task, as there are so many variables involved that could affect your dive. Different seasons bring about differences in water visibility, currents and marine life.
Wet season
The wet season generally runs from December until March with January and February experiencing a lot of rain. As a result, January to March can have rough surface conditions and currents at the northern dive sites.
Don't let these weather conditions put you off from diving then. It has its pros. Manta rays, whilst spotted all year round, can be seen in abundance during these months. On average you can expect to see at least 10 circling around you at any given time.
Water visibility is best from November to January, so if you don't have that much dive experience it is best to plan your trip during these months.
Dry Season
Diving is best during the dry season, typically from May to June and then again from September to October. July and August can have rough seas in the south and at Rinca Island which might not be that ideal.
Padar Island
Padar Island
is south of the Komodo National Park and its underwater will not disappoint you.
The dive and snorkel spots here, boast some fascinating things, including long coral reef walls that have fascinating structures. Some of which you can swim through.
The marine life in this area differs from that in the centre and in the north. Unique to this area is the huge gorgonian sea fans, schools of devil rays, sea apples, varieties of nudibranchs and other coral species.
The dive site called "The Secret Garden" has a gently sloping reef and is filled with a rich variety of coral bommies and Xenia soft corals. These serve as a host for huge schools of reef fish.
Other species of fish worth spotting here are: Ghost pipefish, cuttlefish, nudibranchs, rhinopia and blue ring octopus.
The "Three Sisters" dive site is all about volumes. It's three submerged pinnacles, ranging from 5,7 to 12metres is covered in pristine coral, attracting schools of fish looking to feed.
Common to this area is the giant trevally, great barracuda, eagle rays, eels, scorpionfish and nudibranchs.
Similarly, the dive site of "Pillerstein" offers dramatic walls, stunning swim throughs and huge whip corals.
When the swell is calm you can spot sea apples and whip coral partner-shrimp. And if you are lucky, a Devil Ray could come cruising past you.
Best time to visit
Seeing that the best marine life here is seasonal, it is best dived from November through to February.
Have you recently visited Indonesia?  Let us know if you would add any spots to our list in the comments! Make sure you stay on top of all the latest travel deals and offers by signing up to our newsletter.