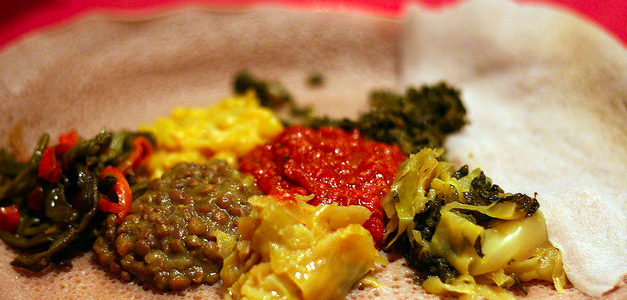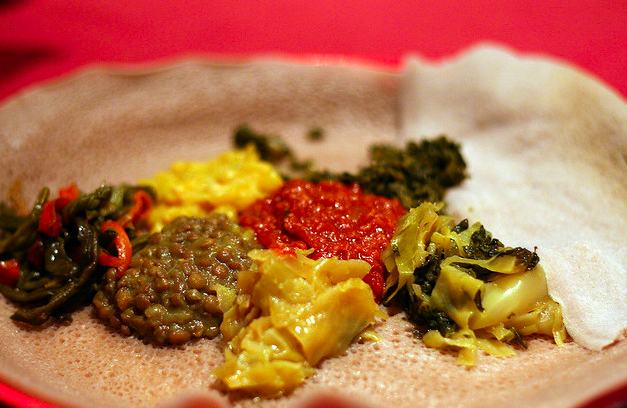 Visitors to Durban who are looking for the most authentic taste of the city should look no further than Little Gujarat in Grey Street. This is Indian food as the Indians eat it – as evidenced by the clientele, who are almost all locals (I'd say 90% of Little Gujarat's business comes from the Indian businesses in the area).
What's so great about the place (aside from the flavours, which are incredible) is the fact that you're eating Indian food as it is meant to be eaten – with the hands (or a fork, if you really need to), a couple of roti and a platter full of different curries, dhals and sauces.
The first time I went to Little Guj, I tried to figure out what exactly was in each of the compartments on the platter. What was this bright red curry, and how did it differ from the yellow one next to it? What were these delicious deep-fried goodies? What went into this rich, flavoursome sauce? These days I know better. All the food at Little Guj is 100% vegetarian, so there's no chance of coming across a stray bit of offal or anything like that – the best route is simply to taste a bit of everything, and see what you love.
Odds are, you'll love most of it. Once your meal is finished, and you're sipping on a cup of milky tea to cleanse the palate, might I recommend you go for a stroll around the Grey Street area? There's so much to see – the Victoria Street Market, full of curios and spices, the many fabric stores filled with traditional shwe-shwe fabric, and even the meat market, if you're feeling brave.
As with any city centre, it's a good idea not to walk around flashing obvious wallets and watches, but if you give Grey Street some time and you're willing to explore, just like the curries at Little Guj, the flavours will open up to you.