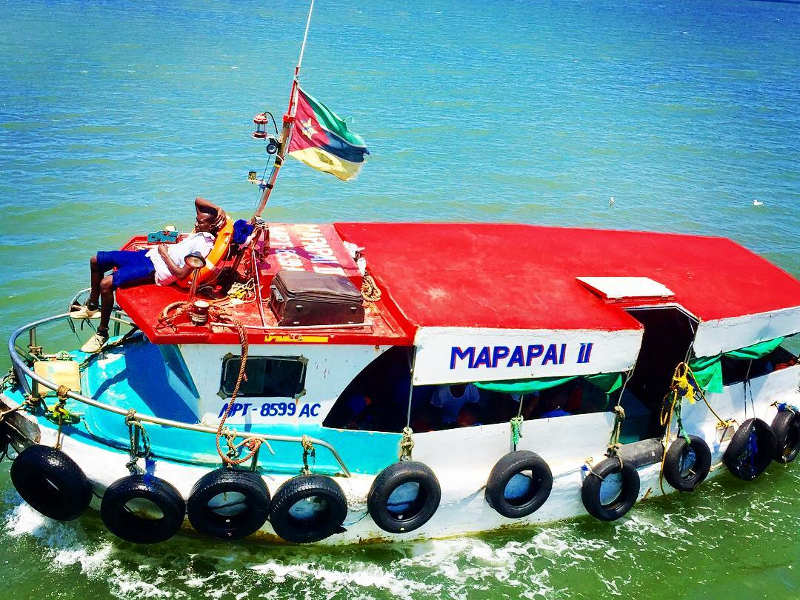 Stretching along the sunny east coast of Africa is Mozambique, the dark horse of Africa. With its troubled past and developing tourism industry, it is a bit of an enigma, but it is also a country that wears its mystery and rugged beauty like a little black dress and whose wild charm you can't help but fall in love with.
If you are daring enough to make the journey that is.
Mozambique is not for followers of guidebooks and seekers of the ordinary. It is for wayfarers and wanderers. Gypsies and globetrotters. It is a backpacker's bliss and nomad's nirvana. It is a country where the journey is unpredictable and the experiences unforgettable.
And while it is indeed the tropical paradise you see on postcards and in travel magazines, the real magic lies hidden in the experiences few speak about and that haven't been captured on film.
Here are 12 of our favourite things about Mozambique holidays:
12. Yoga retreats
Yoga retreats are one of the best-kept secrets in Mozambique. Yogi travellers find themselves drawn to Mozambique because of its peaceful rhythms and soothing vibrations, and it is in the tranquil tropical bliss of Tofo that they find the perfect backdrop for balancing their chakras and healing their mind, body, and spirit.
Where to go: Turtle Cove offers year-round daily yoga classes, intimate workshops, and exclusive retreats.
11. Swim with wild dolphins
Ponta do Ouro, a beach town with sandy streets, is where dreams of swimming with wild dolphins come true. Sink below the waves and you will find your ears filled with the distinct clicks and squeaks of playful Bottlenose dolphins, shy Indo-Pacific Humpback dolphins, and energetic Spinner dolphins. An underwater dance with these creatures is one of the most magical experiences you can have in Mozambique.
There are two licensed operators in Ponta do Ouro: The Dolphin Centre and Dolphin Encounters.
Where to go: Ponta do Ouro and the Quirimbas Archipelago.
Best time to go: All year round.
10. Music festivals
Another hidden treasure of Mozambique is its festivals. Several amazing music festivals are hosted every year which offer a meeting point for music lovers and culture vultures to share their love for music and the arts.
AZGO festival
An international arts festival that is an extravaganza of music, dance, arts, film, and fashion in Maputo. The festival explores musical styles such as jazz, soul, samba, afro-beat, hip-hop, electronica, and marrabenta.
When: May
STRAB (Subterranean Rhythm & Blues) Festival
A festival of "original music for original people". STRAB brings music lovers and musicians together for a weekend of beach parties, scuba diving, and camping in Ponta Malongane. A highlight of this musical rendezvous is group missions to the local bars and villages.
When: May
Mozamboogy
A festival that is all about good vibes and good music. Prepare yourself for 4 days of dancing barefoot to electro swing and reggae ska; stomping to psytrance and techno beneath the glow of UV lights and the stars; sunrise yoga on the beach; and fire poi and hoola hoop sessions.
When: July
FORR (Fellowship of Rock) Festival 
A festival described as "a gathering of fun-loving music addicts with a sense of adventure". FORR Fest is an intimate festival that draws musos and music lovers together against the backdrop of Ponta Malongane for a weekend of rock 'n' roll and tropical summer vibes.
When: September / October
9. Govuro canoe trails
The Govuro Spring River is an inland delta of waterways dotted with water lilies and wetlands that are home to birds and tiny aquatic creatures. Birds such as kingfishers, eagles, and pygmy geese visit the delta during the day, while fireflies dance above the water at night.
A canoe safari will take you through the Delta and give you a chance to witness the enchanting natural beauty of this little-known watery oasis.
South East Africa Safaris offers morning and afternoon river canoeing safaris.
Also read: 6 exciting things to do in Vilanculos this summer
8. Surfing getaways
With its endless waves and magnificent swells, Mozambique is the ultimate destination for surf centric getaways and adventurous surfers searching for the perfect wave. And because Mozambique is still relatively undiscovered, you will often find it is just you and the waves.
Where to go: Barra Beach (Inhambane), Guinjala Bay (near Praia de Jangamo), Tofinho (Praia do Tofo), Ponta d'Ouro, and Pomene Bay.
Best time to go: June to August. However, if you don't mind onshore winds, the swells are sublime from February to October.
Tip: Rumour has it that the waves up north are so perfect you go insane surfing them!
7. Rum for rebels
Deceptively sweet and known as "the island spirit" or "rhum for rebels", Tipo Tinto is one of Mozambique's most (in)famous creations. An R&R (half rhum and half raspberry soda) is the official drink of Mozambique.
But be warned, although these drinks may look bright and cheery, they should be approached with caution. R&Rs are notorious for their potent hangovers.
Where to go: Fernando's Bar in Maputo and Florestinha do Indico in Ponta do Ouro.
Tip: Mozambique is also known for its beer (Laurentina Clara, Laurentina Preta, and 2M are the most popular), sura (palm wine), cha (local tea), and baobab juice.
6. Swim with giants
Another surreal underwater experience in Mozambique is swimming with whale sharks and manta rays. Whale sharks are the largest fish species in the ocean (they can reach up to 14 metres), while manta rays are famously enigmatic creatures that are known for their graceful acrobats.
If you are lucky, you might even spot a rare dugong. These herbivores are related to manatee and affectionately known as "sea cows".
Where to go: Praia do Tofo and the Bazaruto Archipelago (off the coast of Inhambane).
Best time to go: Between September and February in Tofo, and between October and April in the Bazaruto Archipelago.
Popular dive and snorkel operators include: Tofo Scuba and Odyssea Dive.
5. Beach bars
These rustic beach shacks are a great place to experience the Mozambican nightlife, meet locals, and discover the upbeat sounds of Marrabenta, a fusion of Portuguese folk and Mozambican dance rhythms.
Some of the best beach bars in Mozambique include:
Casbah Beach Bar in Vilanculos – a relaxed beach bar that spills out onto the soft sand and is famous for its delicious cocktails and tempura prawns.
Pintos Beach Bar in Ponta do Ouro – a great spot if you want a party atmosphere, great music, R&Rs (rum and raspberry), and bonfires beneath the stars.
Babalaria Cocktail Bar in Bilene – a "sink your toes into the sand and sip on coconut cocktails and piri-piri tequila while the sun goes down" kind of place.
Dino's Beach Bar in Tofo – a legendary bar adorned with reggae décor that is known for its easygoing atmosphere, ice cold beers, and full moon parties.
4. Cashew heaven
Mozambique was the largest producer of cashews in the 1970s and remains one of the top global producers of cashew nuts. And because they are fire roasted, they have a smokey flavour that is unique to Mozambique.
Get ready to get nutty because cashews are everywhere and they are cheap!
3. Dhow island hopping safaris
The best way to explore the islands and experience the magic of Mozambique is on a dhow island hopping safari.
The ocean breeze will guide you along ancient Arabic trade routes while your captain, a local fisherman, will share stories of the sea and offer an intimate perspective of the country.
Highlights of dhow island hopping safaris include:
Exploring the legendary castaway islands and sandbanks of the Quirimbas and Bazaruto Archipelagos.
Camping beneath the stars on a deserted beach.
Witnessing spectacular sunsets while drifting on the ocean.
Snorkelling with turtles, reef sharks, and devil rays.
Experiencing the romance of Ibo Island and Ilha de Mozambique.
Options range from day trips, sunset and honeymoon cruises, and multiple night packages.
2. Delicious food
Centuries of Portuguese, Indian, and African influences have made Mozambican food one of the tastiest cuisines on the planet. And food is one of our absolute favourite things about Mozambique holidays!
Follow the sound of sizzling and scent of spices and you will find your way to one of the many restaurants, beach BBQs, or barracas (roadside stalls). Your introduction to the delectable cuisine of Mozambique begins at one of these.
Some of the dishes you absolutely need to try are:
Freshly grilled fish and giant prawns coated in butter and piri-piri sauce. Prawns are the trademark dish of Mozambique and can be found everywhere.
Curry. Made with local spices, the curry in Mozambique is unlike anything you have ever tasted before.
Galinha Asada "roasted chicken". Chicken marinated in piri-piri sauce and grilled or barbecued over an open fire. Garlic and lime (or lemon juice) are usually added.
Matapa. Stewed cassava leaves, ground peanuts, coconut milk, and shredded garlic. A traditional dish that is popular amongst locals and absolutely delicious!
Paõ (short for paõzinho). Hot bread rolls that are made every morning in wood-fired ovens. You will be able to find these at most roadside stalls and marketplaces in Mozambique.
Sandes de queijo. A popular street food that is basically a glorified grilled cheese sandwich but served on paõ.
Prego rolls. A piece of steak basted in spicy piri-piri sauce, grilled to perfection, and served on paõ.
Coconut rice. Tasty basmati rice cooked in coconut milk and sometimes toasted coconut. It will change your life!
Other must-try dishes include macaza (grilled shellfish kabobs), bacalhão (dried salted cod), chocos (squid cooked in its own ink), and homemade Amarula ice-cream.
Tropical fruit. Papayas, coconuts, avocados, and mangoes. They are juicy, delicious, and larger than life.
1. The vibe
There is no denying that above all, the best thing about Mozambique is its vibe.
If you don't fall in love with Mozambique's friendly locals, Sunday afternoon street parties in Pemba, colourful chopelas (tuk tuks) zooming along sandy streets, roadside bars pumping out sexy Afro-Portuguese beats, or Tofo beach parties, you will certainly fall in love with its energy!
Bonus: And if that isn't tempting enough – South African passport holders do not require a visa for stays up to 30 days. It is also just a hop and a skip away, which means travel time is less and flights are cheap.
Also read: How to do Mozambique for under R400 per night
Mozambique may not take you to the other side of the world, but it will give you a chance to feel the irresistible pull of Africa. It will take you on a journey that will open up your eyes, touch your soul, and probably change your life. And is that not what travelling is all about?
Note: A journey through Africa is one of the most rewarding and unique travel experiences you can have, but you should always remember to be a smart traveller. Always remain cautious when venturing off the beaten track and take precautions to ensure you are safe throughout your trip. 
Share your stories of Mozambique with us in the comments section below and sign up to our newsletter to stay up to date with all our latest flight specials!
Featured image courtesy of @coke_travelblog via Instagram