[Updated: 7 December 2018]
When it comes to what you carry on to a plane, things have become stricter. ACSA has enforced new land luggage restrictions for domestic travel at airports across South Africa which came into effect 2 February 2015. Find out what you need to know for your next trip!
Economy Class passengers
At the crux of the new hand luggage regulations is that Economy Class passengers boarding a commercial aircraft are restricted to:
One bag + one slimline laptop bag per passenger.
No bag should exceed these dimensions: 36 x 23 x 56cm = total dimensions of 115cm, including handles and wheels.
Weight limit per bag: 7kg
In addition to your carry-on baggage, you may carry with you a handbag and overcoat.
Guests with infants seated on their laps are allowed to carry a small bag with the in-flight needs of the infant such as feeding bottles, nappies and medication.
Any hand luggage which exceeds the dimensions, piece and weight restrictions stipulated above will have to be checked-in. This could delay you, cause you to miss your flight, or incur extra charges so take heed of this announcement to avoid a frustrating domestic travel experience. The airlines are not accepting responsibility should you miss your flight due to incorrect hand baggage.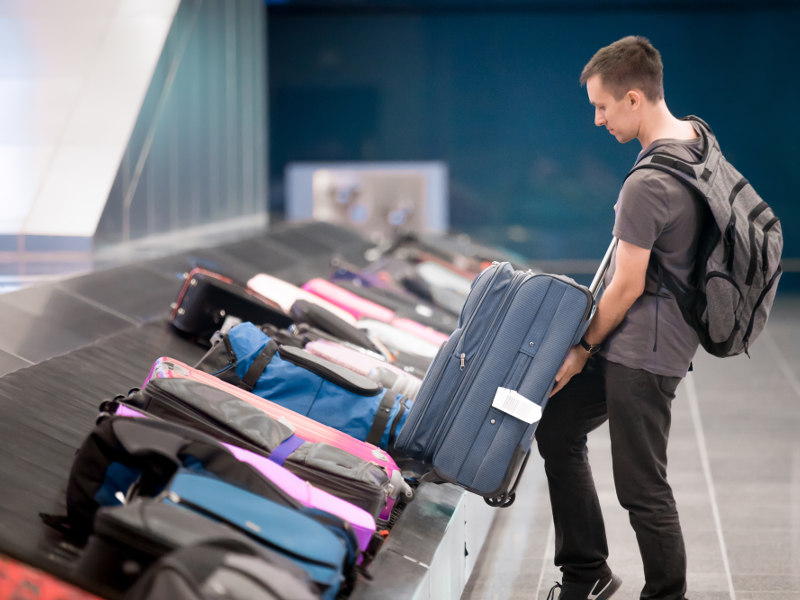 Carry-on baggage restrictions for Business Class and First Class passengers
Two bags + one slimline laptop bag per business class/first class passenger.
No bag should exceed these dimensions: 36 x 23 x 56cm
Weight limit per bag: 7kg
How would you classify a slimline laptop?
A slimline laptop bag accommodates a laptop and a charger. It can be carried over the shoulder or in your hand. A slimline laptop bag does not have any wheels.
Are there exceptions?
Yes, if an airline has granted a passenger exception, a uniformed airline staff member will accompany the passenger to the security checkpoint. The airline staff member needs to confirm the exception to the security staff or any official manning the hand baggage control point. If a passenger wants to get approval for a greater baggage allowance, this can only be done by the airline.
In each of the cases above, a woman's handbag and a man's satchel / "man-bag" is considered part of dress code and is exempt from these regulations. Essentially what they are concerned with is people with large bags trying to pass these off as "hand luggage" in addition to bringing on regulation size hand luggage.
ACSA says
Airports Company South Africa will be supporting the airlines and the South African Civil Aviation Authority regulations with regards to hand luggage that is allowed within the cabin.
The principles of this campaign will be in the interest of ensuring compliance of the airline's hand baggage policies and also in enhancing safety measures when flying.
The enforcement of this programme will be led by the airlines operating at Airports Company South Africa airports and supported by the airport authority.
Passengers who do not comply will be identified before the security checkpoints. In the event of hand baggage not being compliant, the passenger will be referred back to the check-in counters to check the baggage in as hold luggage.
Airlines say
Mango says it will not penalise travellers for additional bags that have to be checked in as a consequence of the new regulation as it does not charge per piece of baggage within its 20kg allowance.
Passengers using other low-cost airlines such as kulula and FlySafair need to be aware of the additional costs they could incur.
Kulula allows one free checked bag weighing up to 20kg and one piece of hand luggage weighing up to 7kg. Additional bags require passengers to pay between R320 (online – payable by credit card only) or R415 (at the airport). While FlySafair tickets include a hand luggage quota, checked baggage fees start at R155 (purchased online) and R250 (purchased at the airport). An extra bag will cost you R250.
Travelstart says
Always keep in mind peak travel seasons and longer queues over the holidays. Make sure you are well within the luggage restrictions to enable a seamless and hassle-free check-in experience for you and your fellow travellers.
Also check out:
Now that you're equipped with the hand luggage restrictions start packing your bags and get ready for your next exciting trip. Sign up to Travelstart's newsletter and get the best flight specials to incredible destinations!
What has your experience been with hand and check-in luggage at the airport? Let us know in the comments below.