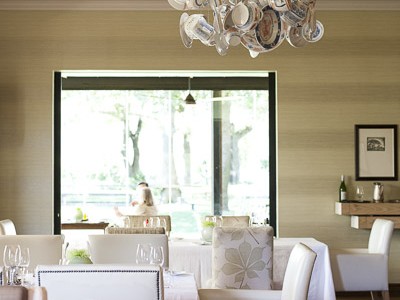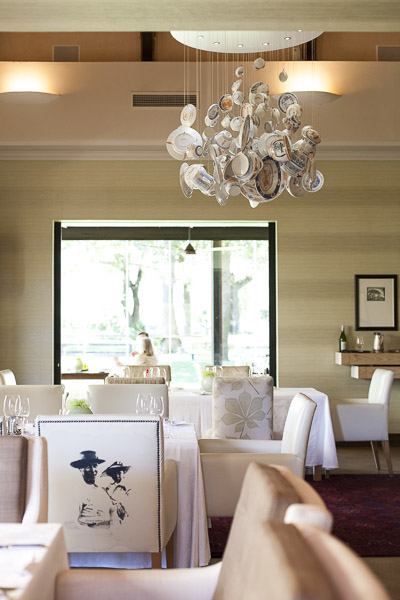 If you're looking for a most delicious place to while away a summer's afternoon, may I suggest Pierneef a La Motte in Franschhoek? This is fascinating fine dining at its best, with a wine list that could keep you entertained all afternoon…
It doesn't hurt that the La Motte property is so lovely. The shaded lawn has comfortable couches and long tables with benches, if you're dining in a large group, the verandah and glass-walled restaurant offer stunning views of the lush garden and the vineyards and mountains beyond. In summer, choose to sit on the verandah right next to the river; in winter, inside the restaurant with the stunning china crockery chandeliers to keep you company.
The wine list at La Motte is truly impressive, with not only La Motte wines but also selected wines from the Franschhoek valley (divided by type) and even a selection of international wines. Their signature wine is La Motte Hanneli R, a combination of Shiraz, Grenache and Mourvedre. Their bubbly is also divine.
And then there's the food. Oh! The food. La Motte have created their own unique cuisine inspired by centuries of variations in cooking: a style known as Cape Winelands Cuisine. It's an exciting taste adventure, with influences from the Dutch through to Cape Malay, French and Afrikaans. The result is a menu of amazing dishes that are not only beautiful to look at, but just as beautiful to taste. Each dish is an array of mousses, jelly, powders and sauces, an adventure for the palate that is nevertheless beautifully paired and balanced – it makes sense. The emphasis is on locally sourced, sustainably farmed food with a very seasonal menu and plenty of traditional food from the Winelands. Many of the vegetables and herbs are sourced from the kitchen's own organic garden, and the dishes explode with fresh flavour.
If you're looking for a meal that will stay in your mind for weeks (and months) to come, head to Pierneef a La Motte for a fine dining adventure.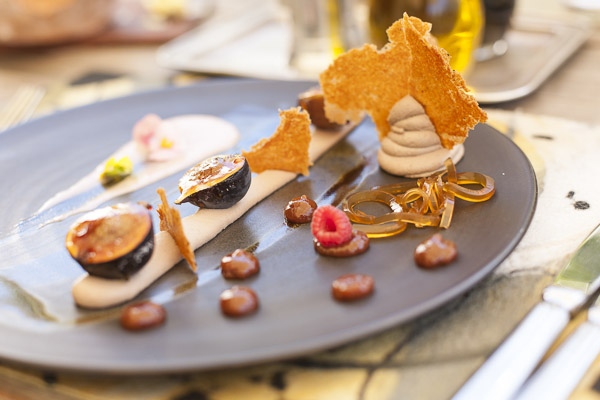 Images credit: Mark Peddle