"Are you a go-with-the-flow explorer or a savvy tick-all-the-boxes planner?"
So you've had this idea brewing for a while and you're thinking 2016 might be the year you take a sabbatical and travel the world full-time. There are places to see, people to meet, mountains to climb and this is the 'year of yes' you tell yourself. Is a round-the-world ticket the ticket for you?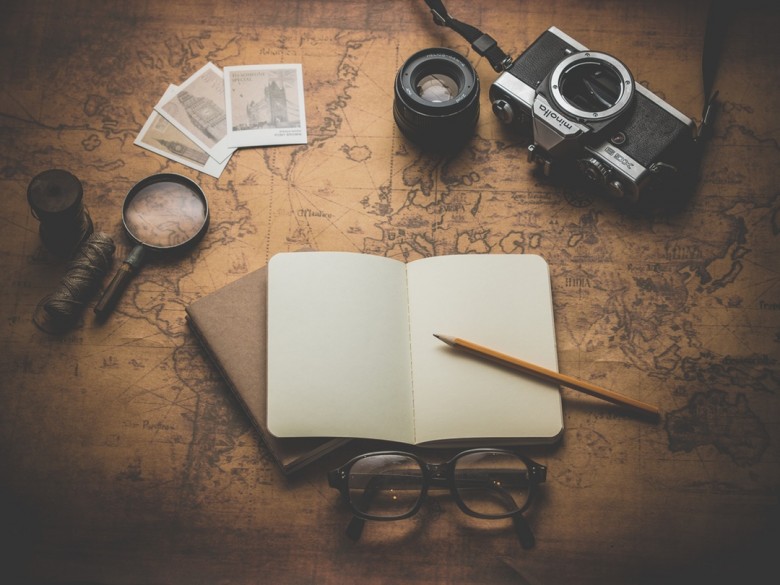 First answer this question – are you a go-with-the-flow explorer or a savvy tick-all-the-boxes planner?
If you already have dates and destinations in mind and you know you're a careful planner then the RWT (round the world ticket) will likely save you time, money and get you back home when you need to be back (within a year).
If you're looking to cut loose and find yourself in this big, beautiful, chaotic world then the RWT is most likely going to be more of a burden than a boon.
When you buy a RWT you are essentially buying bulk flights and a year's limited pass from an airline alliance.
There are three main airline alliances, namely:
Star Alliance, which is the world's largest global airline alliance (27 members including SAA, Air Canada, Swiss, Lufthansa, Thai, Turkish Airlines, United Airlines)
Skyteam (20 members including Air France, KLM, Kenya Airlines, China Airlines, Aeroflot)
Oneworld (British Airways, American Airlines, Qatar Airways, Cathay Pacific and others totaling 15 members)
Each has its own stipulations for using your RWT. If you have particular airlines you wish to fly on then the alliance you choose is of great importance. It is important to note that none of these alliances include low-cost airlines such as Air Asia, Tigerair or Ryan Air.
Star Alliance measures in air miles so you can buy a RWT with 29,000 miles, 34,000 miles or 39,000 miles. All miles are counted even if you go by bus from Chicago to New York. 29, 000 miles will get you 3 continents but if your starting point is Johannesburg remember that we are quite far away. Also you can fly backwards on continents but not oceans – once you've crossed over to the next continent then you cannot go back.
The Oneworld Explorer from Oneworld Alliance is continent not mileage-based so it's possible to retrace your steps on the continent and mileage on the ground isn't deducted. You get 16 stops which you can use as you please. This is a much better solution for the adventurous traveller who wishes to travel to far-flung places cheaply and is a good solution for us South Africans on the tip of Africa.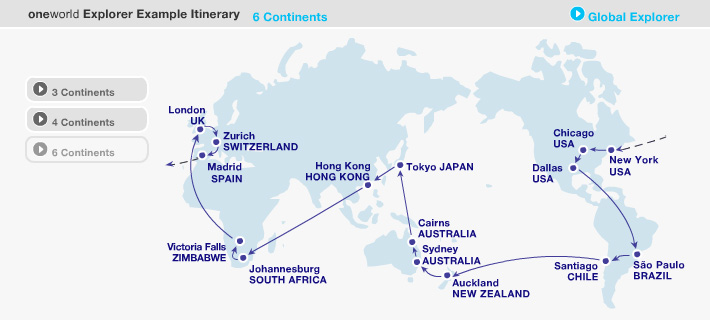 East or west – which is best?
One of the catches of the RWT is the direction in which you fly. You will have to make an important decision is whether you want to head east first (for example a route like the following: Johannesburg- Berlin – Mumbai – Bangkok – Japan – Los Angeles – New York – Johannesburg/ Cape Town). Or west first (an example might be Johannesburg – Sao Paulo – Mexico City – Sydney- New Delhi- Athens – ending back in Johannesburg/ Cape Town).
Pros
All flights are organised before you leave home and this known route may allow you to relax and enjoy each leg knowing everything is carefully mapped out.
This can also be a great safety feature if you're a solo traveller.
It is possible to change your flight times and dates but not your destinations.
You start and end in the same country but not necessarily the same city.
You will get at least 3 stops depending on the alliance and measuring system in place with a maximum of 15 to 16 stops (a stop counts as 24 hours in one place).
Depending on the class of ticket you buy you will also have access to perks like business lounges making your travels that much more convenient and comfortable.
You always have an onward flight booked thereby facilitating the issuing of visas.
Cons
If you are backpacking then spending the bulk of your budget on the RWT may cause you to miss out on some amazing budget flights.
Through having a set, finalised itinerary you may get locked into a plan even though you meet someone on your travels and want to divert from the plan and visit Colombia instead of Mexico.
Cost
You are looking at upwards of R45 000 depending on the length of your trip, how many continents you visit or how many air miles you burn through. Nomadic Matt, a professional traveller, estimates that one makes an average saving of 30 percent on flights with the RTW.
It is advantageous to book with an online travel agent as they will be able to assess which is the best ticket and airline alliance for you given the destinations and airlines you prefer.
---
Feeling inspired? Email: travelbar@travelstart.com or call 0861 878 278
---
You might also be interested in:
Watch Nick explain the intricacies of the ticket: