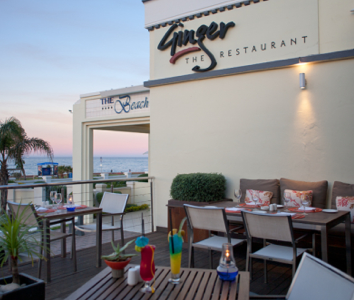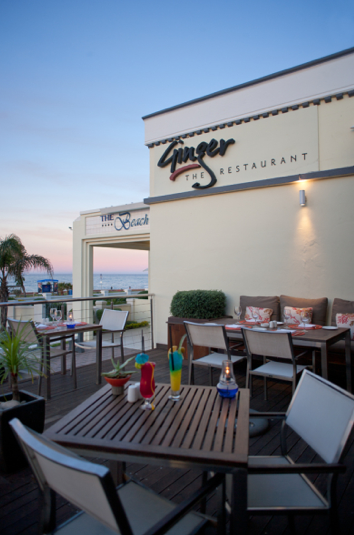 Next time you find yourself in the Friendly City (or the Windy City, depending who you ask – Port Elizabeth does have a number of nicknames!) and you're wondering where to eat, take my advice: go to Ginger. Not only is it on the lovely Port Elizabeth beachfront, it is also home to some simply superb food.
Seafood is the speciality, of course, and I would recommend the salt and pepper baby squid – yum! The prawns are also really delicious, and in fact nobody at our table had anything they didn't rave about. It's fusion food, but not confusing fusion – simply fabulous flavours in interesting combinations. The emphasis is on fresh ingredients that combine to create distinctive dishes with flavours of the Eastern Cape.
What I love most about Ginger, though, is that it lets you soak up the best of Port Elizabeth: you can sit outside on the verandah, with a warm sea breeze blowing past and the promenade and ocean laid out in front of you. Of course, you could sit inside as well, but it seems a shame to waste a warm, sea-scented evening by the sea – after all, isn't that what PE is all about?
Of course, if you're in town on business then Ginger is just as good as a business lunch venue (I couldn't imagine a prettier spot to have a business lunch, actually!) but it translates well into an evening location as well, although perhaps not a very romantic one – we had a great time in a group. Port Elizabeth might not be as famous for its cuisine as Cape Town is, but if you give Ginger a try you'll no doubt return again and again… That's certainly what I've done!