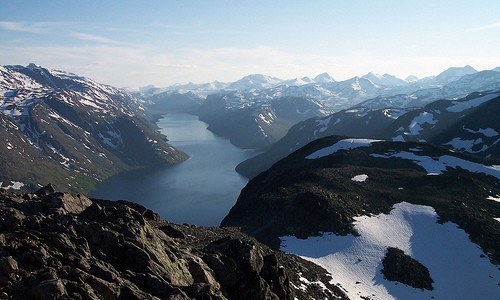 Gotta love free in-flight wifi!  As I currently sit on a Norweigan air flight, I thought I might as well make use of the free wifi and write a blog post about one of my favourite travel destinations – Norway.
Norway, one of the Nordic countries located in the north of Europe, is a popular summer vacation area and one of the most photogenic places in the world.
One of the country's primary appeal for foreigners is the spectacular nature throughout the country.
Photographed here is the Jotunheimen National Park, which is home to the 29 highest mountains in all of Norway.  This region is very popular with trekkers and hikers, and the park offers a well-maintained large trail network for people to explore for days or even weeks at  a time. Many choose to camp in the park, but there are also numerous mountain lodges in the area if you wish.
Don't be afraid of the snow that lies about in the photo. From June to September the temperature can be very pleasant throughout Norway, with highs ranging from 15 to 30 degrees celcius. But all throughout the summer, snow will continue to be present in the mountainous region. Much of it will melt off by late August, but some will remain nonetheless. The color combinations of green grass, blue water, grey mountains with snow-capped peaks is breathtaking.
Jotunheimen is located just a short train ride from Norway's capital city of Oslo, and it can also be accessed by car, bus or cycle. Entrance into the national park is free of charge, yet you must register with the Norway Mountain Touring Association upon entry and exit of the park.
[boilerplate bytitle="text"]