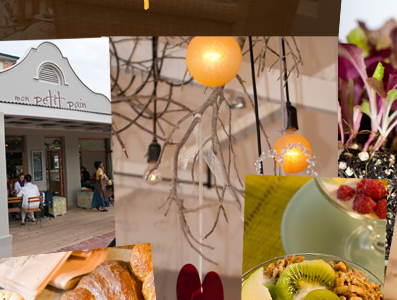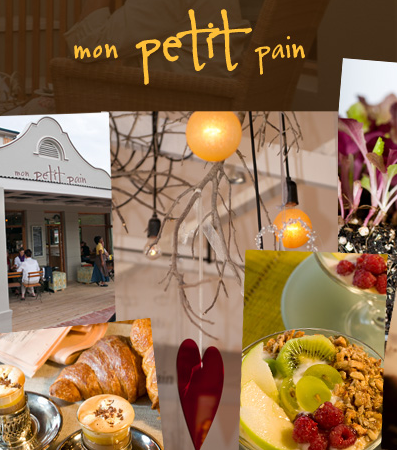 Now, most people will probably tell you that Ile de Pain, on Thesen Island, is the best lunch spot in Knysna, and certainly the best place for fresh breads, pastries and croissants. I disagree with most people. While Ile de Pain is a giant and very impressive restaurant with some truly spectacular breads on offer, and it is undoubtedly the original of the two, Mon Petit Pain is infinitely more pleasant.
For starters, it's much smaller, and cosier, and easier to get to. Set on one of the main roads in Knysna, Mon Petit Pain is perfect both for a quick bite to eat in the morning or a long, lingering lunch with many cups of their superbly brewed coffee afterwards. It's run by a friendly team of women who know their pastries, sandwiches, tarts and pies inside out, and the service manages to be both efficient and personal – a rare treat.
The décor is simply charming: loaves of bread shaped into heart shapes hang on ribbons over the windows and from the ceiling, and beautiful photographs of the baking process are framed all over the shop. And the tables – with their rustic benches and indoor or shaded outdoor option – are ideal spots to while away a few hours.
But let's be honest, as lovely as the service and the décor is, the real reason people keep coming back to Mon Petit Pain is the food. Oh, the food! Think of the best sandwich you've ever had, and then walk into Mon Petit Pain with those expectations. Fresh, crusty bread of every description, generous mounds of fresh ingredients, superb hams and cheeses and homemade pestos and and and… It's that good. Their soup is also something to write home about – an incredibly creamy mushroom soup that will warm even the most freezing of days.
And then there are the baked treats! Little cakes, pies, tarts and muffins, all perfectly rendered and so delicious you have to take a moment's silence while you chew. The recipes are all French (as the name suggests), and there is something so decadent and special about even the smallest treat that you'll remember your time at Mon Petit Pain for many weeks to come.
Pop in for breakfast or morning tea, lunch or afternoon tea, but make sure you get there before they close at 3pm. The café is open from 7.30am, so it's definitely an early birds spot, and it is the kind of place where you'll feel like a local the second time you go there. What more delicious feeling is there than that?