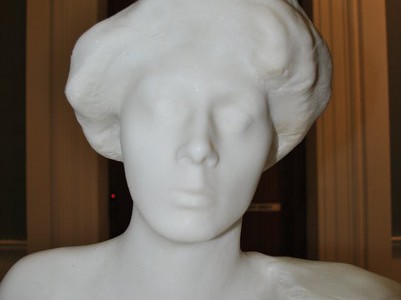 I have often heard people referring to different places in Jozi as "hidden gems", for me the ultimate hidden gem is one of my favourite places in the Joburg inner city- The Johannesburg Art Gallery.
A visit to the JAG (as it is better known) is one of the best ways to spend a free afternoon, yet many people are too nervous to venture in for a visit. Situated in Joubert Park, a busy area on the outskirts of Hillbrow, the drive in can be a little daunting (but not impossible) and once you are there it is totally worth it.
Walking into the Jag, is like walking into any leading international art gallery but better (at least in my opinion) as it also has some fantastic local art! Amongst the Dali's and Degas, you will also see some fabulous Mary Sibande's and Jackson Hlungwani's
The Johannesburg Art Gallery was started in 1910 by the fabulous Lady Florence Phillips, wife of Randlord Lionel Phillips, who sold her diamond ring to fund part of the original collection. A portrait of Lady Phillips, as well as some of the original art collected by her, can still be seen in a display of the founding collection.
The collection was initially housed at what is today Wits University and the present day gallery building was designed by renowned architect Edwin Lutyens, a contemporary of Herbert Baker, although further extensions were added in the 1980's.
The JAG has the largest collection in the country (it is still growing!) and at any time only 10% of the collection is being exhibited. It is the sort of gallery where everyone will find something they like: traditional or modern art, photography or paintings, film or performance art. Also worth mentioning are the JAG staff- wow are they friendly and helpful! Particularly the two guides who also work in the shop!
But for me, one of the best things about the gallery is that it is always changing. Every few months a new exhibition opens and the collection is rearranged- it is never boring to visit or guide visitors around.
My top 'must sees and dos' at the JAG:
The original building and entrance (no longer used as the entrance but worth a look)
Original founding collection display (great to get a feel for the gallery)
Ethnographic Collection (a fabulous display of African pipes, head rests and much more)
A visit to the Gallery Shop-fabulous books, crafts and images on display
And finally, you must get one of the local Joubert Park photographers to take a photo of you before you leave the gallery – a real inner city keep sake!
Johannesburg Art Gallery
Corner Klein and King Goerge Street, Joubert Park
Tell: 011 725 3130
[boilerplate bytitle="text"]