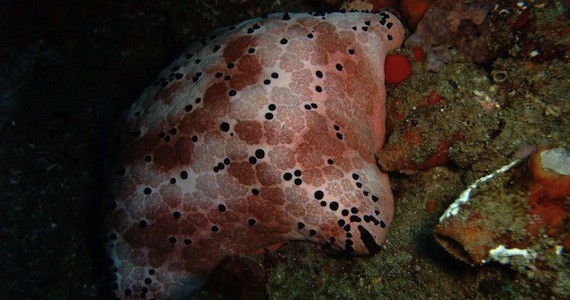 In September last year, my wife and I decided to escape the Cape Town winter for two weeks of sunshine and warm ocean in KwaZulu-Natal. We flew to Durban and from there hired a car to get to Sodwana for a week of diving with Coral Divers. I had just obtained my PADI certification in Cape Town and after the freezing water of Simon's Town was looking forward to experiencing something different. I wasn't disappointed!
At Coral Divers, we did two dives a morning, took a stroll to the beach or in the coastal forest and then spent the rest of the day reading and relaxing. Sodwana is located in the Isimangaliso Wetland Park and is a protected area with five main dive sites from which to choose, all aptly named after their respective distance from the coast: Quarter Mile, Two Mile, Five Mile, Seven Mile and Nine Mile. Getting to the reefs requires a quick boat ride and a tight grip, especially in the sometimes turbulent September seas. We ventured out to Seven Mile although all of the dive sites were just as stunning as each other. We explored coral gardens, inhabited by small delicate critters like an incredible variety of nudibranch and shrimp, as well as reefs inhabited by reef sharks, giant "Pincushion Starfish" and Blue Spotted Rays. We saw a whale shark on our first day and migrating Humpback Whales in the distance on others. I seemed to have close encounters with a lot of the marine wildlife. On two separate occasions I almost bumped into a turtle and a giant Moray Eel taking a leisurely swim.
We stayed in one of Coral Divers' cabins which was perfect. Set amongst the coastal trees, it's basic accommodation but has everything you need to relax after a long day of diving, including a little deck from which to watch the world go by. There is a large communal area for cooking, eating etc. with enough comfy corners to find peace and quiet if that's what you are after.
We returned to Durban via the Hluhluwe Imfolozi Park where we spent a couple of days going on game drives and enjoying the lush scenery and wildlife. Once again we stayed in one of the park's cabins and found it a perfect little place to relax and enjoy a braai in the evenings, surrounded by the great outdoors. We also dropped by St Lucia to say hi to the resident beach hippos. Needless to say when we got back to the rainy and cold Cape, we had some amazing memories to look back on.